Note: Affiliate links may be used in this post. I may receive a small commission at no extra cost to you if you use my affiliate link. Full disclosure policy here.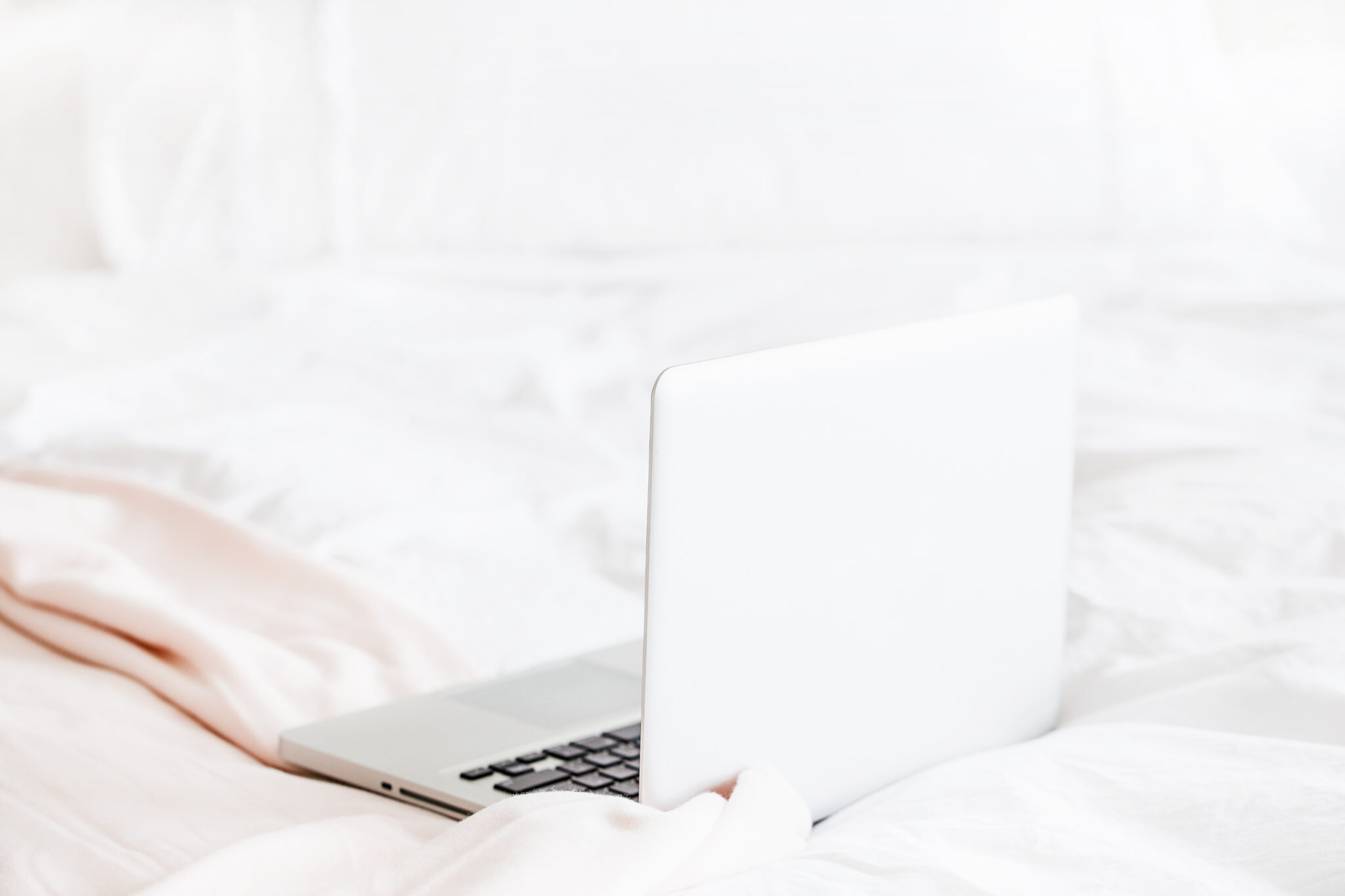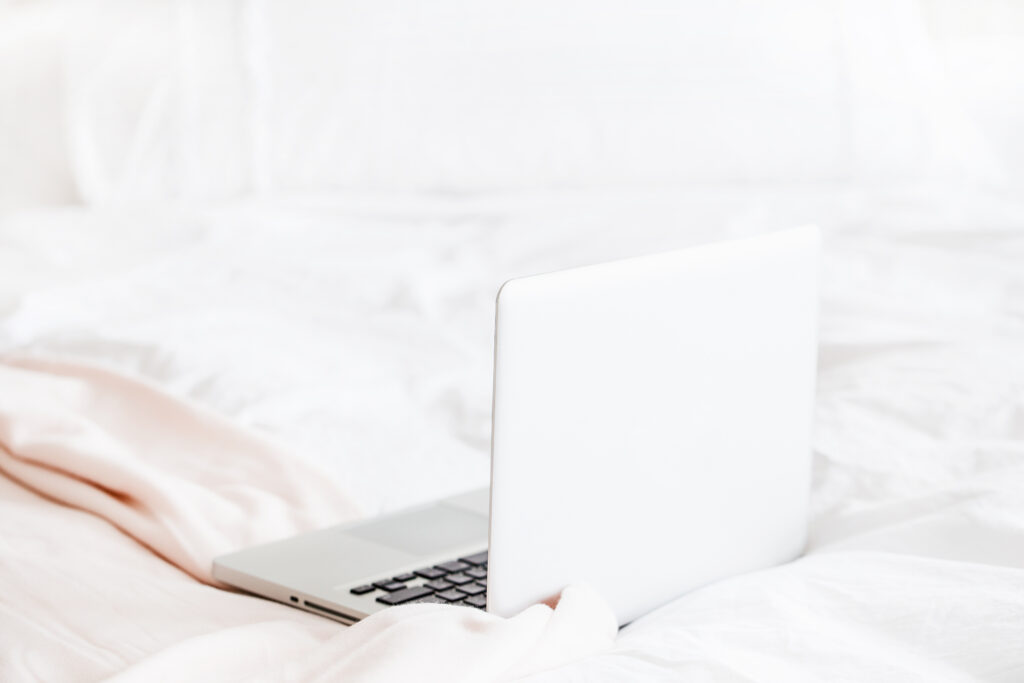 This blog post is sponsored by Article Forge.
How to Make Money Blogging with Article Forge
Can using artificial intelligence (AI) help you make more money blogging?
If you've been in the blogging world for a while, you've probably heard about AI in some capacity, but you may be wondering exactly how it works.
Article Forge is a tool that uses artificial intelligence and deep learning to write blog posts for you on any topic in just one click. Here's how it works, and how using this tool can help you save time and make more money with your blog.
What Is Article Forge?
As I just mentioned, Article Forge is a tool that bloggers can use to create content in just one click using artificial intelligence. But what does that really mean?
Article Forge uses the same deep learning models that Google uses to evaluate content in order to write content. So you can input any topic into the tool, and it will generate an article for you based on your given parameters that is written in a way that will satisfy what Google is looking for when ranking content.
This makes it extremely easy and fast to create content you can use on your blog.
Article Forge is one of the only tools that can research, plan, and write long-form content automatically, which saves you a ton of time and money.
Of course, I do recommend going through and making tweaks and edits to any AI-generated content that you get from this tool to make sure everything is 100% accurate and natural-sounding, rather than publishing it as is.
But other than that, there is not much you have to do!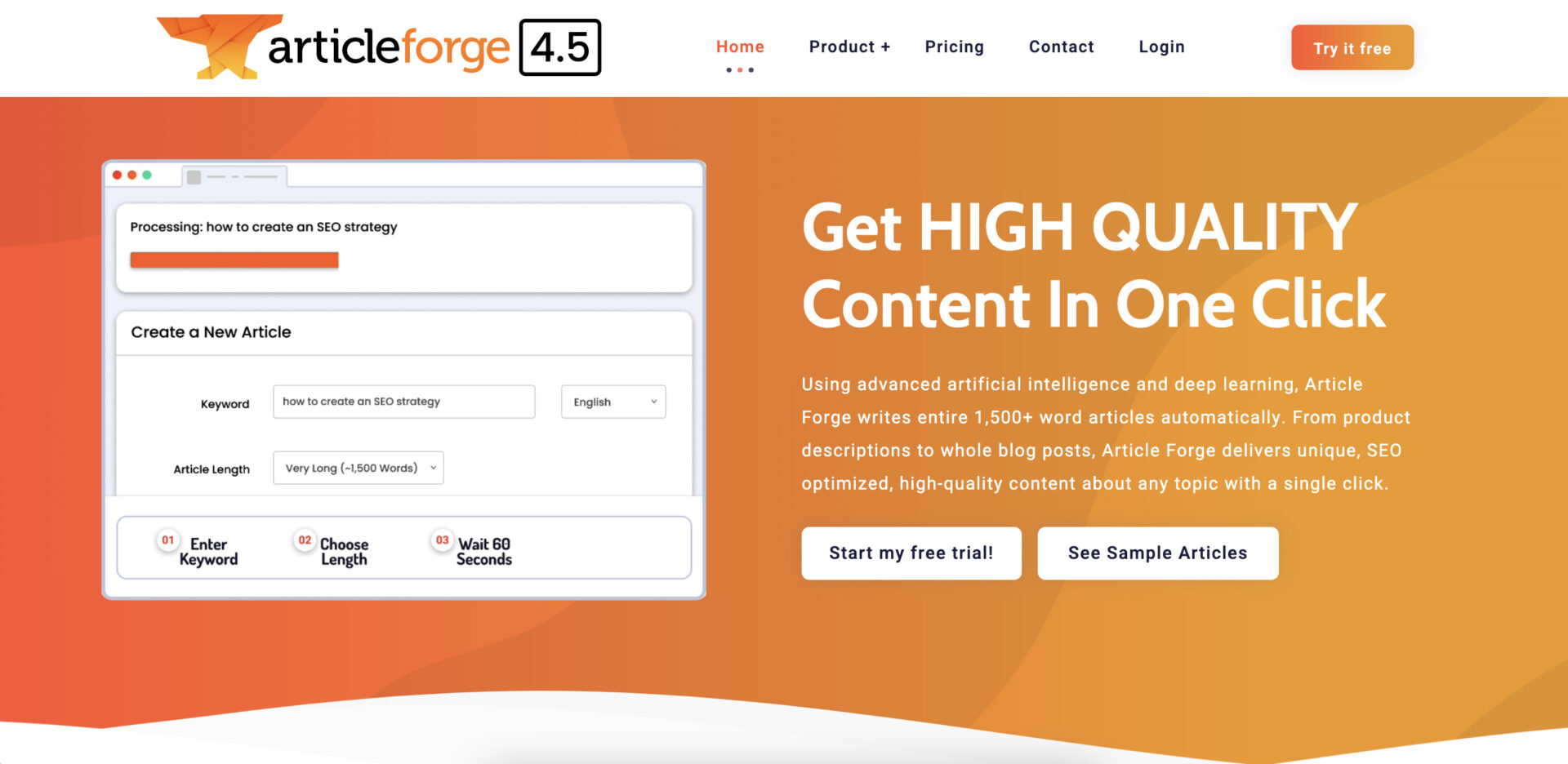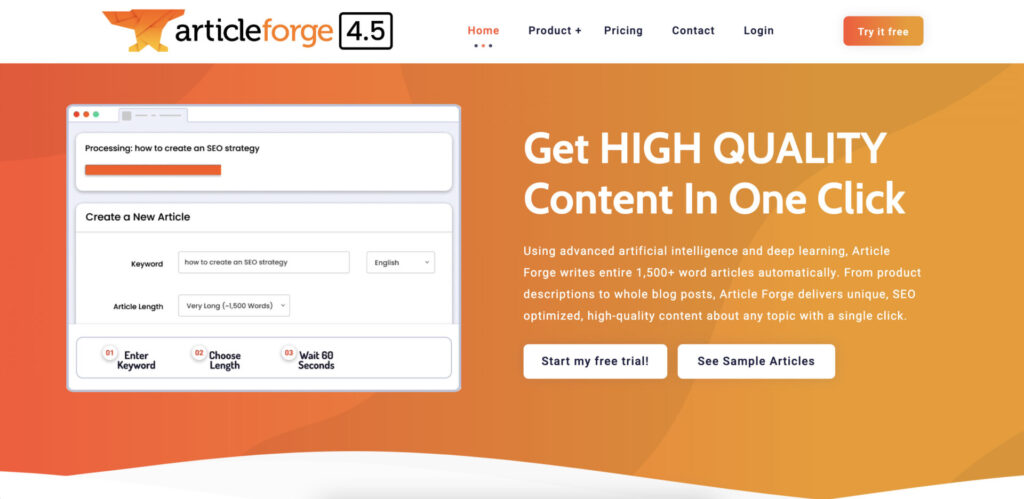 How Does This Help Me Make More Money Blogging?
Not only does Article Forge help you have time when writing blog posts, it can also help you make more money from your blog. How does that work?
Basically, in this case, time = money.
These days when I start a new blog, my goal is to publish as much content as possible as quickly as I can. This is because Google does not really start ranking a website until it has at least 100+ published articles (among other factors.)
It might take you a year or more to write those 100 blog posts on your own, but you can save a ton of time using an AI writing tool like Article Forge.
The more content that is published on your blog, the more traffic you can get and the more money you can make through ads, affiliate marketing, etc.
(Of course, it's important to note that quality over quantity still applies here! And you want to ensure that you are writing blog posts that address topics people are actually searching for, and that you have the ability to rank for.
Using Article Forge is also MUCH cheaper than hiring writers to create content.
What Kind of Content Does Article Forge Write?
You can use Article Forge to write blog posts on any topic.
All you have to do is put in the main keyword for the article, any additional instructions for what you want included, and the targeted word count.
Then wait 60 seconds and Article Forge will return a fully-optimized blog post for you. You can check out sample articles written by Article Forge to get an idea of what they're like and see how versatile this tool can be.
Does Google Allow AI Content?
Some bloggers are worried about using AI writing tools because of a concern for getting penalized by Google and losing their blog post rankings.
I'll be honest, I fell into this camp for a while and didn't want to risk it.
But Google has explicitly stated that the appropriate use of AI is not against their guidelines and will not be penalized. Further, they even stated that "Automation has long been used in publishing to create useful content. AI can assist with and generate useful content in exciting new ways."
The key word here is the appropriate use of AI, which means that you are not using AI solely to manipulate search rankings and are not creating poor content that is unhelpful or spammy. This is pretty straightforward.
As long as you're using AI tools like Article Forge to create helpful and engaging content for your readers, you don't have to worry about being penalized.
Not to mention, since Article Forge uses advanced deep learning models and not content scraping, you can rest assured that all of your AI-generated articles will be 100% original and won't have any plagiarism issues.
How Much Does Article Forge Cost?
One of the great things about Article Forge is how affordable it is.
If you sign up for the annual billing plan, it's only $13 per month for 25,000 words of content, which is the equivalent of 15 or more blog posts!
There's also a completely free 5-day trial that you can sign up for if you're on the fence and want to test out the tool and see how it works first.
And finally, they have a 30-day money-back guarantee if you aren't happy with the tool so there is literally no risk to trying it out!
Do I Personally Use AI Tools for Blogging?
In the interest of full transparency, I wanted to note that at this time I do not use any AI tools for writing on my own blogs. That being said, I have fully reviewed Article Forge and think it's a great option for bloggers.
I'm fortunate that I really enjoy writing and am a very fast and prolific writer. I'm also a bit of a control freak when it comes to what I write.
But if you're a blogger who maybe doesn't LOVE writing or you want some help to speed up your content creation process so you can grow your blog and make more money faster, then Article Forge is a great choice.
In the future if I use AI on one of my blogs I'll definitely be using Article Forge.