Note: Affiliate links may be used in this post. I may receive a small commission at no extra cost to you if you use my affiliate link. Full disclosure policy here.

Rakuten Referral Program
Are you interested in joining the Rakuten referral program?
Read on to learn all the details of this program and how to make money with it!
Rakuten (formerly known as Ebates) is a cash back company that allows you to earn up to 10% cash back while doing your online shopping at more than 3,500 retailers. It's completely free to use, and they have a browser extension and an app that you can shop through in order to earn cash back on your purchases.
Since its launch in 1997, Rakuten has helped more than 12 million members earn over 1 billion dollars in cash back from shopping.
As a consumer, Rakuten is an easy way to earn some extra money without having to do anything. You receive your cash back deposit quarterly (every three months) so depending on how much online shopping you do, you can receive a check of a significant amount of money, which is always a nice surprise.
Just this week, I used Rakuten to earn cash back on a pair of shoes I was buying from Adidas. They were $70, but with Rakuten I get 8% cash back, or $5.60.
I also travel a lot, and I use Rakuten when booking tours and excursions on Viator. I've gotten as much as 10% cash back from that, which is amazing!
Not to mention, when you sign up for Rakuten through another user's referral link (click here to sign up using mine!) you will both receive a $30 cash bonus. (You just have to make $30 of online purchases within 90 days of signing up and using the Rakuten browser extension or app to be eligible.)
As a blogger or influencer, there are even more ways that you can earn from Rakuten thanks to the generous Rakuten referral program.
What Is the Rakuten Referral Program?
The Rakuten referral program allows Rakuten users to refer others and earn money. For every qualified referral you make, you will get $30.
All you have to do is sign up for a Rakuten account and you will automatically see a "Refer & Earn $30+" button in your account.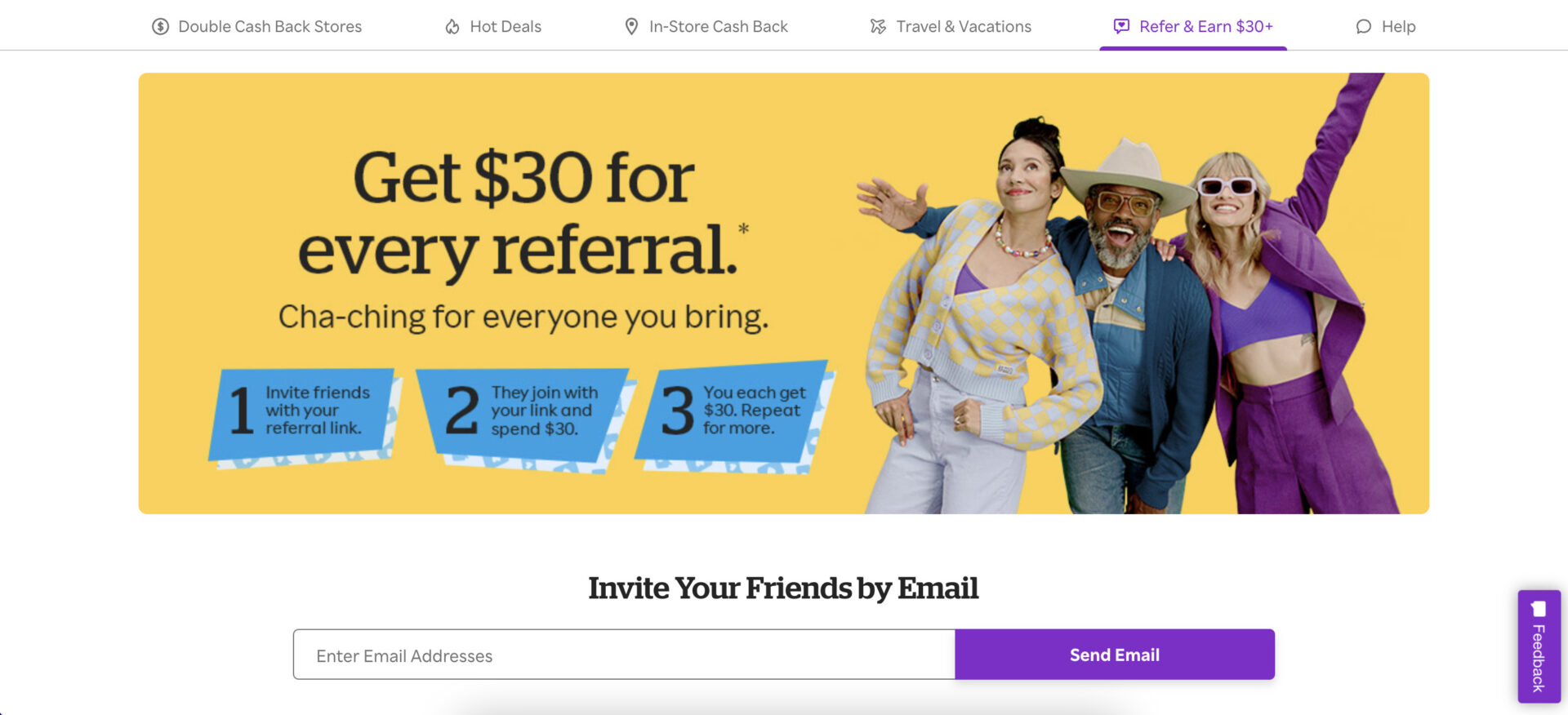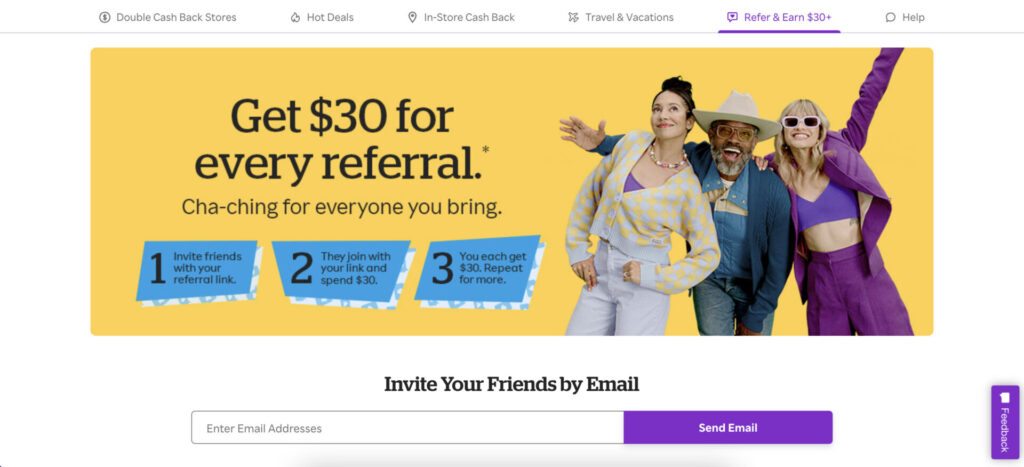 Clicking that button will take you to the referral page, where you have the option to invite friends by email to join Rakuten. You will also be able to see your unique referral link, which you can share on your blog or social media.
Referral marketing is very similar to affiliate marketing in that you earn a commission by having someone click your referral link and take an action.
However, the great thing about the Rakuten referral program is that the person who clicks your referral link and signs up doesn't have to buy anything unlike traditional affiliate marketing. All they have to do is make at least $30 of online purchases within 90 days, which most people do anyway.
And you BOTH earn a $30 bonus. So it's a win-win for the referrer and the referred.
This makes the Rakuten referral program a very attractive opportunity for bloggers and influencers. You can make money by sharing your Rakuten referral link in your blog posts, with your email list, and on your social media platforms.
Who Is This Good For?
Joining the Rakuten referral program is great for bloggers and influencers who create content related to personal finance, saving money, making money, etc.
You don't need to be a personal finance blogger to share Rakuten with your audience. There are plenty of other ways you can work it in.
It could also be a good fit for mom bloggers (helping busy moms earn cash back in an easy way), travel bloggers (showing how you can get cash back when booking trips), fashion bloggers (how to earn cash back when shopping), and so on. This referral program is a great way to earn money in any niche.
You don't need a huge audience to make money with the Rakuten referral program either. Even just making one referral per month is an extra $360 per year. And ten referrals per month would put you at $3,600 per year!
Even if you are not a blogger or influencer, you can share your Rakuten referral link with friends and family in order to make some extra cash.
Rakuten Influencer Program
In addition to the Rakuten referral program, Rakuten also has an influencer program that is available to bloggers and influencers with a larger audience who want additional partnership opportunities with Rakuten.
When you join the influencer program, you are eligible for additional earning incentives, as well as paid sponsorship opportunities.
You also get freebies, swag bags, entry into giveaways, and more!
Once you sign up for Rakuten you will be able to apply to the influencer program.
Is There a Limit to How Much You Can Earn?
There is no limit to how much you can earn through the Rakuten referral program.
This is one of my favorite aspects of the referral program!
I have been part of other referral programs in the past that put a cap on how much you could earn from referrals, which was frustrating.
For example, a credit card that I have offered a referral program that paid $100 per signup, but limited you to five referrals or $500 per year.
This was extremely frustrating, because I shared my referral link on my blog, and I would have five signups immediately within the first month of the year, but then I wouldn't be able to earn any more for the rest of the year, even though I knew people were using my referral link and signing up for the credit card.
Similarly, Airbnb has a referral program, but you have a lifetime earnings limit of $5,000 and once you hit that, you cannot earn any more.
So it's a huge benefit that the Rakuten referral program has no such limits.
How to Join the Rakuten Referral Program
If you want to join the Rakuten referral program, all you have to do is sign up for a Rakuten account and you'll be able to start referring others.
If you use my referral link to sign up, you'll be eligible to earn a $30 cash bonus after you make $30 worth of qualifying purchases within 90 days.
Note that Rakuten is only available in the United States and Canada.
More Affiliate Marketing Tips for Bloggers
Are you looking for more ways to earn money through affiliate marketing?
Here are some of my top affiliate marketing tips for bloggers to check out!