Note: Affiliate links may be used in this post. I may receive a small commission at no extra cost to you if you use my affiliate link. Full disclosure policy here.
Best Free Feminine WordPress Themes
Are you trying to find the perfect free feminine WordPress themes for your blog?
I personally invested in a premium theme from Bluchic, which I recommend if you want to make your blog look so much more professional.
But I put together this round-up of the best FREE feminine WordPress themes for bloggers in case you aren't ready to invest in a premium theme yet.
There are so many free WordPress themes out there that it can be overwhelming to know where to look to find the best options and choose the right theme.
If you're looking for a free feminine WordPress theme, you'll find some great choices below. All of these themes are customizable, professional, and pretty! They are perfect for female bloggers who want a chic and feminine blog design.
Related: How to Choose a WordPress Theme for Your Blog
How to Use These Free Feminine WordPress Themes
Note: All of these free themes require you to have a self-hosted WordPress website to use them. You can get hosting from Bluehost for just $3.95 per month and get your domain name FREE through my link. Bluehost automatically installs WordPress for you and then all you have to do is upload one of these themes. For a more detailed guide on how to start a self-hosted WordPress blog, click here.
Related: How to Start a Blog for Beginners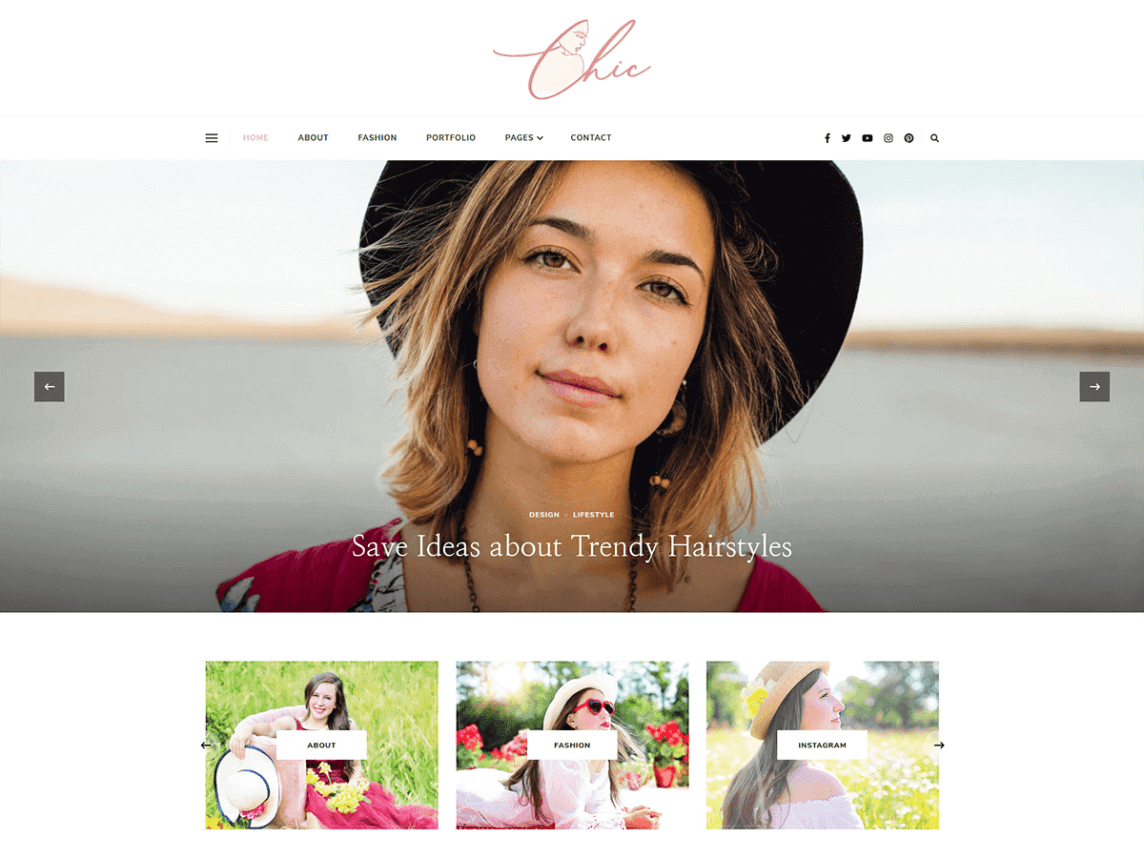 This first free feminine WordPress theme is from Bluchic. I have used many of their themes before for my own blog and my web design clients, and I'm using their Victoria theme right now. Adelle is the free version of their Adelle Pro theme. This theme has a sleek design and a very girly and pretty feel to it.
This free chic WordPress theme from Angie Makes is perfect for female bloggers! Angie also has a lot of other great graphic design freebies on her website.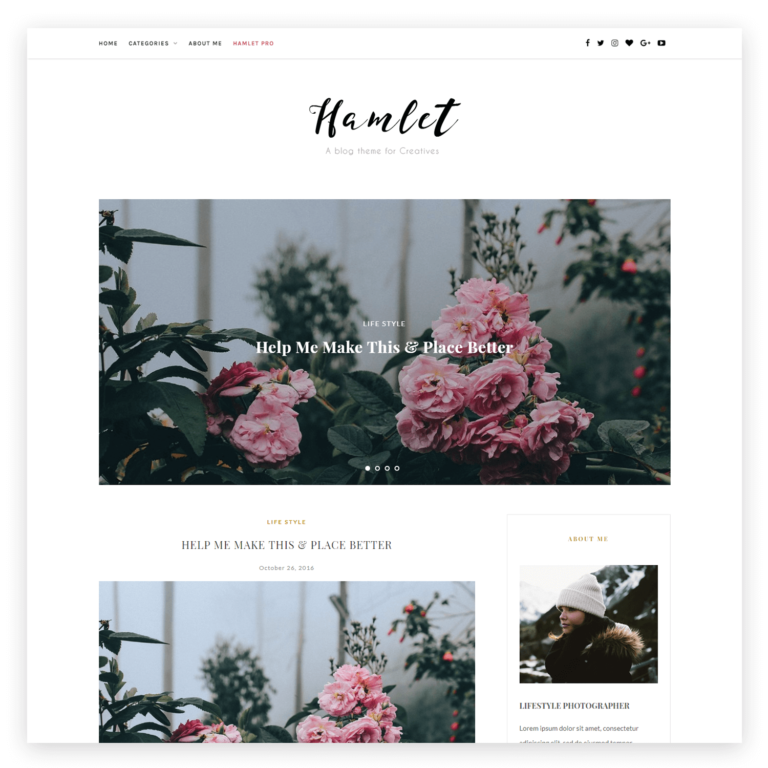 The Hamlet Lite theme is a simple yet elegant theme for bloggers. It comes with some great features, most notably the featured post slider.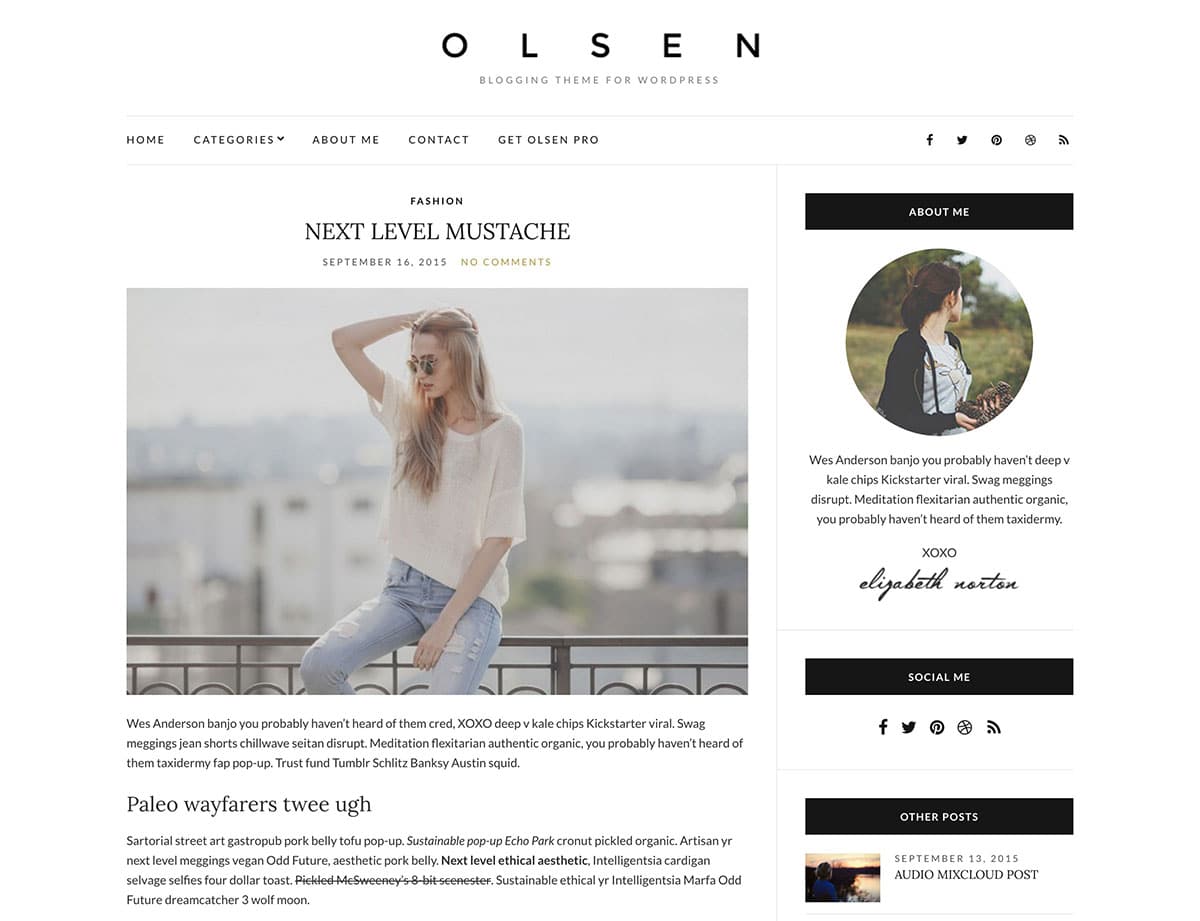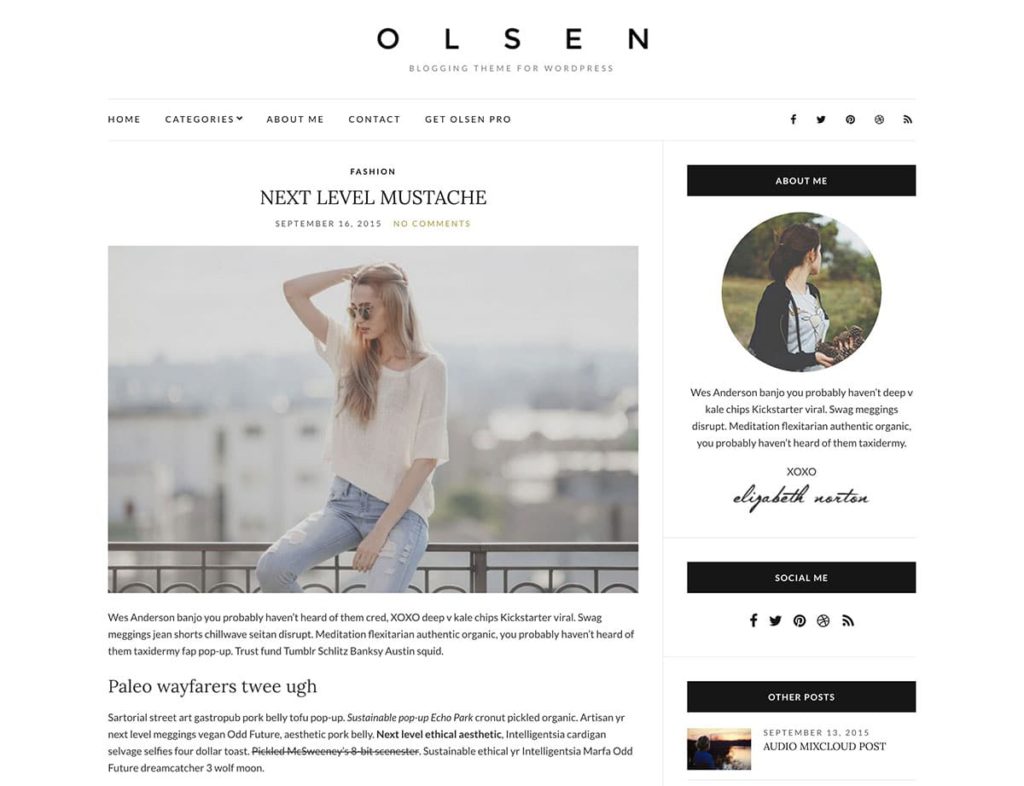 Olsen Light is a chic, minimalist WordPress theme for bloggers with a lot of flexibility for customization. I love the simple, clean look of this theme!
Enamored is a whimsical free theme from Beautiful Dawn Designs, and it is the perfect choice for female bloggers who want a cute, feminine theme.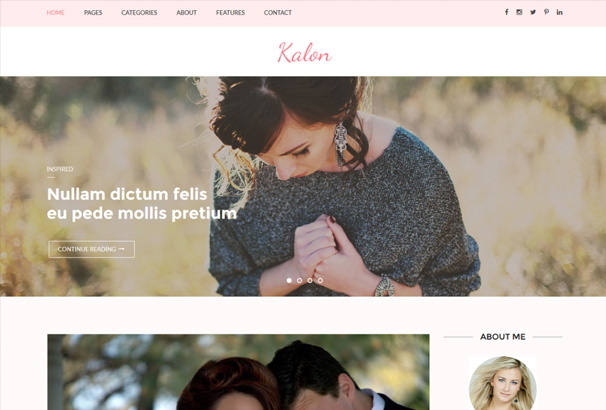 Kalon is a really pretty, simple free WordPress theme. It's actually designed for weddings, but you can really use it for any type of blog! This is one of the best free WordPress themes because it's so versatile.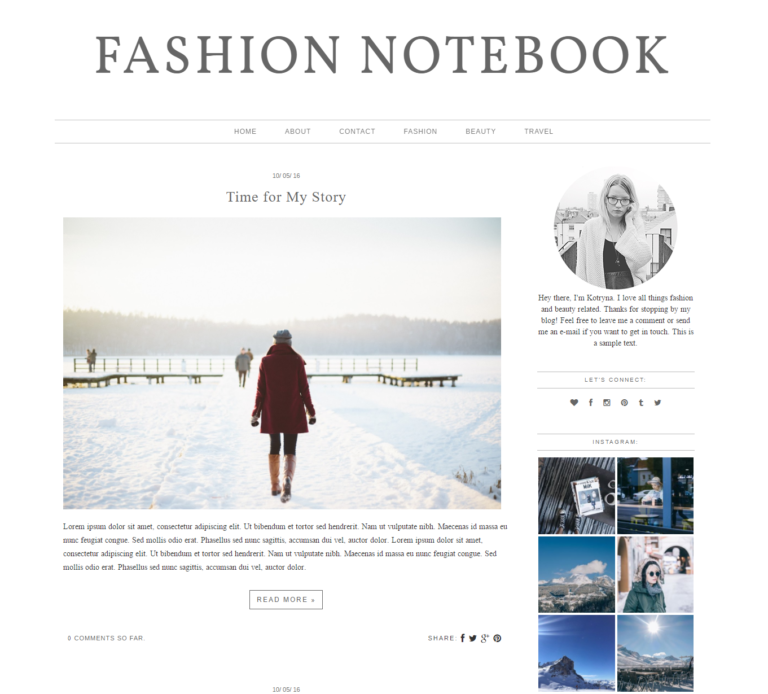 This lovely journal-style WordPress theme is perfect for female bloggers! In order to download this free theme, you will first need to subscribe to Kotryna's email list. (You will receive lot of other great freebies too!)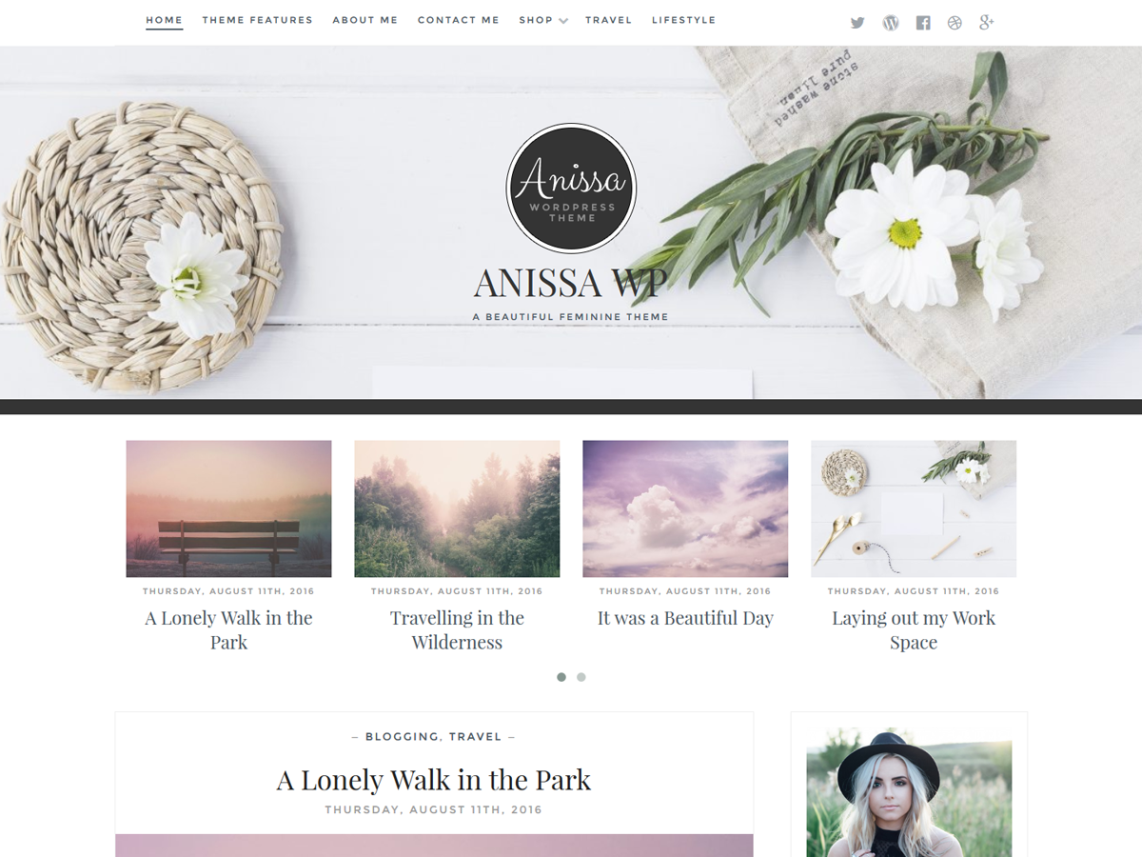 I love this simple, elegant free theme because of the larger header image space and the featured posts widget for showing off your top blog posts! This is another great free WordPress theme option for female bloggers.
How to Install Your WordPress Theme
Once you have decided on one of these free feminine WordPress themes, it's super easy to install it! Here's all you have to do:
Log into your WordPress dashboard
Go to Appearance > Themes
Click "Add New" at the top of the screen
Click "Upload Theme" at the top of the screen
Upload the .zip file of your theme
Click "Activate" once your theme has uploaded!
After you install your theme, you will want to refer to your theme's set-up instructions so you can get everything customized and looking just right.
Remember that you will need a self-hosted WordPress blog in order to use any of these themes. If you don't already have one, make sure to read my step-by-step guide to starting a self-hosted WordPress blog first!
Premium Feminine WordPress Themes for Bloggers
So those are my favorite free feminine WordPress themes for bloggers!
Looking for more options of WordPress themes for your blog?
If you would rather go with a paid theme, here are my favorite premium WordPress themes for bloggers to make your blog look beautiful and professional.
1. Hello You Designs
Hello You Designs are definitely some of my favorite themes… I used to use their Hello Foxy theme on my blog. I love these themes because they are so feminine and chic. They also come with a lot of features making them perfect for not just bloggers, but also online shop owners and service-based business owners who need additional functionality for their website.
My favorite theme: Hello Foxy
2. Bluchic
I have worked extensively with Bluchic themes and they are some of my favorites just because of how EASY they are to use! The great thing about these themes is that you can have them set up just like the demo in only a few minutes, making them perfect for beginners. They have a range of feminine blogging themes and business themes. I'm currently using the Victoria theme!
My favorite theme: Victoria
3. 17th Avenue
17th Avenue specializes in clean, modern, feminine WordPress themes for bloggers and business owners. Their themes are very chic polished and work really well for lifestyle bloggers. I use their Vivienne theme on my travel blog!
My favorite theme: Vivienne
More Blogging Resources
These are the best free feminine WordPress themes for bloggers.
Want more blogging resources? Sign up for my free Blogging Bootcamp course to learn exactly how to start a money-making blog, plus get my best blogging tips delivered directly to your inbox every week!
You may also find these tips for new bloggers helpful: