Note: Affiliate links may be used in this post. I may receive a small commission at no extra cost to you if you use my affiliate link. Full disclosure policy here.

What to Blog About: Best Blog Niche Ideas
Are you wondering what to blog about?
If you are considering starting a blog it is not uncommon to get stuck on the very first step: deciding what you should even blog about.
And if you want to make money blogging, it's important to have a defined niche or topic for your blog. Writing a personal blog/diary about your life can be a good creative outlet, but it's not going to make you any money.
The most successful bloggers have a clear niche, AKA what they blog about.
Sometimes your niche can be broad and encompass several related topics with one common audience. For example, a "mom blog" covering parenting tips, kids' activity ideas, budgeting tips, and easy family recipes. These are different topics, but with one core audience (moms) who would be interested in this content.
Other times, your niche can be very narrow. Such as a blog all about houseplants (or even a specific type of plant) or a blog all about vegan dessert recipes.
If you aren't sure what to blog about, here are some tips for choosing:
1. What are you passionate about?
The easiest way to get started brainstorming what to blog about is to look at what your passions are. It's much easier to write about a topic that you're passionate about and have some knowledge of than writing about a topic you chose just because you think it could be profitable.
You don't even need to be an expert at something to blog about it. A hobby or interest will suffice, as long as it's something you're passionate about!
Think about the subjects you could talk about all day, or the things you already read blogs about or participate in other online communities for. These are great ideas for topics that you could start a blog about!
2. What are you good at?
Another way to decide what to blog about is to consider what you're good at. It's easy to write about what you already know!
Do your friends and family always come to you for relationship advice? Are you a total nerd about money and budgeting? Do you do something at work (such as marketing) that you could teach to others? Have you been on a major fitness and weight loss journey you could share? Start a blog about it!
Once again, you don't need to be a total expert at something in order to write about it. Many people enjoy reading blogs from real people who are even just one step ahead of them when it comes to a specific topic!
3. Who do you want to help?
One good way to decide what to blog about is to think about who you want your blog to reach. This is known as creating an "avatar" for your blog.
By having an avatar, it's easy to tailor your content to your ideal audience. For example, maybe your avatar is "millennials who want to get out of debt" so you write about debt payoff, budgeting tips, and side hustles to make extra money.
Or maybe your avatar is "overwhelmed new moms" so you write about postpartum care, breastfeeding, getting newborns to sleep. Whoever your target audience is, this can help you develop your niche around them.
4. Is there income potential?
One last thing to consider when trying to decide what to blog about (that's very important!) is the traffic and income potential of your chosen niche.
Like I mentioned at the beginning of this post, writing a personal blog that's all over the place is not going to make you any money. It's fine if you just want to blog as a hobby… but you need a viable niche in order to make money.
You should do research to see if there are other successful blogs in your desired niche. One simple way to do this is by reading blog income reports to get an idea of how much other bloggers earn (and how they earn it.)
150+ Profitable Blog Niche Ideas
Looking for some ideas for what you should blog about?
Here are some profitable blog niche ideas that get traffic and make money!
TRAVEL NICHE IDEAS
Luxury travel

Budget travel

Region-specific travel

Solo travel

Couples travel

Family travel

RV travel

Disney travel

Retiring abroad

Cruise travel
PARENTING NICHE IDEAS
Pregnancy

Postpartum care

Newborn care

Baby gear

Breastfeeding

Homemaking

Working mom
FASHION AND BEAUTY NICHE IDEAS
Budget fashion

Capsule wardrobe

Sustainable fashion

Petite fashion

Plus size fashion

Skincare

Cruelty-free makeup

Hairstyling
FOOD AND HEALTH NICHE IDEAS
Keto recipes

Vegan recipes

Paleo recipes

Gluten free recipes

Low carb recipes

Yoga

Natural living

Cycling

Marathons
EDUCATION NICHE IDEAS
Homeschooling

Getting into college

Learning a foreign language

SAT or ACT prep

GRE or GMAT prep

Scholarships
MONEY AND FINANCE NICHE IDEAS
Saving money

Making extra money

Budgeting

Investing

Early retirement

Side hustles

Making money online

Getting out of debt

Frugal living
DIY AND CRAFTS NICHE IDEAS
Sewing

Knitting

Holiday DIY

Interior design

Scrapbooking

Cricut

DIY home decor
BUSINESS NICHE IDEAS
Self-publishing

Online business ideas

Social media marketing

Search engine optimization

Software reviews

Email marketing
HOME AND LIFESTYLE NICHE IDEAS
Home decor ideas

Organization

Cleaning

Decluttering

Small space living

Productivity

Bullet journaling

Homesteading

Minimalism

Weddings
HOBBY NICHE IDEAS
Gardening

Photography

Drones

Learning an instrument

Hiking

Pets

Home brewing
Looking for even more blog niche ideas?
Download my free list of 150+ profitable blog niche ideas below!
More Blog Niche Ideas
Check out the following niche deep dives to get more blog niche ideas that I have researched based on what is popular and profitable!
How to Start Your Blog
Once you've decided on a niche, you can go ahead and start your blog!
Don't worry, it's super simple, even if you aren't a very technical person.
Many people don't know this, but you can even go ahead and start your blog if you haven't decided on a name for it yet. Choosing a blog name is probably the next biggest thing new bloggers get stuck on after choosing a blog niche.
Luckily, I have an entire guide about how to name your blog.
In the meantime, it's possible to go ahead and start your blog now even if you haven't decided on a name yet. You will get a credit to come back and choose your domain name (for free) within 30 days once you've decided.
The cost of starting a blog is only $2.95 a month with Bluehost.
Here's how you can go ahead and start your blog in under ten minutes (even if you haven't chosen a name for your blog yet.)
1. Click here and then click the "Get Started" button:
2. Select your hosting plan
Which plan should I choose? I recommend the Basic plan for new bloggers.
I'm personally on the Plus plan, but that's only because I run multiple blogs. Otherwise I would probably choose the Basic plan!
3. Put in your domain name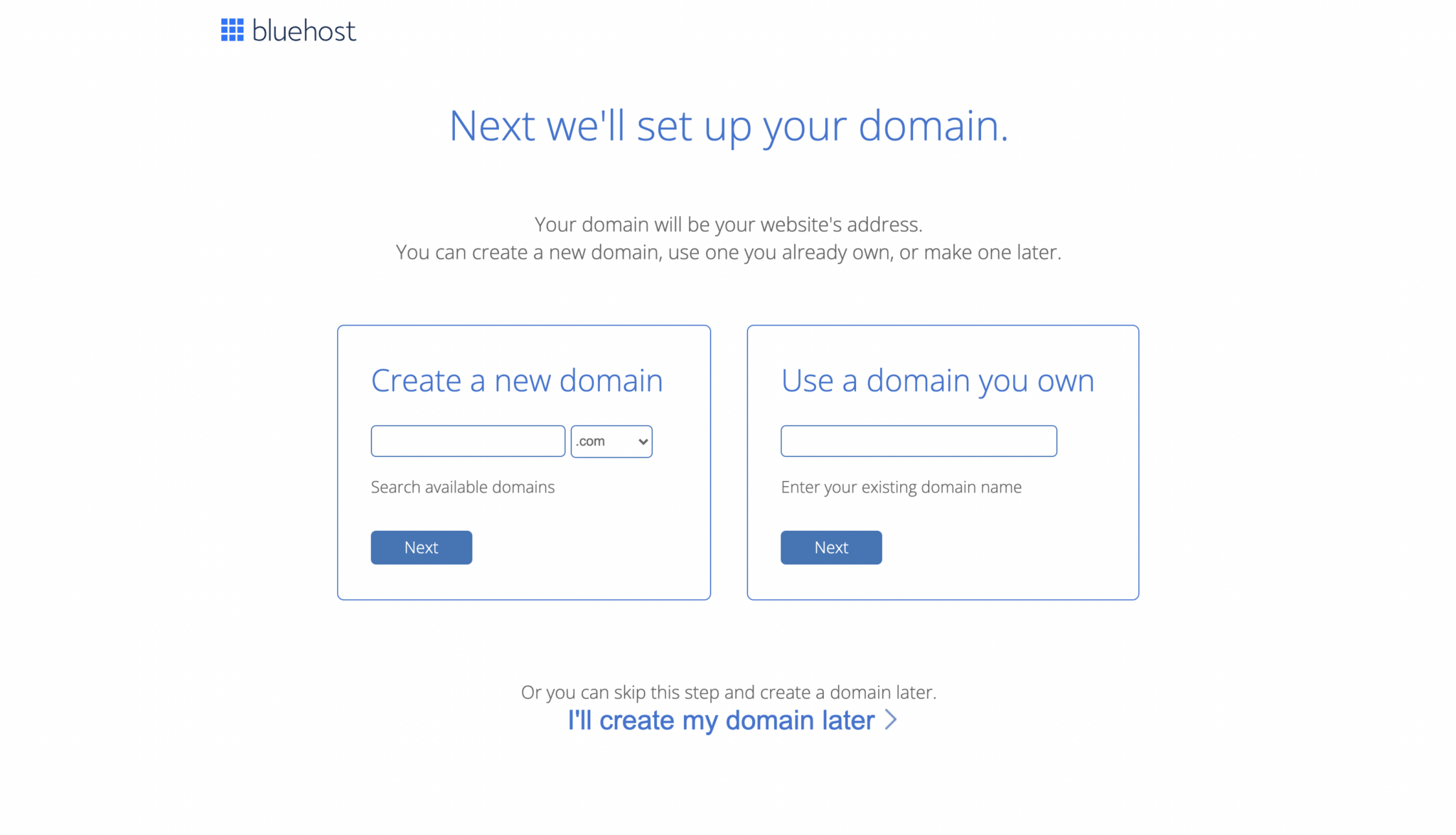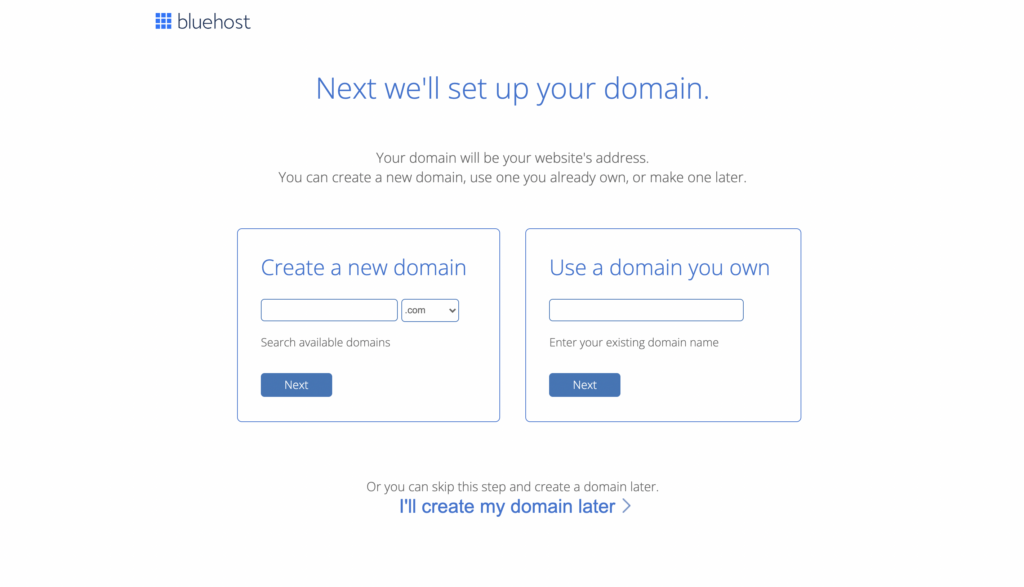 This is where you'll put in the domain name that you want to use for your blog.
Related: How to Choose a Blog Name & Blog Name Ideas
What if I haven't decided on a name yet? If you haven't decided on a domain name for your blog yet, click "I'll create my domain later." Or you can wait a couple seconds and this offer will pop up on the screen: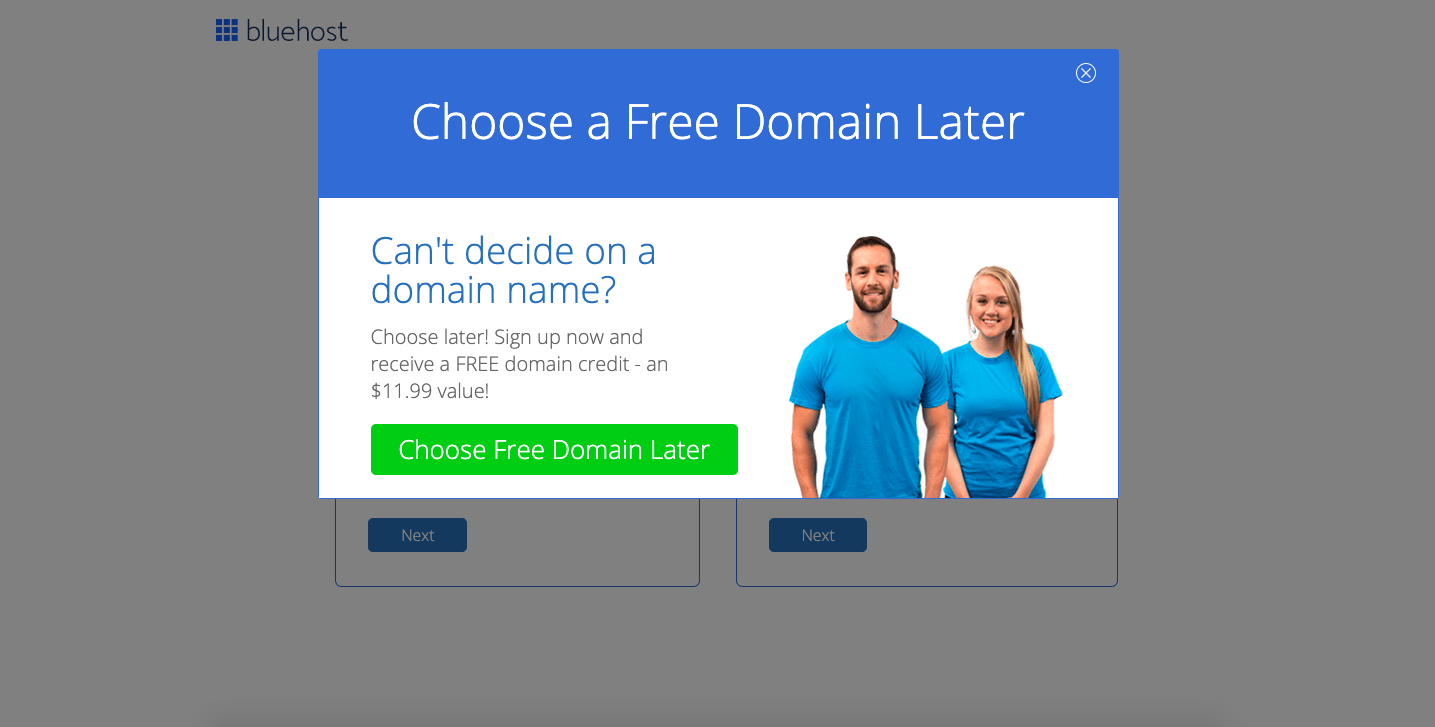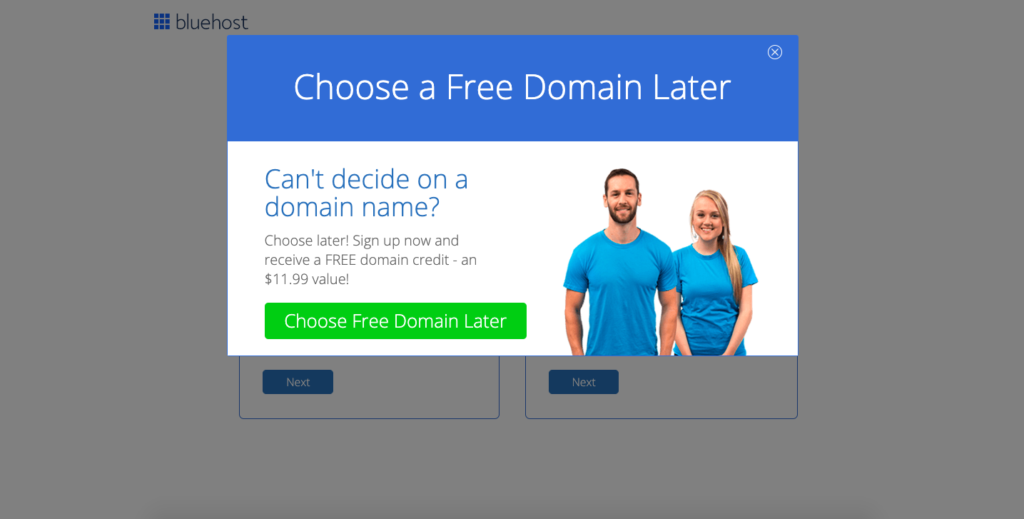 Select this option and you can go ahead and set up your blog now, then use the free credit to buy your domain name later.
4. Create your hosting account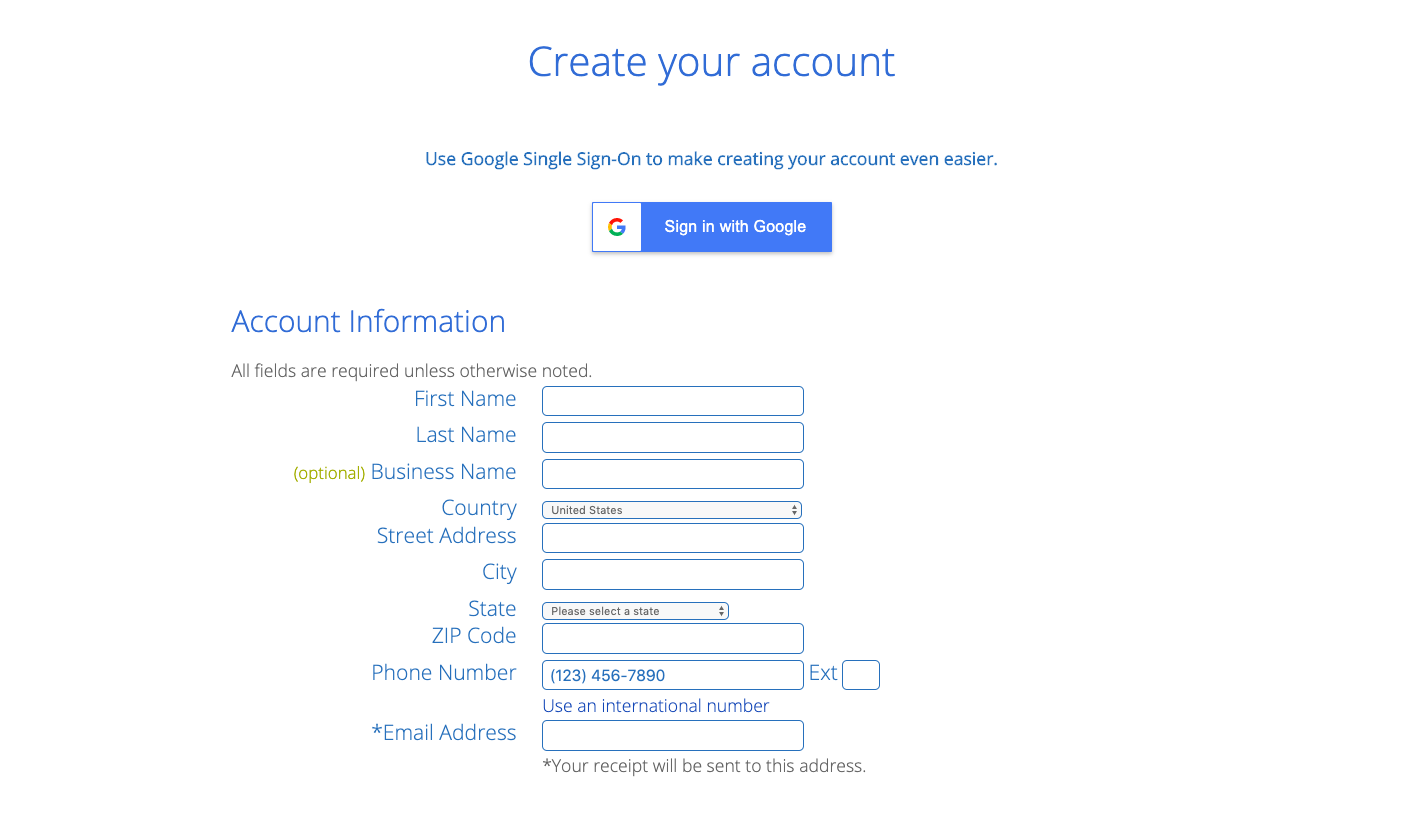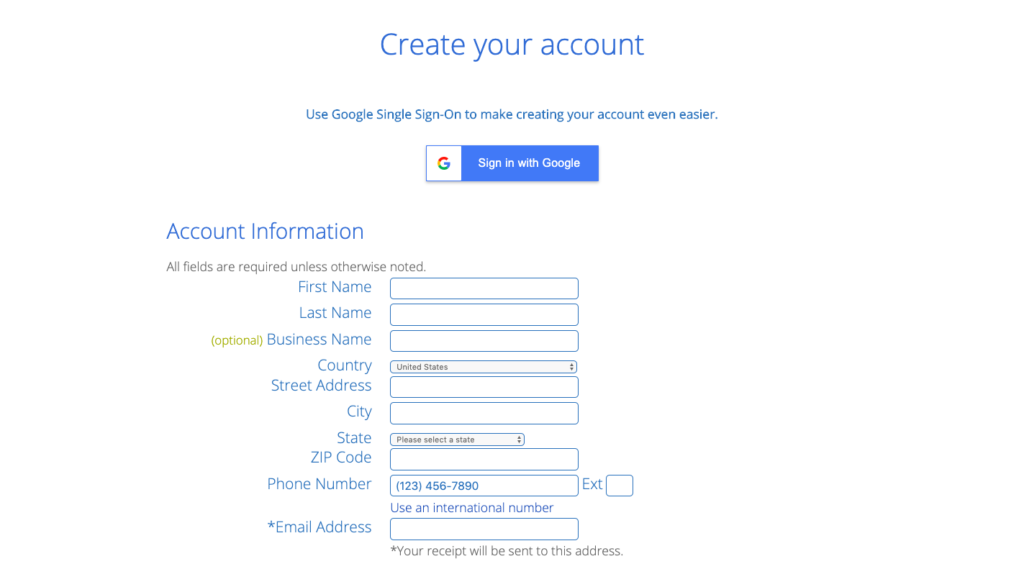 5. Choose your package and pay
This is where you'll select your hosting plan.
I recommend the 12-month plan for $2.95 a month, for a total cost of $35.40 for the year. But you can also choose a 24-month or 36-month plan.
What about package extras? You have the options to add on extra paid services like site backups, SEO tools, or site security.
I personally don't recommend any of these paid extras, because there are free WordPress plugins you can install that do the same things.
6. Congrats, you're done!
Now you're all set! Bluehost will automatically install WordPress for you.
What exactly is WordPress? WordPress is the content management platform that your blog will run on. Your WordPress dashboard is where you will go to edit the look of your blog, write blog posts, upload images, etc.
It's extremely easy to use, even if you're a total beginner.
Niche Selection Secrets
If you still need help choosing a niche for your blog, I wrote an entire ebook on how to pick the perfect blogging niche for you.
It's called Niche Selection Secrets and it's the ultimate guide to brainstorming the perfect blog niche, along with validating to make sure it's profitable.
More Blogging Tips
Looking for more tips on how to become a successful blogger?
Here are some of my best posts for new bloggers: