Note: Affiliate links may be used in this post. I may receive a small commission at no extra cost to you if you use my affiliate link. Full disclosure policy here.

Mom Blog Niche Ideas
Looking for mom blog niche ideas that you can earn money from?
I put together this list to share niche ideas for mom bloggers that will set you apart from the crowd and have a good potential for traffic and income.
When it comes to running a mom blog, you can have more of a lifestyle blog with multiple topics, or you can "niche down" and focus on one thing.
It's possible to be successful both ways, but having a more defined niche for your blog can help you establish yourself as an authority in your niche, grow your audience faster, and make more money from your blog.
For a look at how much you can earn with a mom blog, take a peek at the mom bloggers on my ultimate list of blog income reports.
There are mom bloggers who are earning anywhere from $1,000 to $10,000+ a month blogging about kids, parenting, and mom life.
What kind of mom blog should you start?
Read on for some great mom blog niche ideas!
Tips for Choosing a Niche
On to the mom blog niche ideas! Below are seven popular, high-traffic mom blog niches that have good potential for income.
When choosing your mom blog niche, ask yourself the following questions:
Is this a topic that I know a lot about and have experience with?
Is this a topic that other people are interested in?
Is this a topic I can see myself writing about long-term?
These will help you determine if a niche is right for you or not.
For more tips on deciding your niche, be sure to read my other guide What to Blog About: How to Choose a Blog Niche.
Here are some great niche ideas for mom bloggers:
1. New Mom
A great niche idea for mom bloggers is the "new mom" niche.
Expecting first-time parents have a TON of questions about pregnancy, giving birth, newborn care, and everything that comes along with being a parent.
As a blogger in this niche, you can answer their questions, share your best tips and tricks, and give helpful recommendations.
This is a niche where there's always going to be a lot of demand and interest. This is also a life stage where people are willing to spend a LOT of money getting ready for baby, which is great for affiliate sales as a blogger.
Here are just a few sub-topics in the new mom niche:
Pregnancy
Getting ready for baby
Labor and delivery
Postpartum care
Breastfeeding
Newborn care
Baby gear recommendations
As I mentioned, this is a great niche to monetize with affiliate marketing because there are so many products that you can recommend.
An example of a successful blogger in this niche is Caroline from Swaddles 'n' Bottles who earned over $11,000 in one month from her blog!
2. Homeschooling
Homeschooling has always been around, but it has exploded in popularity recently and is only continuing to grow, making this a great niche.
Of course, this is a mom blog niche that only makes sense if you actually homeschool your kids. It's a topic that would be hard to write about without firsthand experience. But if you DO have homeschooling experience, then this can be a great topic to write about for your mom blog.
One good thing about the homeschooling niche is that you have a big opportunity to monetize the usual ways (ads and affiliate marketing) but there's also a HUGE potential for selling your own products, such as printables, planners, lesson plans, and other homeschooling resources.
3. Parenting Twins
Here's another mom blog niche that is best if you have firsthand experience: parenting twins! If you're a mom to twins, this is a unique and profitable niche.
One in every 42 children born is a twin. That's a pretty sizable chunk of the population, and over 1.6 million twins are born each year!
That's a lot of parents looking for tips on having twins. You can write about the best gear for twins (double strollers, cribs, high chairs, etc.), name ideas for twins, matching outfits for twins, twin pregnancy announcement ideas, tips for handling twins, and so much more about raising twins!
4. Kids' Activities
Kids' activities is a unique niche ideas for mom bloggers.
If you're creative, this is perfect for you. With this type of blog, you have a lot of different topics that you can write about. Some ideas include:
Kids' crafts
Holiday crafts for kids
Kids' party ideas
Printables for kids
Activities for kids
Stacey from The Soccer Mom Blog earned over $11,000 in one month from her blog and she mainly writes about kids' activities.
If you can create your own printables to sell, such as coloring pages, templates for crafts, kids' activity pages, etc. then this niche can be even more profitable!
5. Family Finances
Finance is a very lucrative niche because there are many high-paying affiliate offers and advertising rates are much higher than in other niches.
If you're passionate about all things money and personal finance, then starting a mom blog about family finances is perfect for you.
There are so many things you can write about in this niche, including budgeting, saving money, making extra money, frugal living, couponing, getting out of debt, cheap meal prep, saving money on family vacations, and more.
6. Fitness
If you're passionate about fitness, consider starting a blog about fitness for moms. There are so many sub-topics you can talk about with this niche:
Losing the baby weight
Easy at-home workouts
Quick and healthy meal prep
Best workout gear
Healthy dieting
Fitness in general is a topic that is evergreen and always has a lot of interest. If you're looking for a way to stand out in this niche, then focusing especially on fitness for moms is a great way to do it!
For an example of a mom blogger who's very successful in this niche, check out Gretchen from Fit Mom Journey who earns over $10,000 a month!
7. Working Mom
Finally, a great mom blog niche idea is working mom.
This can encompass so many things, like how to balance your career with motherhood, ways to work from home and be with your kids more, how to start your own business for moms, and the best side hustles from home for moms.
One really good example of a mom blogger in this niche is Suzi from Start a Mom Blog. As the name implies, she teaches other moms how to start their own blogs. She was able to earn over $24,000 in one month from her mom blog!
More Mom Blog Niche Ideas
This post showed you seven mom blog niches I think have great traffic and income potential based on my own personal research and experience.
But if you want to access 15+ more profitable mom blog niches, you can download my ultimate list of 150+ niche ideas for bloggers below.
How to Start a Mom Blog
Do you want to learn how to start a mom blog?
I put together a whole guide about how to start a mom blog for beginners.
This guide will show you step by step how to get started and have your mom blog up and running in less than an hour, even if you have no tech experience!
I also created a massive list of popular mom blog post ideas if you need help coming up with things to write about on your mom blog.
For a quick overview of how to start your blog, keep reading!
The main thing you will need in order to start a blog is a domain name and web hosting. I recommend Bluehost for web hosting because it's only $2.95 a month and you get a FREE domain name (which saves you an additional $15-20.)
If you need help choosing a name for your blog, read How to Choose a Blog Name for some helpful tips and 100+ blog name ideas.
Here's how to quickly start your blog with Bluehost:
1. Click here and then click the "Get Started" button:
2. Select your hosting plan
Which plan should I choose? I recommend the Basic plan for new bloggers.
I'm personally on the Plus plan, but that's only because I run multiple blogs. Otherwise I would probably choose the Basic plan!
3. Put in your domain name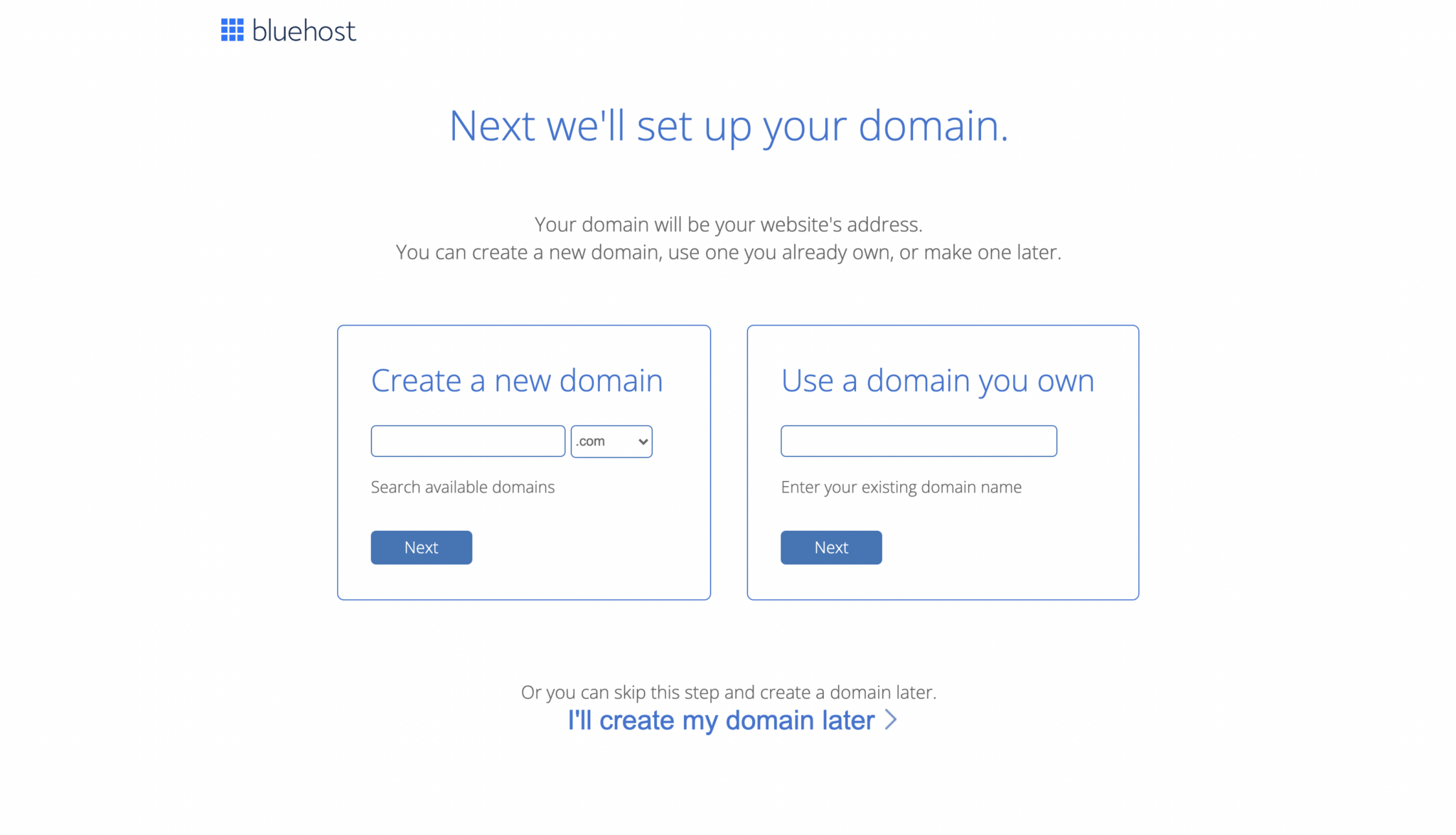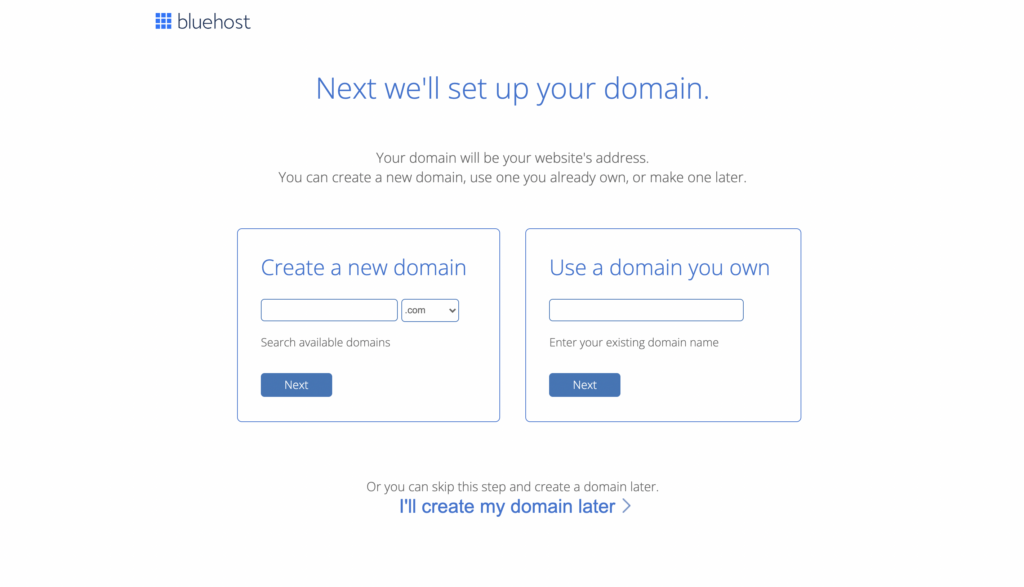 This is where you'll put in the domain name that you want to use for your blog.
Related: Mom Blog Names: Ideas and Examples
What if I haven't decided on a name yet? If you haven't decided on a domain name for your blog yet, click "I'll create my domain later." Or you can wait a couple seconds and this offer will pop up on the screen: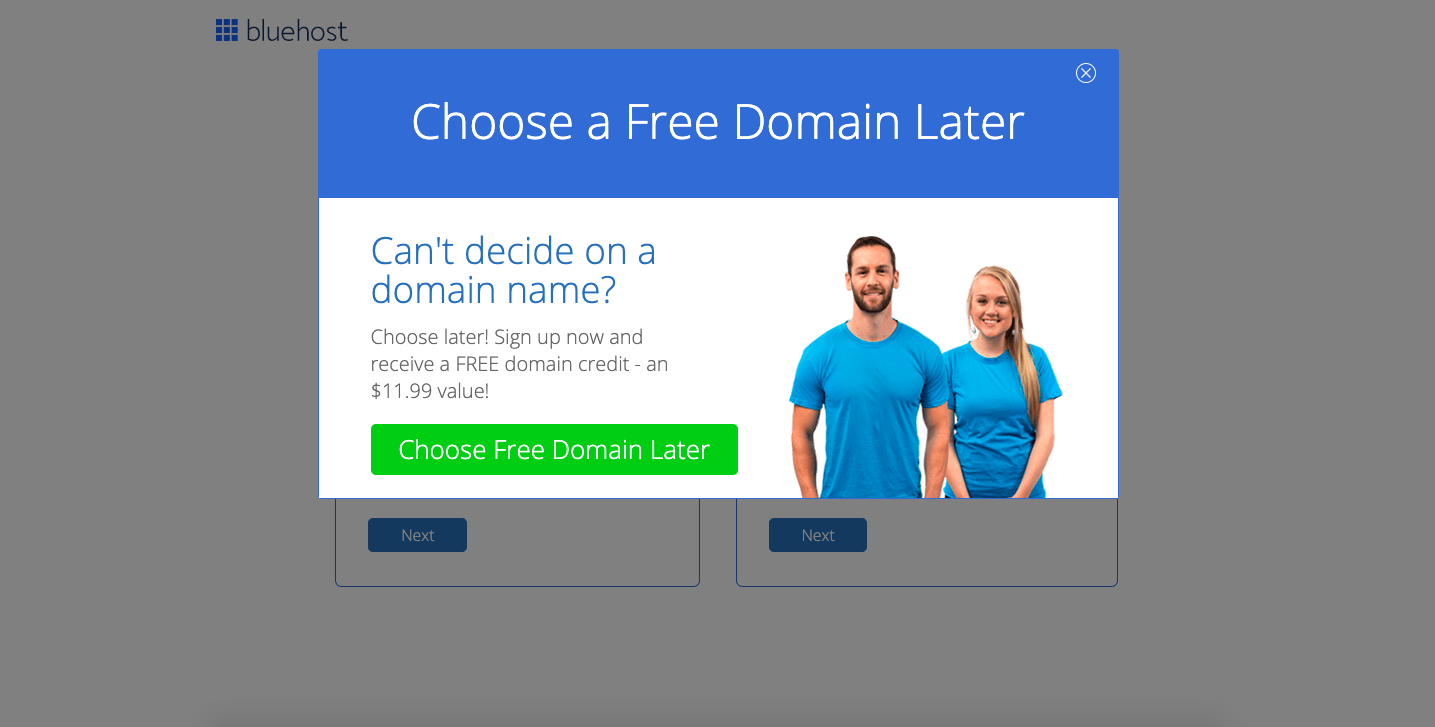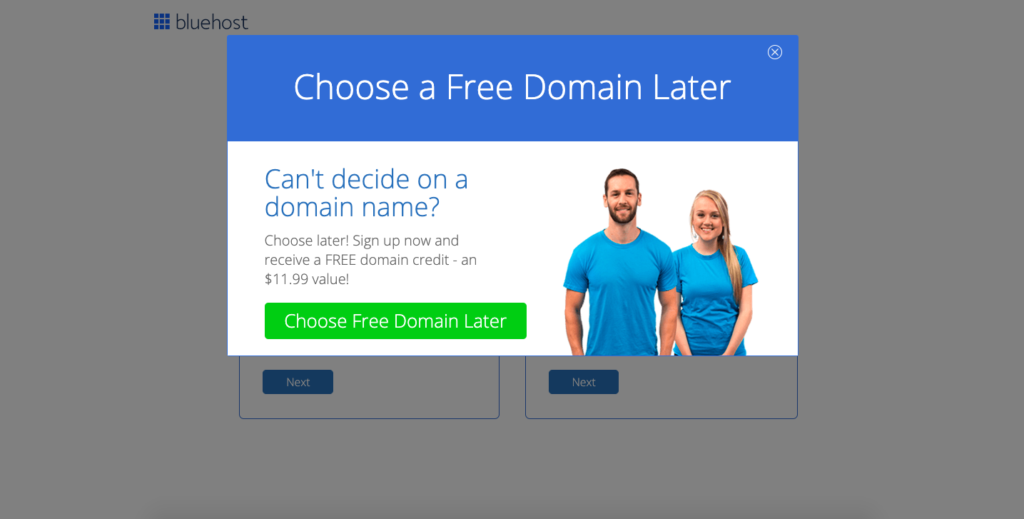 Select this option and you can go ahead and set up your blog now, then use the free credit to buy your domain name later.
4. Create your hosting account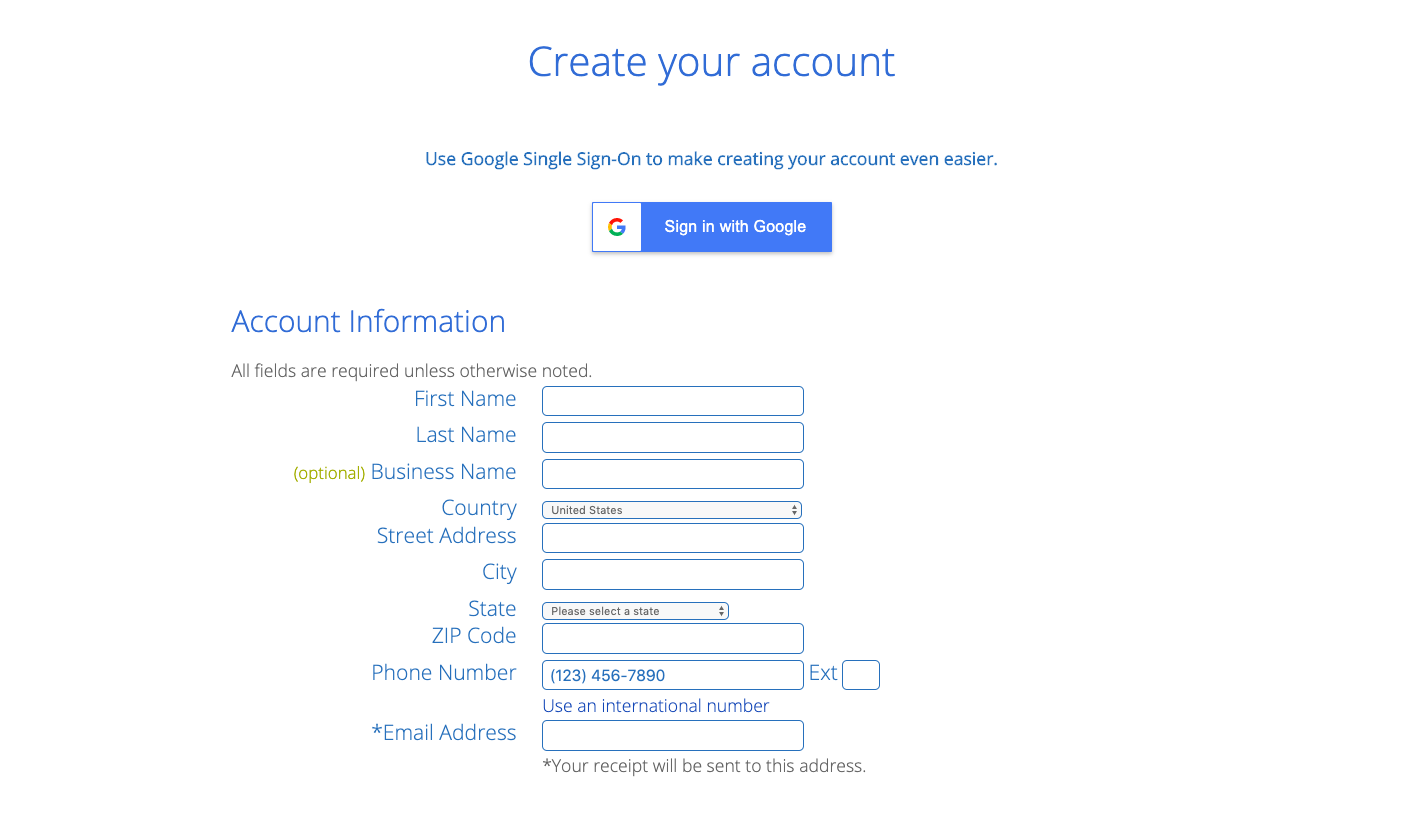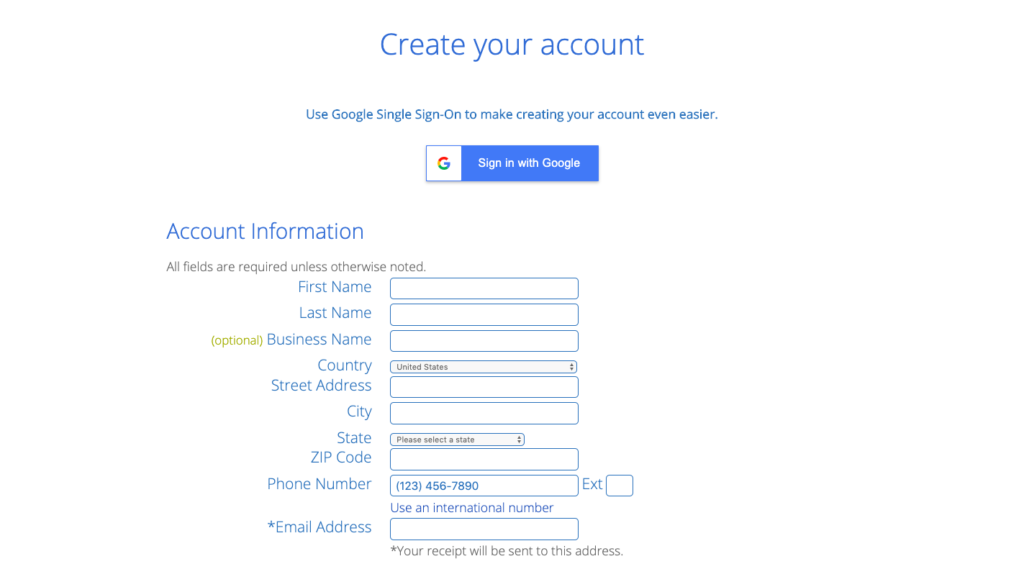 5. Choose your package and pay
This is where you'll select your hosting plan.
I recommend the 12-month plan for $2.95 a month, for a total cost of $35.40 for the year. But you can also choose a 24-month or 36-month plan.
What about package extras? You have the options to add on extra paid services like site backups, SEO tools, or site security.
I personally don't recommend any of these paid extras, because there are free WordPress plugins you can install that do the same things.
6. Congrats, you're done!
Now you're all set! Bluehost will automatically install WordPress for you.
What exactly is WordPress? WordPress is the content management platform that your blog will run on. Your WordPress dashboard is where you will go to edit the look of your blog, write blog posts, upload images, etc.
It's extremely easy to use, even if you're a total beginner.
How Do Mom Bloggers Make Money?
I shared the mom blog niche ideas that I think have a good potential for earning, but let's talk about HOW mom bloggers can actually make money.
Some of the best ways for mom bloggers to make money are:
Display advertising: Once your mom blog is getting enough traffic, you can apply to an ad network like Mediavine and earn money from displaying ads on your blog. This can be very profitable and passive income for bloggers!
Affiliate marketing: You can earn money by placing affiliate links in your blog posts. Whenever someone clicks your link and makes a purchase, you will earn a commission. For mom bloggers, I recommend joining the Amazon affiliate program and Skimlinks affiliate network to make money.
Sponsored posts: Mom bloggers can work with brands by creating sponsored content such as sponsored posts on their blog or social media accounts. In this case, you get paid a fixed amount by the brand.
Digital products: Another way to make money blogging as a mom blogger is by selling digital products such as ebooks, planners, printables, or templates.
For more ways to make money blogging, be sure to read my post about How Do Bloggers Make Money? Top 5 Ways Explained.
Start a Mom Blog Courses
This guide would be incomplete if I didn't mention Suzi Whitford from Start a Mom Blog. Suzi is a seven-figure blogger who has created some of the best resources out there for teaching other moms how to start and grow successful blogs.
I actually recommend her online courses for ANY type of blogger, but moms will find them especially helpful since that is her target audience.
She also has a great online course called Blog by Number which is perfect for mom bloggers. You can read my full review of Blog by Number here.
Mom Blog Niche Ideas
Hopefully this post gave you some inspiration for mom blog niche ideas!
You have a lot of topics to choose from as a mom blogger, but picking one or two topics to really focus on can help you grow a successful blog.
These are just a few of the best mom blog niche ideas you can use.
For more tips about blogging, be sure to read: