Note: Affiliate links may be used in this post. I may receive a small commission at no extra cost to you if you use my affiliate link. Full disclosure policy here.

How to Blog Anonymously
A common question prospective bloggers have is whether it's possible to blog anonymously without revealing their identity.
Can you blog anonymously and make money? Should you start a blog anonymously, or use your real identity? How can you start an anonymous blog?
These are all great questions!
And they're exactly what I'm going to answer in this guide to blogging anonymously. For whatever reason, you might want to keep your identity private when blogging. And you might have some questions about it.
Hey, I get it! I'm the same way – in fact, I didn't tell a single soul about my blog for over a year. And to this day my blog is still semi-anonymous.
So let's talk about blogging anonymously, and whether you should do it!
Why I Blog (Semi) Anonymously
When I first started blogging back in September 2017, I didn't share my blog with anyone. I literally did not tell a single person what I had done.
I even used a pseudonym when writing my blog, and I didn't have a photo of myself anywhere. I've now gotten a little less "anonymous" because I go by my real first name here, and I do share some photos of myself.
But my blog still is somewhat anonymous. If you Google my full name, for example, nothing related to my blog comes up, and very few people in my real life know about my blog to this day. More people know that I do blogging, but I keep my actual blog name a secret from 99% of people in my real life.
So why do I stay anonymous? Firstly, I enjoy blogging anonymously because there's no pressure and I don't have to worry about what people I know in real life think about my business. I also feel like I can express myself more freely than I would if my blog wasn't anonymous, which I like.
Keep in mind that there is no way to be completely anonymous online, and if you want to make money blogging, you have to get comfortable with that.
Pros of Blogging Anonymously.
There are many reasons why you might want to blog anonymously. Here are some of the pros to maintaining a secret blog:
Write what you want without being judged. You don't have to worry about anyone you know in real life judging you or sharing their opinions on your blog. There's no pressure about what you can or can't say on your blog.
Keep your blog separate from your professional life. You may not want your employer, colleagues, or acquaintances to know about your blog. Blogging anonymously ensures you keep your blog separate from your professional life.
You want to blog about a sensitive topic. Maybe you want to write more freely about a topic that is sensitive, highly personal, or controversial in nature. Having an anonymous blog allows you to do just that without worry.
Oversharing online just isn't your thing. Finally, if you just value your privacy, blogging anonymously is a good move for you. I used to have a career in cybersecurity, so I am hyper-aware of Internet privacy. If you're concerned at all about privacy, blogging anonymously (or semi-anonymously) is a good solution.
I want to emphasize again that there is no way to be 100% anonymous online. But there are steps you can take to minimize your digital footprint.
Cons of Blogging Anonymously
Of course, there are some cons to having an anonymous blog, such as…
It's harder to connect with your audience. If your blog is totally anonymous, it's hard to build a rapport with your audience. If you don't use your real name, never show your face, don't share any details about your life, never share personal stories, etc. it can be really hard to connect with your readers.
It can be hard to build trust and authority. Depending on your niche, it can be hard to build trust and authority if you're anonymous. Sometimes it doesn't matter. For example, if you have a blog about a really impersonal topic, like vacuum cleaner reviews, your readers probably don't really care about who's behind the screen. But if your blog is more personal in nature, it's going to be hard to build your brand if you don't reveal any part of your identity.
You may not get as much media exposure. If you aren't willing to provide at least a name and a photo, you might find it hard to get media exposure for your blog, such as mentions in publications, interviews, podcast appearances, and collaborations. This is a trade-off to maintaining anonymity.
Some bloggers have discovered that in order to grow their blog past a certain point, they need to give up their anonymity to an extent.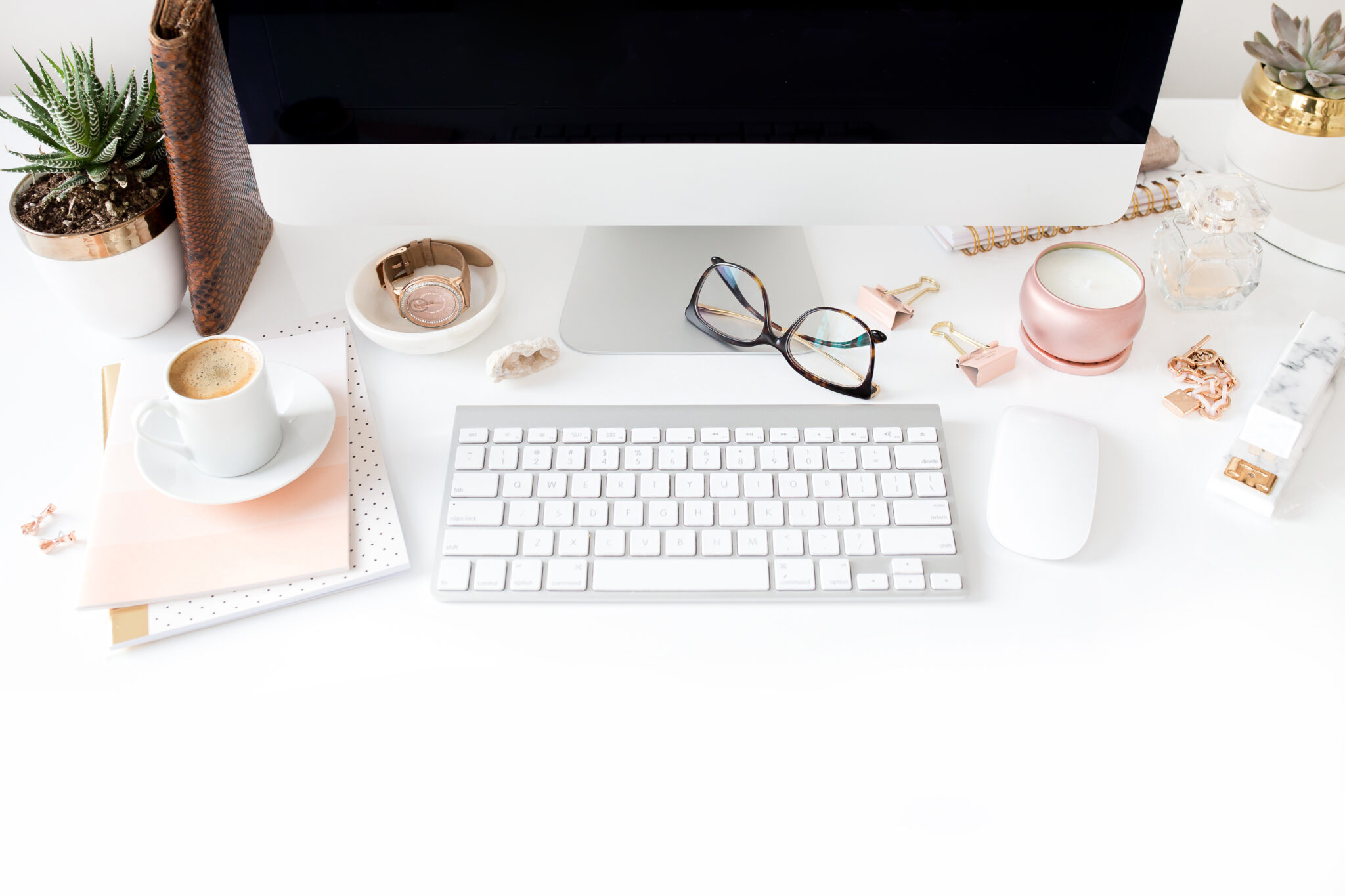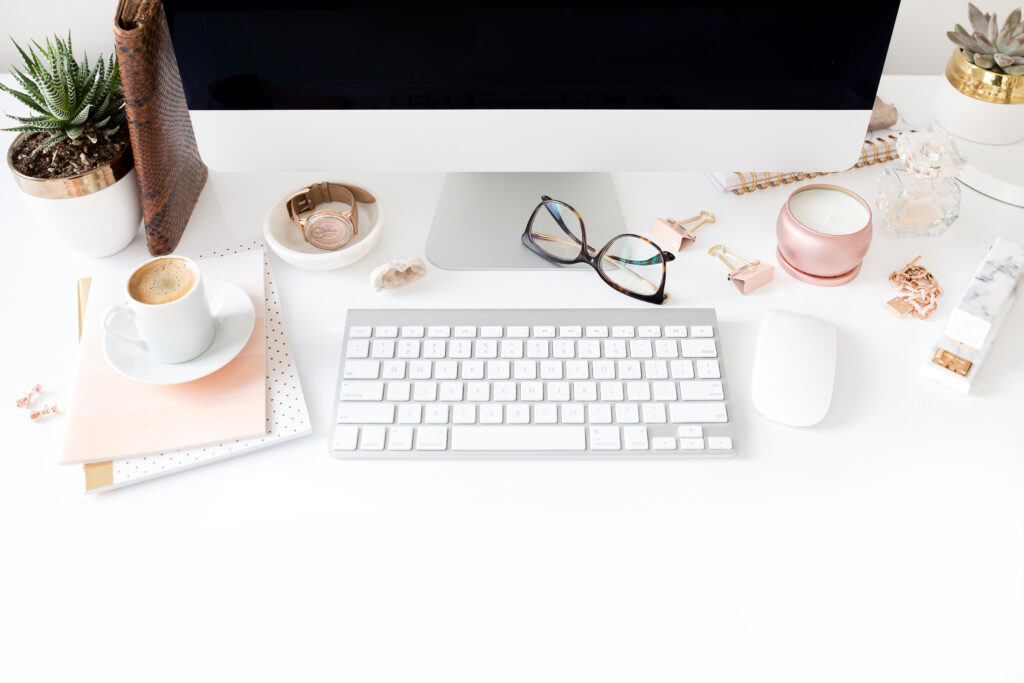 How to Start a Blog Anonymously
So now that you know the pros and cons of blogging anonymously, let's talk about how to actually get your anonymous blog started.
The first thing you'll need to do is purchase a domain name and web hosting.
A domain name is just your blog's .com address. And web hosting is basically the place where your blog will "live" on the Internet.
If you're going to blog anonymously, you obviously don't want your blog's domain name to be your real name, but other than that, you can choose any name you want! You may want to choose a name related to your blog niche or go with something more general that doesn't lock you into just one topic.
Here are some helpful tips for choosing a blog name. 
So where do you actually get your domain name and web hosting?
I highly recommend using Bluehost for web hosting because it's super easy to use, affordable, and you get your domain name for FREE with them (as opposed to paying $15-20 for your domain nam somewhere else.)
You will also want to get domain name privacy for your blog.
This is an additional service you'll want to get if you're planning to blog anonymously, because it shields your personal information from the public. Without domain name privacy, anyone can see your full name and address if they look up your domain name registration!
Domain name privacy is only $0.99 a month with Bluehost, which is well worth it if you are concerned about maintaining your anonymity as a blogger.
You can add this service onto your hosting package at checkout.
Click here to get your domain name and web hosting from Bluehost.
No domain name yet? If you don't already have a name picked out for your blog, you can skip choosing a domain name and Bluehost will give you a credit to come back and select one at a later date once you've decided.
What's next? After you've gotten your domain name and web hosting from Bluehost (and don't forget to add on domain name privacy!) head over to this guide for step-by-step instructions on setting up your blog.
Decide What You Will Share
Before starting to blog anonymously, you might want to spend some time deciding how much you will share and how anonymous you really want to be.
As I mentioned, I started off using a pseudonym and not sharing a photo of my face anywhere. I've since started going by my actual name and having a few photos of myself. I've also had my voice appear in videos and podcasts. And I never shy away from sharing personal stories and details about my life.
But you'll want to think about how comfortable you are with all of these things before starting your blog, and consider every scenario.
For example, anonymous personal finance blogger A Purple Life wrote about how she appeared on a podcast episode one time, and then one of her acquaintances heard it and recognized her by her voice!
This is something you'll want to think about – how comfortable are you with these types of things, and how anonymous do you really want to be?
What will happen if someone discovers your blog? You might think if you're blogging anonymously, it won't happen, but it always could. I even randomly had my friend's grandmother discover my blog one time!
A Word on Social Media
All social media platforms are notoriously bad about recommending your account to people you may know, so be sure to keep this in mind when creating social media accounts for your anonymous blog.
The anonymity you're trying to cultivate can quickly be shattered when Instagram is recommending your blog account to everyone in your contacts list!
Make sure that when creating an Instagram, Twitter, Facebook, or Pinterest account for your anonymous blog, you don't sign up using your personal email address or cellphone number. And make sure you don't link it with your personal accounts. This can help you avoid people you know in real life from finding you.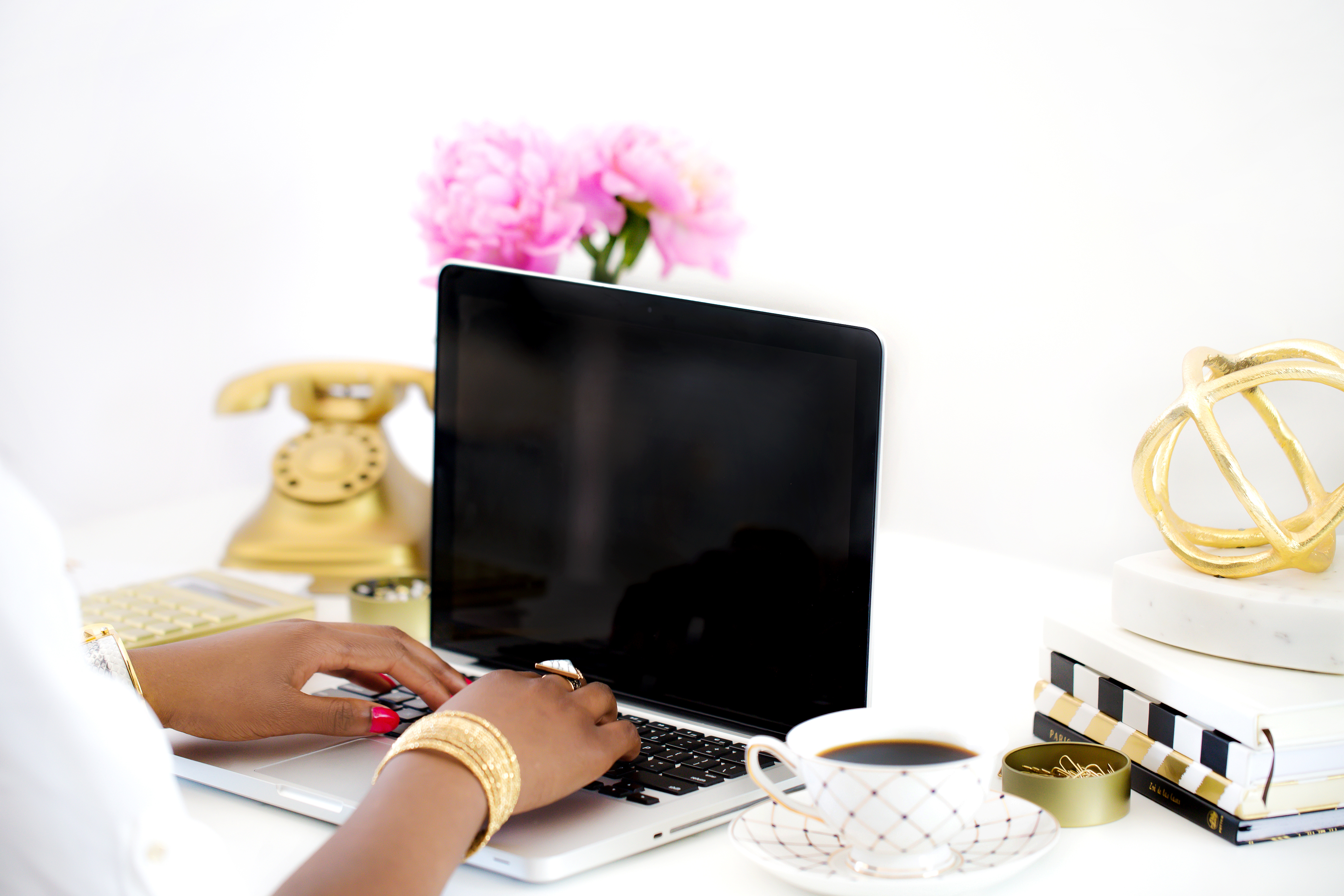 Can You Make Money with an Anonymous Blog?
Short answer: YES.
You can absolutely make money with an anonymous blog.
Blogging is my full-time income, and I do it semi-anonymously.
There are plenty of other bloggers out there who are even more anonymous than me (they use a pseudonym, they don't share any photos of themselves, etc.) and yet they also earn a full-time income from blogging.
I have especially seen this with personal finance and early retirement bloggers. Many of them put their finances fully on display on their blogs, so it makes sense they want to keep the rest of their identity anonymous!
The ways you can make money with an anonymous blog are basically the same ways you can make money with any other blog:
Advertising: This is where you put display ads on your blog through an ad network like Google AdSense, Monumetric, or Mediavine and earn money based on how many people view those ads.
Affiliate marketing: Earning a commission any time someone makes a purchase through affiliate links on your blog. (For example, many bloggers use the Amazon affiliate program to monetize their blogs.)
Digital products: This is where you sell digital products like ebooks, online courses, templates, and more on your blog.
Sponsored posts: Working with brands to create sponsored content on your blog or social media accounts such as Instagram.
Freelancing: Using your blog as a portfolio to get other types of work, such as freelance writing, being a virtual assistant, coaching, web design, etc.
Of course, you'll need to share your real name and personal details (like your bank account direct deposit information, or tax information) with your ad network, affiliate partners, etc. in order to get paid.
But this is information that is kept confidential and not shared with anyone else.
How to Start a Blog
Haven't started a blog yet? Learn how to start a blog (the right way) with the help of my step-by-step guide on how to start a blog. This will walk you through the process of setting your blog up in less than an hour!
Or join 5,000+ subscribers and sign up for my free course, Blogging Bootcamp, to learn how to start your own money-making blog today!
Step-by-Step Guide to Start a Blog
And finally, here is a quick step-by-step guide to help you get your blog up and running with Bluehost in less than 15 minutes!
1. Click here and then click the "Get Started" button:
2. Select your hosting plan
Which plan should I choose? I recommend the Basic plan for new bloggers.
I'm personally on the Plus plan, but that's only because I run multiple blogs. Otherwise I would probably choose the Basic plan!
3. Put in your domain name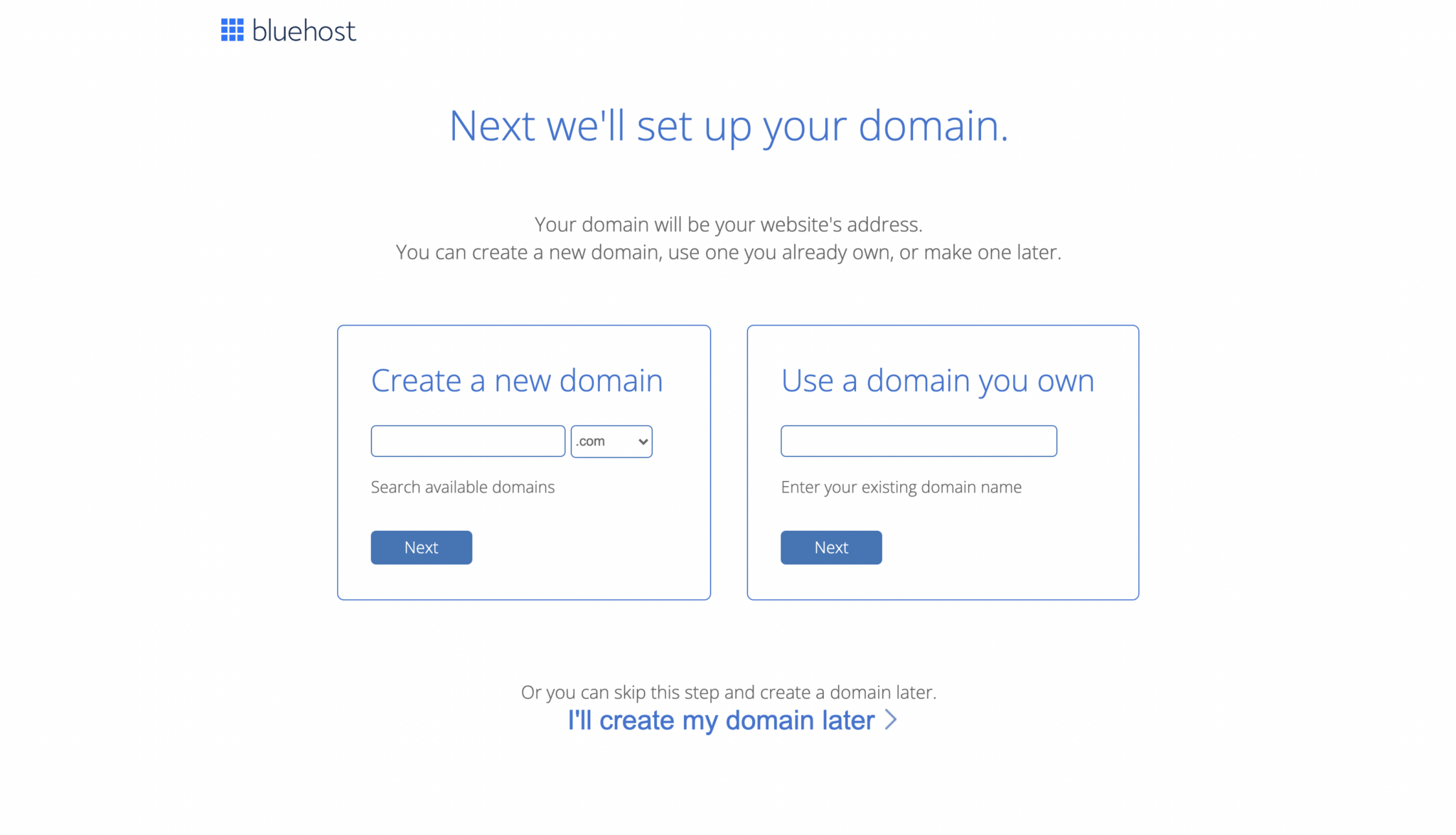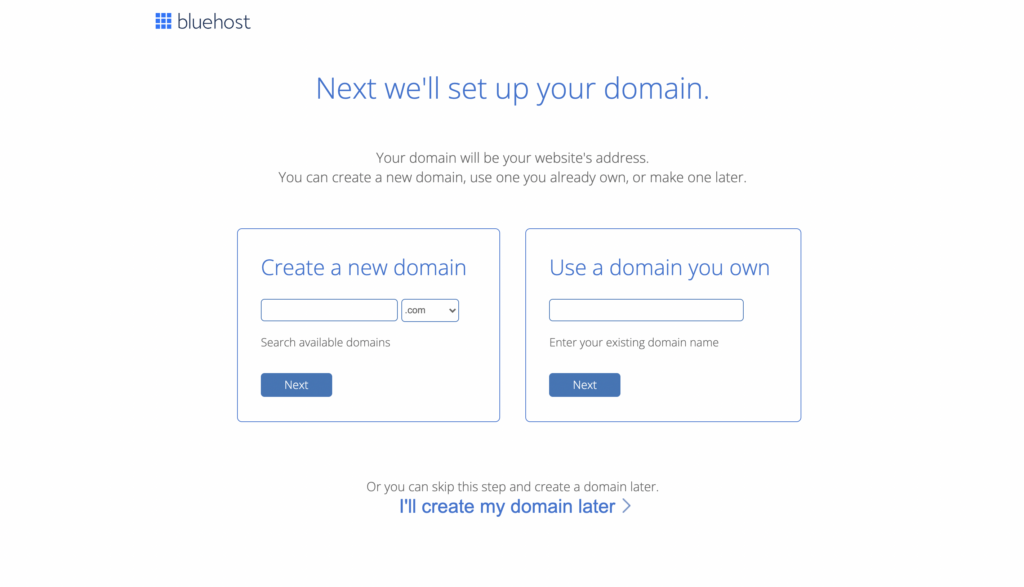 This is where you'll put in the domain name that you want to use for your blog.
Related: How to Choose a Blog Name & Blog Name Ideas
What if I haven't decided on a name yet? If you haven't decided on a domain name for your blog yet, click "I'll create my domain later." Or you can wait a couple seconds and this offer will pop up on the screen: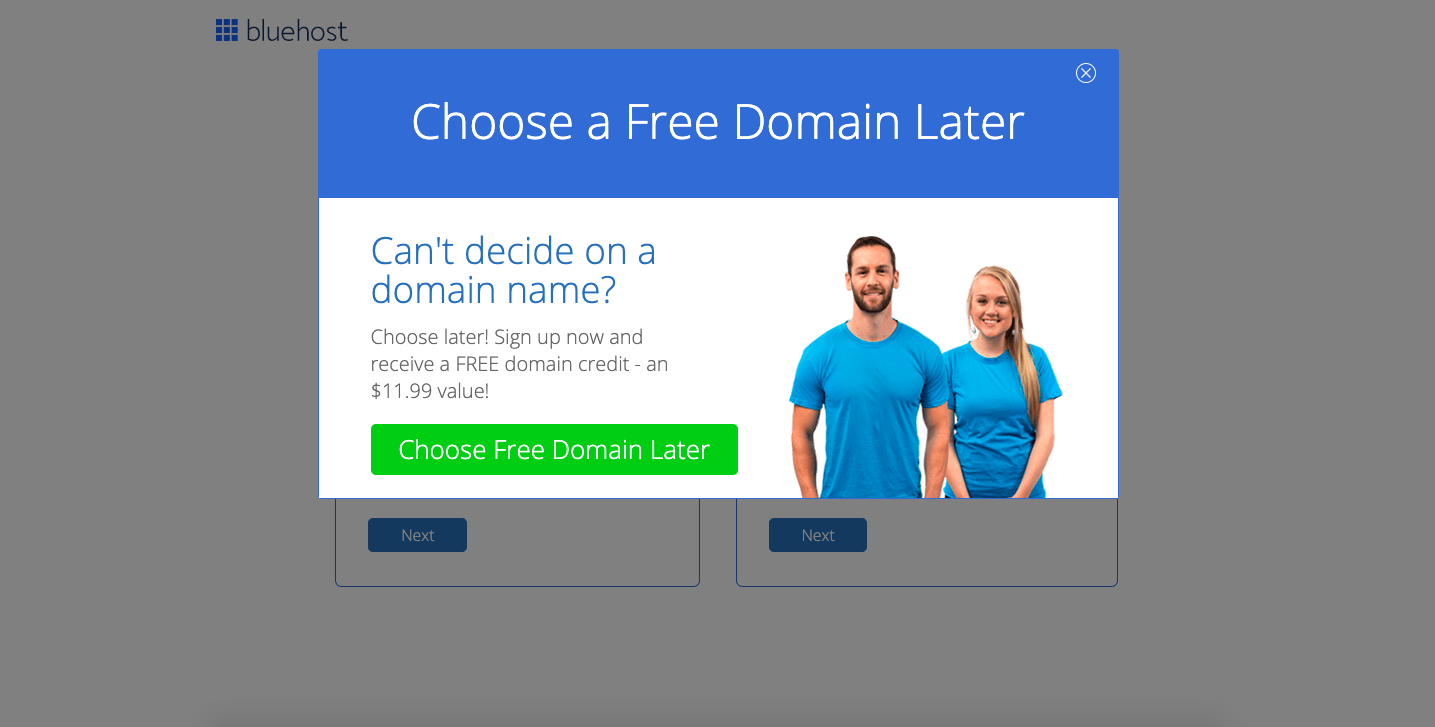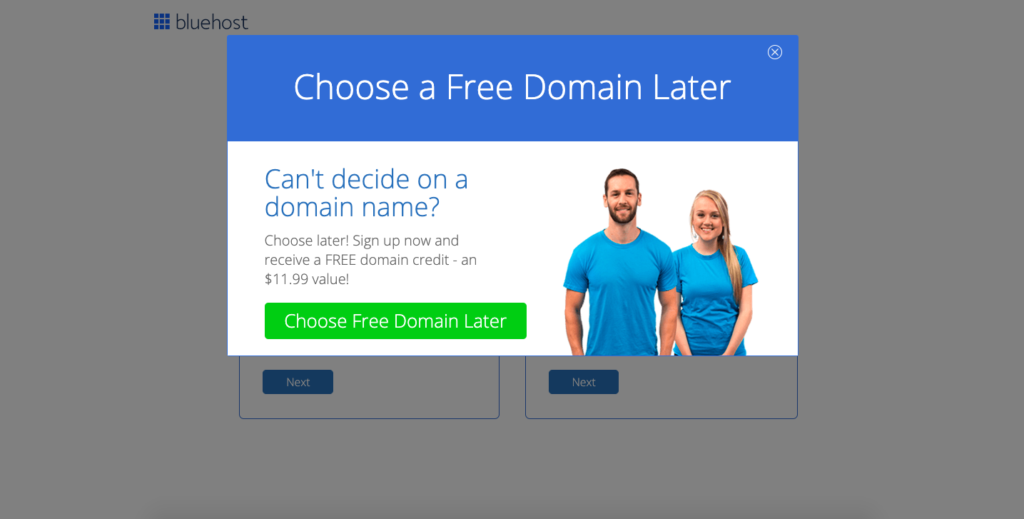 Select this option and you can go ahead and set up your blog now, then use the free credit to buy your domain name later.
4. Create your hosting account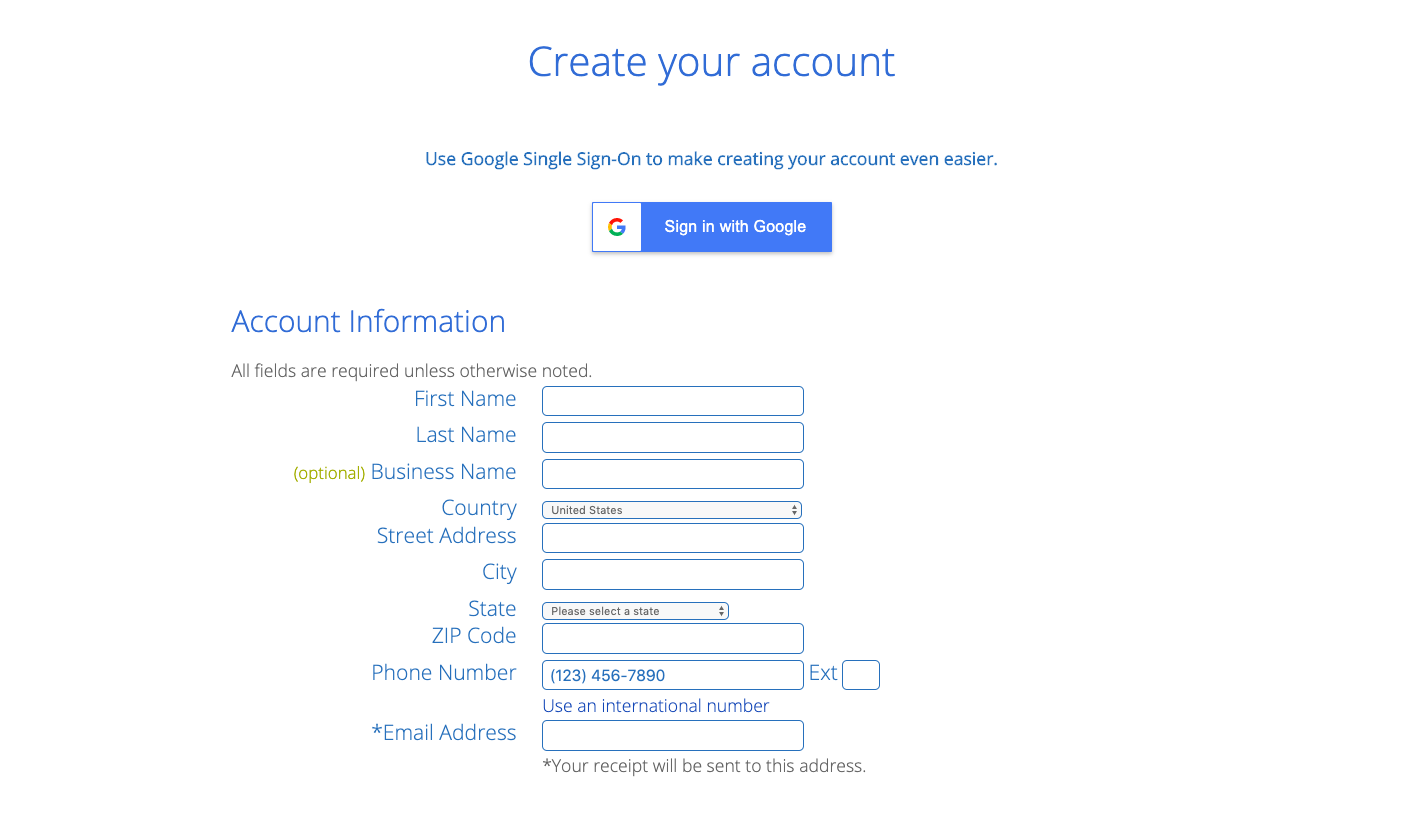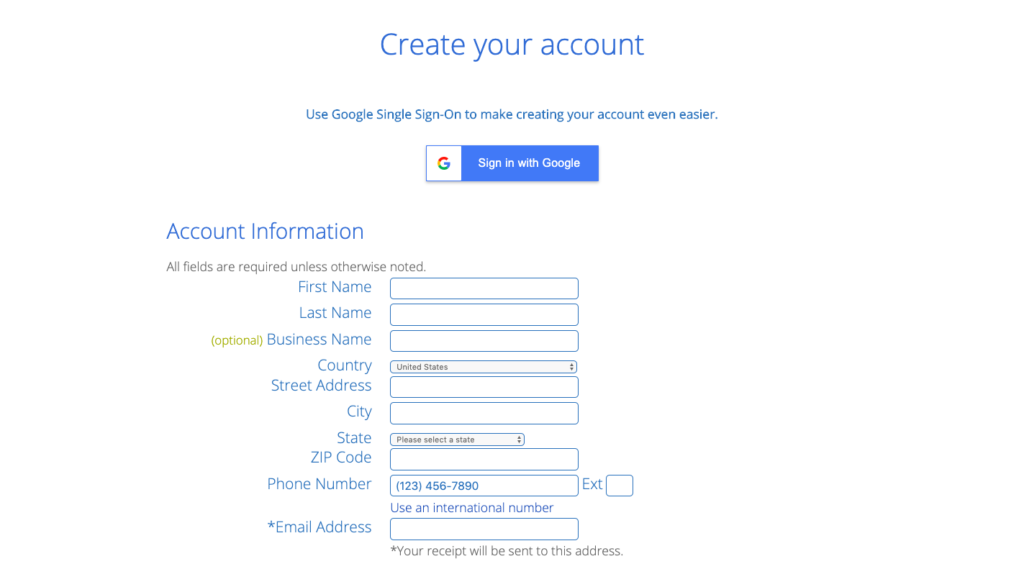 5. Choose your package and pay
This is where you'll select your hosting plan.
I recommend the 12-month plan for $2.95 a month, for a total cost of $35.40 for the year. But you can also choose a 24-month or 36-month plan.
What about package extras? You have the options to add on extra paid services like site backups, SEO tools, or site security.
I personally don't recommend any of these paid extras, because there are free WordPress plugins you can install that do the same things.
6. Congrats, you're done!
Now you're all set! Bluehost will automatically install WordPress for you.
What exactly is WordPress? WordPress is the content management platform that your blog will run on. Your WordPress dashboard is where you will go to edit the look of your blog, write blog posts, upload images, etc.
It's extremely easy to use, even if you're a total beginner.
Blogging Anonymously
For whatever reason, you might want to blog anonymously.
Hopefully, this post has shown you that it's possible to start and grow a successful blog, even while maintaining anonymity.
If you are concerned about your privacy, you can always start an anonymous blog and reveal more of your identity as you become more comfortable. That's exactly what I did, and I am still semi-anonymous today!
Whatever your reasons are for blogging anonymously, it can be done.
For more tips about blogging, you may be interested in the following posts: