Note: Affiliate links may be used in this post. I may receive a small commission at no extra cost to you if you use my affiliate link. Full disclosure policy here.
How Much Does It Cost to Start a Blog?
How much does it cost to start a blog? This is a question that many new bloggers have and it's hard to find a definitive answer out there.
I wrote this post to answer all the questions you might have about the cost of starting a blog, including necessary start-up costs and optional additional costs.
As the saying goes, it takes money to make money.
Like any business, starting a blog costs money to begin. However, the biggest benefit with blogging is that the start-up cost is extremely low and yet the potential for profit is quite high. I have been blogging for over four years now and I make $5,000+ a month from blogging doing this part time.
When I first started blogging, I was a broke college student, so I knew what it felt like to be on a tight budget. But starting a blog was the best investment I ever made! I earn a full time income from a very low start-up cost.
If you are wondering how much does it cost to start a blog, here's everything you need to know about the financial cost of blogging.
Can You Start a Blog for Free?
One option when it comes to starting a blog is using a free blogging software.
Some of the most popular free blogging platforms are:
WordPress.com
Wix.com
Blogger.com
If you start blogging on one of these platforms, the cost to start your blog is $0.
So it is possible to start blogging without a website of your own.
However, I DON'T recommend using a free blogging platform like the ones listed above, if you ever want to make money from your blog.
If you just want to blog as a hobby or creative outlet, then go for it.
But if you want to turn your blog into a business, there are many limitations when using a free blogging platform. Some of those limitations include:
Limited monetization: You won't be able to make money from ads or affiliate marketing on your website if you use a free blogging platform.
No domain name: No free blogging platform allows you to have your own domain name (ex. yourname.com) unless you pay extra for it. You'll be stuck with something like yourname.wordpress.com instead.
Blog design: You won't be able to choose a premium, customizable theme for your blog and you'll be stuck with an unprofessional theme instead.
No ownership: When you use a free blogging platform, you technically don't have ownership over the content you publish.
Lack of bandwidth: Free blogging platforms limit how many visitors your blog can handle and severely limit your traffic potential.
These are just a few of the many reasons I don't recommend using a free blogging platform when starting your blog.
Again, if you simply want to blog for fun and journal your thoughts, a free blogging platform is an alright option.
But if you want to make your blog into a business, then you need to treat it like a business from the start. This means investing in at least the bare minimum costs to have a professional website, which I'll cover below…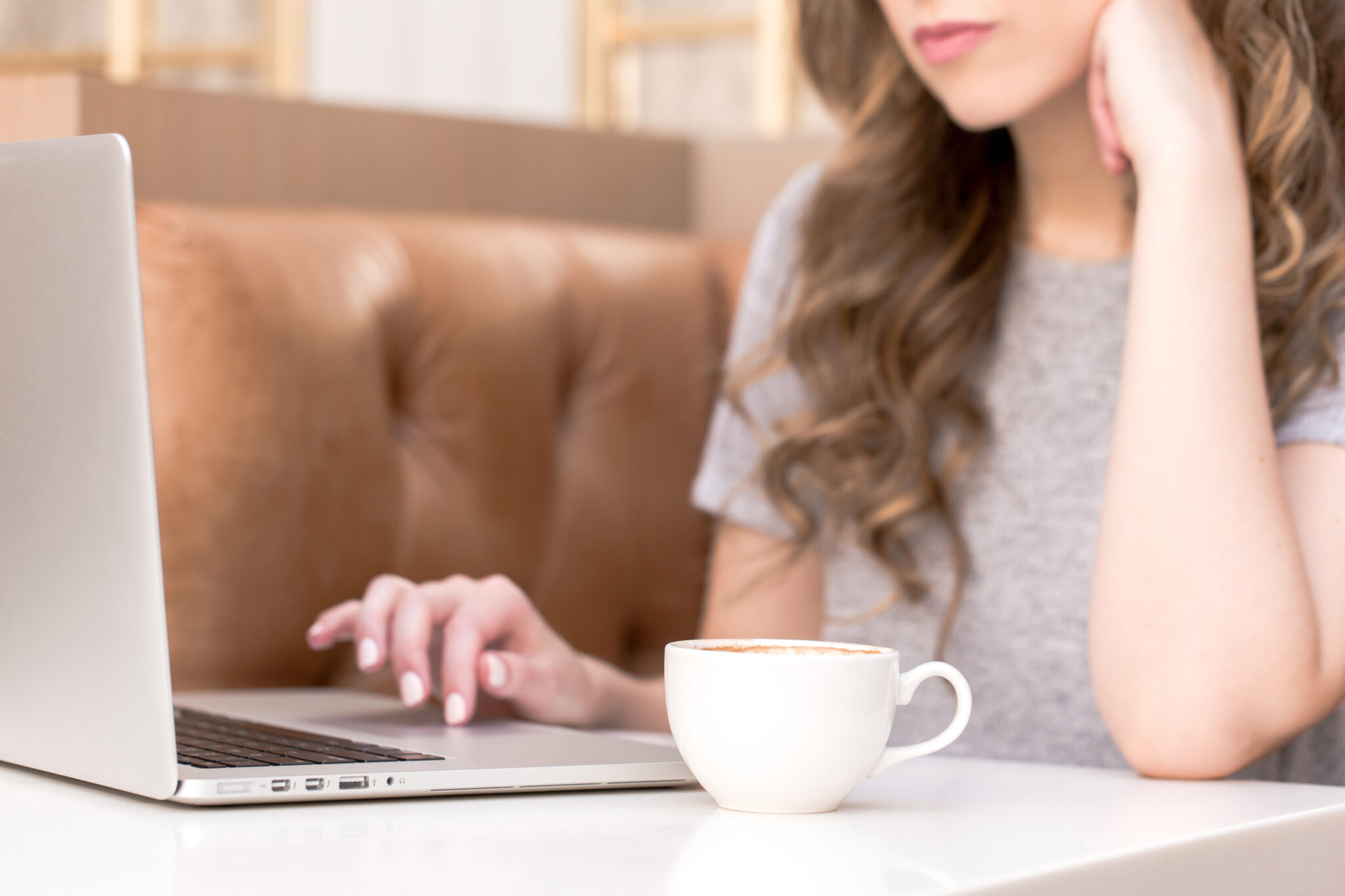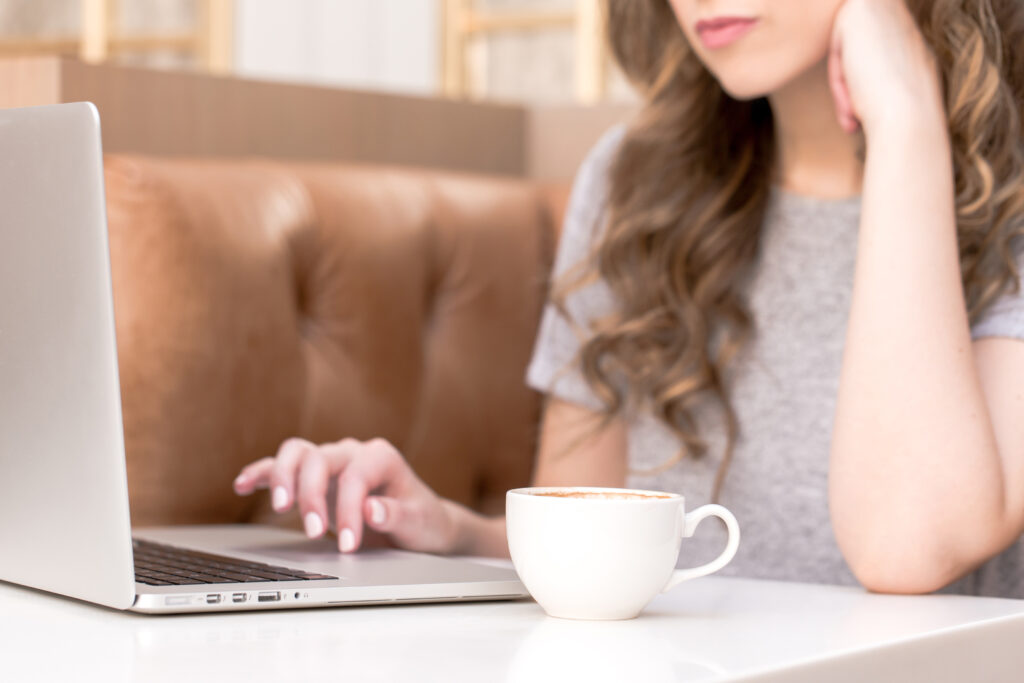 Cost of Starting a Business Blog
So you want to make money blogging? Great! Luckily, blogging has one of the lowest start-up costs of any business out there.
It's completely possible to start a professional blog at a very low cost.
Let's talk about the non-negotiable costs when it comes to starting a blog. There's actually only two, and they are:
Web hosting: Your web hosting provider is the company that keeps your blog online. Think of it as where your blog "lives" on the Internet.
Domain name: As mentioned above, you will need to pay for a domain name (ex. yourname.com) for your blog. (Note: There's actually a way to get your domain name for free, which I'll explain in a minute.)
When you get web hosting and a domain name, it's known as starting a "self-hosted" blog. This is the way to go if you want to treat your blog like a business.
The final piece of the puzzle is your blogging software. Almost every blogger uses WordPress.org (not to be confused with the blogging platform WordPress.com) and this is something most web hosts will install automatically for you (it's free.)
How Much Does Web Hosting Cost?
Web hosting is one non-negotiable cost you'll have when starting your blog.
The company I use and recommend for web hosting is Bluehost.
With Bluehost, you can get web hosting for just $2.95 a month.
I'm going to be upfront with you and say what a lot of bloggers skip over, though: you DO have to pay ahead for the year of web hosting, so that is $35.40 total.
Almost every web hosting company requires you to pay upfront for at least one year, so this is a non-negotiable cost when starting a blog.
Bluehost is one of the most affordable web hosting companies (other web hosting companies can be $10+ per month) which is why I recommend all new bloggers start with them. I've been using them for three years now.
How Much Does a Domain Name Cost?
The cost of a domain name varies based on where you register it, but typically a .com domain name costs $15-25 per year.
If you choose a web hosting company other than Bluehost, you will most likely have to add this to your non-negotiable cost of starting a blog.
However, another great thing about using Bluehost is that they provide you with a FREE domain name for your first year.
Keep in mind that you will have to pay to renew it every year after that, but this is a great way to save some money when first starting out.
Note: One other benefit of using Bluehost is that they allow you to go ahead and start your blog even if you haven't decided on a name yet. Just sign up here for your web hosting plan, and then you can select a $15 credit to come back within 30 days to register your domain name once you decide on one.
Total Non-Negotiable Cost of Starting a Blog: $35.40/year
Pretty much the lowest you can pay to start a blog is $35.40.
This takes into account signing up for Bluehost's 12-month web hosting plan at $2.95 a month and getting your domain name for free with them.
If you go with another company, you may want to budget $100+ for your web hosting and domain name for the first year.
With just these two things, you are all set to start blogging.
However, there are some additional costs associated with starting and running a blog that are optional, but recommended.
These can take your total cost of starting a blog higher, but it's a worthwhile investment in your business if you're able to afford it.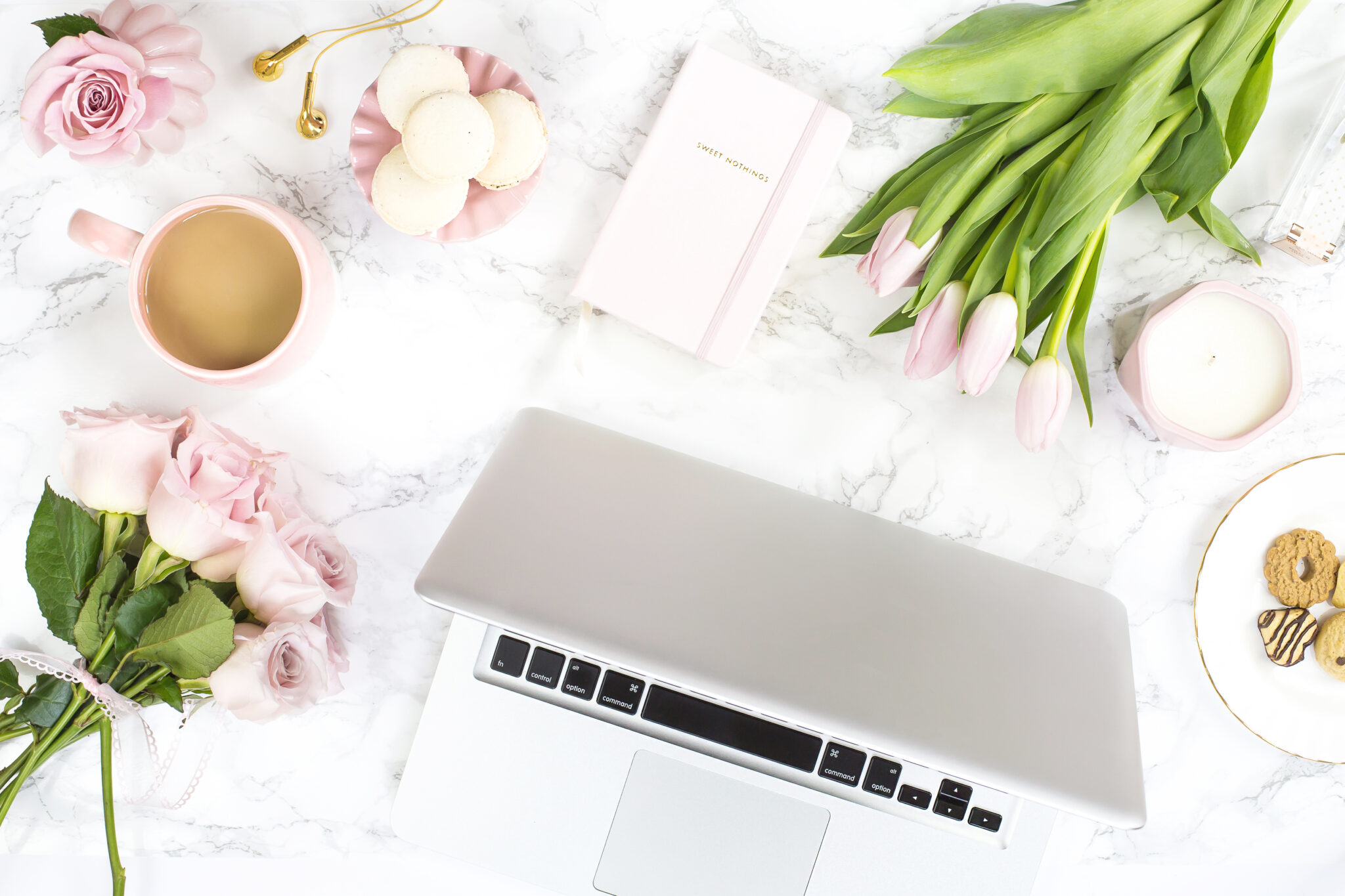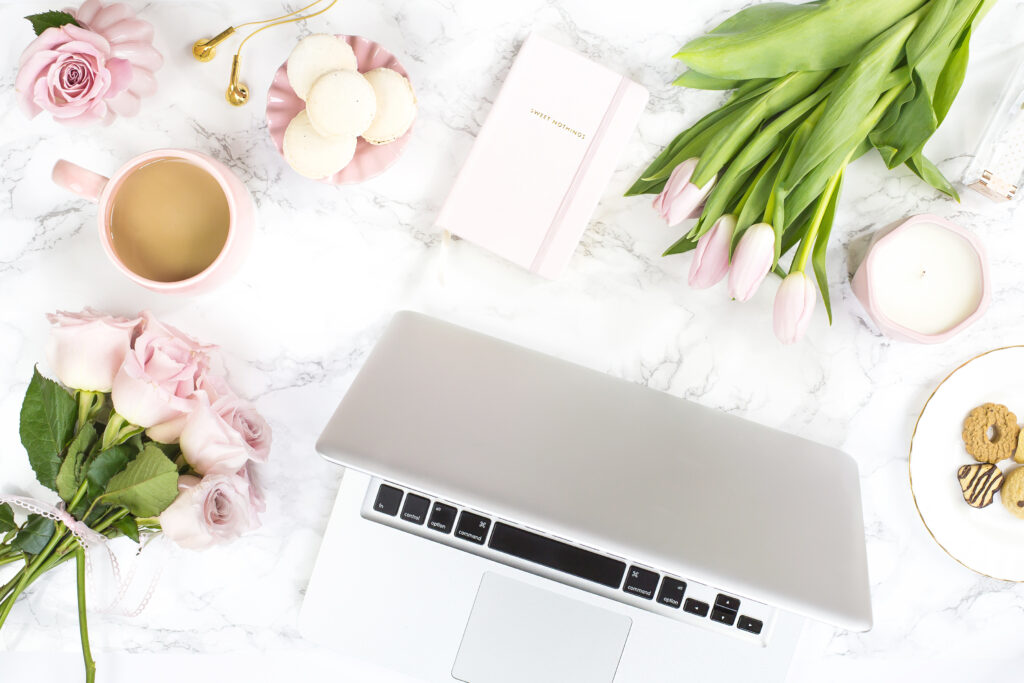 WordPress Theme: $0-$100
If you only have the money to invest in one additional thing when starting your blog, I would say invest in a premium WordPress theme.
WordPress themes are website templates built with code that define the design and appearance of your blog.
When you first log in to your blog after you set up your web hosting, it will come with a really plain default theme, which you'll want to change right away.
There are plenty of free WordPress themes out there, but most of them have limited customization options and functionality.
To give your blog the most professional look possible, I highly recommend investing in a premium WordPress theme.
The theme I'm currently using on my blog is from Bluchic.
Here are some other WordPress themes I have personally used and recommend:
Most premium WordPress themes range from $30-100.
If I could make one suggestion, it would be to choose a WordPress theme you really love instead of looking for the one that's the cheapest.
I have been using the same theme on this blog for three years now, so it was a worthwhile investment to choose the theme that was $79 instead of $49.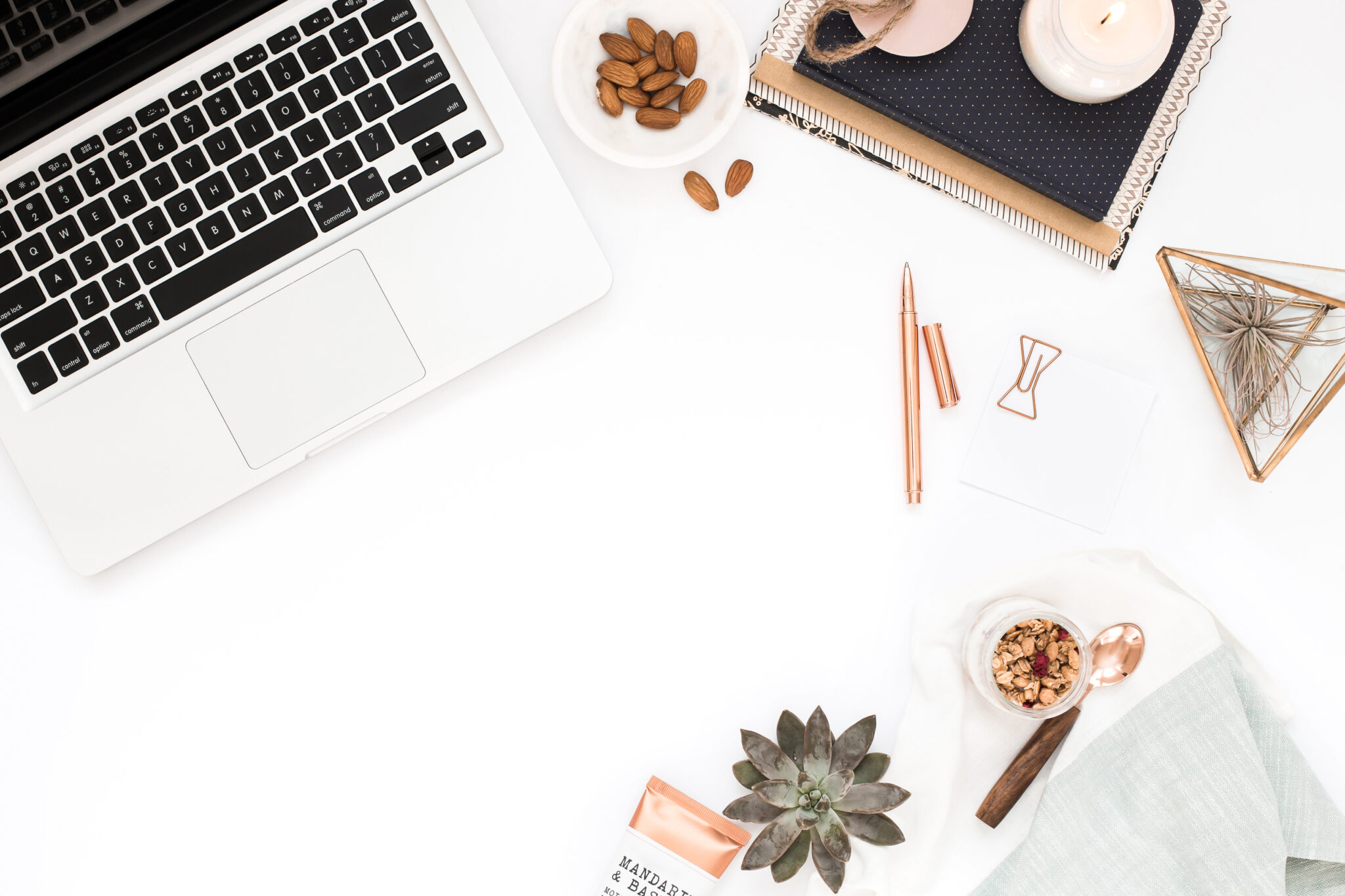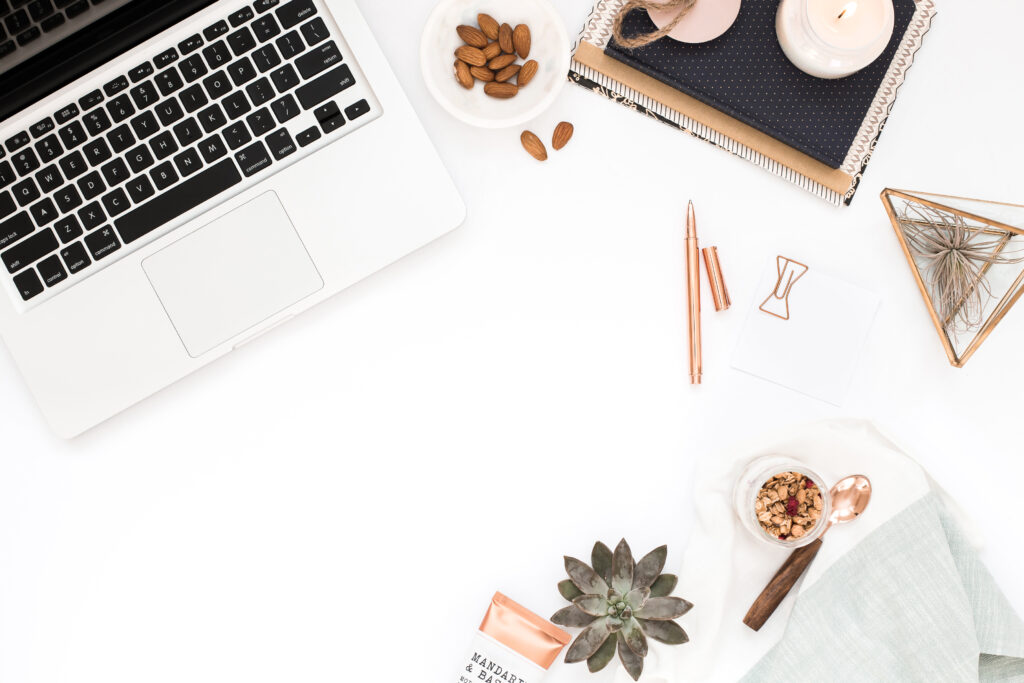 Blogging Education: $0-$197
The other thing I would highly recommend for new bloggers is investing in some online blogging education like courses and ebooks.
I have personally taken more than a dozen courses and read at least as many ebooks (some more useful than others!)
Related: The Best Blogging Courses (That Helped Me Become a Full-Time Blogger)
The biggest benefit to blogging courses and ebooks is that they can help you quickly increase your knowledge around blogging and making money.
I have learned things that would have taken me months to figure out on my own in just a week or two by taking an online course.
Some courses and ebooks are definitely worth the price more than others. Here are the BEST blogging education resources I can confidently recommend:
Email Marketing Platform: $0-$100+/month
Now we're moving into additional costs that I really only recommend thinking about after you've been blogging for a few months.
The first one of these additional costs is an email marketing platform.
While not every blogger starts an email list, having one can be extremely helpful for making more money as a blogger. You can build a loyal audience who want to buy your products (or products you are an affiliate for.)
There are plenty of "free" email marketing platforms out there, but they're all only free up to a certain number of subscribers (usually 1,000 subscribers.)
The email marketing platform I use and recommend is ConvertKit.
They offer a free plan up to 1,000 subscribers, but after that, it's $49/month.
I have found ConvertKit to be an extremely worthwhile investment, and I started paying for it a few months after I first started blogging.
Related: How to Start an Email List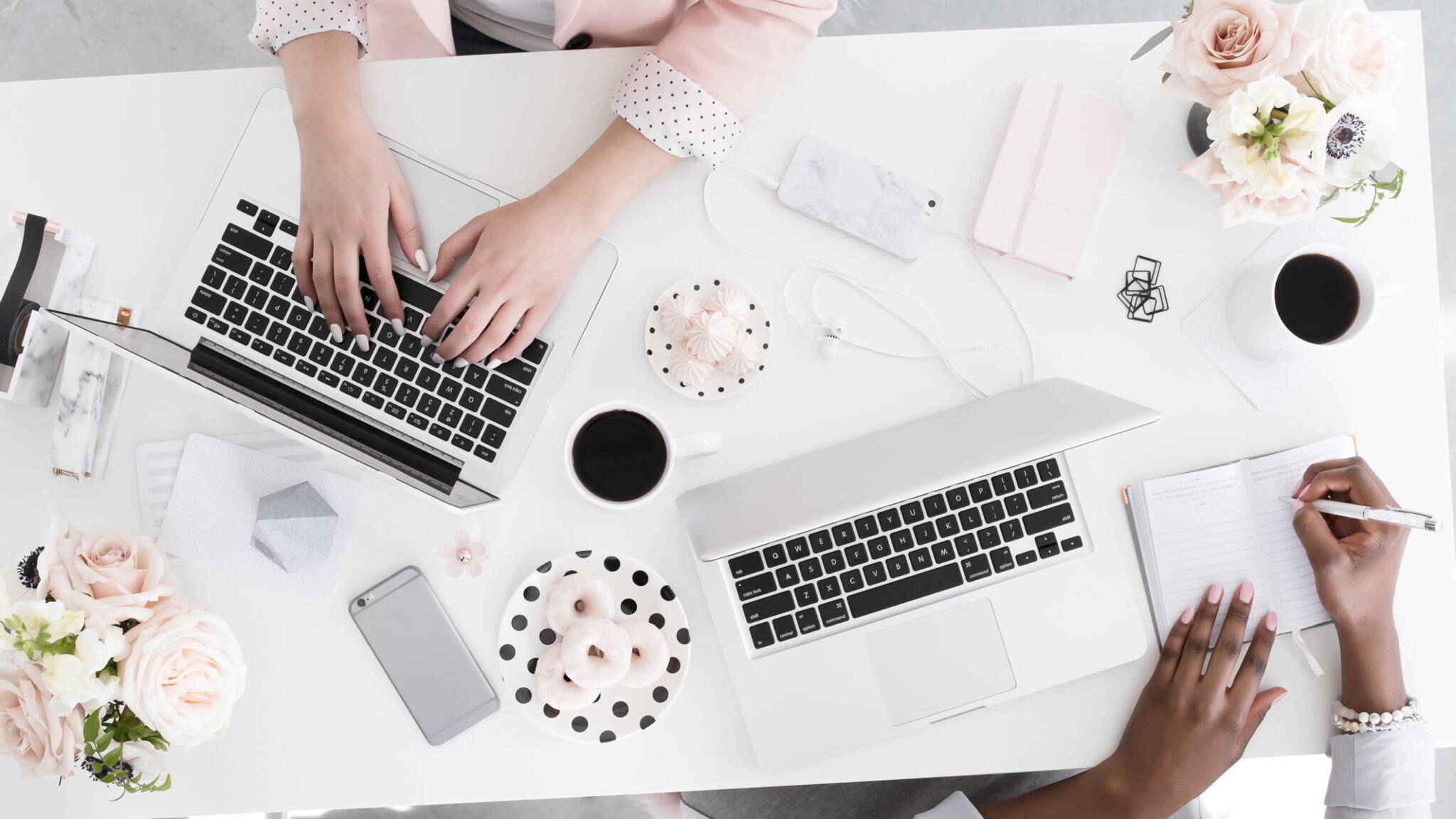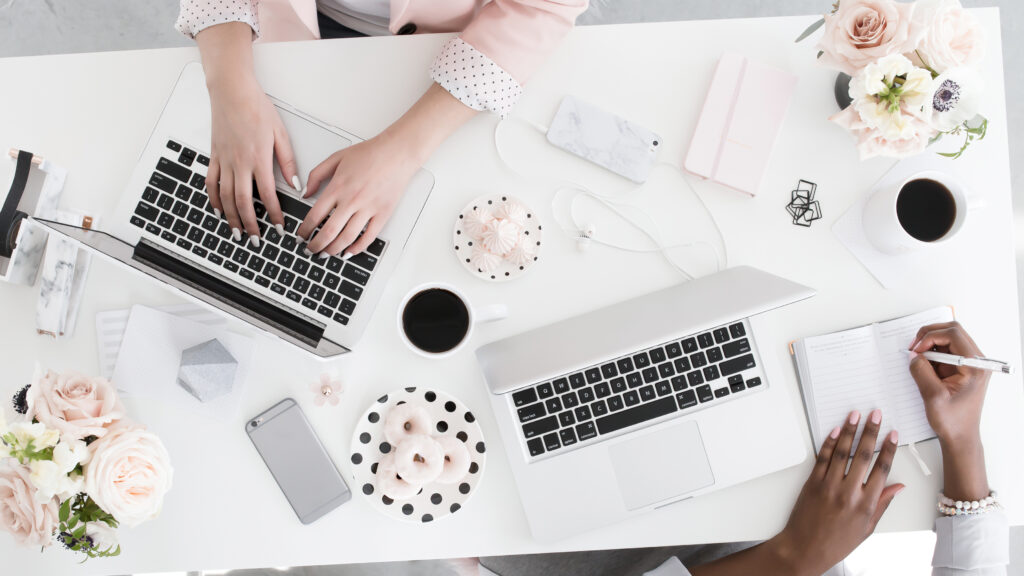 Social Media Tools: $0-$49/month
Another optional cost for starting a blog is investing in social media tools.
Social media tools are programs like Tailwind, Hootsuite, and Meet Edgar that allow you to schedule and automate social media posts on platforms including Pinterest, Instagram, Twitter, and Facebook.
I used to pay for Tailwind for Pinterest scheduling, but I don't anymore. And since I don't use any other social media platforms for my blog, I don't have this expense.
WordPress Plugins: $0-$200+
WordPress plugins are pieces of software you can install on your blog to add additional functionality.
I actually don't recommend spending any money on plugins. You can get everything you need for free.
Here are some free WordPress plugins I recommend for new bloggers:
Yoast SEO: Helps you write search engine-friendly blog posts.
Sassy Social Share: Add social sharing buttons to your blog posts.
UpdraftPlus: Create automatic backups so you never lose anything.
Wordfence: Secure your blog from hackers, viruses, and other threats.
WP Fastest Cache: Speed up your site and keep it running smoothly.
However, there are paid versions of some plugins that offer increased functionality. You may or may not find these to be worth it.
Other Software: $0-100+/month
You may get to the point in your blogging career where it makes sense to pay for additional software to run your business.
For me, the only other software I pay for is SendOwl. This is the ecommerce platform I use to deliver my digital products like ebooks that I sell on my blog.
I purposefully try to keep my software expenses light, so on a month-to-month basis I don't pay for any additional software.
However, some other bloggers may invest in tools like Keysearch or Ahrefs (for keyword research), FreshBooks (for accounting), Trello or Asana (for organization and project management), or other software.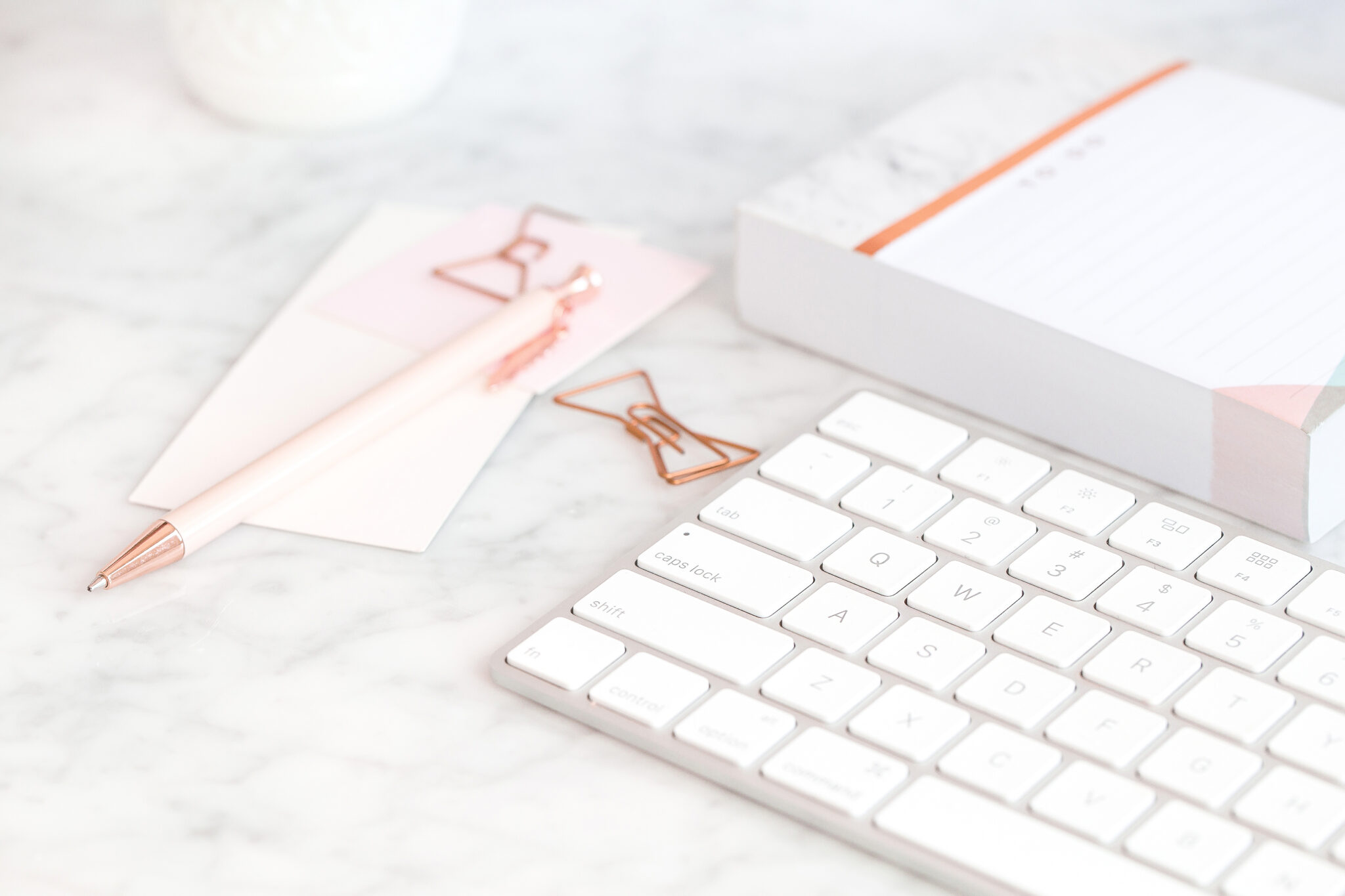 How Much Does It Cost to Start a Blog?
So how much does it cost to start a blog?
The short answer is $35.40 for your first year if you get the bare minimum of web hosting and a domain name.
Realistically, I would budget $250 for starting a blog to also account for purchasing a premium WordPress theme and one or two courses.
As you get further into your blogging career and start making some money, you will probably want to invest in the additional tools I listed.
For me, my absolute must-have additional investments are ConvertKit (for email marketing) and SendOwl (for delivering my digital products.)
How to Start a Blog for Beginners
Are you ready to get started? Here is a step-by-step guide to help you get your blog up and running with Bluehost in less than 15 minutes.
1. Click here and then click the "Get Started" button:
2. Select your hosting plan
Which plan should I choose? I recommend the Basic plan for new bloggers.
I'm personally on the Plus plan, but that's only because I run multiple blogs. Otherwise I would probably choose the Basic plan!
3. Put in your domain name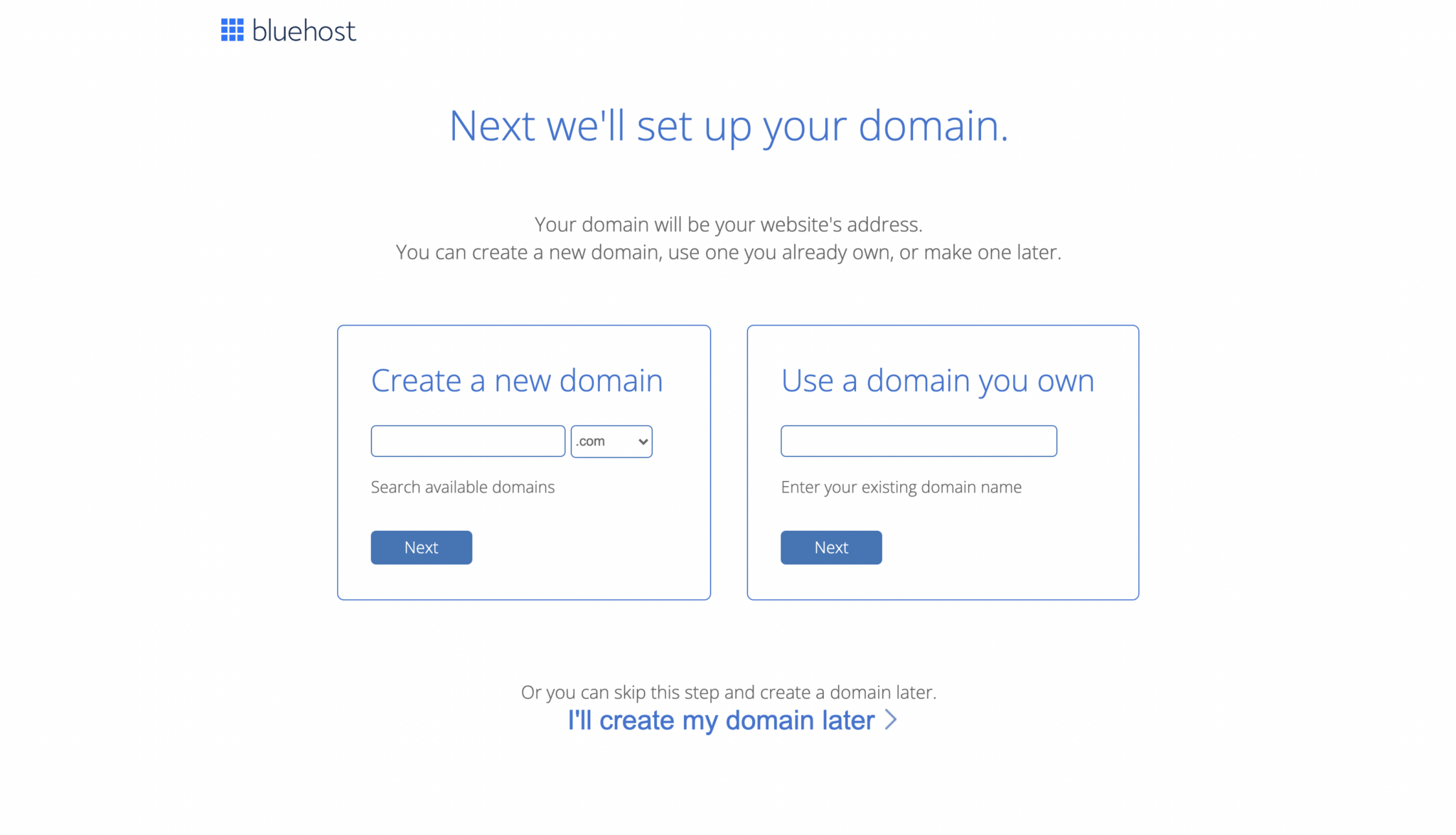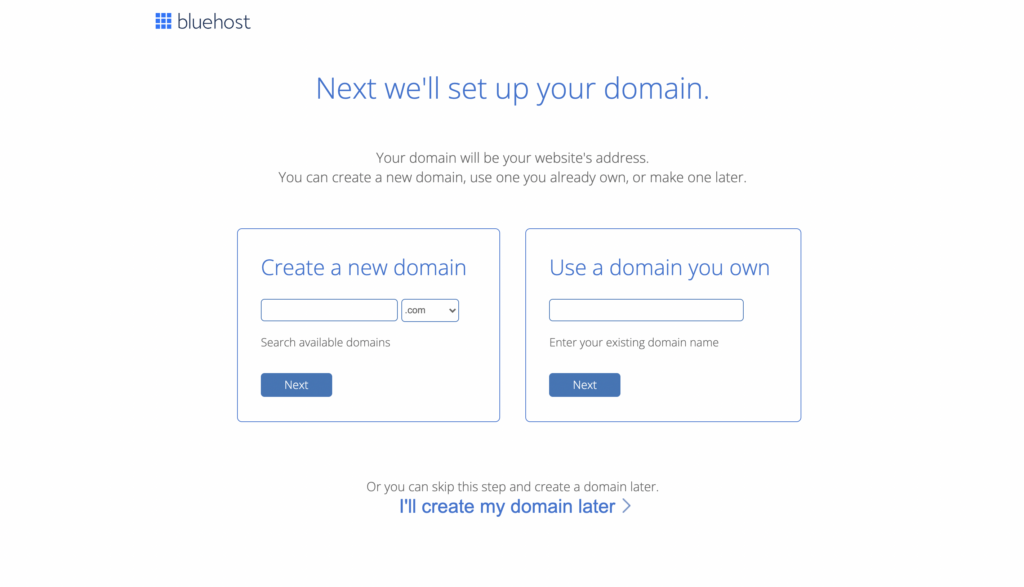 This is where you'll put in the domain name that you want to use for your blog.
Related: How to Choose a Blog Name & Blog Name Ideas
What if I haven't decided on a name yet? If you haven't decided on a domain name for your blog yet, click "I'll create my domain later." Or you can wait a couple seconds and this offer will pop up on the screen: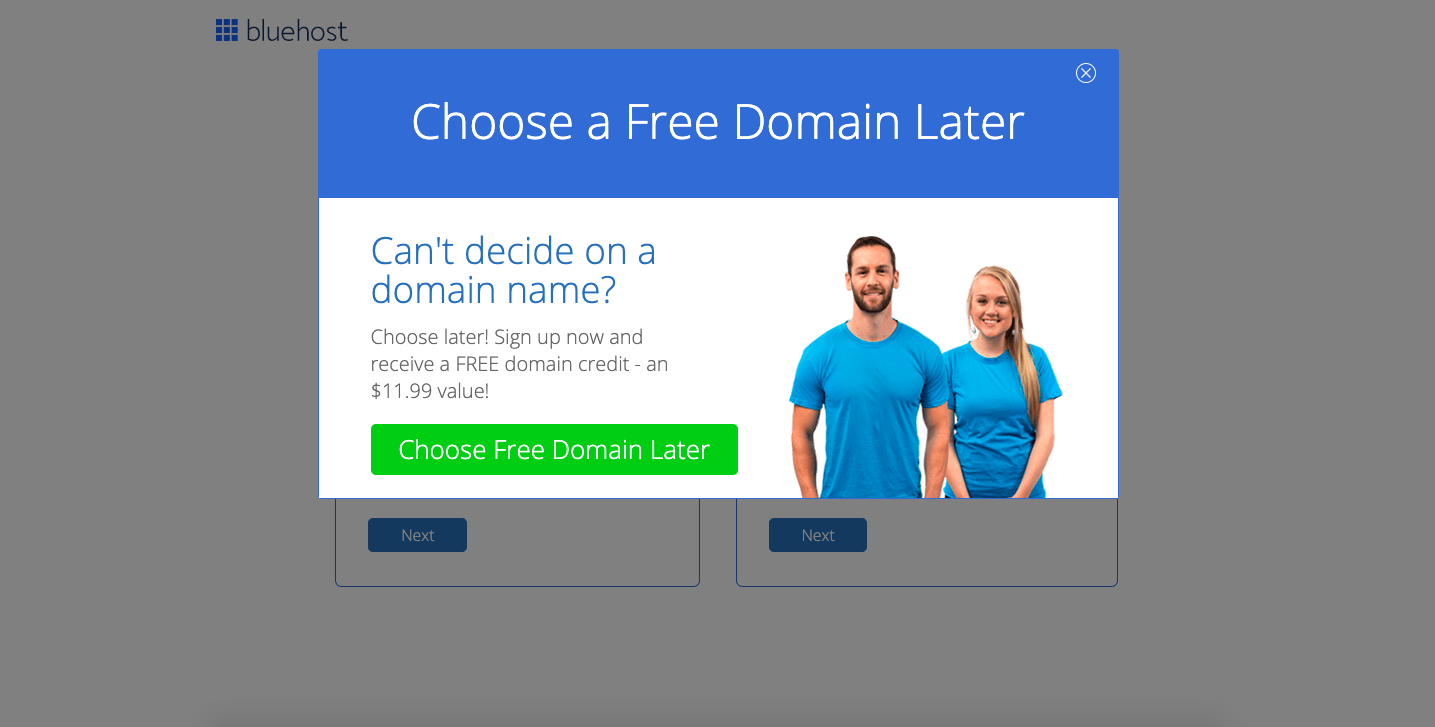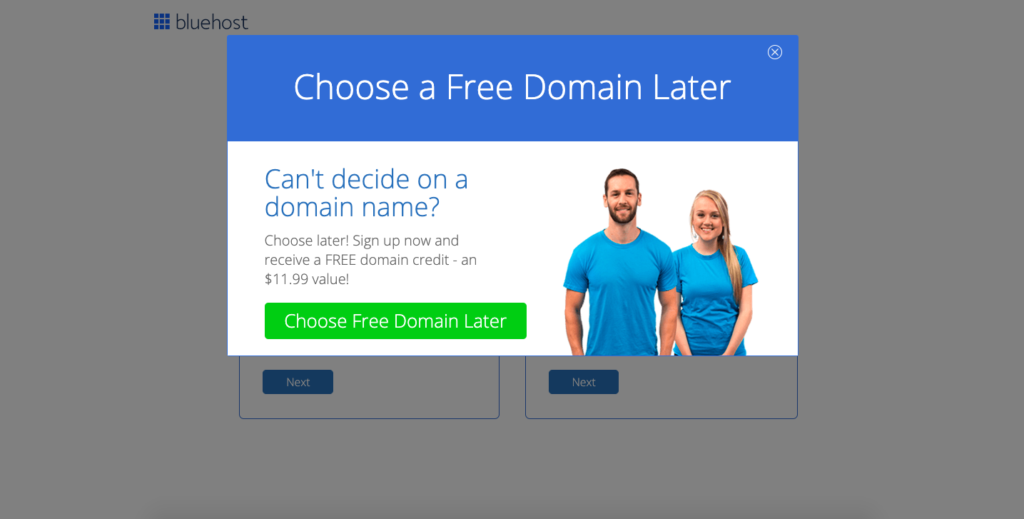 Select this option and you can go ahead and set up your blog now, then use the free credit to buy your domain name later.
4. Create your hosting account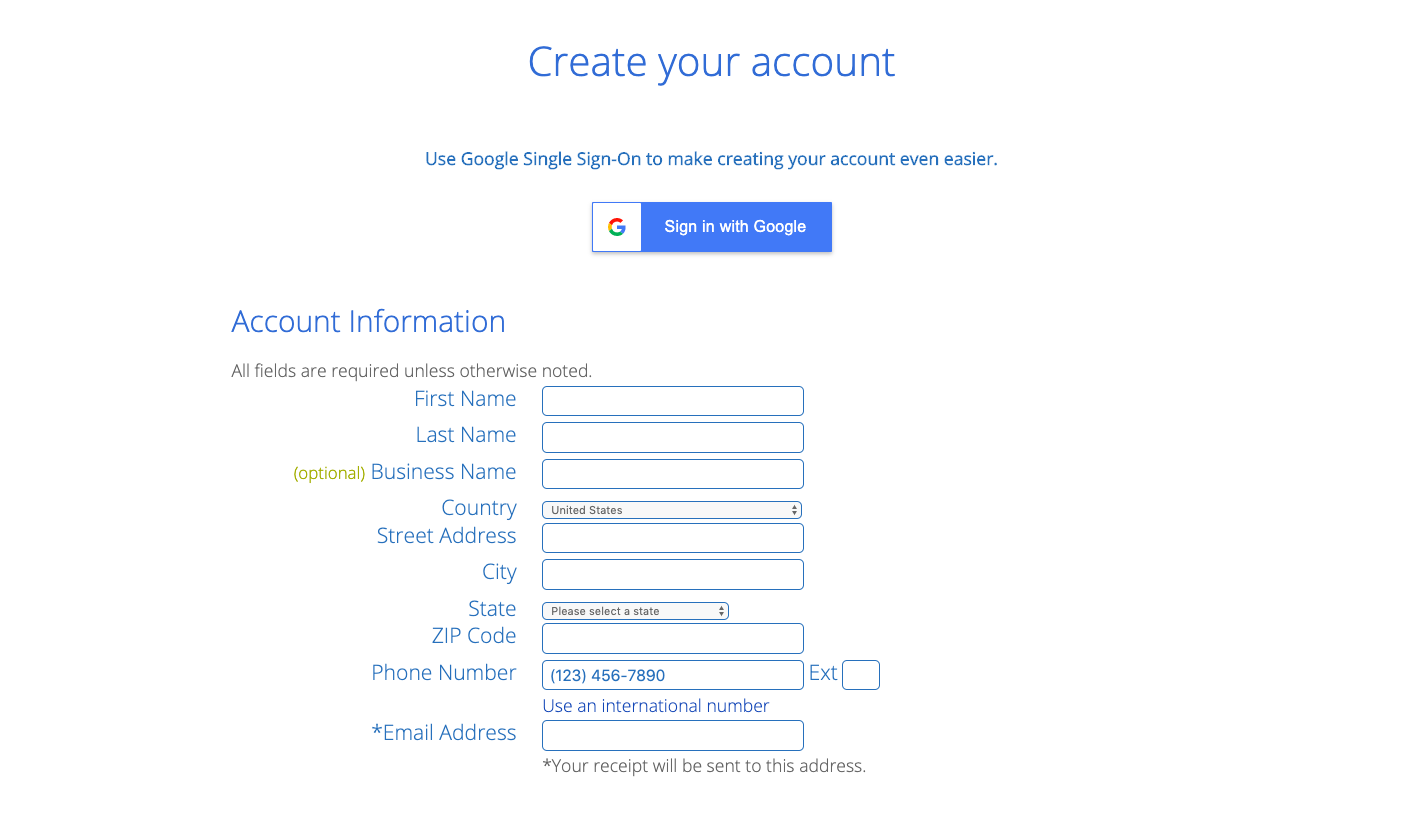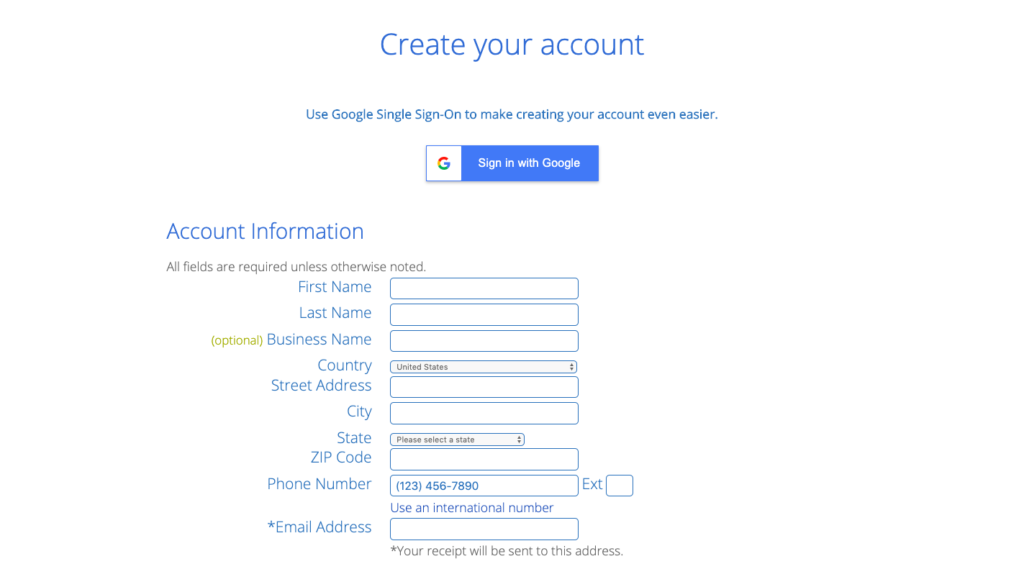 5. Choose your package and pay
This is where you'll select your hosting plan.
I recommend the 12-month plan for $2.95 a month, for a total cost of $35.40 for the year. But you can also choose a 24-month or 36-month plan.
What about package extras? You have the options to add on extra paid services like site backups, SEO tools, or site security.
I personally don't recommend any of these paid extras, because there are free WordPress plugins you can install that do the same things.
6. Congrats, you're done!
Now you're all set! Bluehost will automatically install WordPress for you.
What exactly is WordPress? WordPress is the content management platform that your blog will run on. Your WordPress dashboard is where you will go to edit the look of your blog, write blog posts, upload images, etc.
It's extremely easy to use, even if you're a total beginner.
Additional Blogging Resources
Here are some more resources to help you get started as a blogger: