Note: Affiliate links may be used in this post. I may receive a small commission at no extra cost to you if you use my affiliate link. Full disclosure policy here.
How to Become a Pinterest Virtual Assistant
Are you wondering how to become a Pinterest virtual assistant?
A Pinterest VA (or virtual assistant) is someone that helps a client grow and manage their presence on the Pinterest platform.
Becoming a Pinterest VA is a great way to start your own business in an in-demand area, work online from anywhere, and make money (whether you're just looking for a side hustle or want to earn a full-time salary!)
Here is everything you need to know about becoming a Pinterest virtual assistant.
Related: Free Pinterest Virtual Assistant Workshop
What Does a Pinterest Virtual Assistant Do?
Pinterest virtual assistants typically offer a variety of Pinterest-related to services to their clients. Your clients as a Pinterest VA can include bloggers, online business owners, and traditional brick-and-mortar businesses. Any type of business can benefit from having a presence on Pinterest!
Here are just a few tasks that a Pinterest virtual assistant may be in charge of:
Setting up a new Pinterest account for your client
Optimizing your client's current Pinterest account
Designing eye-catching pins using Canva
Writing stellar pin descriptions
Using a tool like Tailwind to schedule pins
Applying to Pinterest group boards for your client
Participating in pin-sharing threads for your client
Reporting on growth and analytics
For more detailed explanations of the skills needed to be a Pinterest VA, keep on reading. The great thing about becoming a Pinterest virtual assistant is that you don't need any "formal" qualifications or schooling to do it – you just need to be willing to learn about Pinterest and enjoying using it!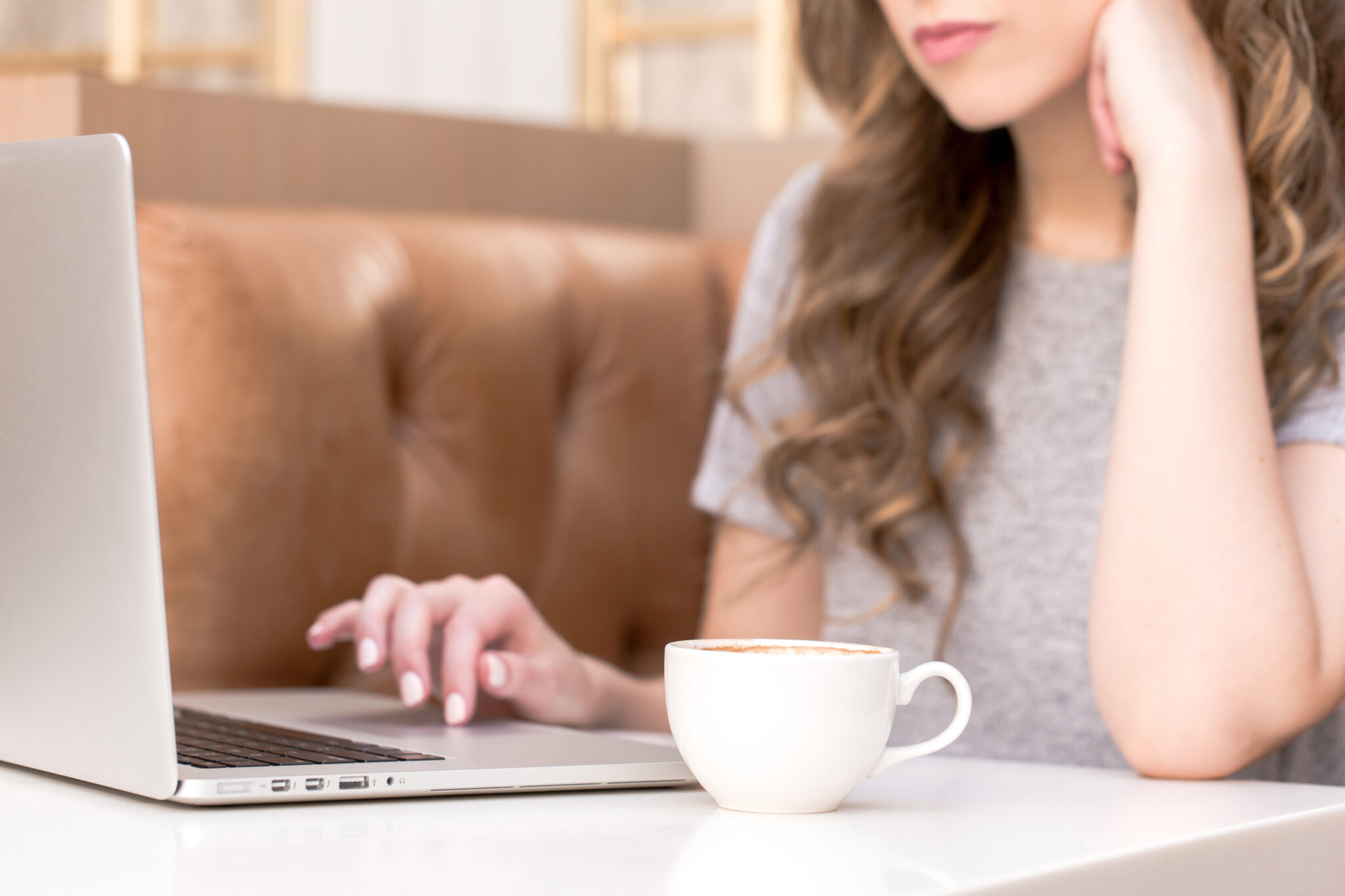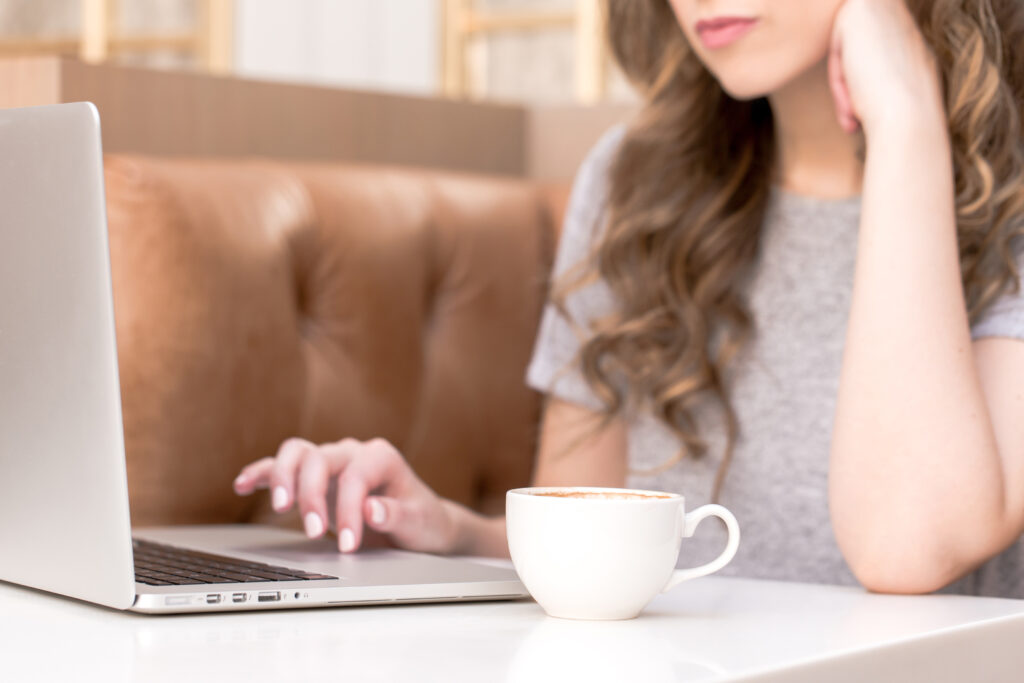 Why Focus on Pinterest?
There are a million different virtual assistant services you can offer.
However, focusing on just Pinterest is smart because it's so in-demand right now and specializing will allow you to land more clients.
Pinterest has more than 150 million active users, and 93% of those report that they use Pinterest to plan for purchases. Pinterest users are also 47% more likely to be introduced to new brands than users on other social media platforms.
While Pinterest can provide awesome results for sales and traffic, it can be time-consuming and a new skill for business owners to learn, which is why many prefer to hire it out to a talented VA instead. (And that's where you come in!)
Pinterest is experiencing a lot of growth right now, and it's only going to become a bigger player for business owners looking to expand online.
Who Can Become a Pinterest Virtual Assistant?
Great question and the answer is… almost anyone can become a Pinterest virtual assistant as long as they are motivated and willing to learn the necessary skills,
Starting a Pinterest virtual assistant business is so easy, and it's perfect for people in so many different situations.
Maybe one of the following describes you…
Aspiring entrepreneurs who want to start a successful online business.
SAHMs looking to bring extra income into their household.
Social media managers looking to learn and offer Pinterest services.
Existing virtual assistants looking to niche down and/or expand their business.
Anyone that loves Pinterest and could benefit from some extra money.
I personally work as a virtual assistant for one client, a travel blogger. My work is not limited to just Pinterest (although that's part of what I do!) and it's awesome to make a guaranteed $600 a month for a few hours a week of work.
Being a Pinterest virtual assistant is something you can do as a standalone business, or as a supplement to something else like blogging.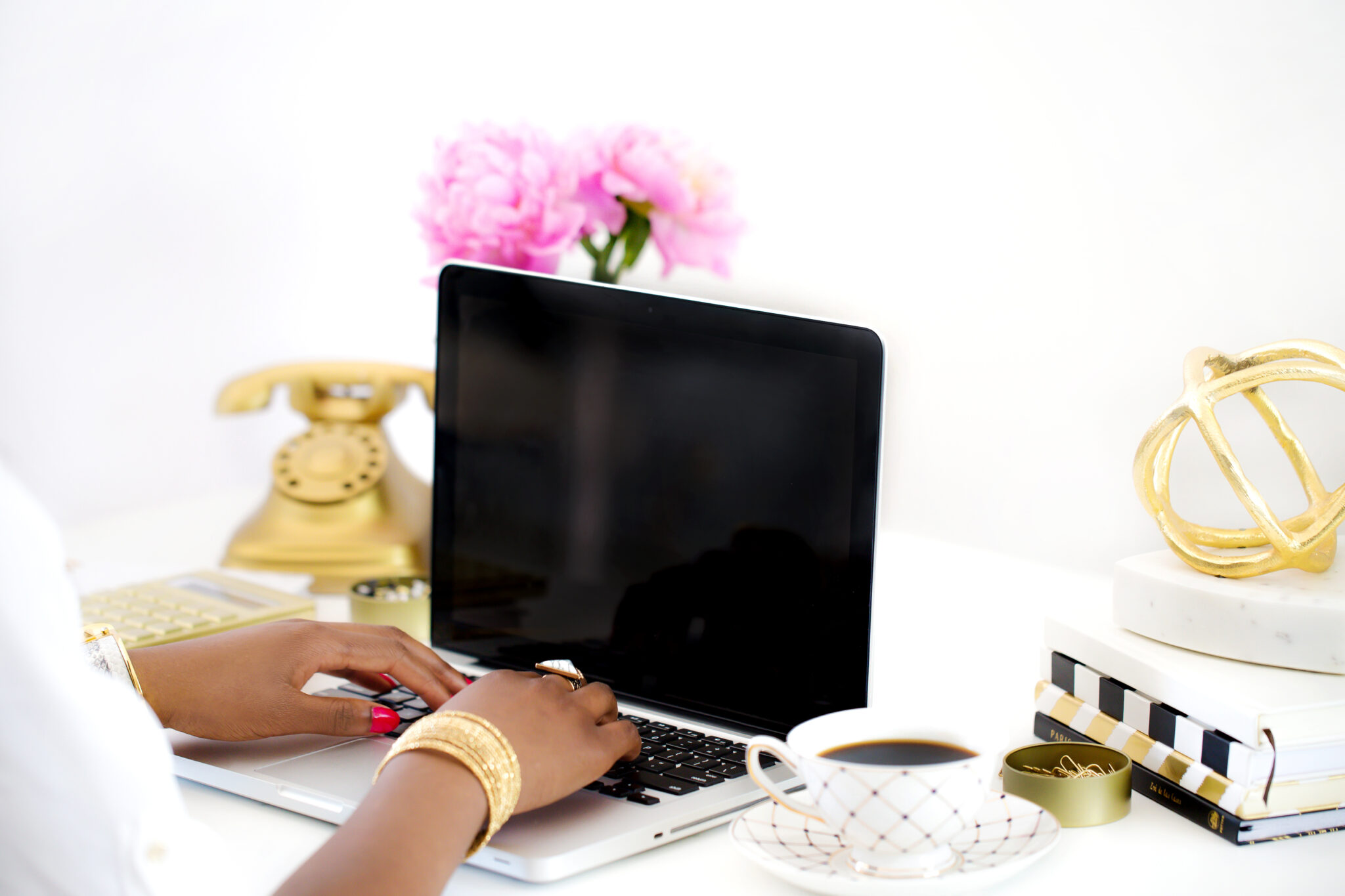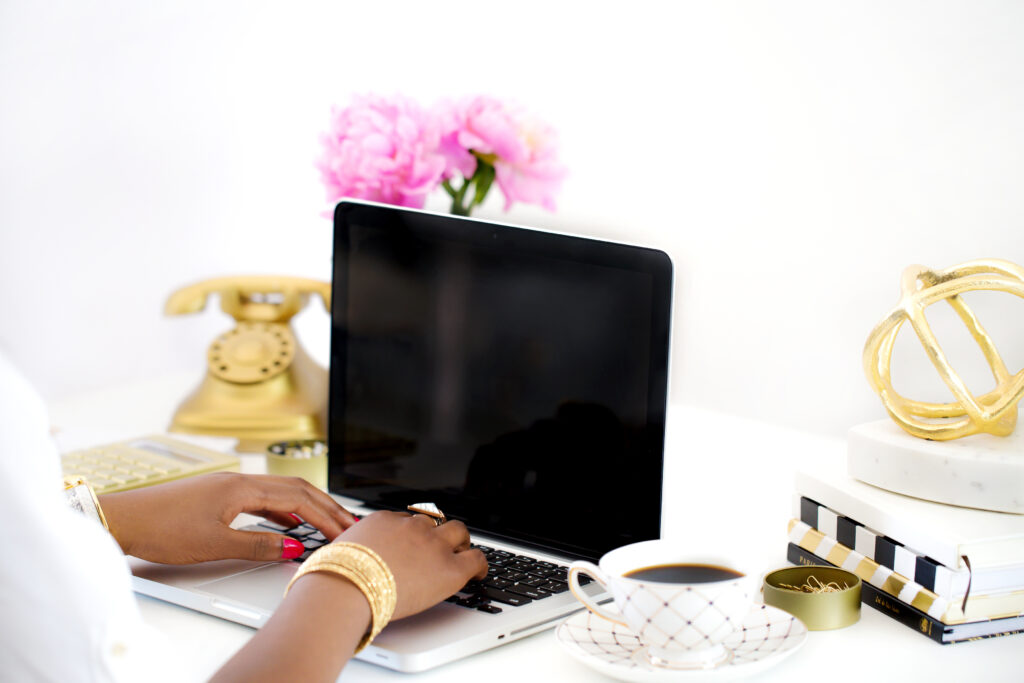 What's It Like to Be a Pinterest Virtual Assistant?
Being a Pinterest VA is awesome because it's so flexible!
You can work from anywhere in the world as long as you have a laptop and an Internet connection. This means you can work at home in your pajamas, or work from the beach in Thailand while traveling the world!
You can also set your own schedule and hours. Want to work with just a few clients for 10-20 hours a week? You can do that. Want to work 40 hours a week and earn a full-time salary from this? You can do that too!
What Skills Do I Need?
The good news about becoming a Pinterest VA is that you don't need any "formal" education or qualifications to do this. You just need to be well-versed in specific Pinterest skills, which are easy to learn!
Here are some common day-to-day tasks that a Pinterest VA may do:
1. Creating awesome pins.
Many clients need help creating pins that promote their blog posts or products.
You should have a good eye for graphic design and a knack for choosing fonts, colors, photos, and other design elements in order to create the perfect pins for your clients. You should also know how to use design programs.
Some good programs to be familiar with are Canva (a free graphic design program that's very popular) and Adobe Photoshop.
2. Writing stellar pin descriptions.
Pinterest is considered a "visual search engine" and good pin descriptions are the key to ensuring your client's pins show up in the Pinterest search results.
One task Pinterest virtual assistants may do is upload the pins they create to their client's Pinterest account with high-quality, keyword-rich descriptions.
3. Being a scheduling rockstar.
Are you familiar with the Pinterest scheduling tool Tailwind? If not, this should be at the top of your list of tools to familiarize yourself with as a Pinterest VA!
With Tailwind (which is a Pinterest-approved marketing partner) you can batch-schedule pins on your client's Pinterest account, saving you a ton of time. You can also use Tailwind Tribes to boost their pins to a larger audience.
4. Keeping up with seasonal trends.
One important thing for Pinterest VAs to do is keep up with seasonal trends on Pinterest so that you can help your client create an optimal promotion strategy.
This may include doing things like reading the Pinterest for Business blog and keeping up with the latest Pinterest trends.
5. Managing and growing accounts.
As a Pinterest virtual assistant, you may be responsible for the overall management and growth of your client's Pinterest account.
Management and growth activities could include creating new, relevant Pinterest boards for your client, cleaning up and optimizing their current boards, applying to group boards for them, tracking analytics, and more!
6. Providing details analytics report.
Clients will want to understand the results you're creating for them, which means that you should be able to interpret and report on analytics data.
Pinterest business accounts have their own analytics, which include things like impressions, engaged users, and clicks. However, Pinterest Analytics do not always provide a full and accurate picture when it comes to traffic.
If you really want to stand out as a Pinterest VA, you should be able to also get information from your client's Google Analytics account to show which specific pins are doing well and driving traffic to your client's website.
7. Running Promoted Pin campaigns.
One advanced and highly in-demand service that Pinterest VAs can offer is Promoted Pin creation and management.
Promoted Pins are paid Pinterest ads. They are great for driving traffic, sales, and email sign-ups to your client. This is a service you can charge a lot for if you know how to launch successful Promoted Pin campaigns.
How Much Can You Earn?
How much money can you make as a Pinterest virtual assistant?
New Pinterest virtual assistants may start out charging $25-30 an hour, while more experienced VAs may charge up to $50-75 an hour.
When it comes to setting prices, many Pinterest virtual assistants choose to offer a monthly package model for their services.
This could be on an hourly basis (ex. 10 hours of work per month for $250) or it could be a monthly package based on the services provided (ex. full Pinterest management including a specific set of services for $800.)
If you put together service packages, you should first calculate how many hours it will take to complete all the services you're offering. Then multiply that number by your hourly rate to find your package price.
Some Pinterest VAs also offer a la carte services (ex. setting up a new Pinterest account for $250 or designing 15 pins for $100.)
It's up to you to decide how many clients to take on. Some VAs just do it part-time and only take on a couple clients per month, while others work 40 hours a week with clients and make a full-time salary. It's totally up to you and the flexibility is one of the things that makes being a Pinterest VA so great!
As I mentioned, I earn $600 a month working with one client as a virtual assistant. I help her with various tasks, including working on Pinterest. I work about five hours a week, which comes out to around $30 an hour.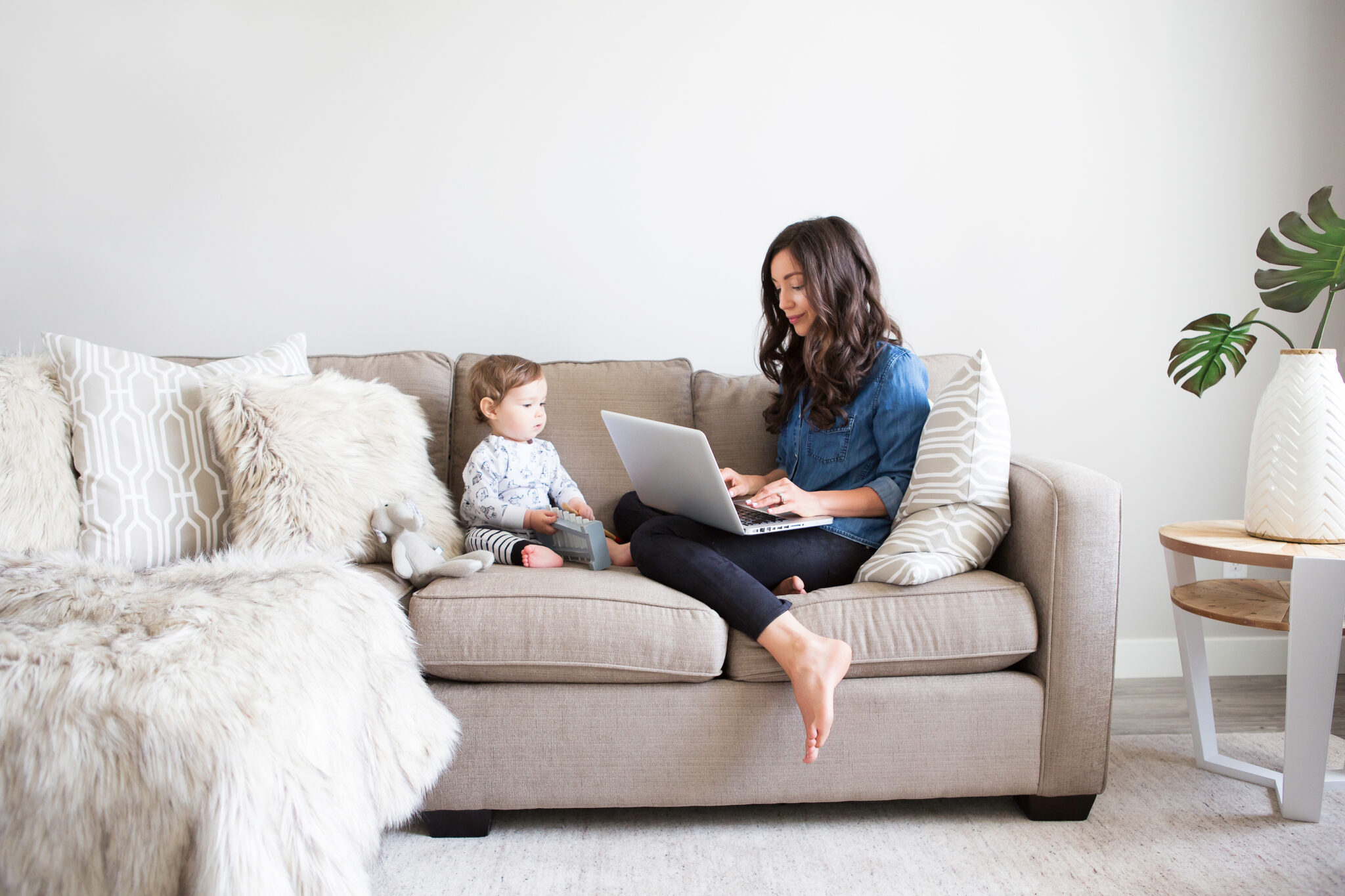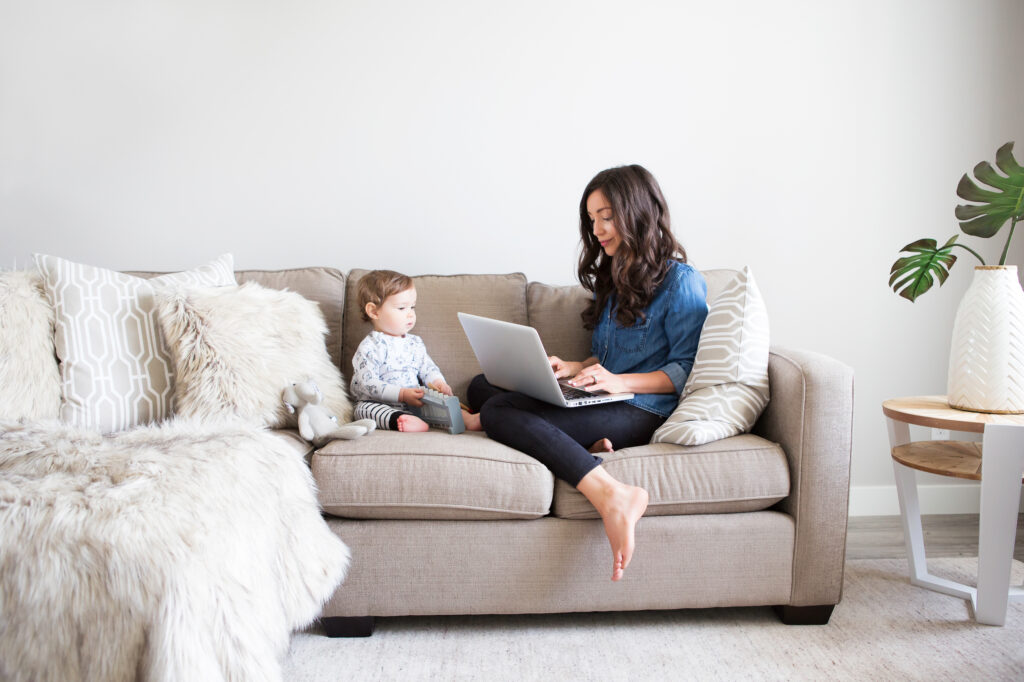 How to Become a Pinterest VA Today!
If you want to start your own Pinterest VA biz, I highly recommend enrolling in the Become a Pinterest VA online course.
This course was created by Kristin Larsen, a blogger who started off with a very lucrative Pinterest VA side hustle! Now she runs the personal finance blog Believe in a Budget and teaches others how to become a Pinterest VA too.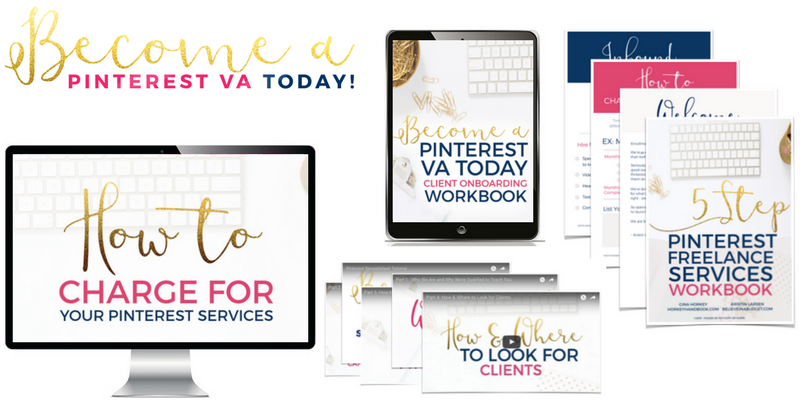 Here's what you'll learn in Become a Pinterest VA:
Understanding the role of a Pinterest VA
Services you can offer
What to charge and how to set your rates
How to find clients
Successfully pitching and landing clients
Onboarding clients
Growing client relationships
How to expand and scale your business
This is just what you'll learn on the "business side" of things. You will also get all of the Pinterest and technical training you need to succeed, including:
Understanding the basics of Pinterest
Prepping your client's account
Pinterest SEO and best practices
Understanding the Smart Feed
Pinterest design training
Maximizing Pinterest for traffic
And finally, Become a Pinterest VA includes five fabulous bonuses that are more than worth the cost of the course alone:
PVA Accelerator Companion Program ($299 value)
60 days of Tailwind free ($30 value)
Client Onboarding Workbook ($99)
Client Onboarding Workbook: Promoted Pins ($99 value)
Client Monthly Analytics Report and Template ($99 value)
You also get lifetime access to the course and access to ALL updates for free! (The course is updated regularly to keep it as relevant as possible.)
You can learn more about Become a Pinterest VA here.
Free Pinterest VA Workshop
If you want to get started on learning how to become a Pinterest virtual assistant, I highly recommend enrolling in the FREE Become a Pinterest VA workshop.
Click here to enroll in the workshop.
Real Life Examples of Pinterest VAs
One of my biggest pet peeves with many online courses out there is that so many of them cost a lot of money and then don't provide you with the practical knowledge and skills you need to actually get results.
But the awesome thing about Become a Pinterest VA is that SO many students have taken this course and then actually started landing clients and making money right away (some within a week of finishing the course!)
Simply put, this course works.
Here are three real-life examples of students who have taken Become a Pinterest VA and their results after finishing it:
Suzie wanted to be able to work from home and support her family financially, and now she earns over $2,000 a month working part-time at home:
Dama launched her Pinterest VA biz a week after finishing the course, and a week after that she had earned her first paycheck from a client. Now she has three clients and can work part-time while living abroad:
And Tara was already a successful VA offering graphic design and SEO services, but she wanted to expand her offerings into Pinterest too. She was able to more than double her business with Pinterest clients:
How to Become a Pinterest Virtual Assistant
If you want  to learn how to get started as a Pinterest VA today, be sure to sign up for the FREE workshop that Kristin offers. This workshop covers everything you need to start your Pinterest VA business from scratch.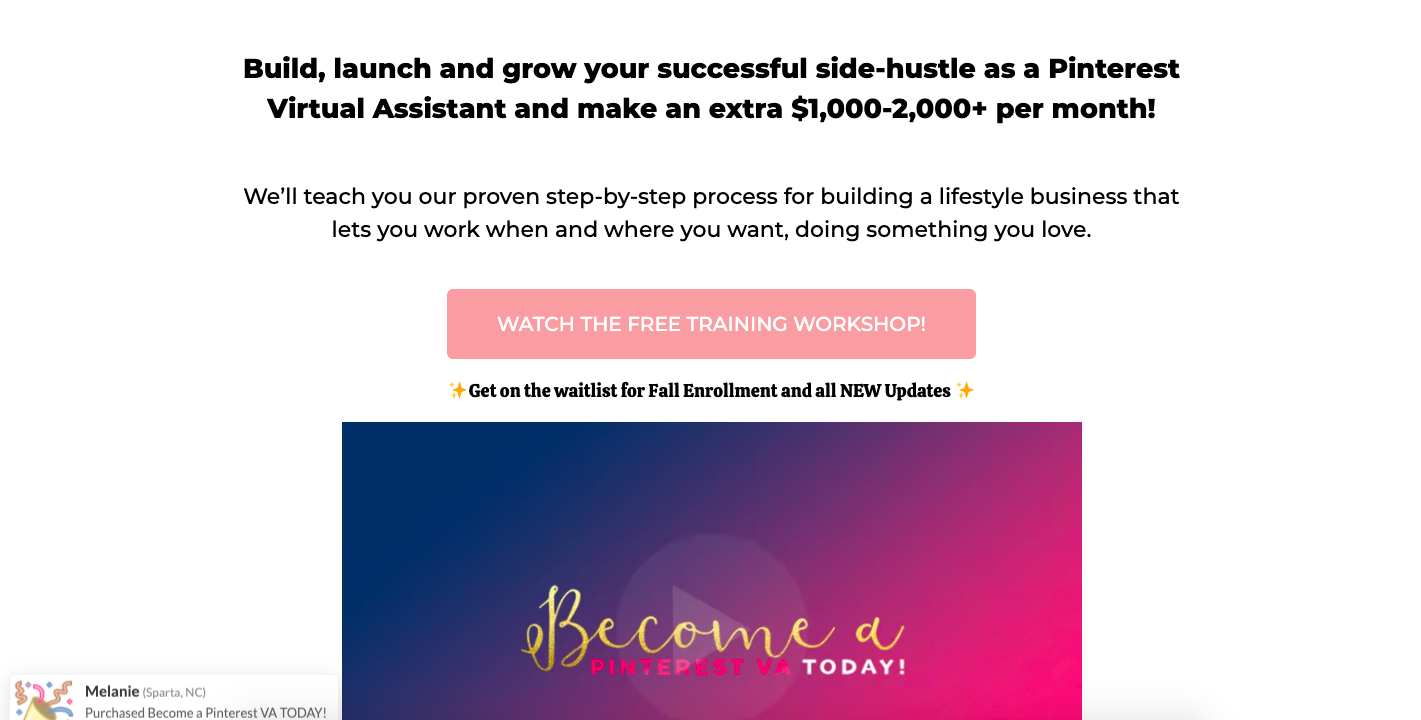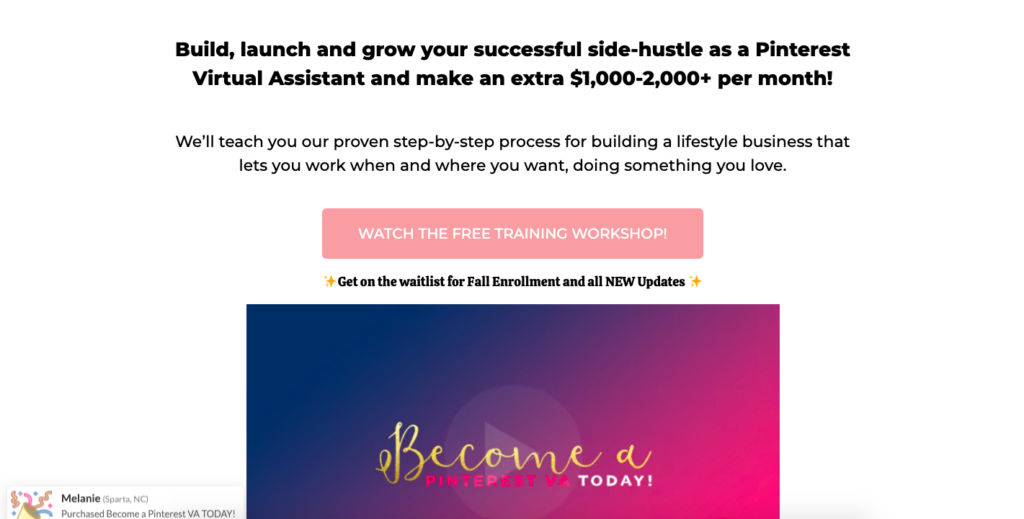 More Ways to Make Money Online
Looking for other ideas for how to make money online?
Here are a few more ideas to check out!