Note: Affiliate links may be used in this post. I may receive a small commission at no extra cost to you if you use my affiliate link. Full disclosure policy here.

Best Printable Ideas to Sell
Are you looking for the best printable ideas to sell?
Printables are one of the top types of digital products that you can create and make money from selling online. Printables are very popular and in demand right now, and once you create them you can sell them an unlimited number of times.
You can sell printables on a marketplace platform like Etsy, or on your own website or blog. And they're surprisingly easy to create too!
If you are interested in earning passive income from selling printables online, read on for the best printable ideas to sell and earn money from!
And if you are ready to kickstart your printables journey and start making money today, be sure to check out Printables by Number to learn everything you need to know about creating printables that sell like crazy.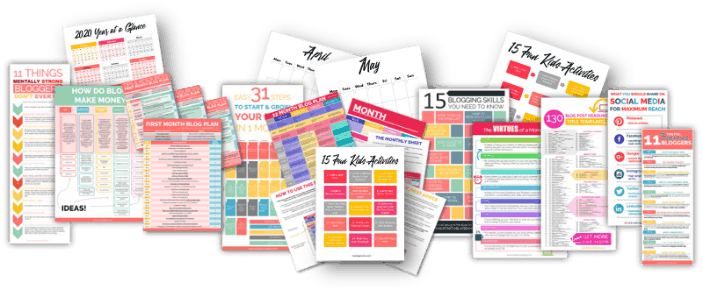 What Are Printables?
First of all, you might be wondering exactly what printables are.
Printables are a type of digital product. As opposed to selling a physical product, you are selling a digital file designed to be printed out and used.
The benefit of creating and selling printables is that it's a lot less work than creating and selling physical products. You don't have to worry about production costs, carrying inventory, shipping costs, running out of stock, delivery issues, or any of the other concerns associated with selling physical products.
With printables, you create them once and then can sell infinite copies.
An example of this is printable coloring pages. As opposed to selling a physical coloring book, you could sell digital files containing coloring pages meant to printed out by the customer and colored. This is simpler and more cost-effective than creating a physical coloring book and having to ship it to the customer.
You might be surprised at how popular printables have become.
One reason for this is because not only are printables easier and cheaper to create, it's cheaper for the customer as well. Buying a $30 physical planner versus buying a $10 printable planner and printing out the pages and putting them in a binder yourself saves a lot of money.
There's also more room for customers to find exactly what you're looking for when it comes to printables, as opposed to traditional physical products.
So what are the best printables to sell?
Best Printable Ideas to Sell
Here are the best printable ideas to sell and make money from.
I've listed them in various categories such as printable ideas for kids, printable planners, wedding printables, and other popular printable topics.
Printable Ideas for Kids
Coloring pages
Flashcards
Chore chart
Activity books
Schoolwork
Back to school signs
Reward coupons
Wedding Printable Ideas
Wedding invitations
Save the dates
Bachelorette party games
Photo booth props
Wedding planners
Labels for wedding favors
Bridal shower games
Table numbers and place cards
Holiday Printables
Holiday party invitations
Gift tags
Holiday planners
Holiday greeting cards
Party games
Advent calendar
Planner Printables
Academic planners
Home planners
Personal finance planners
Meal planners
Business planners
Emergency planners
Tracker Printables
Habit tracker
Fitness tracker
Weight loss tracker
Budget tracker
Debt payoff tracker
Savings tracker
Reading tracker
Baby milestone tracker
Cleaning tracker
Art and Decor Printables
Art prints
Photography prints
Stickers
Quote wall art
Nursery wall art
Kitchen wall art
Laundry wall art
Miscellaneous Printables
Adult coloring pages
Guided journals
Stationery
Gift coupons
Recipe cards
Greeting cards
Ideas for custom mugs
How Do I Make a Printable to Sell?
Making printables to sell is easier than you might think.
You can use a free graphic design program such as Canva to create your printables. Some people also use Microsoft PowerPoint or Excel.
For paid programs, Adobe Photoshop or InDesign are popular choices that will allow you to design beautiful and professional printables as well.
However, you don't need to be an expert graphic designer in order to create and sell printables! Canva offers plenty of free templates that you can work with. It's even possible to buy printables that are already made that you can resell as your own. This is known as PLR (private label rights) printables.
Once you have made your printables, you simply save the digital file (usually a PDF file) and that is the end product delivered to the customer.
Can You Really Make Money Selling Printables?
Yes, you can really make money from selling printables.
If you search "printable planner" or "printable wall art" on Etsy, you'll see that many of the top sellers have thousands of verified sales.
Since many printables sell for anywhere from $5 to $25, you can see how this would quickly add up if you make just 10, 50, or 100 sales per month!
Many printable sellers do it as a side hustle to earn some extra money, or sell printables on their blog as an additional way to make money blogging.
Some printable sellers are able to earn a full-time income from it too!
How Much Money Can You Make Selling Printables?
There's no definitive answer to how much money you can make selling printables. It can be anywhere from a few hundred extra dollars per month to a full-time income! The sky is really the limit when it comes to how much you can earn.
For example, Sarah Titus makes over $50,000 per month from selling printables.
Whatever your goals are, whether it is earning $500 extra per month as a side hustle or making it into a $10,000+ a month full-time job, it's achievable.
If you want to learn how to start creating printables that sell like crazy right away, I highly recommend checking out Printables by Number.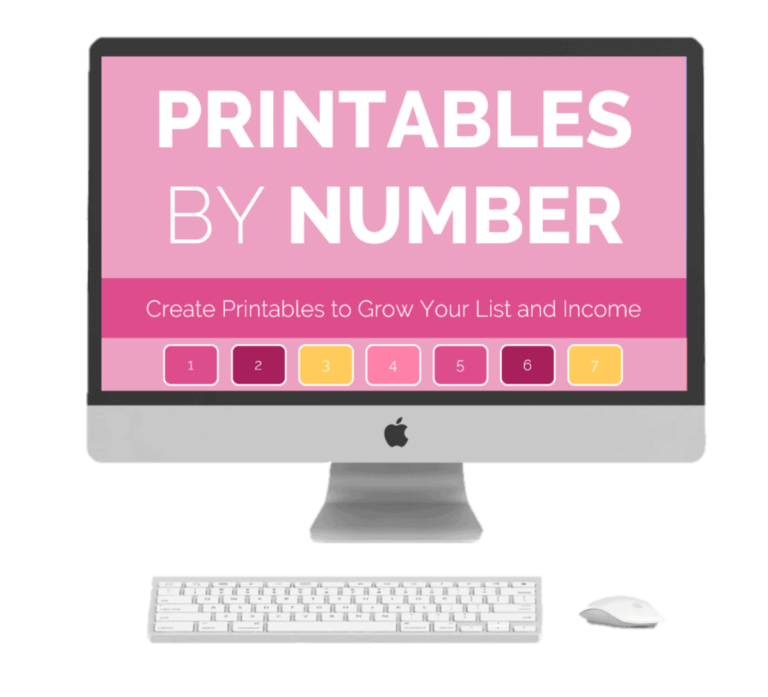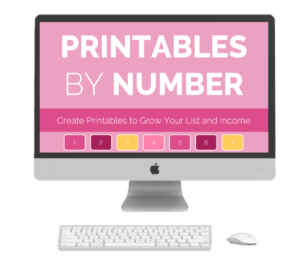 This is an online course created by Suzi Whitford who is a pro at creating printables. She earns a full-time from her blog and printables.
Thousands of students have taken this course and some have reported making $1,000 in their first 30 days of selling printables, and making more sales in two weeks than they have in two years of selling online!
Here's what you get in Printables by Number:
Over 9 Hours of Step by Step Videos (Valued at $197)
10+ Done for You Templates (Valued at $97)
Canva and PowerPoint Detailed Tutorials (Valued at $97)
Resource Library by Number (Valued at $47)
The Blog Shop Course (Valued at $197)
Two Premium Checkout Templates (Valued at $197)
Learn How to Set Up a Sales Funnel or Shop (Valued at $197)
100 Printable Ideas to Grow Your List and Income (Valued at $47)
8 Drag and Drop Mockups (Valued at $47)
How to Sell on Etsy – Expert Masterclass (Valued at $97)
How much does the course cost? You will get all of this, plus lifetime access to the course and all future updates, for only $197.
Click here to learn more about Printables by Number.
Best Printable Ideas to Sell
These are the best printable ideas to sell to make money.
For more ideas of ways to make money online, you may be interested in…