Note: Affiliate links may be used in this post. I may receive a small commission at no extra cost to you if you use my affiliate link. Full disclosure policy here.

What Type of Blog Should I Start? FREE QUIZ
Have you been wondering what type of blog you should start?
Here's a free quiz you can take to find out!
I've been blogging since 2017, and I have started five profitable blogs in that time. And from all my blogging experience, I have observed that the majority of successful blogs fall into one of four different types.
I classify these types as…
Expert Blog
Curation Blog
Niche Blog
Lifestyle Blog
(You can read a breakdown of all four types below.)
To find out which blog type is perfect for you, I created this fun and quick quiz that will tell you which type of blog you should start.
First things first, CLICK HERE to learn the cheapest way to start your blog!
Then read this guide for the next steps of starting your blog today.
After you have taken the quiz and are ready to start your blog, I recommend using Bluehost for web hosting because it's only $2.95 a month and you will also get a FREE .com domain name for your blog.
This is by far the best option for new bloggers.
If you need help setting up your blog, head on over to this free guide that shows the simple steps you can take to start your blog in under an hour.
Free Quiz: What Type of Blog Should I Start?
(The quiz will open in a new tab for you – and don't worry, it's short!)
Then come back to this post to read more about your result and to learn the steps you can take to get your blog started in under an hour today!
Free Blogging Bootcamp
Ready to learn how to start your blog and make money blogging? Sign up for my free Blogging Bootcamp email course below.
You can also follow the steps in my guide on how to start a blog that walks you through the process of setting up your blog (with screenshots!)
The Outcomes
Did you take the quiz above about what type of blog to start?
Here's an overview of the four types of blogs you can start based on this quiz:
The Expert Blog
You're knowledgeable about a certain topic and can't wait to share that knowledge with others.
Maybe that topic is business, marketing, personal finance, weight loss, or something else!
And don't feel put off by the "expert" title.
The main goal with this type of blog is to teach your audience. You don't have to be the world's biggest expert on your topic yet, you just need to be one step ahead of your audience in order to help them.
The best ways to make money with an expert blog are selling your own products and affiliate marketing.
Examples of successful expert blogs:
The Curation Blog
You have a wide variety of interests and you love browsing Pinterest for the latest ideas and trends.
A curation blog is a great choice for you. Curation blogs are mainly focused on rounding up ideas from others (recipes, crafts, home decor, helpful tips, holiday gifts, etc.) and less on creating your own original content.
Blog posts are usually short and engaging with less in-depth writing involved (think about Buzzfeed articles!)
While blog posts on a curation blog may be shorter and easier to write than with other blog types, you do need to be able to post more frequently to keep up with the seasons and trends.
Curation blogs can be very profitable because they tend to drive a lot of traffic. The best way to make money with a curation blog is through display advertising and affiliate marketing.
Examples of successful curation blogs:
The Niche Blog
There's one specific topic that you really love and can see yourself writing about without getting tired of it.
Maybe it's gardening, pregnancy, homeschooling, knitting, getting out of debt, yoga, Disney World, or something else… The options for a niche blog are literally endless!
As long as it's a topic that other people are interested in too, you can start a successful niche blog on it.
Having a highly specific niche, or topic, for your blog is a great strategy for becoming a successful blogger. With a niche blog, it's easier to establish your site as an authority and build an engaged audience.
The best ways to make money with a niche blog are affiliate marketing (recommending products relevant to your niche and earning a commission on them) or selling your own products.
Examples of successful niche blogs:
The Lifestyle Blog
Lifestyle blogs are one of the most popular blog types out there. The great thing about having a lifestyle blog is that you can really make it your own.
You might start a lifestyle blog focusing on one broad topic, such as parenting or fashion. Or you can have a lifestyle blog where you have multiple categories like parenting, saving money, and recipes.
The important thing with a lifestyle blog is to choose an audience for your posts to resonate with. Even if you write about multiple topics, this is how you can tie it all together.
For example, your audience could be busy moms, college students, millennial women, etc.
To be successful as a lifestyle blogger, you shouldn't be afraid to put yourself out there and get personal with your readers.
The best ways to make money with a lifestyle blog are affiliate marketing and working with brands on sponsored posts.
Examples of successful lifestyle blogs:
Types of Blogs to Start
Remember, these four blogging "types" aren't exact, and they're just a method of classification I came up with based on my own blogging experience.
The blog types are designed to get you thinking about your skills, interests, and goals, and what kind of blog would be the best for you based on those things.
Ready to start your blog?
Click here for the cheapest blog web hosting and then read this guide for step-by-step instructions on setting up your blog in less than an hour.
What Should I Blog About?
If you have taken the quiz and know what type of blog you should start, you still might be wondering exactly what TOPIC you should blog about.
Does this sound like you?
If so, check out my guide on what to blog about for some inspiration.
You can also download my free list of 150+ profitable blog niche ideas:
More Blogging Ideas
Looking for more tips and ideas to help you get started blogging?
Check out the following resources!
These ideas should help you find the inspiration to start your own blog!
Ready to Start Blogging?
Are you ready to get started? Here is a step-by-step guide to help you get your blog up and running with Bluehost in less than 15 minutes.
1. Click here and then click the "Get Started" button:
2. Select your hosting plan
Which plan should I choose? I recommend the Basic plan for new bloggers.
I'm personally on the Plus plan, but that's only because I run multiple blogs. Otherwise I would probably choose the Basic plan!
3. Put in your domain name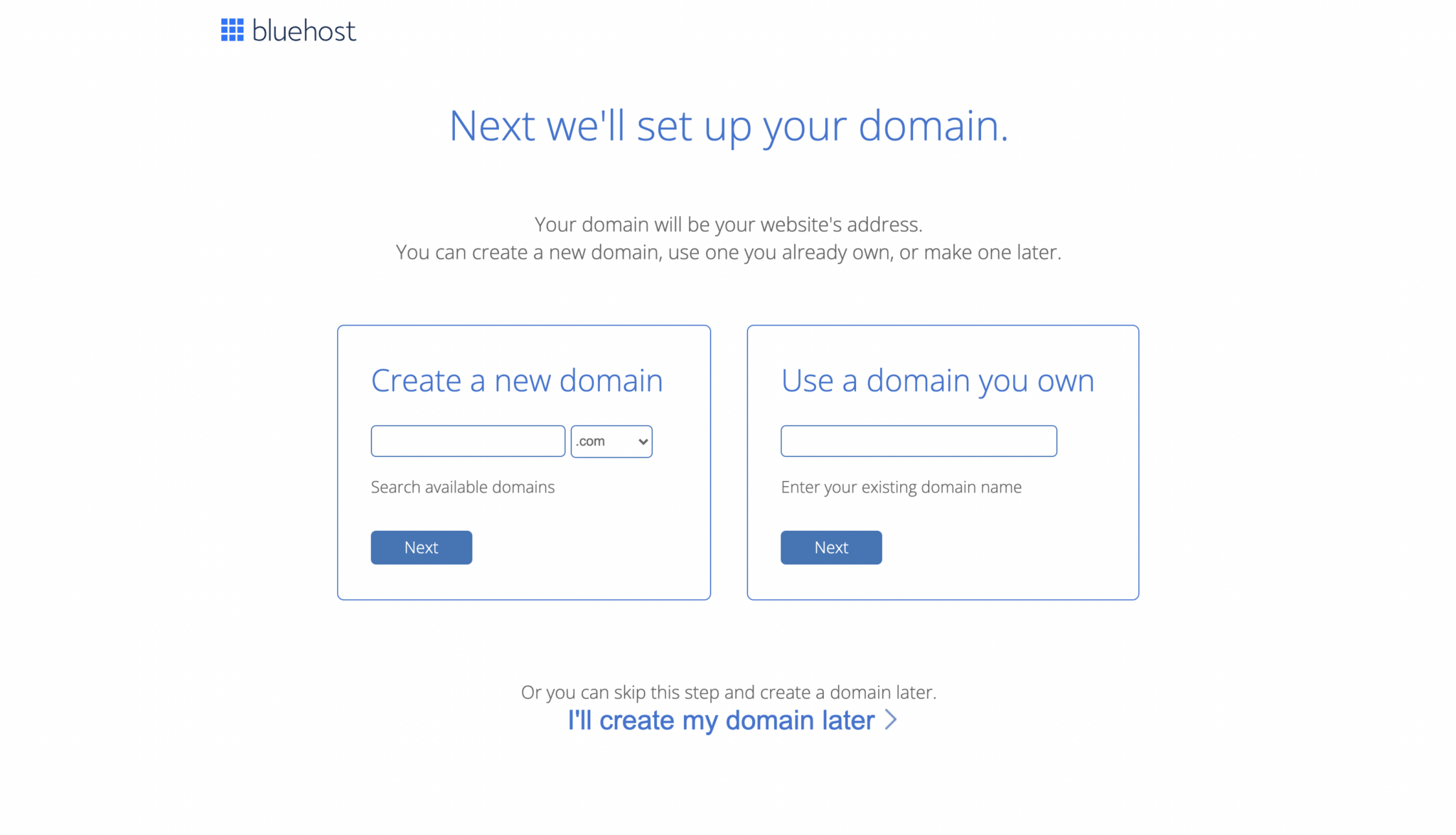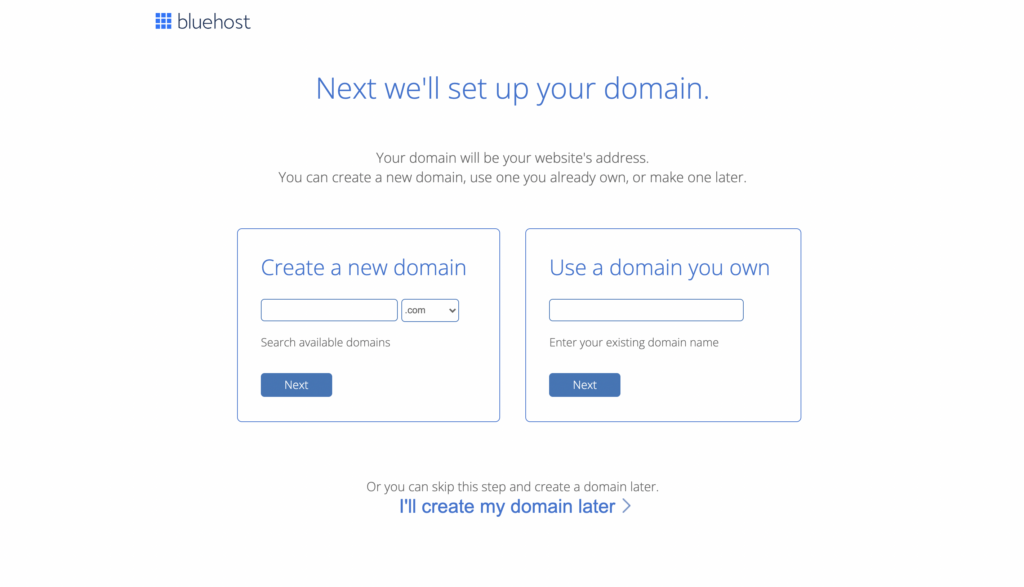 This is where you'll put in the domain name that you want to use for your blog.
Related: How to Choose a Blog Name & Blog Name Ideas
What if I haven't decided on a name yet? If you haven't decided on a domain name for your blog yet, click "I'll create my domain later." Or you can wait a couple seconds and this offer will pop up on the screen: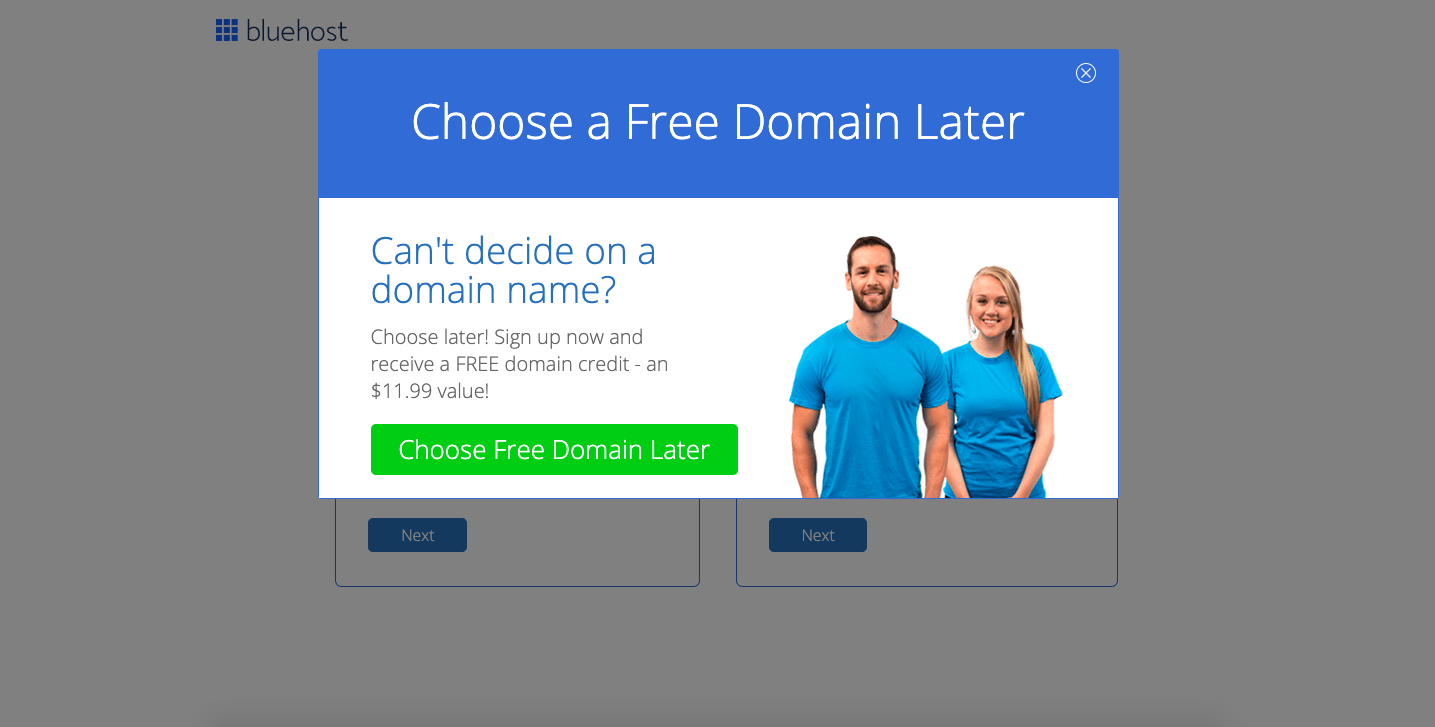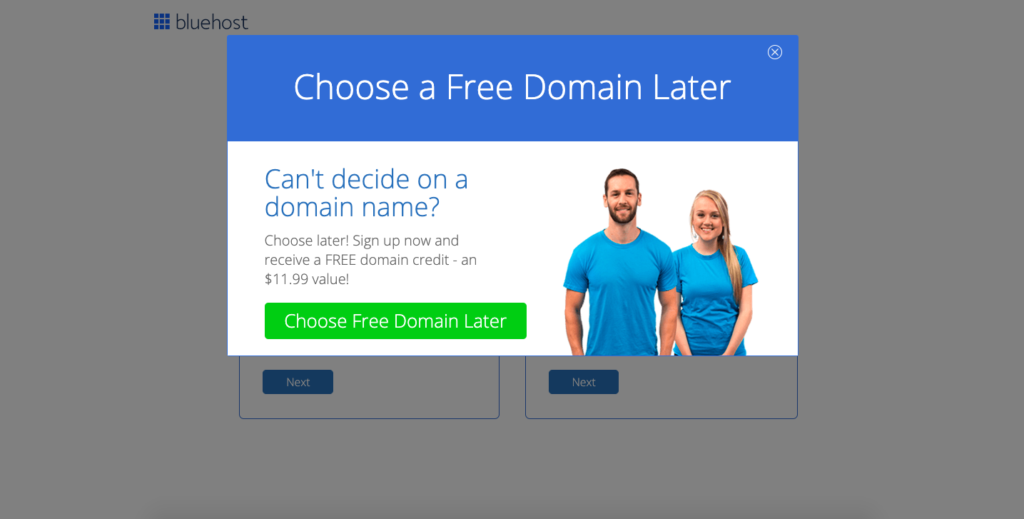 Select this option and you can go ahead and set up your blog now, then use the free credit to buy your domain name later.
4. Create your hosting account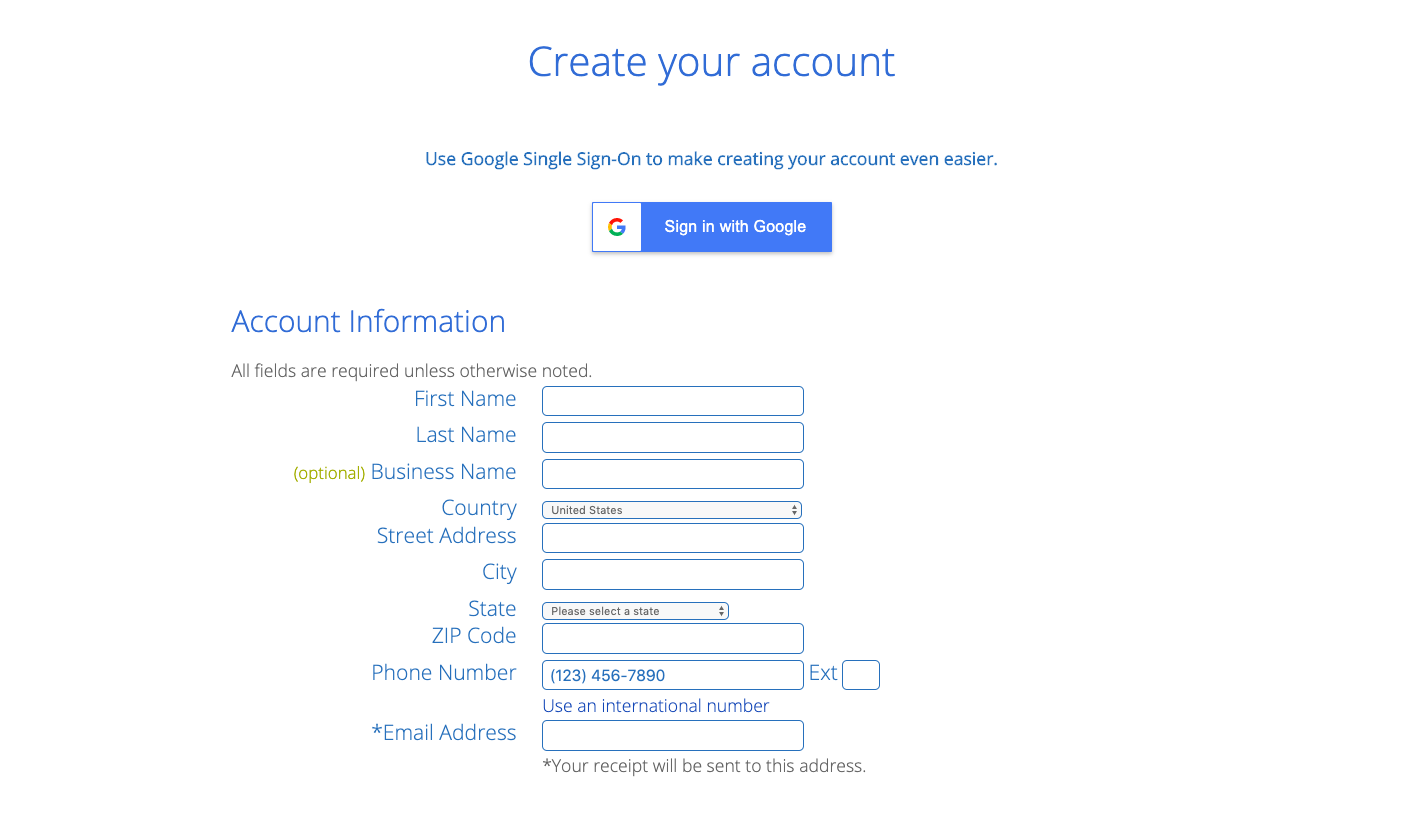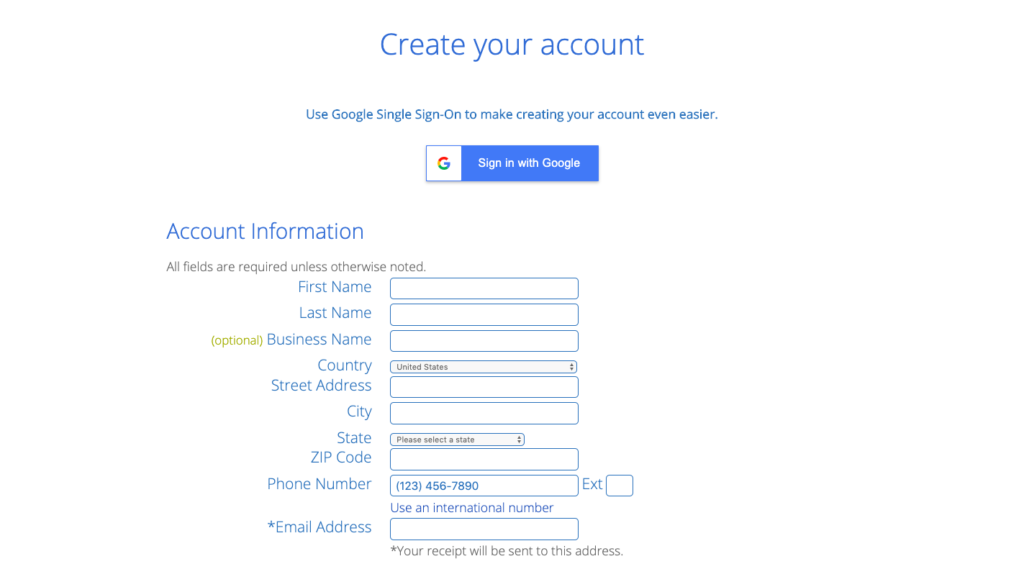 5. Choose your package and pay
This is where you'll select your hosting plan.
I recommend the 12-month plan for $2.95 a month, for a total cost of $35.40 for the year. But you can also choose a 24-month or 36-month plan.
What about package extras? You have the options to add on extra paid services like site backups, SEO tools, or site security.
I personally don't recommend any of these paid extras, because there are free WordPress plugins you can install that do the same things.
6. Congrats, you're done!
Now you're all set! Bluehost will automatically install WordPress for you.
What exactly is WordPress? WordPress is the content management platform that your blog will run on. Your WordPress dashboard is where you will go to edit the look of your blog, write blog posts, upload images, etc.
It's extremely easy to use, even if you're a total beginner.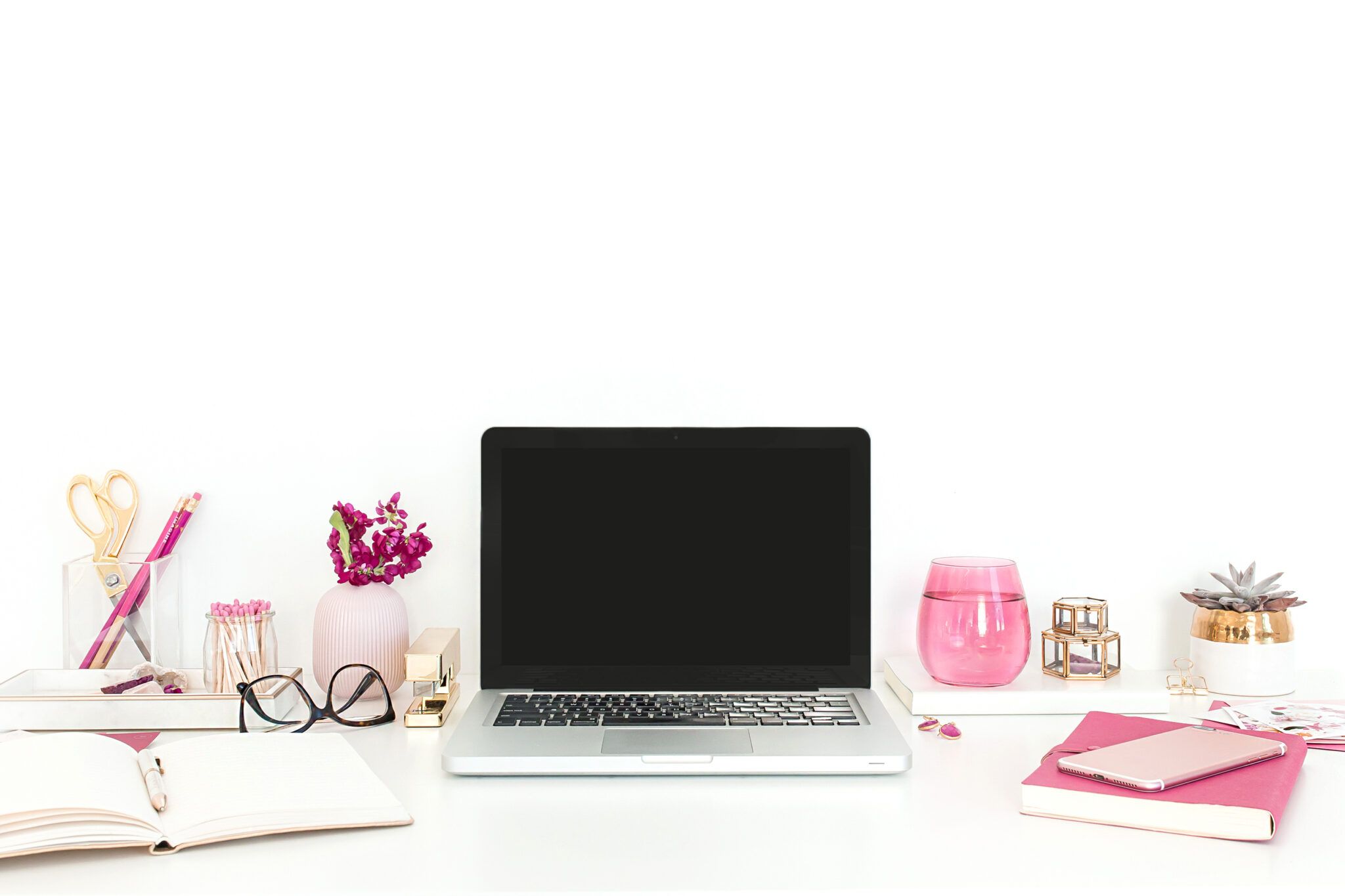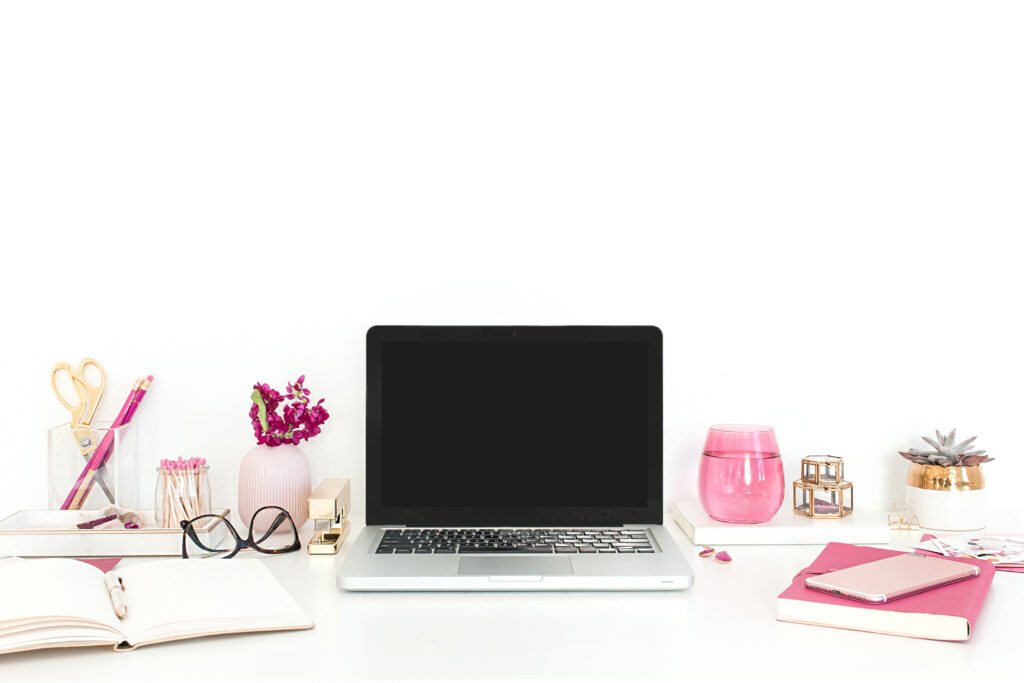 More Blogging Resources
If you need more help starting your blog, be sure to check out the following super helpful resources to help you get started: