Note: Affiliate links may be used in this post. I may receive a small commission at no extra cost to you if you use my affiliate link. Full disclosure policy here.
What is a blog?
If you've stumbled across my website, chances are it's because you're curious about blogging and interested in starting your own blog.
However, I know that the world of blogging can be confusing, especially when you are just starting out. That's where I can help!
I created this helpful, to-the-point guide to explain exactly what a blog is, how to start your own blog, and how you can make money blogging.
I also offer a FREE email course that will teach you how to start your own blog in five days. Each day, you'll receive a new email lesson from me.
You can sign up for the free email course below:
The definition of a blog
In simplest terms, a blog is a website that is updated regularly with articles (known as blog posts) about a specific topic or topics.
The term "blog" originated in 1994 and is a shortened form of the word "weblog." Back in the early days of the Internet, blogs were more like personal diaries.
Nowadays, blogs are mainly informational websites about a certain topic, although personal blogs and hobby blogs do still exist.
Some popular topics for blogs include cooking, travel, fashion, personal finance, business, parenting, crafts and DIY, fitness, etc.
What is the difference between a blog and a website?
The terms "blog" and "website" are often used interchangeably.
Technically, a blog is a type of website.
However, the key difference between blogs and websites is that blogs are usually updated regularly with new blog posts, while websites are typically static and may only contain a handful pages that are rarely updated.
For example, a blog may contain hundreds of blog posts and be updated weekly. The website for a business, on the other hand, might only have a few pages with information about the company and not be updated frequently.
What is a blog post?
A blog post is just what we call an article (like the one that you are reading right now!) that is published on a blog.
If you click on the name of my blog at the top of this page, you will be taken to my homepage which contains all of my latest blog posts. Most bloggers have their blogs organized in this way, in reverse chronological order with their most recent blog posts appearing at the top of their homepage.
Most bloggers publish new blog posts at least semi-regularly, whether this means three new blog post a weeks or one new blog post a month.
"Blog post" and "article" can be used interchangeably.
Related: 5 Types of Blog Posts Every New Blogger Needs to Write
What is web hosting?
Web hosting is a service that allows your blog to be seen on the Internet.
Your web hosting company allocates space on their servers for your blog. It's essentially where your blog "lives" online.
Most bloggers get web hosting through a company such as Bluehost.
Web hosting is something you will need to get if you want to start a blog.
I personally recommend Bluehost because you can get web hosting for just $2.95 a month, they have great customer service in case you have any questions, and you get a free domain name with them.
What is a domain name?
A domain name, sometimes referred to as just a domain, is the address of your blog on the Internet. Something like http://www.yourblogname.com.
For example, my domain name is http://www.bloggingherway.com.
A domain name is something else you must get if you want to start a blog.
You can register a domain name for $15-20 a year, but if you start your blog using Bluehost, they will give you a FREE domain name.
What is WordPress?
WordPress is a free content management platform that most bloggers use.
When you get web hosting through Bluehost, they automatically install WordPress onto your blog. You'll be able to log in to your WordPress "dashboard" which is basically your blog headquarters.
This is where you will go to write new blog posts, add images to blog posts, change the design of your blog, and much more.
What should I blog about?
Most blogs fall into a specific "niche" or topic.
For example, you could start a blog that's all about ways to save money and budget or a blog that's all about baking cupcakes.
While you can start a blog on just about any topic, the most successful blogs are the ones that target a specific audience and provide helpful, detailed information about a certain topic to that audience.
Blogging Her Way is a blog in the blogging niche. I also run several other blogs dedicated to different topics, such as travel.
Related: 7 Blog Niches That Make Money and Get Traffic
Who can start a blog?
Anyone can start a blog!
You don't need to be extremely tech-savvy. You don't need to be an expert on a certain topic. And you don't even need to be an amazing writer.
You just need to be passionate about the topic you're writing about and have a desire to share information to help others.
Related: 7 Reasons to Start a Blog (And 3 Reasons Why You Shouldn't)
How do bloggers make money?
You might have heard that it's possible to make money blogging.
Well, it's true! It is absolutely possible to make money from a blog – I personally earn over $3,000 a month from blogging! Other bloggers out there are earning even more, up to $100,000+ a month blogging.
Here are the most common ways to make money blogging:
Affiliate marketing: This is an arrangement where a company (take Amazon, for example) offers a percentage commission to bloggers on all sales that they generate. Sales are tracked through a special affiliate link.  Read my full affiliate marketing guide here for more details!
Advertising: As a blogger, you can join an advertising network such as AdSense or Mediavine who will place ads on your blog. You get paid by the advertising network based on how many page views your blog and the ads receive.
Digital products: Many bloggers create their own digital products to sell such as ebooks or online courses. I promise it's not as hard as it sounds! Here are 10 ideas of digital products that you can sell.
Sponsored posts: Bloggers can work with brands on sponsored blog posts and sponsored social media posts. The brand will typically pay the blogger to create content promoting the brand or its products.
Related: How Do Bloggers Make Money? Top 5 Ways Explained
How do bloggers get paid?
As a blogger, you get paid in a variety of ways.
Affiliate programs and advertising networks will usually pay you via direct deposit or PayPal, most commonly on a monthly basis.
If you work with a brand on a sponsored blog post, they will pay you a fixed amount once the campaign is finished.
And if you sell your own digital products through your blog, you will receive payments through your payment processing portal (such as PayPal or Stripe) which you can then transfer to your bank account.
Related: The Ultimate List of 200+ Blog Income Reports
Examples of blogs
Here are a few examples of popular blogs so you can get an idea of what blogs look like and what kind of content bloggers write:
Related: 30+ Examples of Blogs: Successful Blog Examples
How to start a blog
Now that you know what a blog is and understand the basics of blogging, I hope you're ready to start your own blog!
Are you ready to get started? Here is a step-by-step guide to help you get your blog up and running with Bluehost in less than 15 minutes.
You don't need to be tech-savvy at all to do this. I promise it's easy! 🙂
1. CLICK HERE AND THEN CLICK THE "GET STARTED" BUTTON:
2. SELECT YOUR HOSTING PLAN
Which plan should I choose? I recommend the Basic plan for new bloggers.
I'm personally on the Plus plan, but that's only because I run multiple blogs. Otherwise I would probably choose the Basic plan!
3. PUT IN YOUR DOMAIN NAME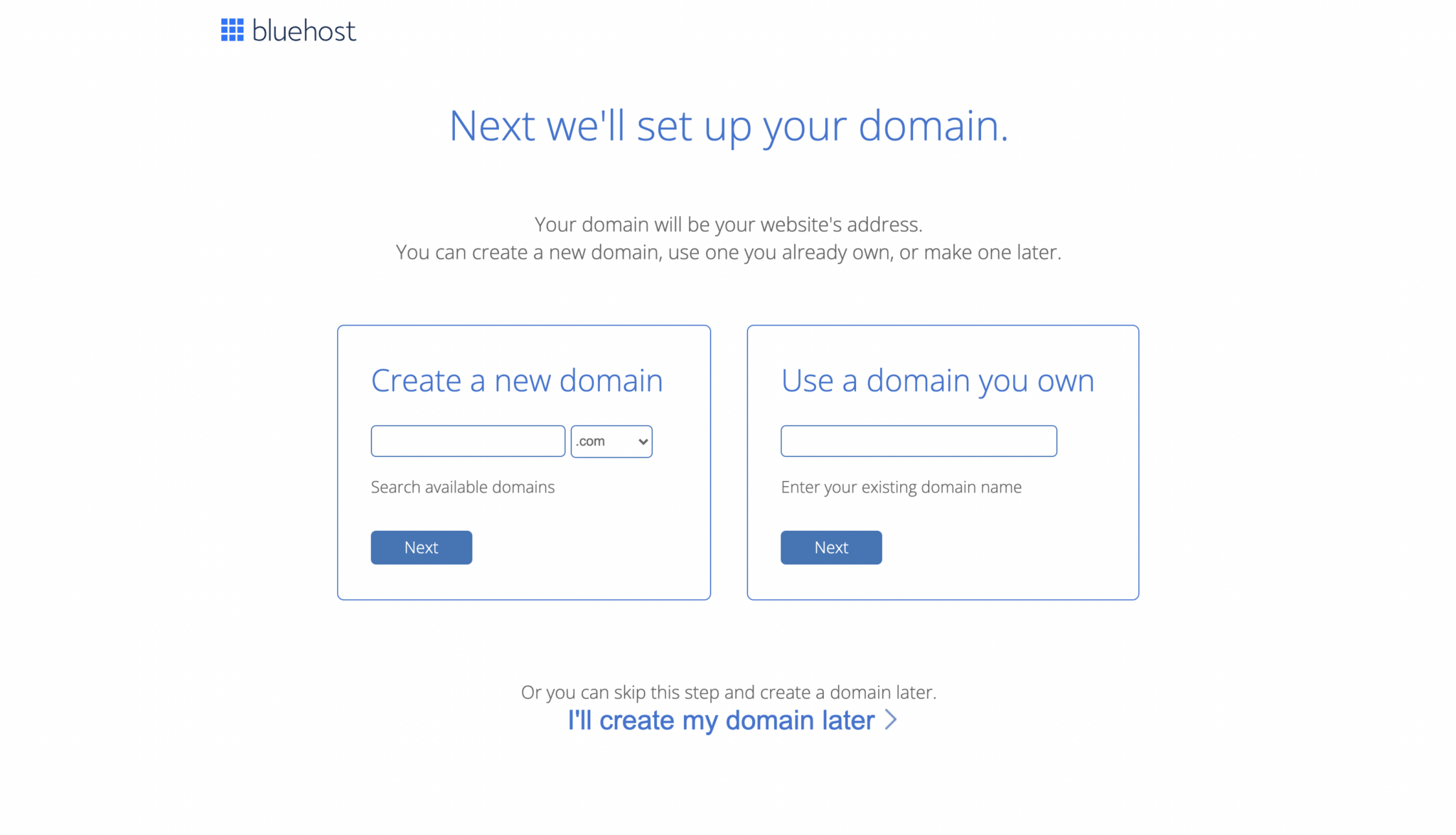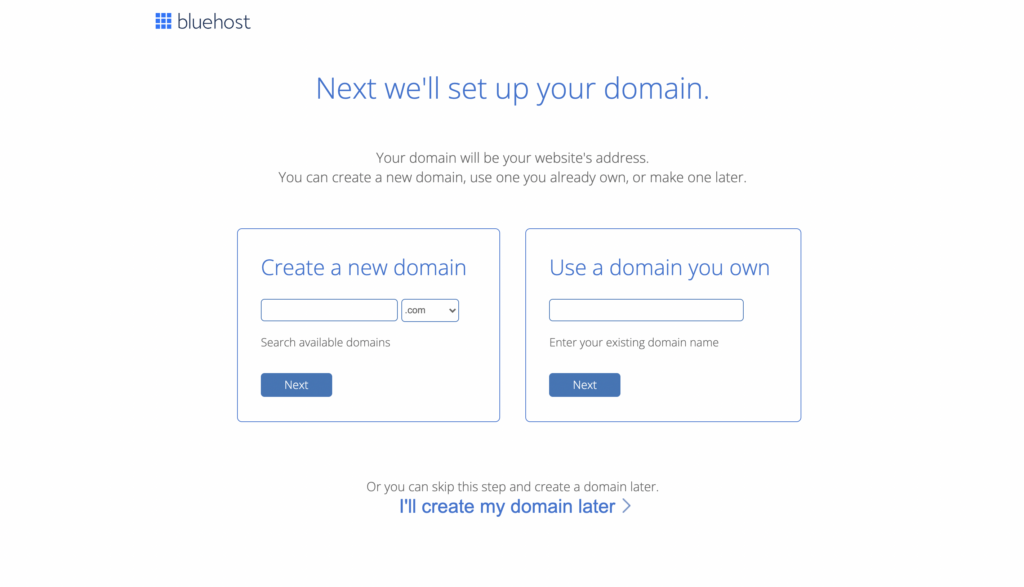 This is where you'll put in the domain name that you want to use for your blog.
Related: How to Choose a Blog Name & Blog Name Ideas
What if I haven't decided on a name yet? If you haven't decided on a domain name for your blog yet, click "I'll create my domain later." Or you can wait a couple seconds and this offer will pop up on the screen: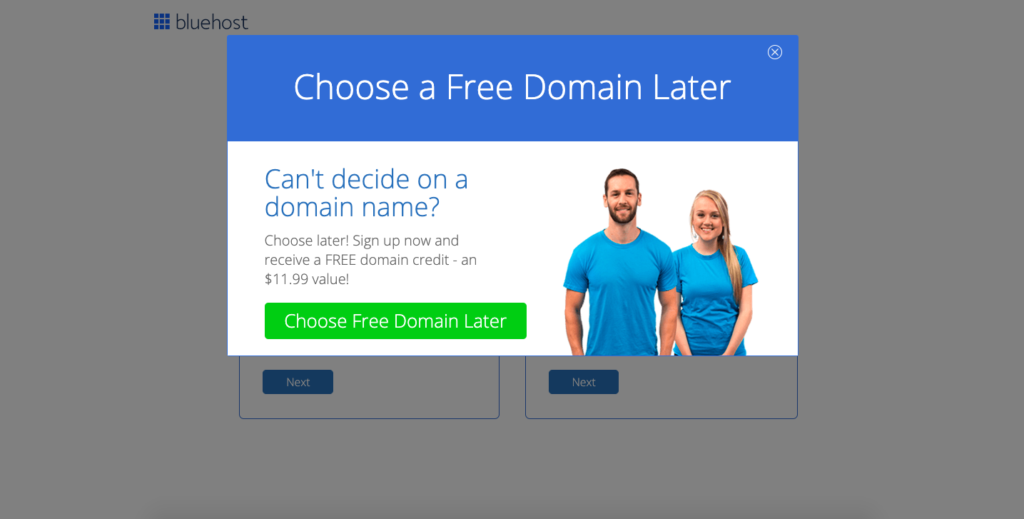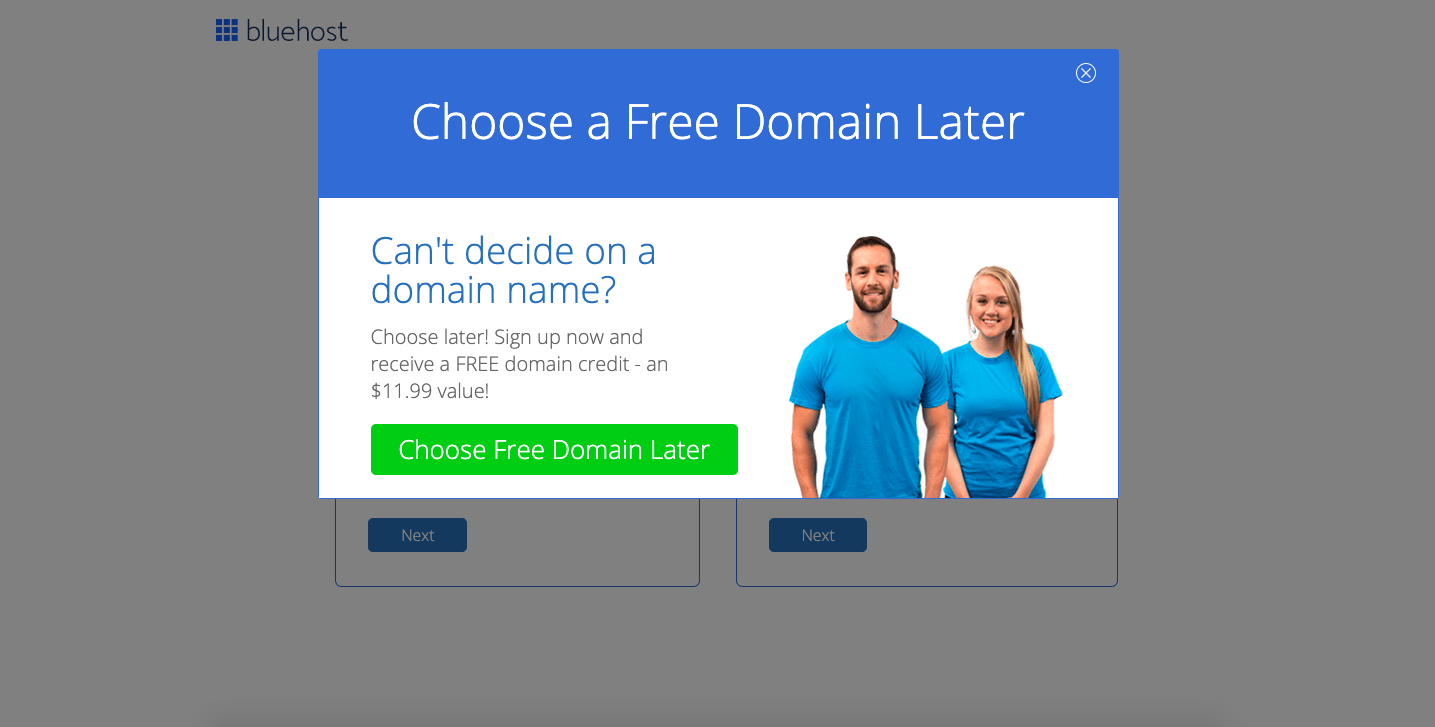 Select this option and you can go ahead and set up your blog now, then use the free credit to buy your domain name later.
4. CREATE YOUR HOSTING ACCOUNT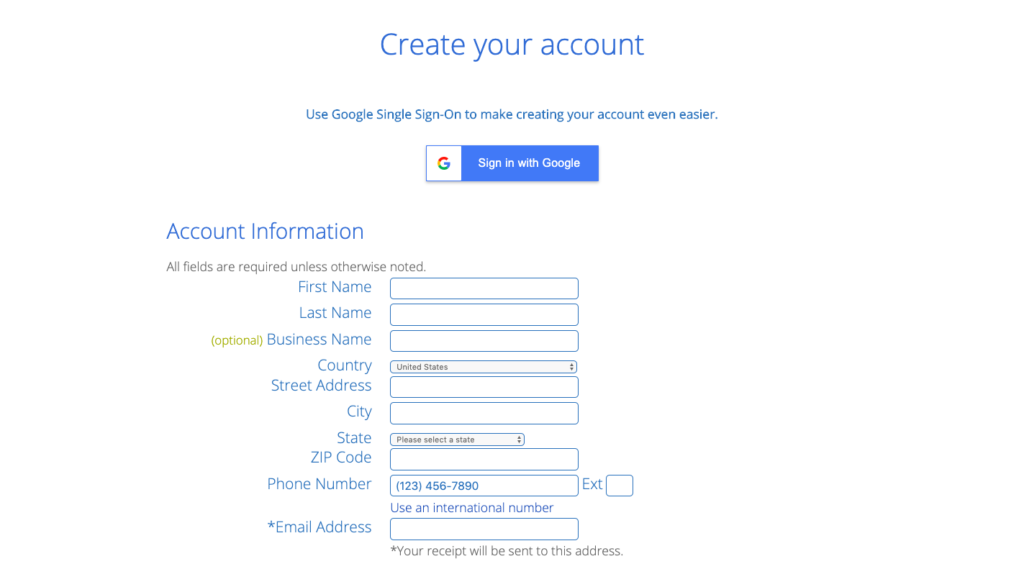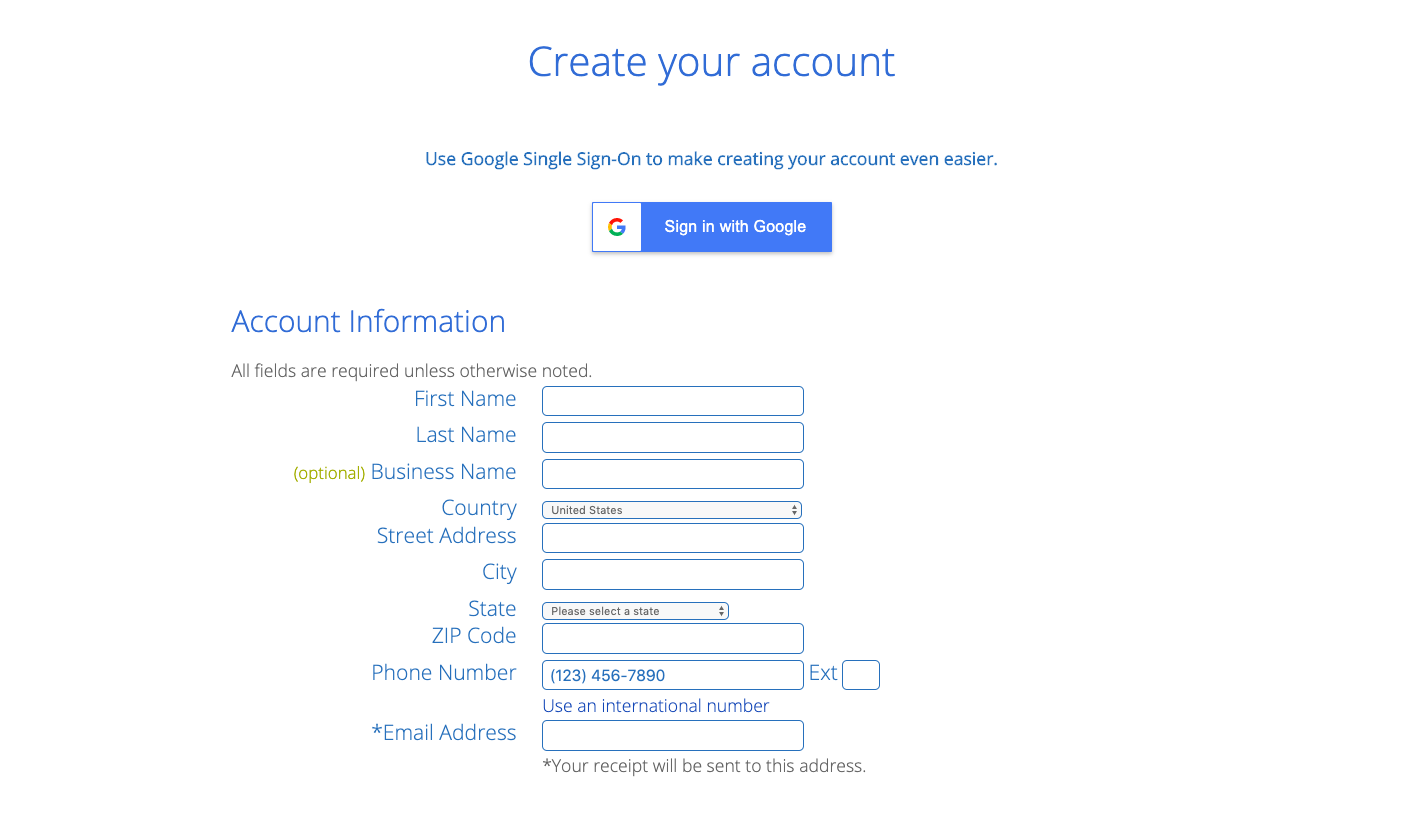 5. CHOOSE YOUR PACKAGE AND PAY
This is where you'll select your hosting plan.
I recommend the 12-month plan for $2.95 a month, for a total cost of $35.40 for the year. But you can also choose a 24-month or 36-month plan.
What about package extras? You have the options to add on extra paid services like site backups, SEO tools, or site security.
I personally don't recommend any of these paid extras, because there are free WordPress plugins you can install that do the same things.
6. CONGRATS, YOU'RE DONE!
Now you're all set! Bluehost will automatically install WordPress for you.
Then you can log in to your WordPress dashboard and start blogging!
What Is a Blog?
Now you know the answer to what a blog is! I hope this explanation of common blogging terms for beginners was helpful as you get started with blogging.
You may also find these other tips for bloggers useful: