Note: Affiliate links may be used in this post. I may receive a small commission at no extra cost to you if you use my affiliate link. Full disclosure policy here.

What Does Blog Stand For?
What does blog stand for?
You might have heard the term "blog" before but not understood what it means or what it stands for. Or maybe you're wondering is blog short for something?
Trust me, you're not alone in asking these questions!
Here's the meaning of the word "blog" and its history!
Want to start your own blog? Learn how to do it in under an hour here!
Why Is It Called a Blog?
The word "blog" is actually not an acronym, like many people think.
This means each individual letter does not stand for another word.
Blog is actually just a shortening of the term "web log" or "weblog."
This term was coined by Jorn Barger back in 1997 on his website Robot Wisdom. He used it to refer to personal websites like his own that published short, frequent articles. The name "blog" stuck and has been used for over two decades now!
The term "web log" had already been around for several years prior to being shortened to "blog" but the shortened name is the one that caught on.
More related terms have evolved since then such as:
Blogger: The person who writes a blog
Blog Posts: Articles published on a blog
Blogging: The act of writing a blog
So as you can see, "blog" does not actually stand for anything! Rather, it's a shortening of "web log" formed by combining the two words teogether.
What Is a Blog?
As mentioned above, a blog is a type of website that is generally run by one person (the blogger) as opposed to a company. Blogs contain articles, also called blog posts, about a particular topic. Blogs are typically updated on a regular basis with new articles, which are shown in reverse chronological order.
For example, there are travel blogs, food blogs, parenting blogs, fashion blogs, lifestyle blogs… you get the idea. Blogs can be about any topic! There are niche bloggers out there writing about so many things. If you want to start a blog, you have endless options on what kind of blog to start.
Related: What to Blog About: 150+ Profitable Blog Niche Ideas
Another example: Blogging Her Way is a blog all about… you guessed it, blogging!
For more information about common blogging terminology, be sure to check out this article: What Is a Blog? Explanation of Blogging Terms for Beginners
The Evolution of Blogging
Although blogs existed in the 1990s, it wasn't until 1997 when the term "blog" actually came into use. Back then, there were only several dozen blogs.
Blogs back then were also created by web developers and web designers, because there was no easy way for the average person to create a blog.
Nowadays, it could not be simpler to start your own blog because of the blogging platforms that exist, no technical experience required.
Early blogs were also just written as a hobby. A blog was almost just like an online journal. While many people still blog for fun or as a hobby today, it's also possible to make money from blogging and turn it into a profitable business.
Many bloggers (including myself!) earn a full-time income from blogging.
Learn more in this article: How Do Bloggers Make Money? Top 5 Ways Explained
Of course, you can still write a personal blog today if you only want to blog as a hobby, creative outlet, or a way to keep an online journal about your life.
What Does Vlog Stand For?
Now that I've explained the origin of the word blog and exactly what a blog is, you might be wondering about a similar-sounding word, "vlog."
This word means "video blog" and it refers to sharing videos online instead of written content, and usually on YouTube as opposed to your own website.
"Vlogging" started to gain popularity in 2005, when YouTube was started.
Prior to 2005, people were uploading videos on the Internet, but it really exploded in popularity with the creation of YouTube.
Nowadays, many vloggers make a full-time income just like bloggers do. The difference is that they share video content online instead of written blog posts.
How to Start a Blog
Do you want to start your own blog?
There are several ways you can start a blog for free today. Using a free blogging platform is a great way to do it if you just want to blog for fun or as a hobby.
Some of the best free blogging platforms are:
However, if you want to make money blogging, you cannot use a free blogging platform. You will need to start what's called a self-hosted blog instead.
This just means you purchase web hosting through a company and have your own domain name, which is a .com name for your blog. It only costs $2.95 a month but it is well worth it to be able to have a blog that you can monetize.
If you think you'll ever want to make money from blogging, it's important to start a self-hosted blog from the start (and it's only $35.40 a year!)
The company I use and recommend for web hosting is Bluehost.
Once you sign up, they handle everything when it comes to setting up your blog for you. Here's how to start your blog with Bluehost in just a few minutes:
1. Click here and then click the "Get Started" button:
2. Select your hosting plan
Which plan should I choose? I recommend the Basic plan for new bloggers.
I'm personally on the Plus plan, but that's only because I run multiple blogs. Otherwise I would probably choose the Basic plan!
3. Put in your domain name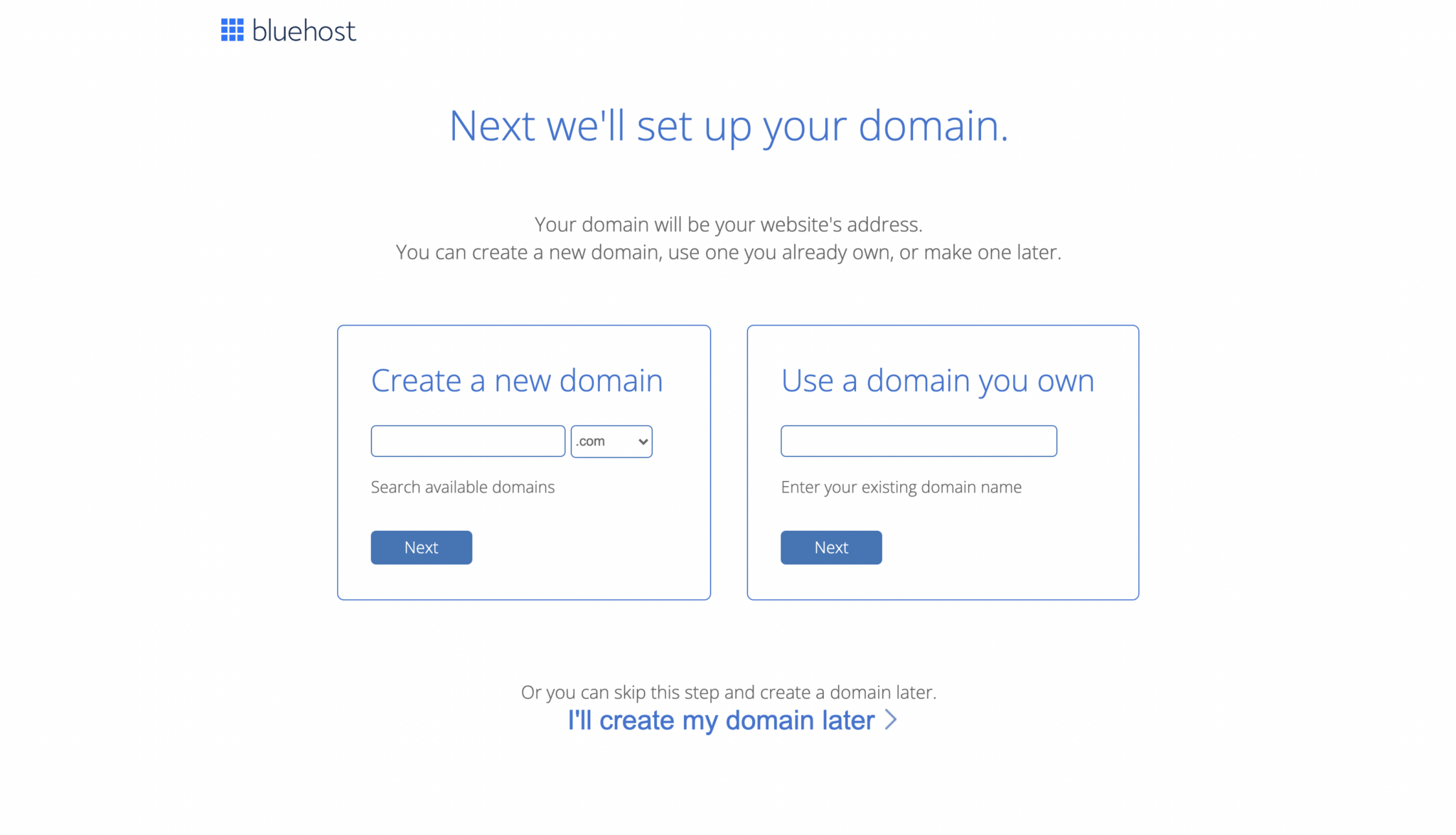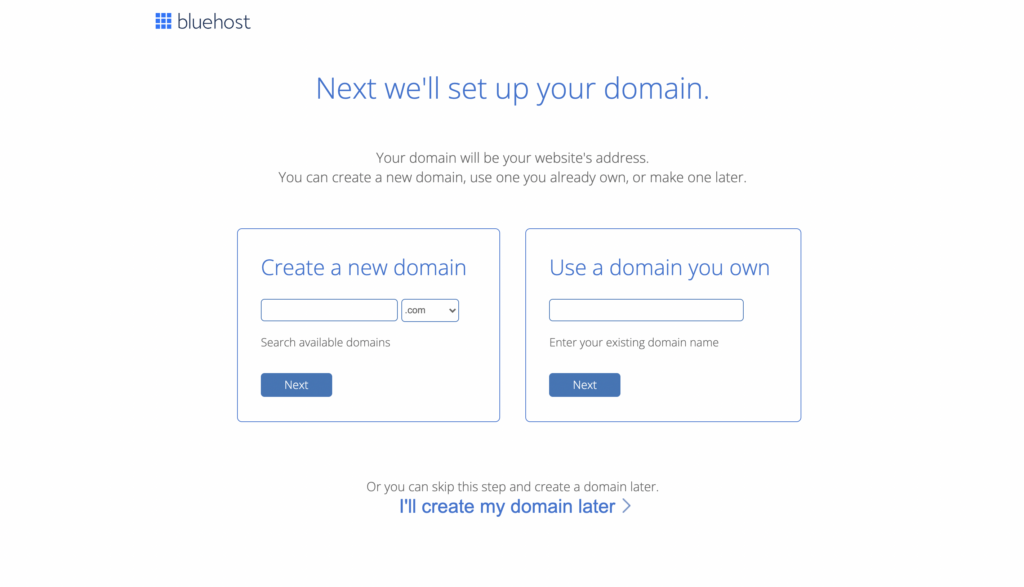 This is where you'll put in the domain name that you want to use for your blog.
Related: How to Choose a Blog Name & Blog Name Ideas
What if I haven't decided on a name yet? If you haven't decided on a domain name for your blog yet, click "I'll create my domain later." Or you can wait a couple seconds and this offer will pop up on the screen: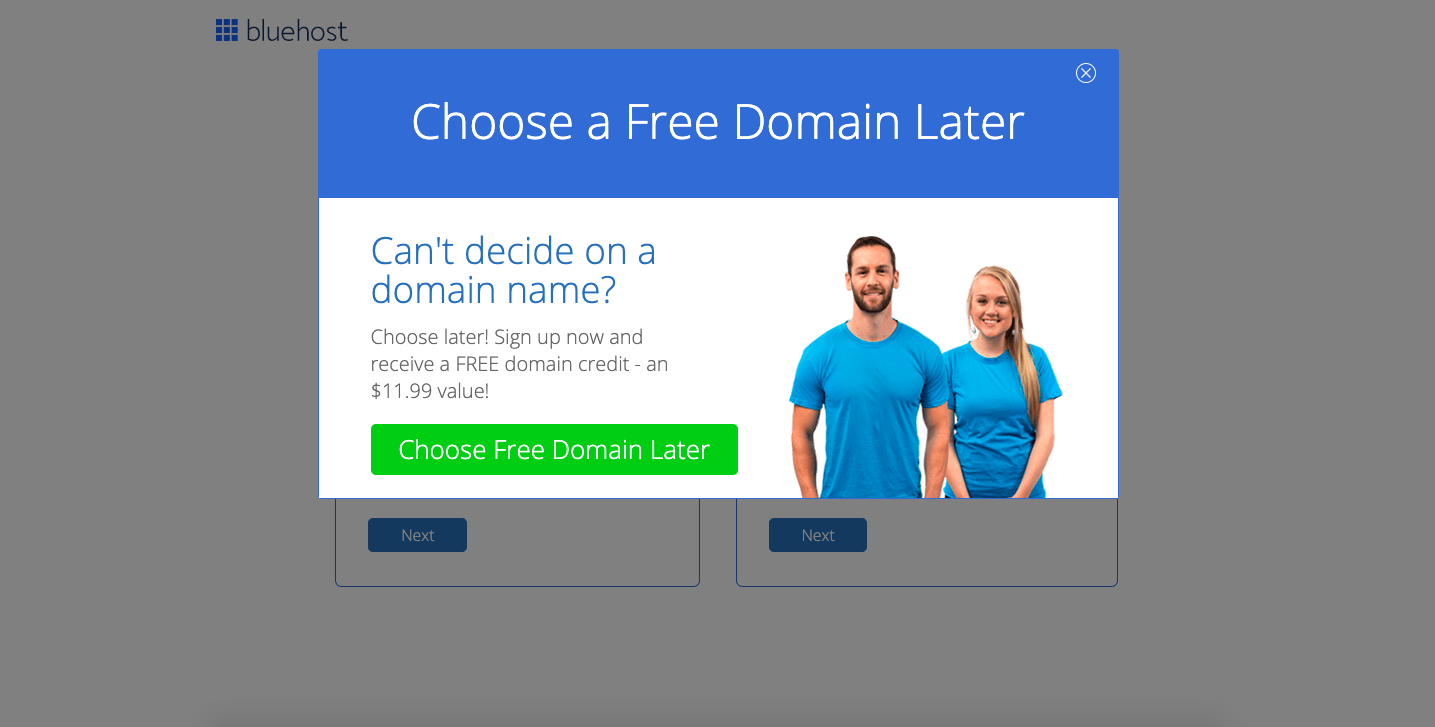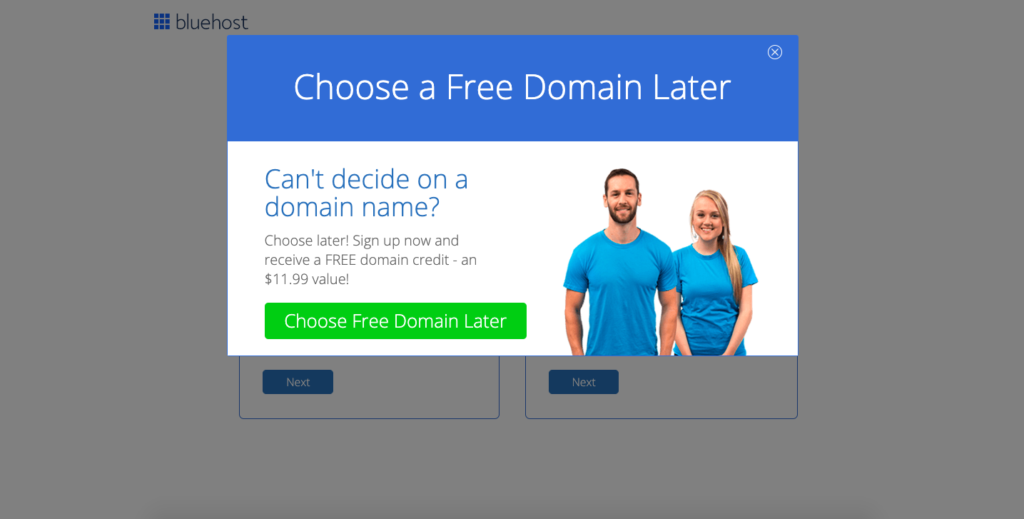 Select this option and you can go ahead and set up your blog now, then use the free credit to buy your domain name later.
4. Create your hosting account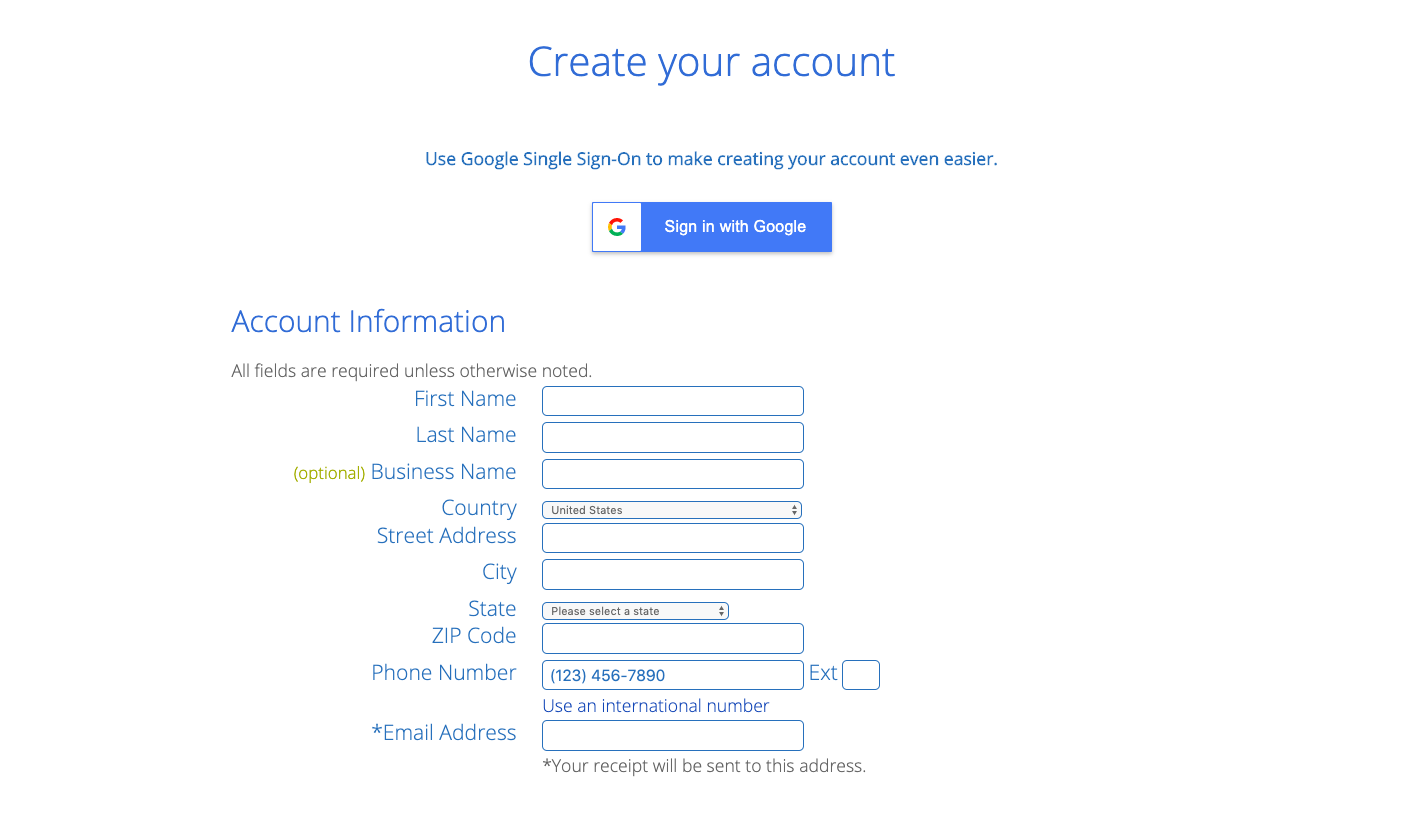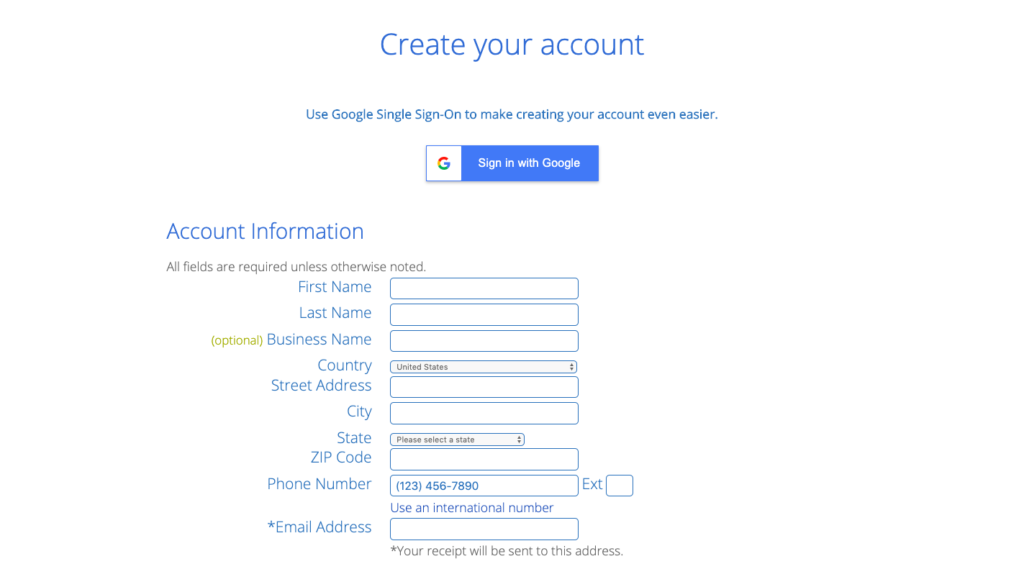 5. Choose your package and pay
This is where you'll select your hosting plan.
I recommend the 12-month plan for $2.95 a month, for a total cost of $35.40 for the year. But you can also choose a 24-month or 36-month plan.
What about package extras? You have the options to add on extra paid services like site backups, SEO tools, or site security.
I personally don't recommend any of these paid extras, because there are free WordPress plugins you can install that do the same things.
6. Congrats, you're done!
Now you're all set! Bluehost will automatically install WordPress for you.
What exactly is WordPress? WordPress is the content management platform that your blog will run on. Your WordPress dashboard is where you will go to edit the look of your blog, write blog posts, upload images, etc.
It's extremely easy to use, even if you're a total beginner.
What Does Blog Stand For?
Now you know what the word blog means, plus how to start your own blog.
To recap what we've talked about…
Is blog short for something? Yes, blog is short for "web log."
What does the acronym blog stand for? "Blog" is not an acronym, just a shortening of the words "web log" into one word.
What is a blog? A blog is a website that is frequently updated with new articles, usually referred to as "blog posts" about a certain topic or topics.
If you want to do some more reading about blogging, how to start a blog, and how to make money blogging, then be sure to read the following: