Note: Affiliate links may be used in this post. I may receive a small commission at no extra cost to you if you use my affiliate link. Full disclosure policy here.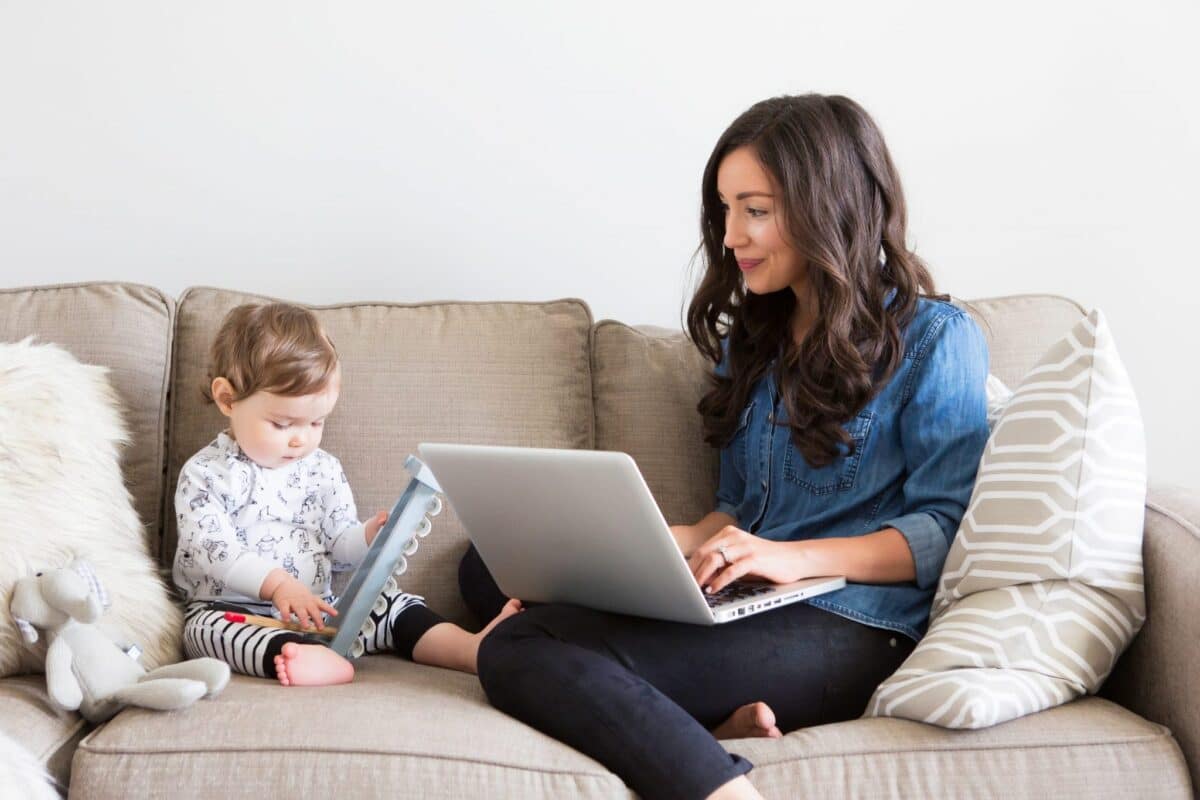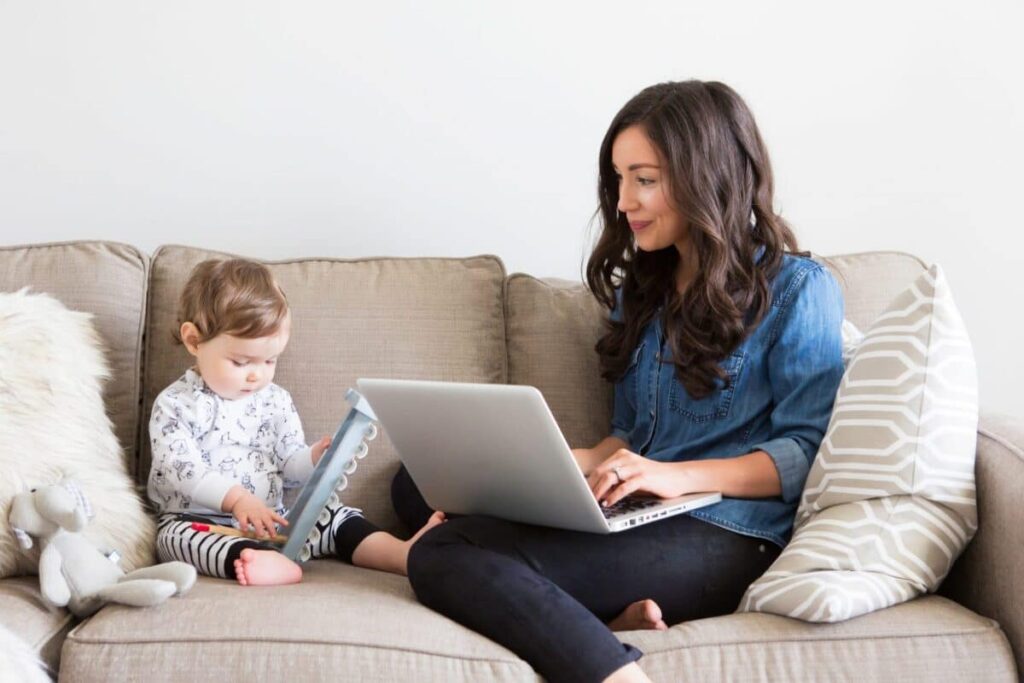 Mom Blog Names: Ideas and Examples
Are you searching for ideas of mom blog names?
Look no further! I've come up with this list of tips and examples to help you come up with the perfect name for your new mom blog.
One of the first steps for how to start a mom blog is choosing a name. But I know how hard that can be when you don't have any name ideas!
If you need some help coming up with a name for your mom blog, read on. Below you will find plenty of tips for choosing the perfect name. I've also included plenty of real-life examples from successful mom blogs to give you some inspiration.
It's important to choose a blog name that you love, because it can be difficult to change later on. Here are some ideas of the best mom blog names to help you!
Domain Name Availability Checker
When coming up with a blog name, you will want to make sure that the domain name (the .com version of the name) is not already registered.
When you start your blog with Bluehost you will get a FREE domain name, saving you $15 to $20. So how can you see if the name you want is available?
After you click "Get Started" on this page and select the $2.95 a month plan (this is the cheapest plan and the one I recommend) you will be able to put in your intended domain name to see if it's available to register or not.
If you haven't decided on a blog name yet, you can skip this step and get a credit to come back later to choose your domain name within 30 days.
For a step-by-step guide to registering your domain name and setting up web hosting for your blog, read my guide on how to start a mom blog.
How Do I Choose a Mom Blog Name?
Do you need help coming up with a travel blog names?
Here are my top tips for coming up with a name that you will love!
Your blog name is important, because it's the first impression that your blog will have on readers. You want to choose something that is catchy, professional, and makes sense. And like I mentioned earlier, you want to choose something that you will not think about changing later, since that can be a huge hassle.
To come up with a name for your travel blog, try the following strategies:
1. Use your own name.
One of the simplest and most straightforward ways to come up with a name for your mom blog is to use your own first and last name as your blog name.
This doesn't limit you with what you blog about, and you can be more of a lifestyle blogger than solely putting yourself in the "mom blogger" box.
2. Use variations of "mom."
A lot of mom blogs have the word "mom" or a variation in the name.
If you want people to know what your blog is about right away, and to signal who your target audience is, you might want to choose a "mom" name.
There are many different words you can use: Mom, Mommy, Mama, Momma, Mum, Mummy, Mother, and so on. Pick whichever one you like best!
3. Get descriptive.
To get more descriptive with your blog name, you can focus on an aspect of your personality or your identity (and the personality or identity of your target audience.) For example, do you want to start a blog for other working moms?
Consider a name like Busy Working Mama.
Or you could choose something like Mommy to Twins or The Organized Mom.
These types of names show what your blog is about, and add a personal touch. If you want to focus on a specific mom blog niche this is also a good naming strategy to establish exactly what your blog is about.
4. Add modifying words.
A last tip for coming up with the perfect mom blog name is to use modifying words. This is especially helpful when the name you want is taken.
I recommend doing this rather than choosing a different ending for your blog (ex. choosing a .net ending if the .com is taken) because it's better to have a .com name. You also shouldn't use hyphens, misspellings, or numbers in your name.
For example, let's say you want to call your blog "Practical Mommy" but that name is not available. Some modifications you could use instead include…
The Practical Mommy
This Practical Mommy
Practical Mama
Slight variations like this can help you find a name that is available!
Real Mom Blog Names
Are you still having some difficulty finding a name for your mom blog?
Below are plenty of real-life examples from successful mom bloggers to give you some inspiration in coming up with a name for your own blog.
These are 55+ great mom blog names to give you ideas:
About a Mom
Mommy on Purpose
The Budget Mom
Money Saving Mom
Unapologetic Motherhood
Scary Mommy
Everything Mom
The Positive Mom
Easy Mommy Life
No Guilt Mom
Italian Polish Momma
Twins Mommy
Mama Natural
This Mama Blogs
Midwife and Life
Easy Baby Life
The Military Wife and Mom
The Better Mom
What Moms Love
Minnesota Momma
Fit Mom Journey
Moms Make Cents
Redefining Mom
The Mummy Front
The Realistic Mama
Journey to SAHM
What Mommy Does
Pulling Curls
Smart Mom Ideas
A Mom's Take
Very Anxious Mommy
Mommy to Max
The Measured Mom
Mom Makes Joy
Another Mommy Blogger
The Intentional Mom
Moneywise Moms
Being Happy Mom
The Soccer Mom Blog
Mommy It's Okay
Messy Motherhood
The Fashionable Housewife
Simple Living Mommy
Mommy Moment
Chronicles of Mom Life
Modern Day Moms
Irish Twins Momma
Rainy Day Mum
The Pragmatic Parent
A Mom's Take
Mama Knows It All
The Imperfectly Perfect Mama
Mommy Gone Healthy
Geek Mamas
Mom Blog Life
Young Love Mommy
Swaddles 'n' Bottles
Although all of these mom blog names are already taken, you can use them as inspiration for coming up with your own blog name.
Registering Your Blog Name
Once you have decided on a name for your mom blog, you will need to register your domain name so you can get your blog started.
I have a detailed guide on how to start a mom blog that goes more in depth on what to do, but the process is actually very simple!
You just need to purchase your domain name and web hosting.
I recommend Bluehost for all new bloggers because they actually give you a FREE domain name (saving you $15+) and offer web hosting for just $2.95 a month. (This is the lowest possible price that you can start a blog for!)
Bluehost is also the ONLY web hosting company I know of that allows you to go ahead and start your blog without choosing a name yet.
Just select "I'll create my domain later" after you sign up here.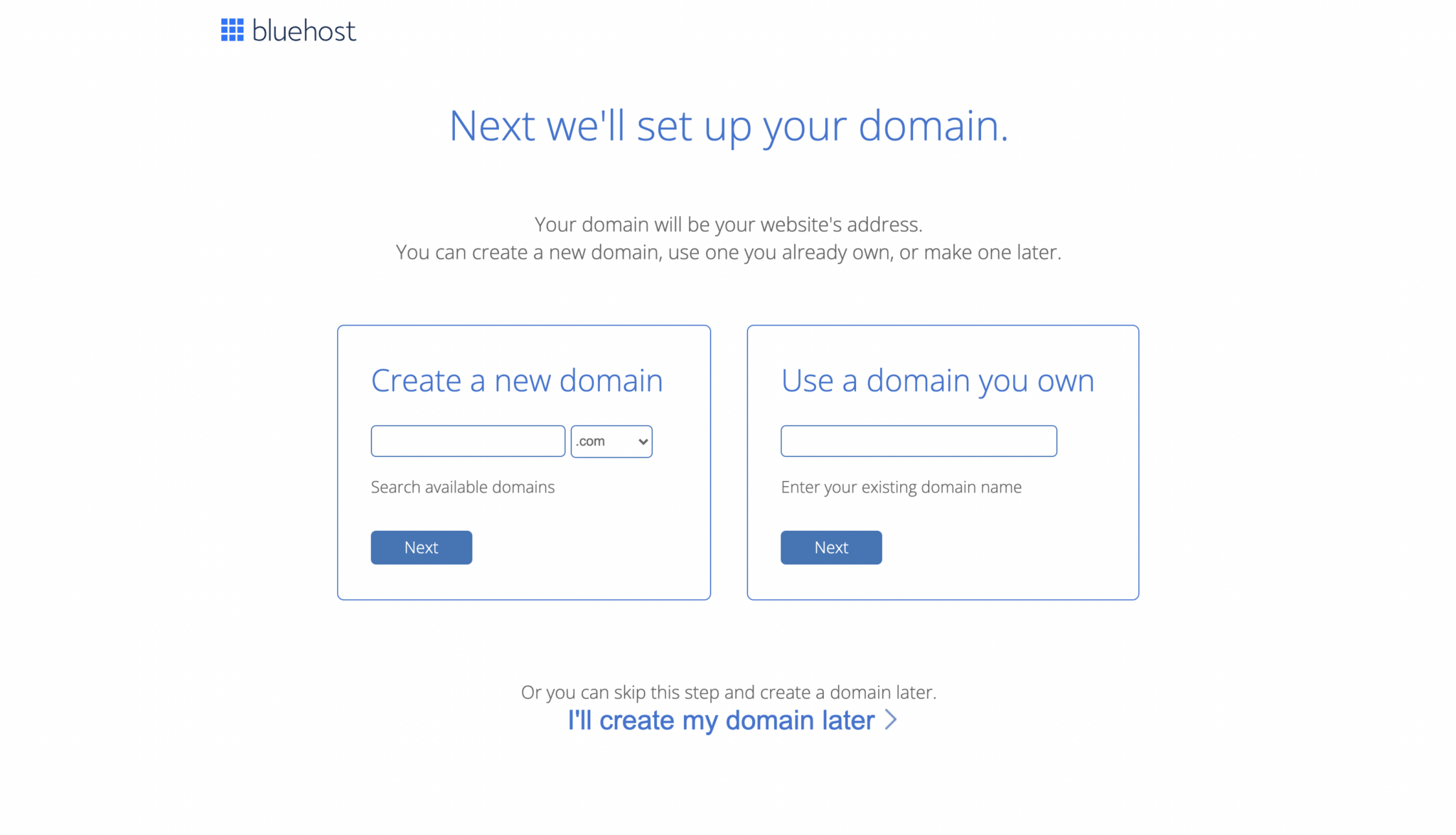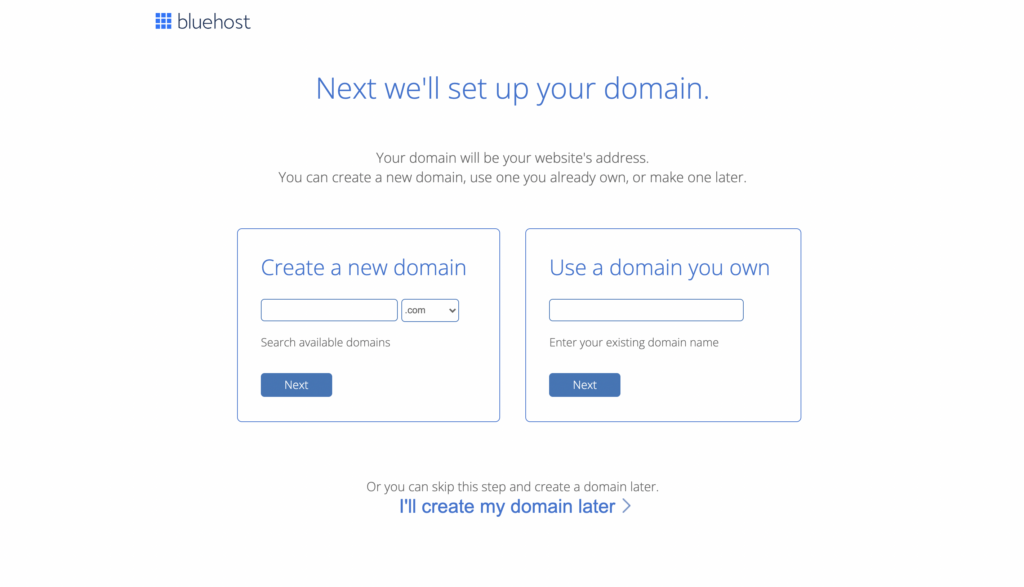 So if you need some extra time to decide on your blog name, you can go ahead and get your blog started now, and then Bluehost will give you a credit you can choose to come back and choose your domain name within 30 days.
Start a Mom Blog Courses
This guide would be incomplete if I didn't mention Suzi Whitford from Start a Mom Blog. Suzi is a seven-figure blogger who has created some of the best resources out there for teaching other moms how to start and grow successful blogs.
I actually recommend her online courses for ANY type of blogger, but moms will find them especially helpful since that is her target audience.
She also has a great online course called Blog by Number which is perfect for mom bloggers. You can read my full review of Blog by Number here.
Mom Blog Names: Final Thoughts
I hope these ideas of mom blog names helped you find the perfect name.
Choosing a name for your blog can be difficult, but it's one of the first steps to getting started! Try not to overthink it too much and just go for it.
For more mom blog ideas, be sure to read: