Note: Affiliate links may be used in this post. I may receive a small commission at no extra cost to you if you use my affiliate link. Full disclosure policy here.

Fashion Blog Niche Ideas
Looking for fashion blog niche ideas that are popular and profitable?
You're in the right place!
If you want to start a fashion blog then the first thing you will need to decide is your niche. Having a defined niche is important if you want to build an audience, establish your brand, and make money from blogging.
With fashion bloggers, sometimes your niche can be defined based on your own personal style. Do you love shopping sales and fining great bargains on clothing? If so, it's probably not going to make sense to start a fashion blog focusing on luxury fashion. Or if you love to be comfy and wear loungewear and athleisure all the time, it's best to blog about that instead of blogging about dressy clothing.
It's easier to be successful at blogging if you choose a topic that you are passionate about and can see yourself creating a lot of content around it.
But what if you're stuck on a fashion blog niche?
If you need help choosing a niche for your fashion blog, I am going to highlight some of the best fashion niches with high traffic and income potential.
Tips for Choosing a Niche
On to the fashion blog niche ideas! Below are six popular, high-traffic fashion blog niches that have good potential for income.
When choosing your fashion blog niche, ask yourself the following questions:
Is this a topic that I know a lot about and have experience with?
Is this a topic that other people are interested in?
Is this a topic I can see myself writing about long-term?
These will help you determine if a niche is right for you or not.
For more tips on deciding your niche, be sure to read my other guide What to Blog About: How to Choose a Blog Niche.
Here are some niche great ideas for fashion bloggers:
1. Affordable Fashion
Affordable fashion is a great niche for fashion blogs because many people are looking for ways to save money on clothes and look stylish on a budget.
Within this niche, you can cover topics like:
The best seasonal sales and deals in fashion
Affordable outfit ideas
Designer "dupes" for a fraction of the price
Amazon/Walmart/Target find
Although the affiliate commission you might earn on affordable clothing is lower than, say, a $5,000 handbag, you can more than make up for it in volume. Because a lot more people can afford a $50 dress than the handbag!
An example of a successful blogger in this niche is Affordable by Amanda, who shares a blog income report where she earns $4,500 in one month.
2. Sustainable Fashion
Sustainable fashion is a HUGE growing trend right now. It's all about clothing that is sustainably made (with long-lasting, eco-friendly materials, and made by workers who are paid a fair wage) and reducing waste.
If you are passionate about sustainable fashion, slow fashion, or eco fashion, then starting a blog in this niche is a great idea. Not only can you spread awareness about sustainable fashion, you can also earn good money from your blog because this is a niche with a lot of traffic potential.
3. Capsule Wardrobe
Another trend in fashion that makes a great niche idea for your fashion blog is capsule wardrobes. This is taking a minimalist approach to fashion and only having a certain number of mix-and-match pieces in your closet.
An example of a blog about capsule wardrobes is Classy Yet Trendy. This blogger also has a unique way of monetizing her fashion blog. She sells digital guides to help you put together your capsule wardrobe. So in addition to earning affiliate commissions, she is also making sales from her ebooks.
4. Men's Fashion
While the majority of fashion blogs cater to women, men's fashion is an underrated niche with a lot of potential for traffic and income.
Just take a look at The Modest Man. He has a men's fashion blog that focuses on style for short men, and earns over $20,000 a month from it!
5. Plus Size or Petite
Another underrated fashion blog niche is plus size or petite fashion.
With much of the fashion industry catering to people who wear standard sizes, it can be hard for plus size or petite people to find clothes that fit well and feel good. Within this niche, you can cover sub-topics such as:
Best brands for plus size or petite fashion
Outfit ideas for plus size or petite fashion
Style tips for plus size or petite people
It's also a possibility to combine this niche with another one, such as sustainable plus size fashion, or affordable plus size fashion.
6. Luxury Fashion
Finally, luxury fashion is a great fashion blog niche idea.
Luxury items are expensive, meaning they have a high affiliate commission. If you love all things luxury and high fashion, this might be the niche for you.
An example of a blog in this niche is Chic Pursuit. As she shares in her income report, she earned over $11,000 in just one month from her blog!
More Fashion Blog Niche Ideas
This post showed you six fashion blog niches I think have great traffic and income potential based on my own personal research and experience.
But if you want to access 15+ more profitable fashion blog niches, you can download my ultimate list of 150+ niche ideas for bloggers below.
How to Start a Fashion Blog
Do you want to learn how to start a fashion blog?
I put together a whole guide about how to start a fashion blog for beginners.
This guide will show you step by step how to get started and have your fashion blog up and running in less than an hour, even if you have no tech experience!
I also created a massive list of popular fashion blog post ideas if you need help coming up with things to write about on your fashion blog.
For a quick overview of how to start your blog, keep reading!
The main thing you will need in order to start a blog is a domain name and web hosting. I recommend Bluehost for web hosting because it's only $2.95 a month and you get a FREE domain name (which saves you an additional $15-20.)
If you need help choosing a name for your blog, read How to Choose a Blog Name for some helpful tips and 100+ blog name ideas.
Here's how to quickly start your blog with Bluehost:
1. Click here and then click the "Get Started" button:
2. Select your hosting plan
Which plan should I choose? I recommend the Basic plan for new bloggers.
I'm personally on the Plus plan, but that's only because I run multiple blogs. Otherwise I would probably choose the Basic plan!
3. Put in your domain name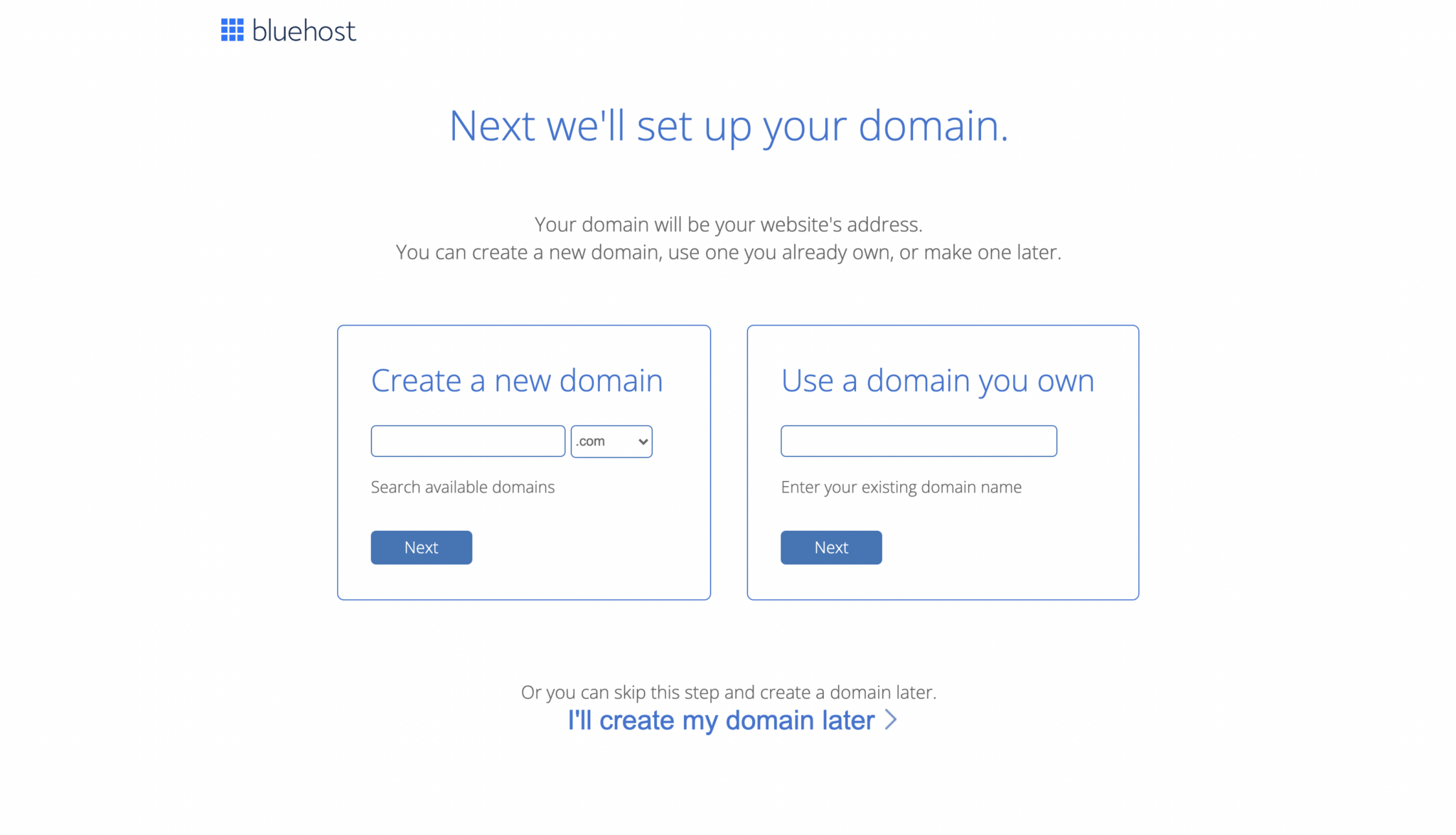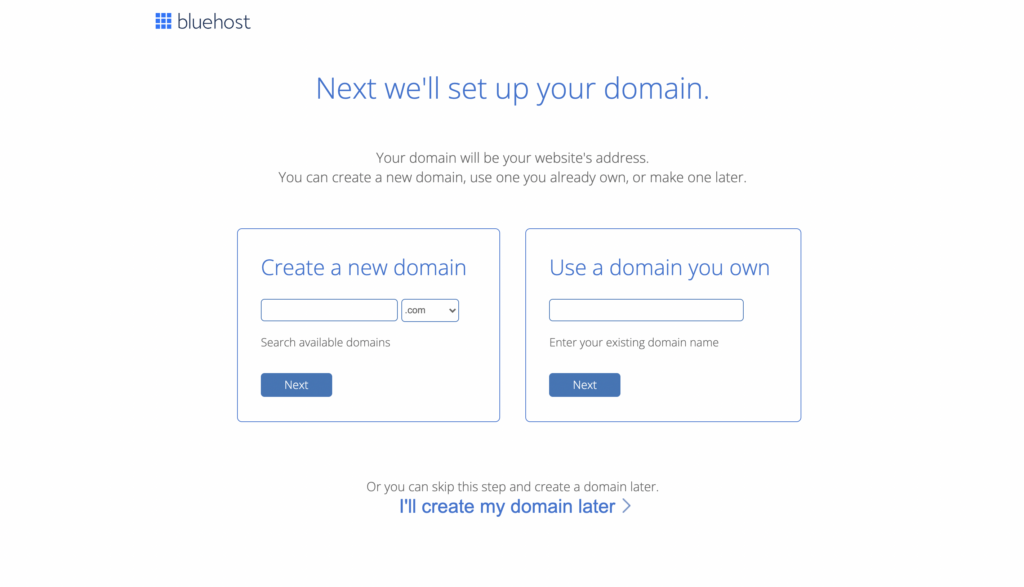 This is where you'll put in the domain name that you want to use for your blog.
Related: Fashion Blog Names: Ideas and Examples
What if I haven't decided on a name yet? If you haven't decided on a domain name for your blog yet, click "I'll create my domain later." Or you can wait a couple seconds and this offer will pop up on the screen: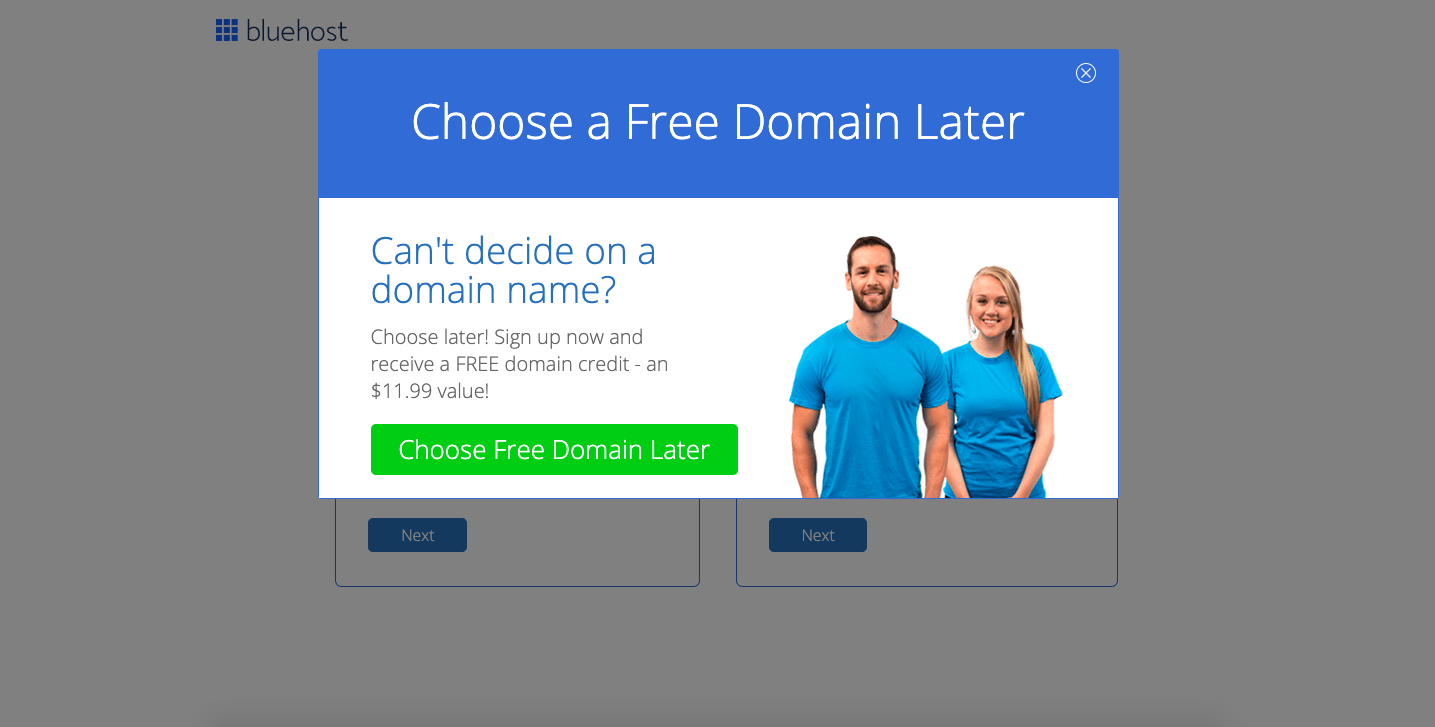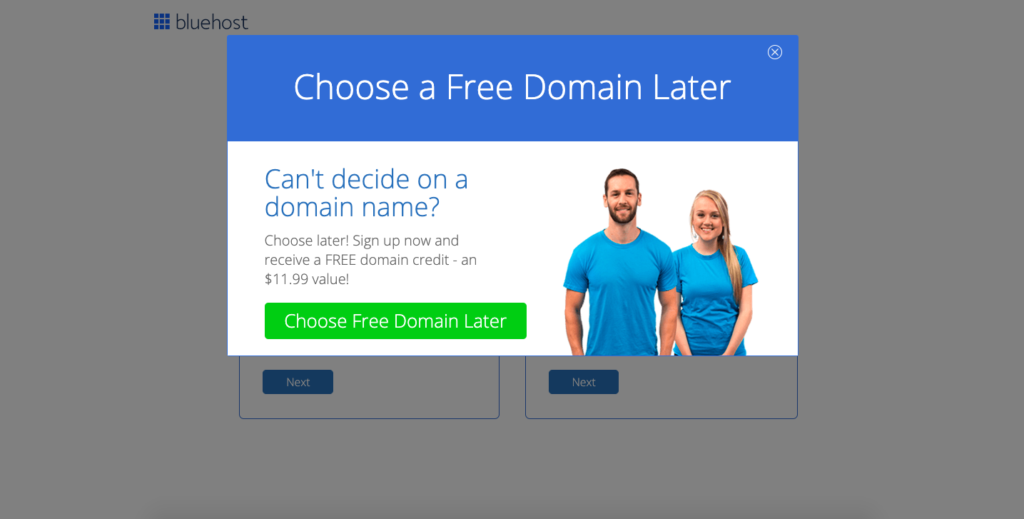 Select this option and you can go ahead and set up your blog now, then use the free credit to buy your domain name later.
4. Create your hosting account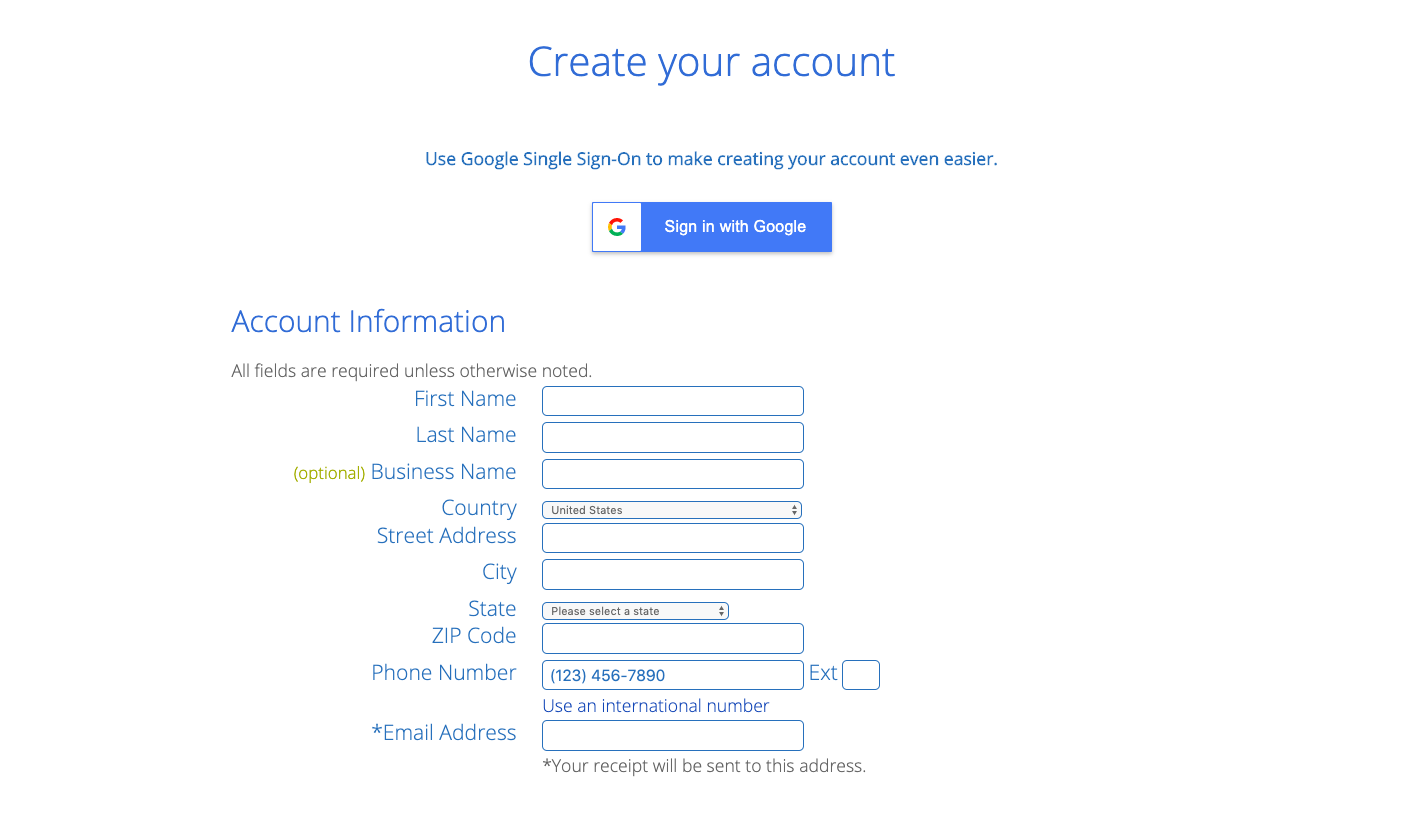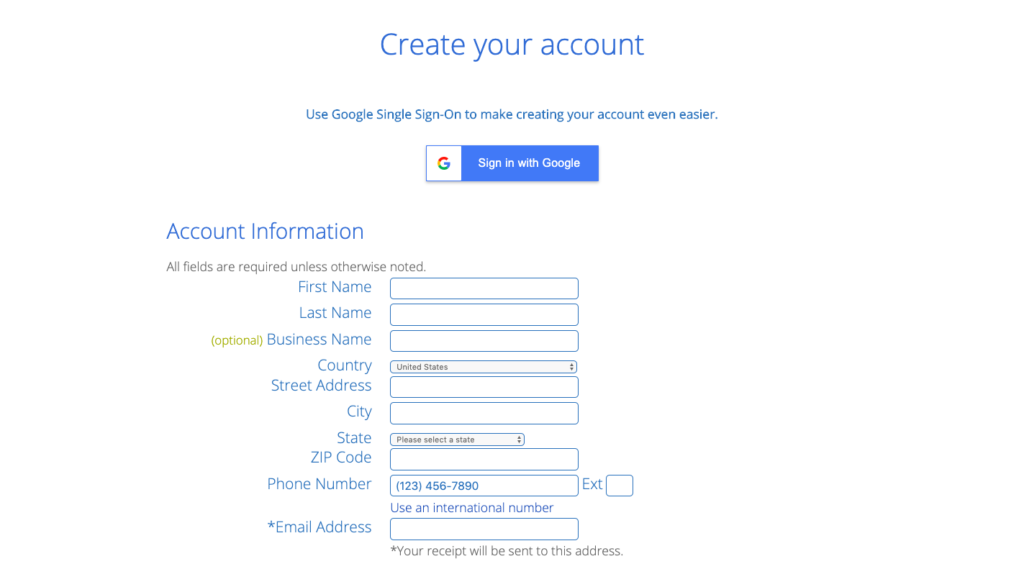 5. Choose your package and pay
This is where you'll select your hosting plan.
I recommend the 12-month plan for $2.95 a month, for a total cost of $35.40 for the year. But you can also choose a 24-month or 36-month plan.
What about package extras? You have the options to add on extra paid services like site backups, SEO tools, or site security.
I personally don't recommend any of these paid extras, because there are free WordPress plugins you can install that do the same things.
6. Congrats, you're done!
Now you're all set! Bluehost will automatically install WordPress for you.
What exactly is WordPress? WordPress is the content management platform that your blog will run on. Your WordPress dashboard is where you will go to edit the look of your blog, write blog posts, upload images, etc.
It's extremely easy to use, even if you're a total beginner.
How Do Fashion Bloggers Make Money?
I shared the fashion blog niche ideas that I think have a good potential for earning, but let's talk about HOW fashion bloggers can actually make money.
Some of the best ways to monetize your blog include:
Display advertising: Once your fashion blog is getting enough traffic, you can apply to an ad network like Mediavine and earn money from displaying ads on your blog. This can be very profitable and passive income for bloggers!
Affiliate marketing: You can earn money by placing affiliate links in your blog posts. Whenever someone clicks your link and makes a purchase, you will earn a commission. For fashion bloggers, this is one of the best ways to make money by linking to clothes, shoes, and accessories.
Sponsored posts: Fashion bloggers can work with fashion brands by creating sponsored content such as sponsored posts on their blog or social media accounts. In this case, you get paid a fixed amount by the brand.
Fashion is one of the best niches for sponsored posts, and many fashion bloggers earn upwards of six figures a year from brand partnerships alone!
For more ways to make money blogging, be sure to read my post about How Do Bloggers Make Money? Top 5 Ways Explained.
Fashion Blog Niche Ideas
Hopefully this post gave you some inspiration for fashion blog niche ideas!
There are so many topics under the "fashion" umbrella that you can focus in on in order to grow a successful and profitable fashion blog.
These are just a few ideas of great fashion niches you can use.
For more tips about blogging, be sure to read: