Note: Affiliate links may be used in this post. I may receive a small commission at no extra cost to you if you use my affiliate link. Full disclosure policy here.

Travel Blog Niche Ideas
Looking for travel blog niche ideas that are popular and profitable?
You're in the right place!
For over three years, I ran a successful travel blog before eventually selling it. This is a niche I have a LOT of personal experience with, and I am passionate about it.
Having a unique niche as a travel blogger is very important. If you look at the most successful travel bloggers (take a peek at the travel bloggers on my list of blog income reports) you will notice that almost all of them have a specific angle they take on their blog. They tend to focus on one to three main topics.
While it's possible to be a successful travel blogger without having a defined niche, it's much easier to grow more quickly if you do have one.
Having a specific niche for your travel blog allows you to get traffic faster, establish your authority, and attract a targeted audience.
If you need help choosing a niche for your travel blog, I am going to highlight what I consider to be the best travel niches with high traffic and income potential.
Let's Talk About 2020
Before we get into the travel blog niche ideas, I wanted to address 2020.
For obvious reasons, 2020 was devastating for travel bloggers. I can't think of any other niche that was impacted as heavily as travel bloggers were, myself included. Many of us saw traffic and income plummet by more than 50% overnight, and even after a year many travel bloggers still hadn't recovered.
Travel bloggers who mainly wrote about international travel were hit the hardest, with almost all international borders closed for such a long time. Meanwhile, some travel bloggers focusing on domestic travel and outdoor activities actually saw an increase in traffic and income throughout 2020 and 2021.
Going forward, I wouldn't let this event affect choosing your travel blog niche, although I do think we'll see some lingering effects for several more years. But overall, if you want to write about international travel, I would say go for it because demand WILL bounce back eventually.
Travel is positioned to make a strong comeback, so now is a great time to go ahead and start a travel blog if you've been thinking about it!
Tips for Choosing a Niche
On to the travel blog niche ideas! Below are six popular, high-traffic travel blog niches that have good potential for income.
When choosing your travel blog niche, ask yourself the following questions:
Is this a topic that I know a lot about and have experience with?
Is this a topic that other people are interested in?
Is this a topic I can see myself writing about long-term?
These will help you determine if a niche is right for you or not.
For more tips on deciding your niche, be sure to read my other guide What to Blog About: How to Choose a Blog Niche.
Here are some niche great ideas for travel bloggers:
1. National Parks
There has been a huge explosion in interest for US national parks that is not going away any time soon. Having a travel blog dedicated to the national parks is a great opportunity. Some ideas you could write about include:
Where to stay in and around the national parks
National parks road trip itineraries
Best hiking trails in the national parks
Tips for camping in national parks
This is a travel niche that I think is still pretty untapped and has lots of potential.
2. RV Travel
Do you own an RV? If so, you are part of a market that is experiencing a lot of growth and interest. Now is a great time to start a travel blog about RV travel.
With an RV travel blog, you can cover both travel guides (such as road trip itineraries) and aspects of the RV lifestyle (best RVs and RV gear, must-have apps for RV owners, tips for traveling in an RV, and so on.)
3. Van Life
Similar to RVing, traveling in a converted van is a very popular method of travel and "van life" has become its own sub-culture with TONS of interest.
This is another niche like RV travel where it's really going to help if you already own a van and are involved in the lifestyle, or are in the process of buying/converting a van and can document the journey on your blog.
An example of successful travel bloggers that pivoted to the van life niche are Katie and Ben from Two Wandering Soles. If you read their impressive income report you'll see how profitable this niche can be!
4. Theme Parks
Theme park travel is a very profitable and lucrative niche. The major player in this niche is obviously the Disney theme parks, but you could also cover the Universal theme parks and smaller local theme parks too.
Some ideas to write about theme park travel include:
Where to stay in and around the theme parks
Planning tips, tricks, and hacks
How to save money at theme parks
Packing essentials for the theme parks
People spend a lot of money and do a lot of planning and research on theme park vacations, making this a niche with good income potential.
5. Destination Blogs
One HUGE travel blog niche right now is destination-specific travel blogs. This can be a travel blog focusing on one specific city, state, region, or country.
An example of a success story in this niche is Discover the Burgh. This is a city-specific Pittsburgh travel blog founded by Jeremy, who had run an international travel blog called Living the Dream RTW for many years.
If you read his income reports you can see that his niche Pittsburgh blog accounts for the vast majority of his income, despite being much newer than his international blog. Focusing on just one destination is better for SEO and can lead to more traffic and more income at a faster rate.
6. Honeymoons
The final idea on this list is honeymoon travel. The thing with many travel blog niches is that you need personal travel experience with that topic in order to be able to successfully write a whole blog about it.
I would say that of this list, honeymoon travel and national park travel are the two niches where you could get away with just doing more research-based writing, and not as much experience-based writing and still be successful.
Honeymoons are something that people are also willing to spend a LOT of money on and plan every little thing to make sure it's perfect. You could write about the best honeymoon destinations, hotels, and resorts around the world to help newlyweds plan the perfect celebratory trip.
More Travel Blog Niche Ideas
This post showed you six travel blog niches I think have great traffic and income potential based on my own personal research and experience.
But if you want to access 20+ more profitable travel blog niches, you can download my ultimate list of 150+ niche ideas for bloggers below.
How to Start a Travel Blog
Do you want to learn how to start a travel blog?
I put together a whole guide about how to start a travel blog for beginners.
This guide will show you step by step how to get started and have your travel blog up and running in less than an hour, even if you have no tech experience!
I also created a massive list of popular travel blog post ideas if you need help coming up with things to write about on your travel blog.
For a quick overview of how to start your blog, keep reading!
The main thing you will need in order to start a blog is a domain name and web hosting. I recommend Bluehost for web hosting because it's only $2.95 a month and you get a FREE domain name (which saves you an additional $15-20.)
If you need help choosing a name for your blog, read How to Choose a Blog Name for some helpful tips and 100+ blog name ideas.
Here's how to quickly start your blog with Bluehost:
1. Click here and then click the "Get Started" button:
2. Select your hosting plan
Which plan should I choose? I recommend the Basic plan for new bloggers.
I'm personally on the Plus plan, but that's only because I run multiple blogs. Otherwise I would probably choose the Basic plan!
3. Put in your domain name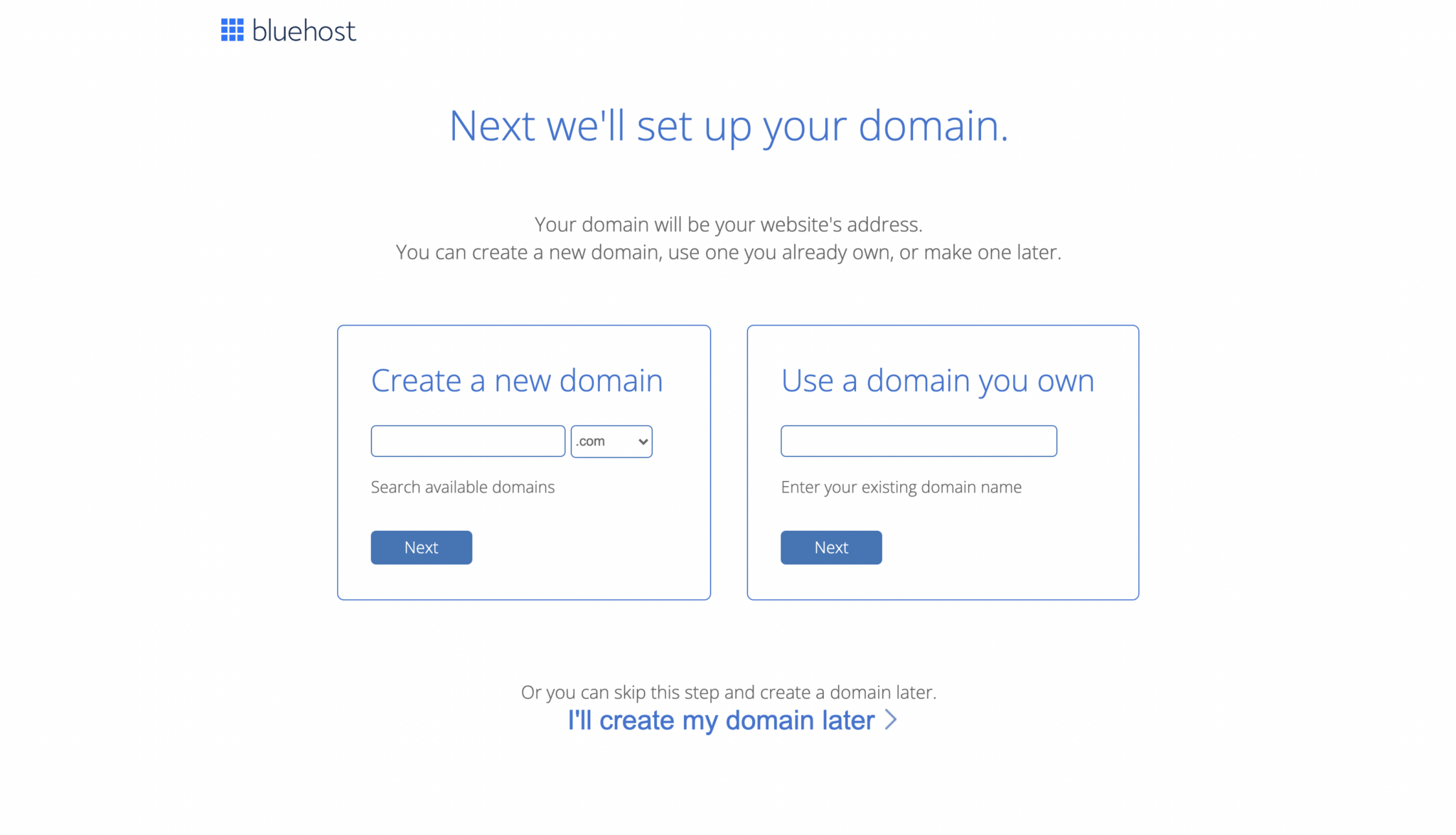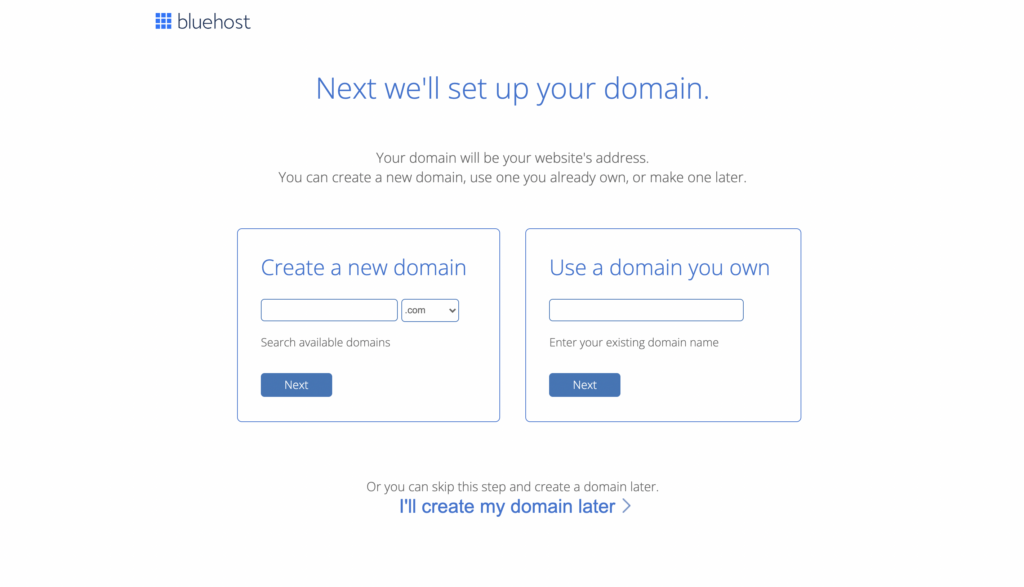 This is where you'll put in the domain name that you want to use for your blog.
Related: Travel Blog Names: Ideas and Examples
What if I haven't decided on a name yet? If you haven't decided on a domain name for your blog yet, click "I'll create my domain later." Or you can wait a couple seconds and this offer will pop up on the screen: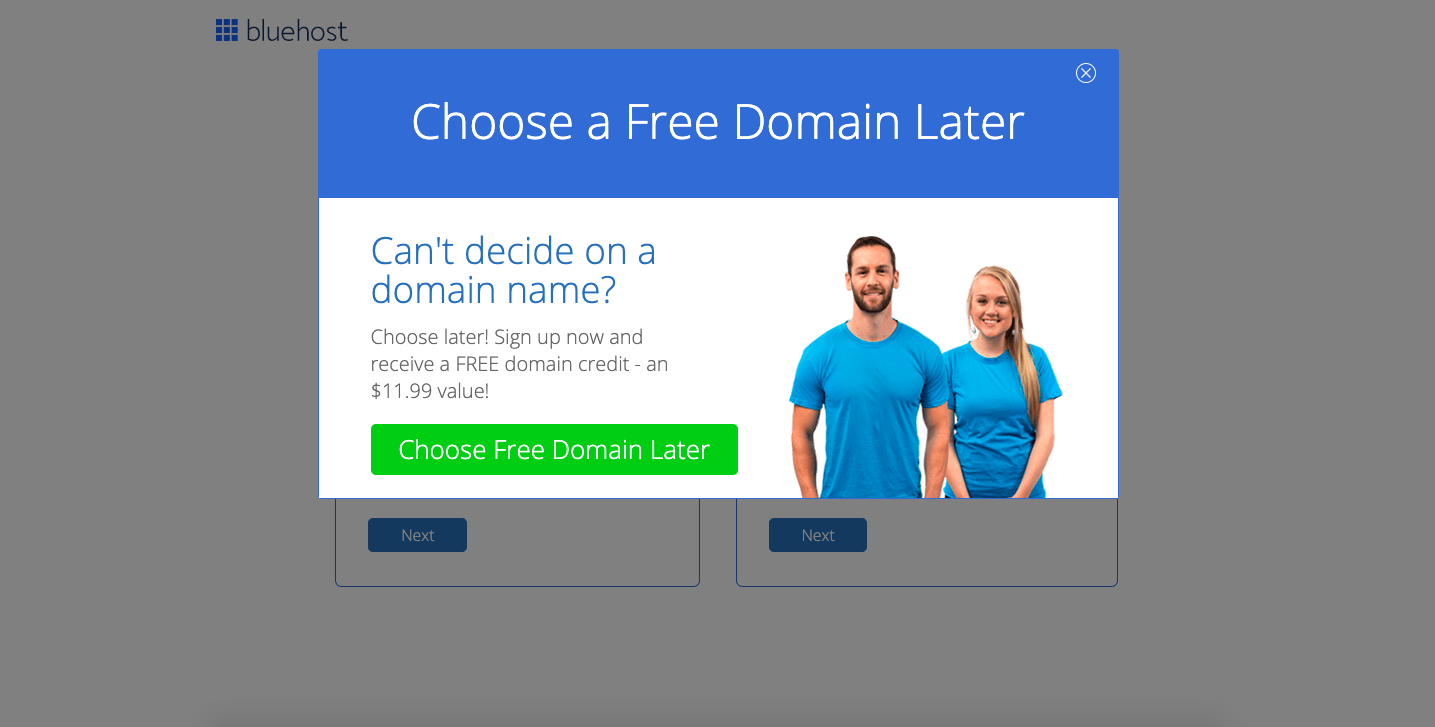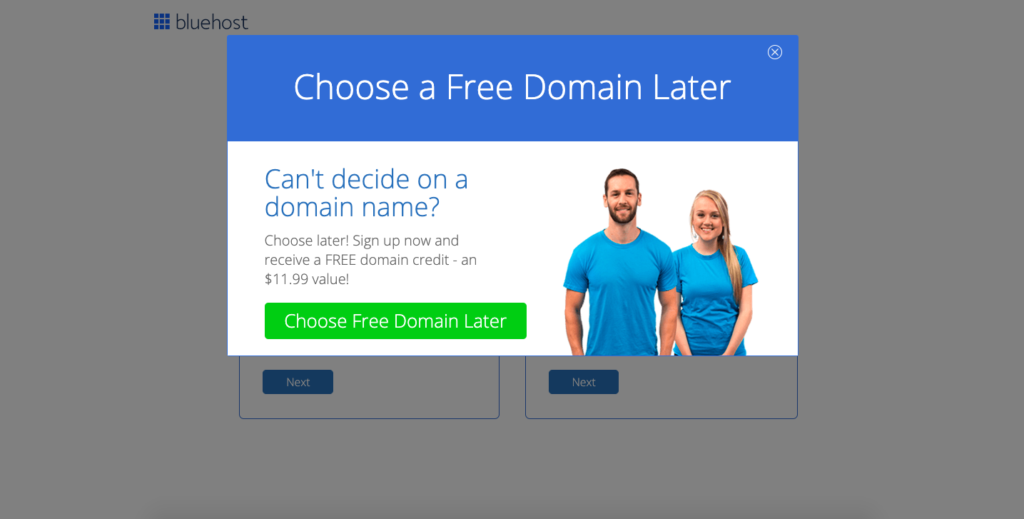 Select this option and you can go ahead and set up your blog now, then use the free credit to buy your domain name later.
4. Create your hosting account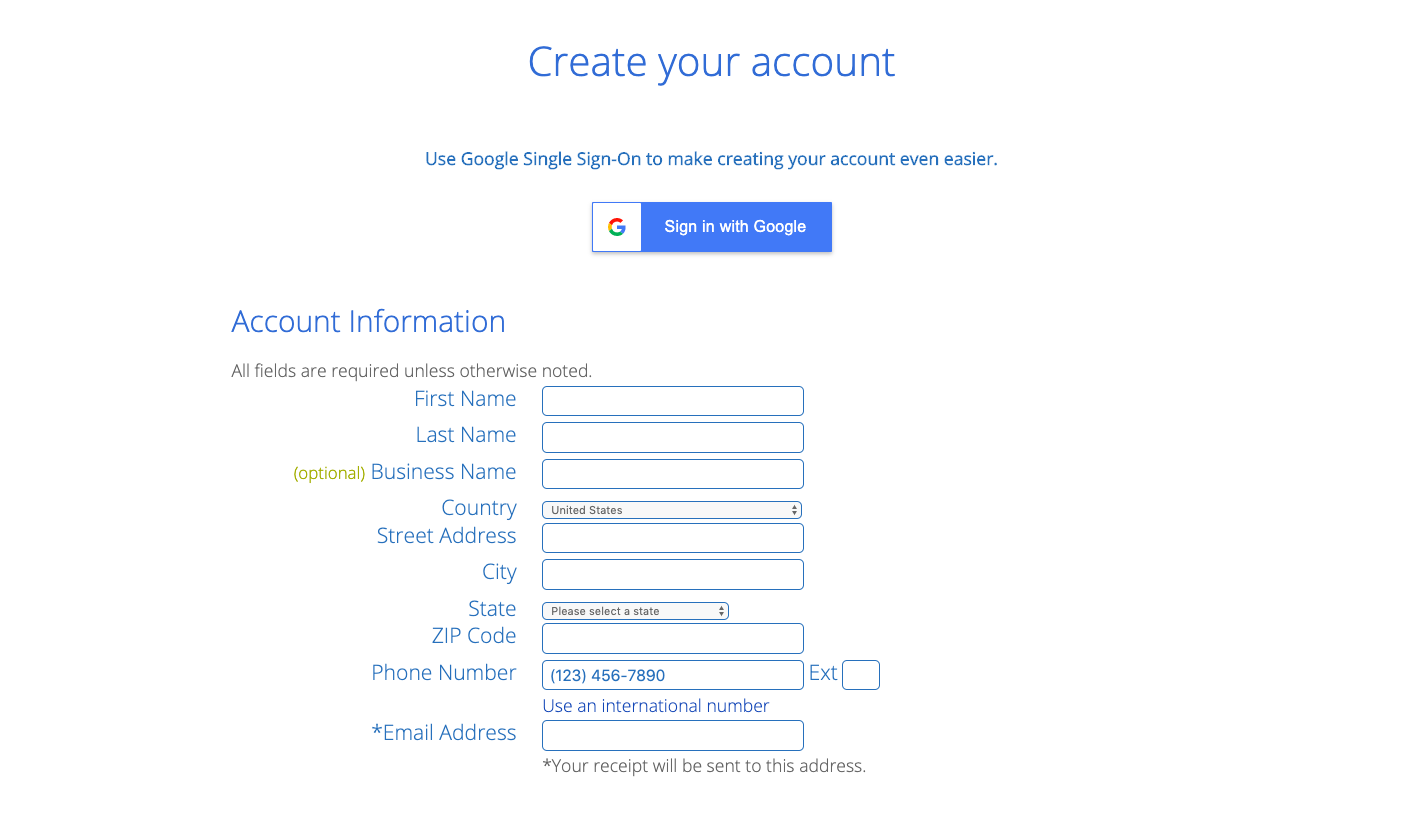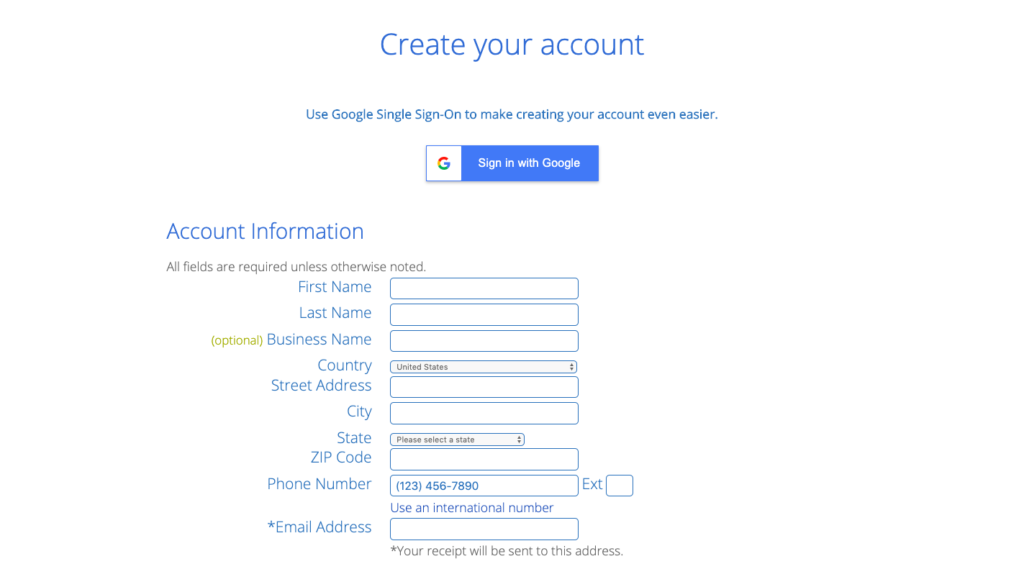 5. Choose your package and pay
This is where you'll select your hosting plan.
I recommend the 12-month plan for $2.95 a month, for a total cost of $35.40 for the year. But you can also choose a 24-month or 36-month plan.
What about package extras? You have the options to add on extra paid services like site backups, SEO tools, or site security.
I personally don't recommend any of these paid extras, because there are free WordPress plugins you can install that do the same things.
6. Congrats, you're done!
Now you're all set! Bluehost will automatically install WordPress for you.
What exactly is WordPress? WordPress is the content management platform that your blog will run on. Your WordPress dashboard is where you will go to edit the look of your blog, write blog posts, upload images, etc.
It's extremely easy to use, even if you're a total beginner.
How Do Travel Bloggers Make Money?
I shared the travel blog niche ideas that I think have a good potential for earning, but let's talk about HOW travel bloggers can actually make money.
Some of the best ways that I personally used myself are:
Display advertising: Once your travel blog is getting enough traffic, you can apply to an ad network like Mediavine and earn money from displaying ads on your blog. This can be very profitable and passive income for bloggers!
Affiliate marketing: You can earn money by placing affiliate links in your blog posts. Whenever someone clicks your link and makes a purchase, you will earn a commission. For travel bloggers, you can be an affiliate for hotel booking websites, Amazon (for recommending travel gear), and so much more.
Sponsored posts: Travel bloggers can work with travel brands by creating sponsored content such as sponsored posts on their blog or social media accounts. In this case, you get paid a fixed amount by the brand.
There are many other ways for travel bloggers to make money too. I know of travel bloggers who sell their own ebooks and travel guides, and some who make money from running their own tours and group trips!
For more ways to make money blogging, be sure to read my post about How Do Bloggers Make Money? Top 5 Ways Explained.
Travel Blog Niche Ideas
Hopefully this post gave you some inspiration for travel blog niche ideas!
There are so many topics under the "travel" umbrella that you can focus in on in order to grow a successful and profitable travel blog.
These are just a few ideas of great travel niches you can use.
For more tips about blogging, be sure to read: