Note: Affiliate links may be used in this post. I may receive a small commission at no extra cost to you if you use my affiliate link. Full disclosure policy here.

Travel Blog Names: Ideas and Examples
Looking for ideas of travel blog names?
One of the first steps of starting a travel blog is coming up with a name. But what if you have no idea how to come up with a name for your blog?
I know how hard it can be to come up with the perfect travel blog name, which is why I put together this guide with tons of ideas and examples.
For three years I ran a successful travel blog in addition to Blogging Her Way. Luckily I did not struggle too much in coming up with a name, but I know it's not always easy. And it's important to pick a name that you love, so you don't have to change it later, which can be a very difficult and detrimental process.
So how do you come up with the perfect travel blog name?
Here are some ideas of the best travel blog names to help you out!
Domain Name Availability Checker
First things first, you can use this tool to see if the name you want is available:
I highly recommend choosing a .com ending for your blog (as opposed to a less common ending such as .net) because it looks more professional.
For a step-by-step guide to registering your domain name and setting up web hosting for your blog, read my guide on how to start a travel blog.
How Do I Choose a Travel Blog Name?
Do you need help coming up with a travel blog names?
Here are my top tips for coming up with a name that you will love!
Your blog name is important, because it's the first impression that your blog will have on readers. You want to choose something that is catchy, professional, and makes sense. And like I mentioned earlier, you want to choose something that you will not think about changing later, since that can be a huge hassle.
To come up with a name for your travel blog, try the following strategies:
1. Use your own name.
One of the simplest and most straightforward ways to come up with a name for your travel blog is to use your own first and last name as your blog name.
If you want to establish a strong personal brand, and perhaps focus on being more of a "travel influencer" than just a travel blogger, this is a smart idea.
2. Use a variation of your name.
Another idea if you do not want to use your full name is to come up with a variation of your name. This is a good naming strategy if you still want to incorporate your own name into the name of your blog.
For example, the name Eva Explores or Adventures of Nicole. This also lets readers know right away that your blog is about travel.
3. Get descriptive.
Do you plan to focus on a specific travel blog niche such as luxury travel or travel to a specific destination? If so, you can incorporate this into your blog name to give readers an idea of what your blog is about right away.
For instance, if you plan to focus on solo female travel, you could choose a travel blog name like Her Solo Adventures or Savvy Solo Traveler.
4. Add modifying words.
One tip for coming up with a travel blog name is to use modifying words. This can help you find a similar blog name when the one you want is taken.
I recommend doing this rather than choosing a different ending for your blog (ex. choosing a .net ending if the .com is taken) because it's better to have a .com name. You also shouldn't use hyphens, misspellings, or numbers in your name.
As an example, let's say you would like to use the name "Wandering Footsteps" for your travel blog, but that name is already taken. You could try…
These Wandering Footsteps
Her Wandering Footsteps
My Wandering Footsteps
Our Wandering Footsteps
Modifying words can help you find a name that is available, and also give an idea what your blog is about. If you have a couples' travel blog, for example, then Our Wandering Footsteps would be a cute and clever name idea.
5. Use travel-related words.
One final suggestion for coming up with a name for your travel blog is to incorporate travel-related nouns, verbs, and adjectives into your name.
Need some inspiration? Some good travel words to use include: Adventurous, Abroad, Backpack, Borders, Compass, Chasing, Destination, Departures, Explore, Escape, Expat, First Class, Foreign, Globe, Getaway, Holiday, Itinerary, Journey, Jaunt, Jet Set, Luggage, Luxury, Lost, Map, Miles, Nomad, Odyssey, Passport, Postcard, Roam, Runaway, Round Trip, Suitcase, Seeking, Sunshine, Ticket, Trip, Trails, Uncharted, Voyage, Vacation, Wanderlust, Wayfarer.
There are so many options with this and you can get very creative!
Real Travel Blog Names
Still having trouble coming up with a name for your travel blog? Here are a ton of real-life examples of travel blog names from popular bloggers!
These 40+ travel blog names come from real successful blogs:
The Blonde Abroad
Adventurous Kate
Nomadic Matt
Goats on the Road
Expert Vagabond
World of Wanderlust
Hand Luggage Only
Legal Nomads
Practical Wanderlust
Local Adventurer
Travel Fashion Girl
A Luxury Travel Blog
Two Wandering Soles
Be My Travel Muse
The Broke Backpacker
World Travel Family
Y Travel
Wandering Earl
Adventure in You
Jones Around the World
You Could Travel
Along Dusty Roads
Never Ending Footsteps
Just One Way Ticket
Bucket List Journey
Her Packing List
The Barefoot Nomad
A Passion and a Passport
Lost With Purpose
Against the Compass
The Travel Tester
Nomadsaurus
A Broken Backpack
Wild Junket
Anywhere We Roam
Follow Me Away
That Adventurer
Jen on a Jet Plane
Solo Sophie
Ordinary Traveler
Eternal Arrival
Jessie on a Journey
Although all of these travel blog names are already taken, looking at them can give you some inspiration for coming up with your own name!
Registering Your Blog Name
Once you have decided on a name for your travel blog, you will need to register your domain name so you can get your blog started.
I have a detailed guide on how to start a travel blog that goes more in depth on what to do, but the process is actually very simple!
You just need to purchase your domain name and web hosting.
I recommend Bluehost for all new bloggers because they actually give you a FREE domain name (saving you $15+) and offer web hosting for just $2.95 a month. (This is the lowest possible price that you can start a blog for!)
Bluehost is also the ONLY web hosting company I know of that allows you to go ahead and start your blog without choosing a name yet.
Just select "I'll create my domain later" after you sign up here.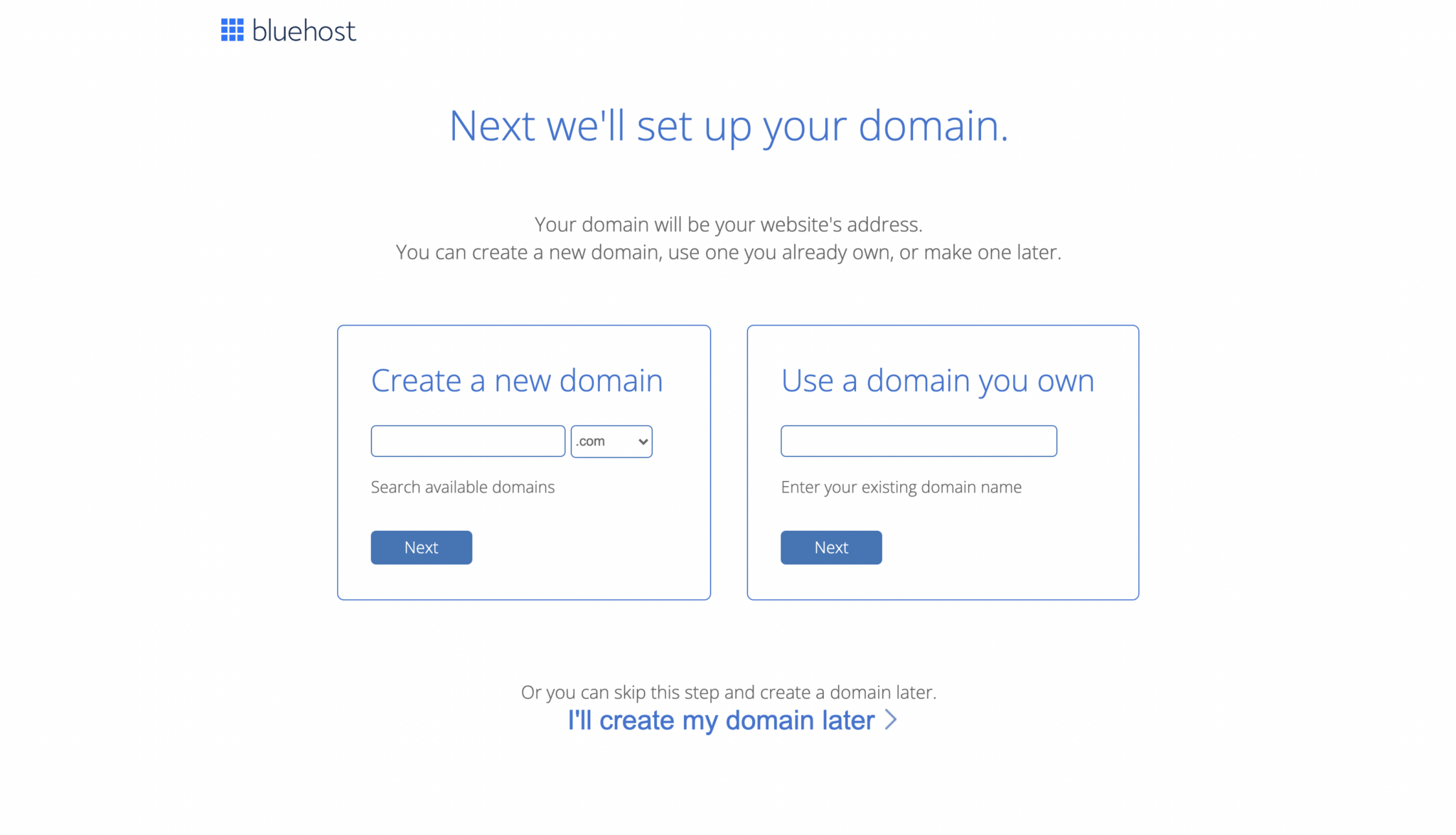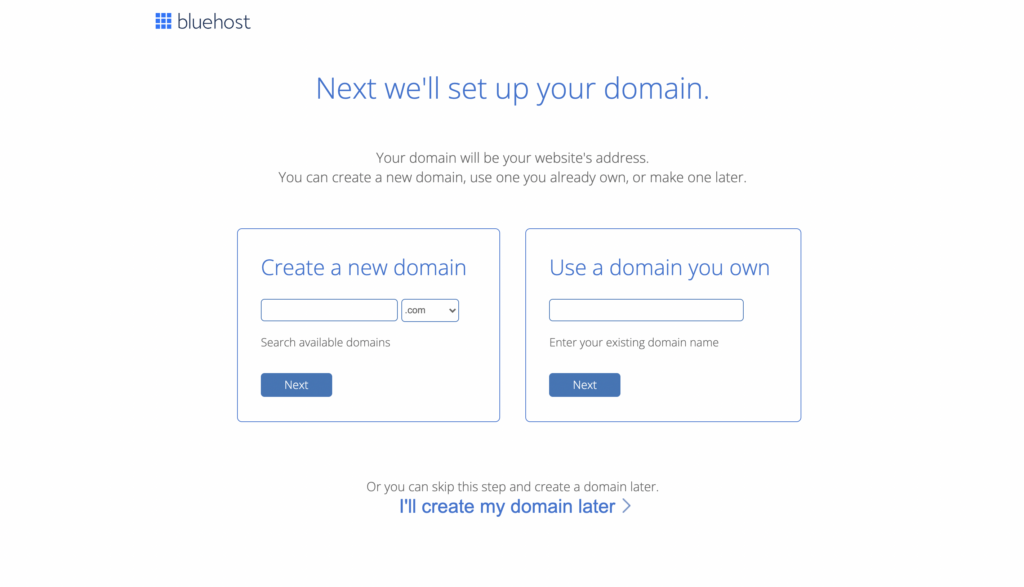 So if you need some extra time to decide on your blog name, you can go ahead and get your blog started now, and then Bluehost will give you a credit you can choose to come back and choose your domain name within 30 days.
Travel Blog Names: Final Thoughts
Hopefully these travel blog names and tips helped you come up with the perfect name for your own travel blog so you can start blogging today!
Did you decide on a name for your travel blog? Feel free to leave a comment below on what you decided – I would love to hear your travel blog name!
For more travel blog ideas, be sure to read: