Note: Affiliate links may be used in this post. I may receive a small commission at no extra cost to you if you use my affiliate link. Full disclosure policy here.

Profitable Freelance Writing Niche Ideas
Are you looking for the most profitable freelance writing niche ideas?
Freelance writing can be very lucrative. As I shared in my freelance writing income report, I have an average hourly rate of approximately $50.
It has become a very profitable side hustle for me in addition to earning money from my own blogging business. And that is from writing in what is not even considered to be the most profitable niches (travel and lifestyle.)
So let's talk about the niches you can make the MOST money from.
This isn't an exhaustive list, but rather, it's just meant to give you some ideas about the most profitable topics for freelance writers.
Why Choose a Niche?
Much like choosing a blog niche, it's important to have a freelance writing niche.
Focusing on one particular niche helps you differentiate yourself and stand out from the crowd. As you build your expertise, you can also charge higher rates.
If you were looking to hire a freelance writer to write about personal finance, who would you rather hire? Someone whose portfolio is focused primarily on personal finance, or someone who has written about pets, fitness, dating, and maybe one or two articles about personal finance? The first one, obviously!
This is why it's important to have a niche.
Don't just choose something because you think it will be profitable — you also want to write about a topic that you genuinely enjoy or you'll get burnt out.
And if you're brand-new to freelance writing, don't worry TOO much about choosing a niche. You may want to take on projects in various niches in order to build your portfolio and start earning money, but you can always narrow your focus to one specific niche later on once you have more experience.
Types of Freelance Writing
Before we get into the profitable freelance writing niche ideas, let's talk about the most common types of freelance writing that you can do.
Some of these pay more than others.
The most common types of freelance writing include:
Blog posts
Articles
Case studies
Whitepapers
Email marketing
Books/ebooks
Sales pages
Video scripts
Projects like case studies, whitepapers, and sales pages tend to pay more than simple blog posts and articles. That's because these are longer, more detailed projects that often involve a higher level of skill or expertise.
As a freelance writer, I mainly write blog posts and articles in the travel niche. I'm sure I could make more money writing case studies or whitepapers for SaaS companies, but I choose to do what I enjoy more instead.
Now onto the most profitable freelance writing niche ideas!
1. Finance
Finance is one of the most lucrative freelance writing niche ideas. You'll need strong attention to detail and the ability to write helpful, accurate content if you want to be successful in this high-paying niche.
Some of the sub-niches within finance include:
Credit cards
Investing
Accounting
Debt management
Mortgages
Insurance
If you have specialized knowledge about any of these topics and have a keen interest in finance, this could be the perfect writing niche for you.
2. Cryptocurrency
Another profitable freelance writing niche is cryptocurrency.
While this could technically fall under the umbrella of finance, I'm including it as its own niche just because it's such a specialized topic.
Many writers don't have advanced knowledge about cryptocurrency or blockchain, which makes it an in-demand and high-paying niche.
3. Digital Marketing
Digital marketing is another one of the most profitable freelance writing niche ideas. This is a niche that encompasses a lot of sub-topics.
Some areas to write about within digital marketing include:
Ecommerce
Search engine optimization
Social media
Email marketing
Digital advertising
Affiliate marketing
If you are knowledgeable about any of these topics and can write long, detailed content about them, then this good be a great niche for you.
4. Real Estate
Real estate is another one of the best freelance writing niche ideas.
This is a niche with a lot of demand. It requires specialized knowledge, and it's an extremely evergreen industry that isn't going anywhere.
Within the real estate niche, there are a lot of different topics you can tackle, from writing real estate listings and buying guides to writing about home decor.
5. Legal
Another high-paying niche for freelance writers is the legal niche. If you have extensive knowledge about the law, this could be the niche for you.
Of course, this is a niche that tends to require specific education. You may not need a law degree, but at least some legal education or experience working as a paralegal or other law-related career is a huge plus in this niche.
6. Technology
A great freelance writing niche that offers to potential to earn a lot of money is technology. Technology is always changing, so this is a niche that will require you to keep up with the trends and have a passion for all things techy.
Some of the tech industry is more consumer-focused (think the latest smartphone and app reviews) while some of it is much more technical.
Here are some popular sub-niches within technology:
Software
Apple products
Google products
Microsoft products
Tech reviews
Artificial intelligence
Fintech
Programming
7. Cybersecurity
Cybersecurity is a niche that falls under the larger topic of technology, but I'm giving it its own entry since it's such a hot topic that's highly in demand.
Fun fact: I actually had a career as a cybersecurity consultant for several years, but it's not a topic I personally want to write about.
But if cybersecurity interests you? This could be a great niche to specialize in. It's even better if you have experience or qualifications related to cybersecurity.
8. SaaS
SaaS (software as a service) is another niche that is technically part of technology, but I'm giving it its own spot on the list because it's so popular.
This is also a very profitable freelance writing niche. If you can write detailed, accurate content about SaaS, then this could be the niche for you.
9. Education
Another profitable freelance writing niche is education. If you're interested in and have experience with this industry, it can be a really great niche.
There are many different sub-topics within education, such as:
Online learning
College/university
Test prep
Student loans
If you have a background in education, this can be an excellent niche.
10. Health & Medical
Do you have lots of knowledge about the healthcare industry? If so, becoming a health and medical writer may be the perfect opportunity for you.
Typically, in order to succeed in this niche and earn the big bucks, you will need some type of qualifications and extensive experience in the field.
You will be covering complex topics and will need strong attention to detail and fact-checking abilities in order to be successful in this lucrative niche.
11. Travel
Travel may not be THE most profitable freelance writing niche of all time, but I'm including it on this list because it can be very lucrative and I have personally earned a lot of money from this niche as a freelance writer myself.
In order to earn good money as a travel writer, you'll need real travel experience — not just basic info that you can learn by Googling a destination.
One of the biggest perks of the travel niche is the opportunity to go on press trips and received comped hotel stays, meals, and other activities.
12. Parenting
A great niche to get into is parenting. While it may not be the number one most high-paying niche, it's one that has a fairly low barrier of entry.
Are you a parent yourself? If so, you've got the experience to be a parenting writer! Of course, it can also help if you have additional qualifications  or experience (e.g. a midwife writing about pregnancy and childbirth.)
Here are some popular sub-topics within parenting:
Pregnancy and birth
Breastfeeding
Product reviews
Family life
Single parenting
Homeschooling
13. Fitness
Fitness is another freelance writing niche that can be very profitable, especially if you have personal experience and qualifications within a field.
Here are some sub-niches within fitness to consider:
Running
Bodybuilding
Yoga
Nutrition
Specialty diets
Do you have experience with any of these areas, or others? If so, you can parlay your passion about fitness into a career as a freelance fitness writer.
14. Food
Finally, food can be a very profitable freelance writing niche, especially if you offer additional services like recipe development or photography.
Many of the most popular food blogs and recipe websites hire freelance writers.
This is a niche where you'll need lots of personal experience with cooking and baking, particularly if you are writing about recipes or food prep techniques.
How to Become a Freelance Writer
This guide showed you the most profitable freelance writing niche ideas.
If you are looking for more help on how to begin freelance writing, I highly recommend taking an online course to kickstart your freelance writing career.
Write to 1K is the perfect online course for beginners. Created by Elna Cain, a professional blogger and freelance writer, this course contains a step-by-step guide for how to land your first freelance writing gig in just a few short weeks.
The investment will more than pay for itself after just a few freelance writing jobs.
Learn more and enroll in Write to 1K here!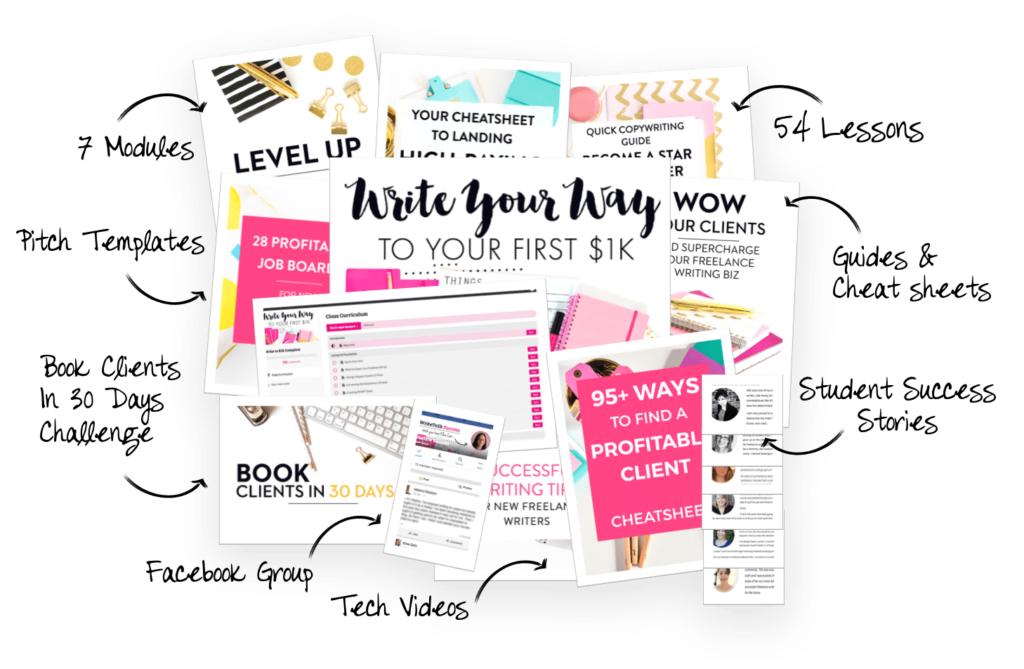 Best Freelance Writing Niches
These are the most profitable freelance writing niche ideas to help you kickstart your career as a freelance writer. I hope you enjoyed these ideas!
You may also enjoy the following posts…