Note: Affiliate links may be used in this post. I may receive a small commission at no extra cost to you if you use my affiliate link. Full disclosure policy here.

Freelance Writing Income Report
In this freelance writing income report, I'm going to share exactly how I earned $3,647 as a part-time freelance writer last month.
For some background, I was already a full-time blogger when I began freelance writing last year. I started blogging in 2017, and I run two other profitable blogs in addition to Blogging Her Way, which is my main source of income.
But in 2022, I started doing freelance writing on the side and I ended up earning $14,500 from it. Now, in 2023, I have earned over $13,000 from freelance writing in the first four months of the year alone, and I'm on track to make $40,000 from it.
This is all part-time work for me. I'd estimate I work around 18 hours a week on freelance writing with an average hourly rate of $50 per hour.
This past month (April 2023) I earned $3,647.
Here's a breakdown of exactly how I earned that money!
Why Share an Income Report?
First things first, let's talk about WHY I'm sharing an income report.
Income reports are fairly common in the blogging world. In fact, I compiled a list of more than 250+ blog income reports from bloggers in various niches.
I found income reports to be very motivating when I was a new blogger because they showed me what was possible! And in a practical sense, they inspired me because I got a glimpse at how bloggers were making money.
I haven't seen as many freelance writing income reports.
I actually shared a few examples of freelance writing income reports in my post about how much money freelance writers make, but I found very limited examples out there. Most freelance writers are not publicly sharing how much money they make, even though it's somewhat common for bloggers.
In an effort to be transparent and inspire potential freelance writers, I wanted to share my own freelance writing income report for last month.
My Freelance Writing Income Report
As I mentioned at the beginning of this post, I made $3,647 from freelance writing in April 2023. But let's break that number down.
First of all, I have four different clients I work with.
All of my clients are in the travel niche, although you can make money as a freelance writer in any niche. I love travel writing because travel is one of my biggest passions in life, and I find it much easier and more enjoyable to write about a topic that I know and love than one I have no interest in.
Not to mention, travel writing has led to some incredible opportunities like press trips that I would not have the chance to do writing in another niche.
Here's how much money I earned from each of my clients:
Client 1: $578.57
Client 2: $617.17
Client 3: $1,041.97
Client 4: $1,409.92
This adds up to a grand total of $3,647.63 earned from freelance writing.
Some of my clients pay me a fixed rate per article while others pay per word. From tracking my time, I've determined I earn an average rate of $50 an hour.
Not bad for a part-time job that lets me work on my laptop from anywhere in the world, set my own hours, and write about something I love!
How Much Can Freelance Writers Earn?
It's a myth that writing pays terribly or that you can't make a lot of money as a writer. In fact, there are many freelance writers making well over six figures per year, and some who make much more than that!
It depends on many factors, such as your level of experience, what type of writing work you're doing, and what niche you're writing in.
Some niches pay more than others. Examples of niches that can be high-paying include finance, health and medical, business, and legal writing.
See this list for more profitable freelance writing niche ideas.
Additionally, certain types of writing projects pay better than others. For example, writing a highly-detailed and researched case study of 10,000 words will likely pay a lot more than a simple blog post of 1,500 words.
Where to Find Freelance Writing Clients
You might be wondering how and where to find freelance writing clients.
Personally, I found three of my clients because I already followed them online and saw on their website/social media that they were looking to hire a writer. I found my other client in a Facebook group for bloggers that I'm part of.
Both of these are great avenues for finding clients of your own.
You can also look on job boards like ProBlogger. I have seen a lot of good jobs on here, although the pay rate is sometimes on the lower end.
I highly recommend having a blog of your own before you start applying to freelance writing jobs, because this will make you stand out from the crowd and can act as a great portfolio of your writing abilities.
How to Become a Freelance Writer
If you are looking for more help on how to begin freelance writing, I highly recommend taking an online course to kickstart your freelance career.
Write to 1K is the perfect online course for beginners. Created by Elna Cain, a professional blogger and freelance writer, this course contains a step-by-step guide for how to land your first freelance writing gig in just a few short weeks.
The investment will more than pay for itself after just a few freelance writing jobs.
Learn more and enroll in Write to 1K here!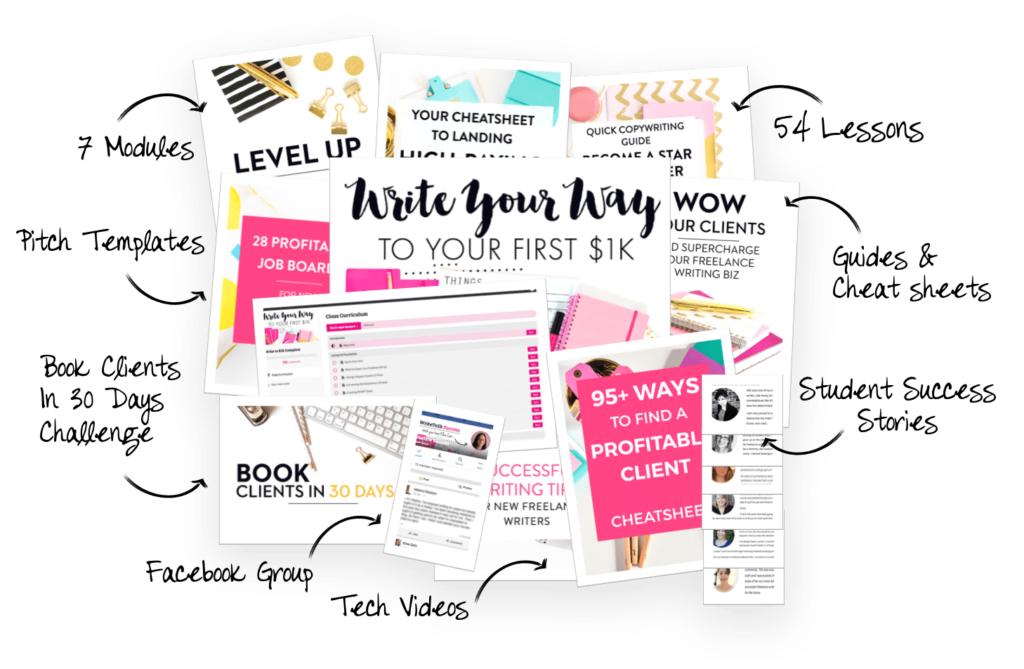 Taking a course about how to become a freelance writer is a great way to get started and skip the hard part of figuring things out for yourself.
This course helps with the areas that trip up most wannabe freelance writers, like how to find clients and how to craft the perfect pitch.
It also includes a private Facebook group where you can get help and network.
Why I Love Freelance Writing
As you can see, freelance writing is a profitable side hustle for me.
I love freelance writing because it has added so much to my bottom line. I'm on track to earn an extra $40,000 from freelance writing this year.
Last year, that would have been unfathomable to me!
Even though I do make a full-time income from Blogging Her Way and my other blogs, I enjoy the creativity and flexibility of freelance writing. It's fun to write for other clients and less "pressure" than writing for my own blogs sometimes.
If you enjoy writing and want to find a way to make extra money online, I highly recommend that you give freelance writing a try.