Note: Affiliate links may be used in this post. I may receive a small commission at no extra cost to you if you use my affiliate link. Full disclosure policy here.

Lifestyle Blog Names: Ideas and Examples
Looking for ideas of lifestyle blog names?
If you are planning to start a lifestyle blog, one of the first things you will need to decide on is a name. But I know this first step can be difficult!
Choosing a name for your blog is important, because it's the first impression that your blog gives off to the world. It's also a huge pain to change your name later on, making it even more critical to choose a good name from the start.
But what if you have no idea what to name your blog?
I'm here to help with this guide to lifestyle blog names!
The great thing about lifestyle blogs is you are probably planning to write about multiple topics, so you don't need a blog name that is super specific. (Read this guide on what is a lifestyle blog for a longer explanation!)
In my opinion this makes choosing a lifestyle blog name easier. If you need some help coming up with a name for your blog, I've put together plenty of tips and ideas for brainstorming names below, as well as real-life examples of lifestyle blog names so you can find some additional inspiration.
Domain Name Availability Checker
When coming up with a blog name, you will want to make sure that the domain name (the .com version of the name) is not already registered.
When you start your blog with Bluehost you will get a FREE domain name, saving you $15 to $20. So how can you see if the name you want is available?
After you click "Get Started" on this page and select the $2.95 a month plan (this is the cheapest plan and the one I recommend) you will be able to put in your intended domain name to see if it's available to register or not.
If you haven't decided on a blog name yet, you can skip this step and get a credit to come back later to choose your domain name within 30 days.
For a step-by-step guide to registering your domain name and setting up web hosting for your blog, read my guide on how to start a lifestyle blog.
How Do I Choose a Lifestyle Blog Name?
Are you wondering how to choose a lifestyle blog name?
Like I mentioned at the beginning of this post, choosing a good name is important because you want your blog to make a positive first impression, not to mention it can be a big hassle to change later on. (I've been there!)
So here are some tips for coming up with the perfect blog name:
1. Use your own name.
One of the easiest ways to choose a blog name is to use your first and last name.
This is an especially good idea for lifestyle bloggers, who are typically at the center of their blog. Using your own full name as your blog name is a smart way to build your personal brand, and it's super simple too!
2. Use a variation of your name.
Another way to come up with lifestyle blog names is to use a variation of your first name. This still gives your blog name a personal touch.
For a lifestyle blogger, you could do something like:
Life with Tory
By Samantha Claire
Mostly Melissa
If you don't want to use your full name or it is not available as a .com domain name, this is another good option that still involves your name!
3. Describe your niche.
If you are going to focus on a specific lifestyle blog niche you might consider choosing a name for your blog that reflects that particular topic.
For example, let's say you are starting a lifestyle blog about minimalism.
Some examples of blog names you could come up with include:
Our Minimalist Journey
The Mindful Minimalist
Finding Minimalism
The Minimalist Home
This is a good naming strategy if you know you want to focus on a specific angle with your blog (such as minimalism, homesteading, or living with chronic illness) or target a specific audience with your blog (such as twenty-somethings, moms, or women over fifty.) It immediately lets someone know what your blog is about.
4. Add modifying words.
One final idea for coming up with your blog name is to add modifying words. This is a good strategy if the name you want is already taken.
Rather than use a different ending other than .com (such as .net) or modify your name with hyphens, misspelled words, etc. this is a better strategy and it will keep your blog name professional and easier to remember.
As an example, let's say you want to use the name "Happy Homestead" for your lifestyle blog, but it is taken. Some variations you could try instead are:
One Big Happy Homestead
Our Happy Homestead
My Happy Homestead Life
You get the idea! Adding extra words can be helpful in finding a name.
Real Lifestyle Blog Names
Still having trouble coming up with a name for your lifestyle blog? Check out these real-life examples of lifestyle blog names from successful bloggers!
Here a 40+ real lifestyle blog names of successful bloggers:
A Cup of Jo
Wit & Delight
Just a Girl and Her Blog
Chasing Foxes
One Big Happy Life
Helene in Between
A Beautiful Mess
The Skinny Confidential
By Sophia Lee
A Healthy Slice of Life
Fantabulosity
Cupcakes & Cashmere
All Sorts Of
Inspirations & Celebrations
Hairs Out of Place
Love Taza
Katie Did What
Daily Sweetness
Living in Yellow
Bright & Beautiful
Gathering Dreams
Sweet Humble Home
Making Midlife Matter
The Fab 20s
Chasing a Better Life
Sugared Stilettos
Lifestyle with Leah
Squirrels of a Feather
Barefoot Blonde
Sincerely Jules
The Pioneer Woman
A Girl in Progress
Lifestyle & Berries
The Every Girl
Minding Minimal
Boss Babe Chronicles
Embracing Simple
Imperfect Idealist
The Thought Journal
Nikki's Plate
Hot Beauty Health
A Modern Homestead
Although all of these lifestyle blog names are already taken, looking at them can give you some inspiration for coming up with your own name!
Registering Your Blog Name
Once you have decided on a name for your lifestyle blog, you will need to register your domain name so you can get your blog started.
I have a detailed guide on how to start a lifestyle blog that goes more in depth on what to do, but the process is actually very simple!
You just need to purchase your domain name and web hosting.
I recommend Bluehost for all new bloggers because they actually give you a FREE domain name (saving you $15+) and offer web hosting for just $2.95 a month. (This is the lowest possible price that you can start a blog for!)
Bluehost is also the ONLY web hosting company I know of that allows you to go ahead and start your blog without choosing a name yet.
Just select "I'll create my domain later" after you sign up here.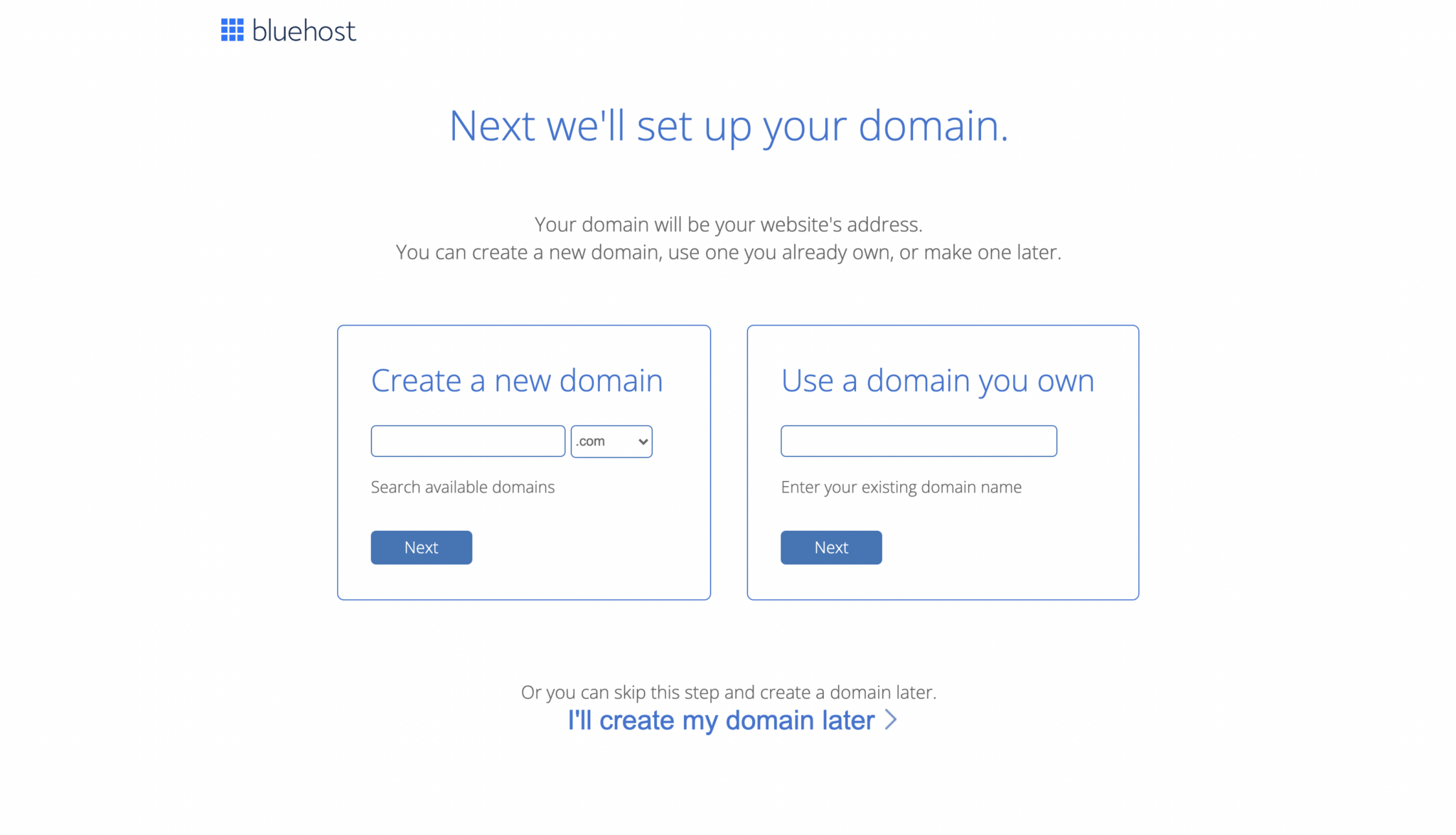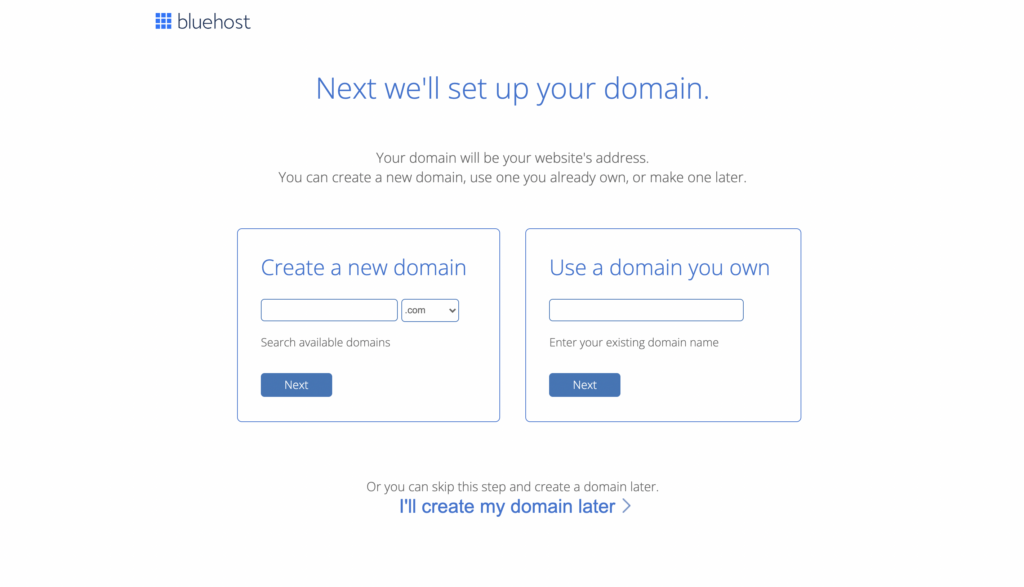 So if you need some extra time to decide on your blog name, you can go ahead and get your blog started now, and then Bluehost will give you a credit you can choose to come back and choose your domain name within 30 days.
Lifestyle Blog Names: Final Thoughts
Hopefully these lifestyle blog names and tips helped you come up with the perfect name for your own lifestyle blog so you can start blogging today!
And if you are looking for more lifestyle blog resources, be sure to check out: