Note: Affiliate links may be used in this post. I may receive a small commission at no extra cost to you if you use my affiliate link. Full disclosure policy here.

Beauty Blog Names: Ideas and Examples
Do you need help coming up with beauty blog names?
Here are plenty of ideas to help you out! If you are planning to start a beauty blog then one of the first things you will need is a name for your blog.
Choosing a name for your beauty blog can be difficult, which is why I put together this guide containing plenty of ideas and real-life examples.
It's important to choose a good blog name from the start, because the name you pick will be the first impression your blog gives off, and it's something that is hard to change later on. (Trust me, I've been through that process before!)
Here are the best ideas for beauty blog names…
Domain Name Availability Checker
When coming up with a blog name, you will want to make sure that the domain name (the .com version of the name) is not already registered.
When you start your blog with Bluehost you will get a FREE domain name, saving you $15 to $20. So how can you see if the name you want is available?
After you click "Get Started" on this page and select the $2.95 a month plan (this is the cheapest plan and the one I recommend) you will be able to put in your intended domain name to see if it's available to register or not.
If you haven't decided on a blog name yet, you can skip this step and get a credit to come back later to choose your domain name within 30 days.
For a step-by-step guide to registering your domain name and setting up web hosting for your blog, read my guide on how to start a beauty blog.
How Do I Choose a Beauty Blog Name?
Do you need some help choosing a beauty blog name?
You might have a passion for makeup, skincare, hair, nails, and other beauty topics that you want to share on your blog, but one of the biggest areas where new bloggers get stuck is coming up with the perfect name!
So what should you do? As I mentioned, it's important to choose the right name from the start because you want to leave a good first impression on your blog readers, and not have to worry about changing your blog name later.
Here are some tips to come up with the perfect beauty blog name!
1. Use your name or a variation.
An easy way to come up with a name for your blog is to use your own name! You can use your own first and last name as your blog name to help establish your personal brand. This is something that plenty of "beauty gurus" have done.
You can also use a variation of your name, such as Beauty by Brenna or Makeup with Lauren if you still want to incorporate your own name. This is also a good option because it immediately lets people know what your blog is about.
2. Get descriptive.
Do you plan to focus on a particular topic within the beauty niche, such as vegan beauty products, natural hair care, or affordable makeup dupes?
If so, you can create a blog name that reflects this.
For example, you might choose something like:
Vegan Beauty Edit
Natural Curl Girl
Beauty on a Budget
These names immediately let readers know what your blog is about.
3. Add modifying words.
If the name you want for your blog is taken, you can get creative with modifying words to come up with something that is available to register.
I recommend doing this rather than choosing a different ending for your blog (ex. choosing a .net ending if the .com is taken) because it's better to have a .com name. You also shouldn't use hyphens, misspellings, or numbers in your name.
Let's say you want to use the name "Beauty Diary" but that is taken. Some ways that you could modify this name instead include:
Her Beauty Diary
Bold Beauty Diary
That Beauty Diary
By adding a modifying word to the beginning of the name you want, you can usually come up with something that is available to register!
4. Use beauty-related words.
One final suggestion for coming up with beauty blog names is to incorporate beauty-related words and descriptive adjectives and nouns into your name.
For example:
Pink Lipstick Diary
Beauty-Obsessed Brunette
The Makeup Maven
Polished Perfection
The Glossy Edit
Blush Beauty Blog
There are so many options and you can get creative with this!
Real Beauty Blog Names
Still having trouble coming up with a name for your beauty blog? Here are a ton of real-life examples of beauty blog names from popular bloggers!
Here a 25+ real beauty blog names of successful bloggers:
Into the Gloss
Makeup and Beauty
British Beauty Bloggers
Beauty Brains Blush
Hello Glow
The Beauty Lookbook
Cruelty Free Kitty
Glow Recipe
Beauty Bulletins
My Beauty Bunny
Beauty Bulletins
Outspoken Beauty
The Sunday Girl
15 Minute Beauty
The Beautyholic
Barely There Beauty
The Green Product Junkie
Vegan Beauty Review
Glossy Polish
Organic Beauty Blogger
Beauty Conspirator
Brown Beauty Talk
Beautiful With Brains
A Little Obsessed
Glam Budget Beauty
Although all of these beauty blog names are already taken, looking at them can give you some inspiration for coming up with your own name!
Registering Your Blog Name
Once you have decided on a name for your beauty blog, you will need to register your domain name so you can get your blog started.
I have a detailed guide on how to start a beauty blog that goes more in depth on what to do, but the process is actually very simple!
You just need to purchase your domain name and web hosting.
I recommend Bluehost for all new bloggers because they actually give you a FREE domain name (saving you $15+) and offer web hosting for just $2.95 a month. (This is the lowest possible price that you can start a blog for!)
Bluehost is also the ONLY web hosting company I know of that allows you to go ahead and start your blog without choosing a name yet.
Just select "I'll create my domain later" after you sign up here.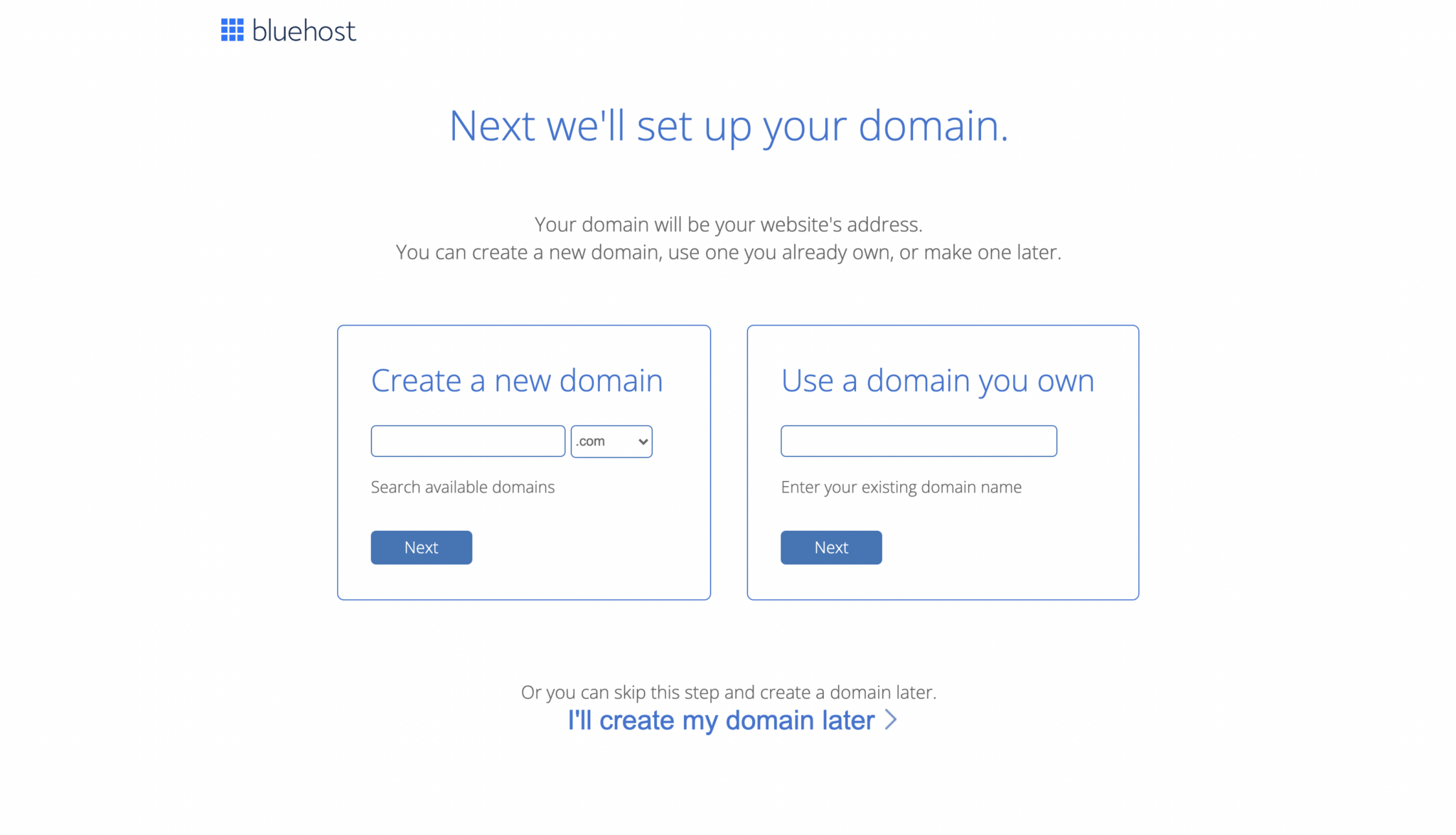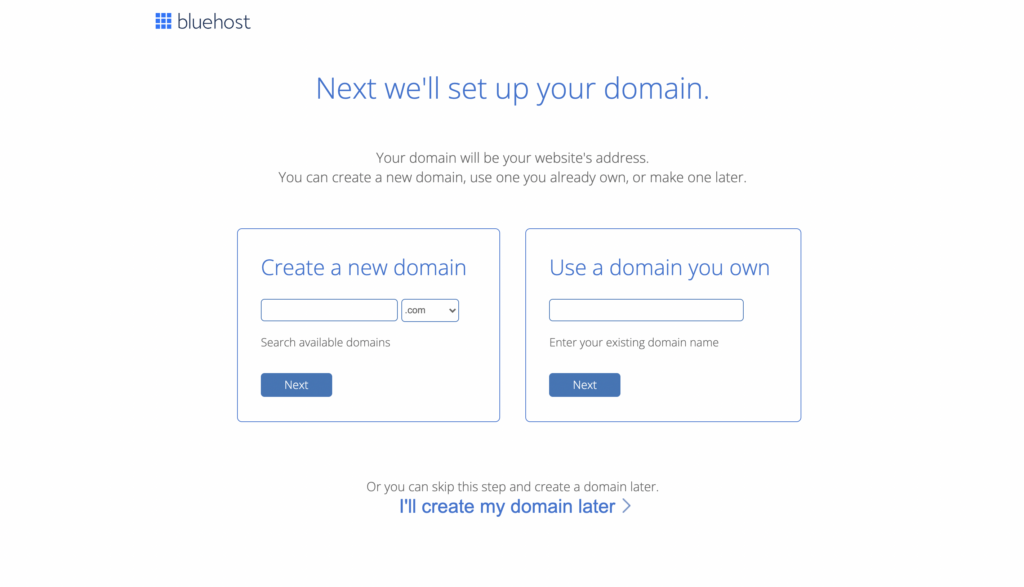 So if you need some extra time to decide on your blog name, you can go ahead and get your blog started now, and then Bluehost will give you a credit you can choose to come back and choose your domain name within 30 days.
Beauty Blog Names: Final Thoughts
Hopefully these beauty blog names and tips helped you come up with the perfect name for your own beauty blog so you can start blogging today!
For more beauty blog ideas, be sure to read: