Note: Affiliate links may be used in this post. I may receive a small commission at no extra cost to you if you use my affiliate link. Full disclosure policy here.

Bluehost Review
Looking for an honest Bluehost review?
Read on for my personal experience with Bluehost for the past four years!
I have been using Bluehost for web hosting since I started blogging four years ago. Web hosting is one of the only necessary expenses when starting a blog.
And getting web hosting is the first step to starting your blog!
There are dozens of web hosting companies out there, and it can be hard to know which one to choose with so many options. Here's my honest review of Bluehost and why I think they're the best choice for web hosting for bloggers.
PS: Don't miss the special bonus at the end of this post!
What Is Web Hosting?
First of all, let's talk about what web hosting even is.
If you want to start a blog (or any type of website) then web hosting is one of the first things you will need in order to get started.
Essentially, web hosting is the place where your website "lives" on the Internet. It's where all the files making up your website are stored, and it's what makes your website accessible to other people on the Internet.
There are two paths you can follow as a blogger when it comes to hosting.
The first is starting your blog on an existing platform such as Blogger or WordPress.com. The benefit of this is that it's free and easy to set up. This is a good option for hobby bloggers who don't want to make money blogging.
However, if you want to make money blogging, you will need what's known as a self-hosted website. This is where your blog has its own .com domain name and you are the sole owner of all the content on your website.
Bluehost is a web hosting company that allows you to start a self-hosted website.
The benefit of this is that it's very affordable (as low as $2.95 a month) and still very easy to set up. (They do everything for you!) You'll also be able to monetize your blog if it is self-hosted, and make it into a real business.
How Does Bluehost Work?
In order to start a blog, all you need to do is sign up for a web hosting package with Bluehost. They offer 12-month, 24-month, and 36-month options.
The 12-month plan is the cheapest option, coming in at $2.95 a month. This works out to just $35.40 for an entire year of web hosting.
Related: Does Bluehost Charge Monthly or All at Once?
With Bluehost, you will also get a FREE domain name. This is the .com address of your blog. Normally, a domain name costs $10-15, so this is a great benefit.
If you haven't decided on a domain name yet, you can still sign up for web hosting and get your blog set up now. Bluehost will give you a credit to come back and choose your domain name later once you've decided on a name.
(Read this post for tips on choosing a blog name plus over 100 examples!)
And here's a quick step-by-step guide for getting set up with Bluehost so you know exactly what to expect once you're ready to start your blog:
1. Click here and then click the "Get Started" button:
2. Select your hosting plan
Which plan should I choose? I recommend the Basic plan for new bloggers.
I'm personally on the Plus plan, but that's only because I run multiple blogs. Otherwise I would probably choose the Basic plan!
3. Put in your domain name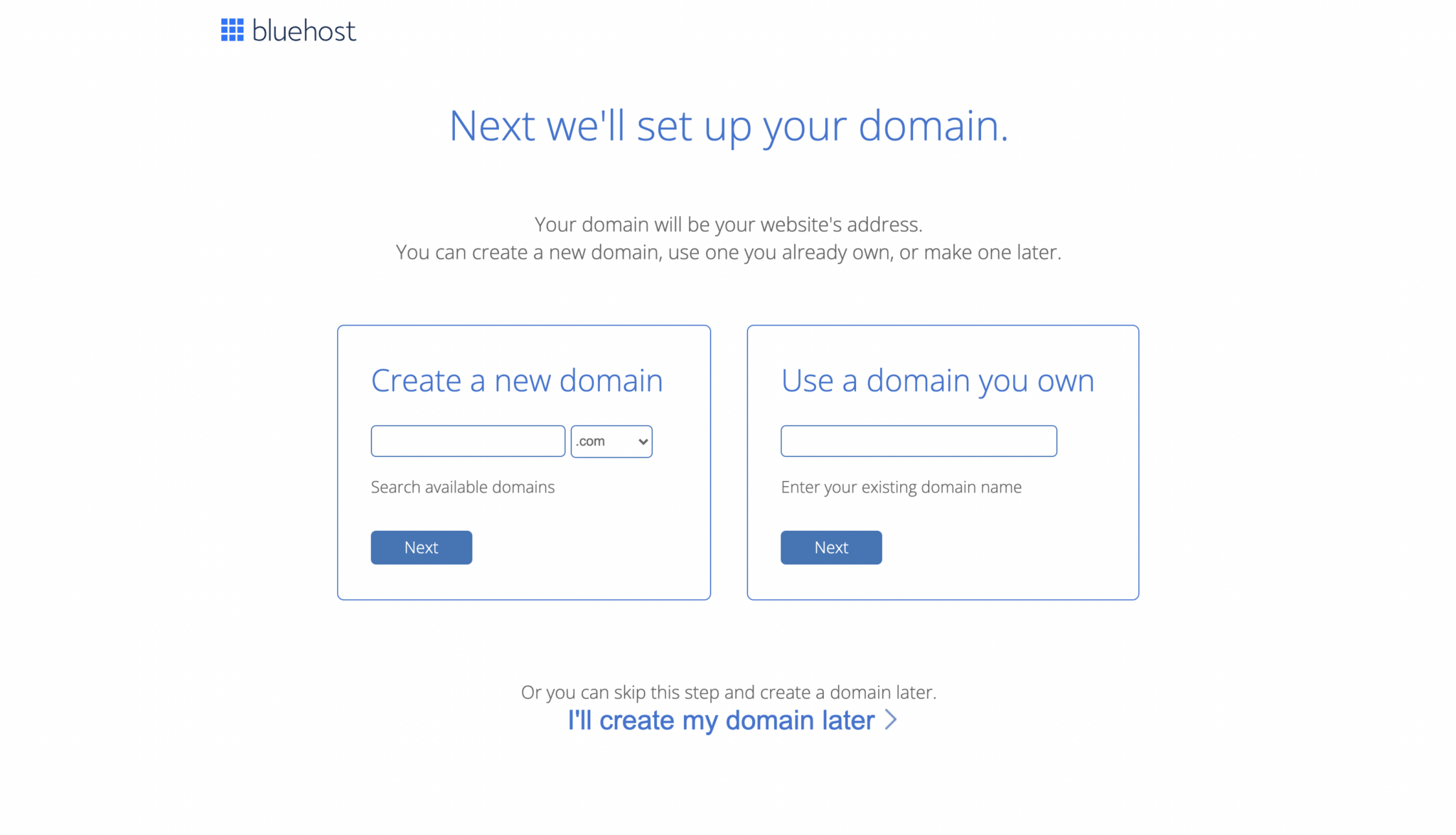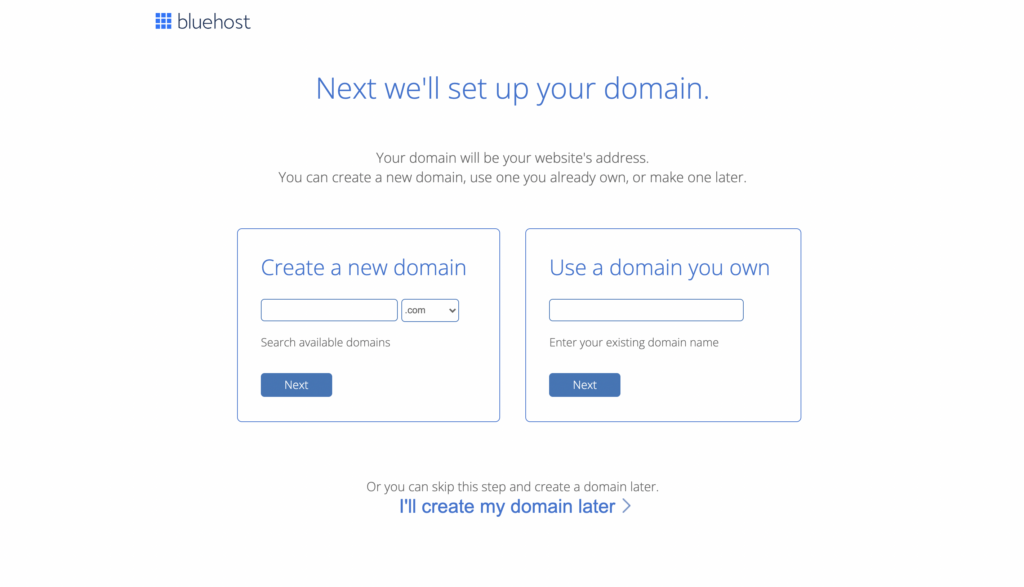 This is where you'll put in the domain name that you decided on earlier.
What if I haven't decided on a name yet? If you haven't decided on a domain name for your blog yet, click "I'll create my domain later." Or you can wait a couple seconds and this offer will pop up on the screen: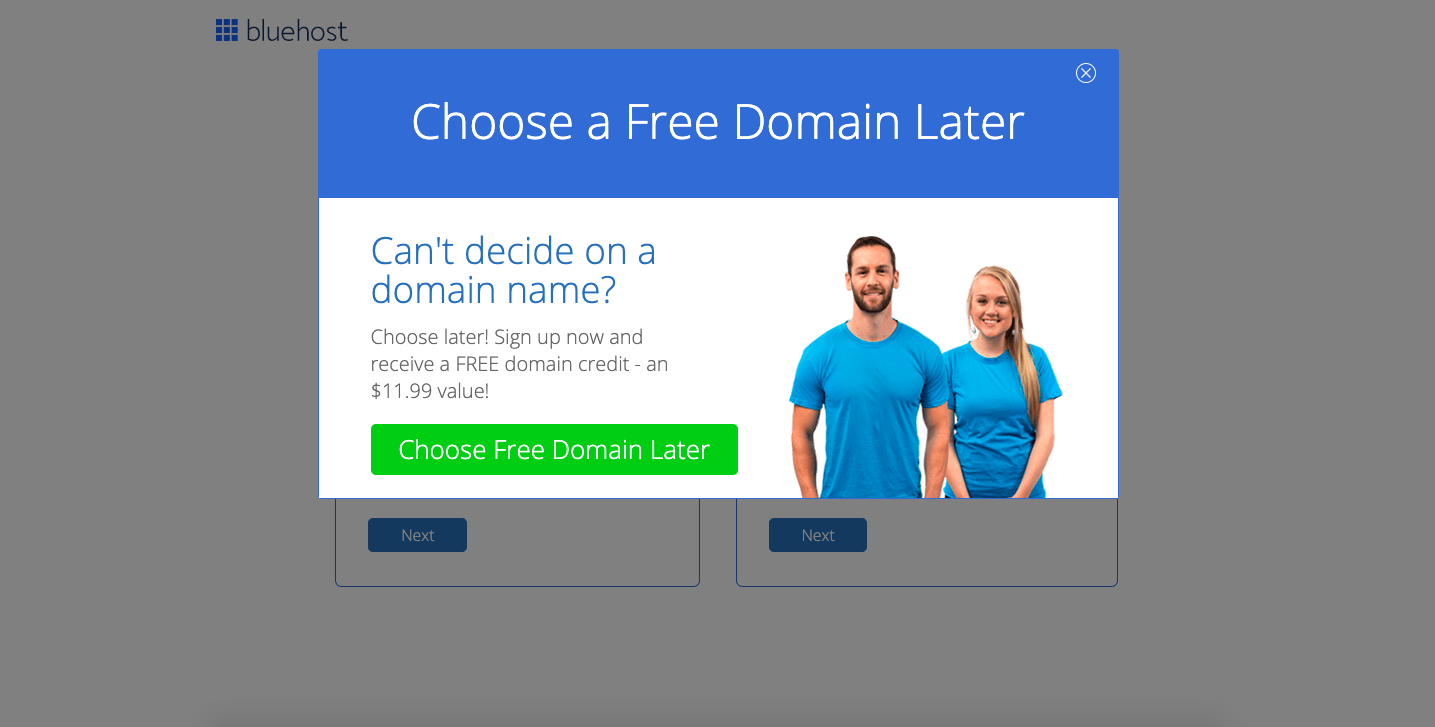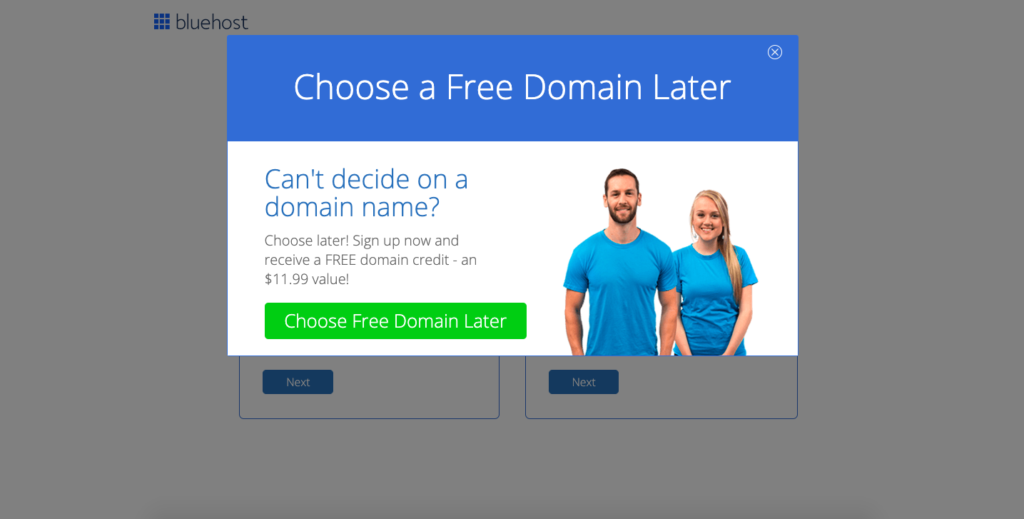 Select this option and you can go ahead and set up your blog now, then use the free credit to buy your domain name later.
4. Create your hosting account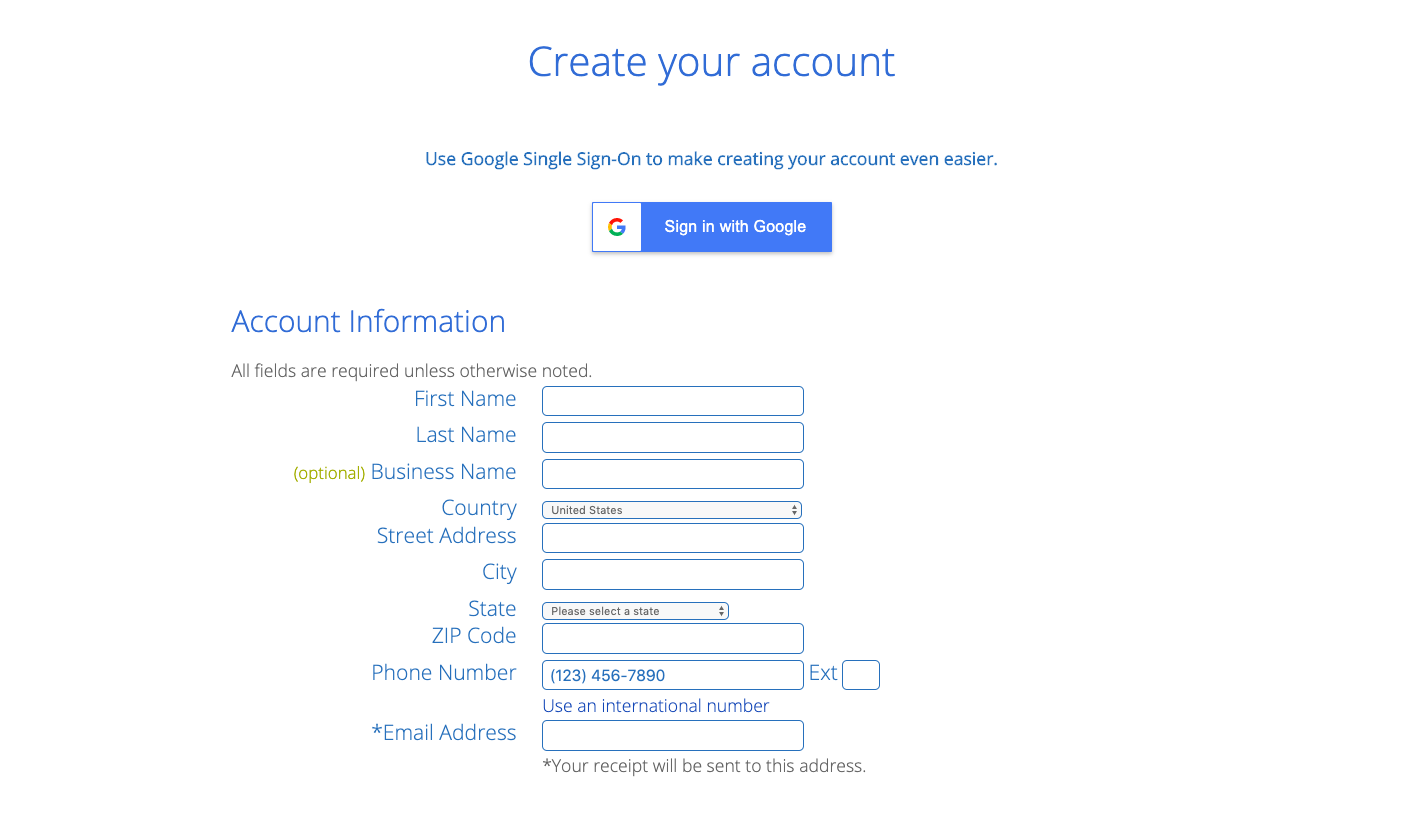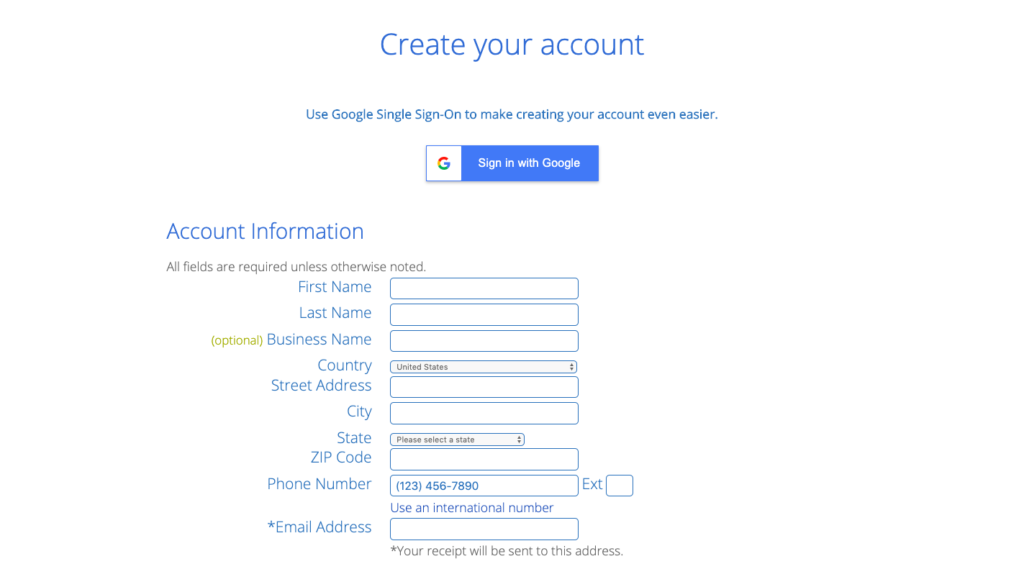 5. Choose your package and pay
This is where you'll select your hosting plan.
I recommend the 12-month plan for $2.95 a month, for a total cost of $35.40 for the year. But you can also choose a 24-month or 36-month plan.
What about package extras? You have the options to add on extra paid services like site backups, SEO tools, or site security.
I personally don't recommend any of these paid extras, because there are free WordPress plugins you can install that do the same things.
6. Congrats, you're done!
Now you're all set! Bluehost will automatically install WordPress for you.
What exactly is WordPress? WordPress is the content management platform that your blog will run on. Your WordPress dashboard is where you will go to edit the look of your blog, write blog posts, upload images, etc.
It's extremely easy to use, even if you're a total beginner.
Starting Your Blog with Bluehost
Once you've followed the steps above, you'll be able to start blogging.
Bluehost will also guide you through the steps of choosing a WordPress theme for your blog (to customize the look and design) and getting everything set up.
Here are a few posts you might want to read before starting your blog:
Now that I've explained how Bluehost works, read on for my personal experience!
My Experience with Bluehost
A lot of people say Bluehost is good for beginner bloggers, which is true.
But I honestly think they're a good option even for more established bloggers.
I actually switched one of my blogs from Bluehost to a competitor once I started getting more traffic, because I had heard this other web hosting company was better at handling higher traffic and could improve my site speed.
However, I saw NO noticeable difference after switching. And this other web hosting actually had their servers go down unexpectedly TWICE, causing me to lose out on traffic and income. That never happened to me with Bluehost.
Being such a large company that is well-established and has been around for nearly twenty years, Bluehost is more reliable. And they have a very robust customer support team whenever you need help or have questions.
I've used their customer support chat feature dozens of times over the years, and I've never waited more than a minute or two to be connected to someone. Whereas with smaller web hosting companies, you might have to wait a day to get a response from customer support, even if your question is urgent.
Pros of Bluehost
I'm a huge fan of pros and cons lists, so here are the pros and cons for Bluehost:
Affordable pricing: They offer some of the most affordable web hosting plans out there, starting at $2.95 per month for their Basic plan.
Free domain name: They give you a free domain name for your first year, saving you an additional $10-15 when starting your blog.
Domain name credit: Bluehost is the only web hosting company I know of that lets you start your blog now, even if you haven't decided on a name yet, and come back later to choose your domain name.
Free SSL and CDN: They offer a free SSL certificate for site security, and free Cloudfare CDN for site speed, something other web hosts charge for.
Money back guarantee: If you're unhappy with their services for any reason, they offer a 30-day money back guarantee.
Customer support: 24/7 customer support with instant responses.
Reliable service: Bluehost powers hundreds of thousands of websites and has very little downtime, compared to other web hosts with frequent outages.
Cons of Bluehost
There are a couple of cons to Bluehost which are important to mention too:
Domain renewal price: Although you get your domain name free the first year, it costs on the higher end to renew it with Bluehost after a year (around $15-20.) This can be avoided by switching your domain name registration to a cheaper provider like Namecheap after the first year.
Pricy addons: When signing up for a Bluehost account, they try to upsell you on several addons that I do not personally recommend. However, this can be easily avoided by unchecking the addons and making sure you are only paying for the Basic plan of web hosting when you check out.
Bluehost Review
In conclusion, I think Bluehost is a great choice for web hosting for bloggers.
If you want to start a blog and don't want to be bogged down by the technical side of things, Bluehost is extremely beginner-friendly with their straightforward setup process and excellent customer support to answer your questions.
You also can't beat them on price, making them a good option for new bloggers.
Special Bonus!
If you're ready to start your blog, I have a special bonus for you! I am offering my online course 30 Days to Blogging Success ($97 value) for FREE to anyone who signs up for Bluehost using my referral link.
At no extra cost to you, I will earn a commission when you sign up through my link. This is how I am able to offer 30 Days to Blogging Success to you for free!
The online course contains everything you need to know about starting and growing a profitable blog, broken down into easy-to-follow lessons.
All you have to do to claim your bonus is purchase web hosting from Bluehost using any of the links on this page, and then forward a copy of your receipt to me at [email protected] to prove you've done it.
Then you'll get free lifetime access to 30 Days to Blogging Success to help you build a profitable blogging business! Read the full details here.
Note: This post has been included as an entry into a giveaway/sweepstakes.