Note: Affiliate links may be used in this post. I may receive a small commission at no extra cost to you if you use my affiliate link. Full disclosure policy here.
Craft Blog Post Ideas
This post contains 50 craft blog post ideas to inspire your next blog post!
Do you have a blog focusing on crafts, DIY, or other creative endeavors? These blog post ideas are for you! If you're suffering from a bit of writer's block, use the ideas below for some inspiration on what to write about next.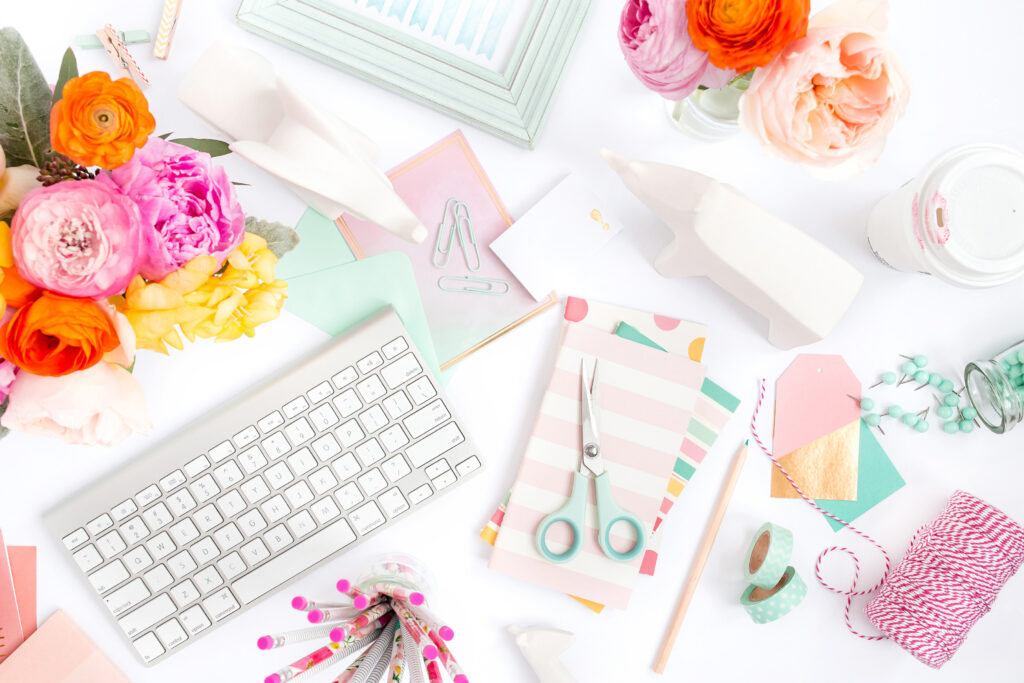 50 Craft Blog Post Ideas
Share a Christmas craft
Bullet journal ideas
Your must-have crafting tools
Holiday crafts for kids
Scrapbooking tips for beginners
Your favorite craft bloggers
Share a Halloween craft
How to organize your crafting supplies
Knitting/sewing patterns
DIY home decor project
Share a look at your crafting space
Must-have scrapbooking supplies
How to make DIY candles
How to make DIY soap
Crafts you can make and sell
Tips for selling at craft shows
Share a Valentine's Day craft
Your best photography tips
Mason jar craft ideas
How to make DIY paper lanterns
Educational crafts for kids
Homemade craft gift ideas
Calligraphy essentials
Share a Fourth of July craft
How to make a DIY piñata
Share a DIY door wreath
Fall craft ideas
Winter craft ideas
Spring craft ideas
Summer craft ideas
Easy crafts for toddlers
What your dream craft room would look like
Recreate a craft from Pinterest
Roundup of the best craft books
How to save money on crafting supplies
Where you shop for crafting supplies
A no-sew craft project
Must-have bullet journal supplies
Share an Easter craft
Craft ideas for the classroom
Document the process of refinishing furniture
How to sell crafts on Etsy
Tips for online craft sellers
Cricut tips and tricks
Share a Thanksgiving craft
How to make DIY beauty products
Why you started your craft blog
Origami tutorial
Must-have quilting supplies
Share a Mother's Day craft
How to Start a Blog
Haven't started a blog yet? Learn how to start a blog (the right way) with the help of my step-by-step guide on how to start a blog. This will walk you through the process of setting your blog up in less than an hour!
Or join 5,000+ subscribers and sign up for my free course, Blogging Bootcamp, to learn how to start your own money-making blog today!