Note: Affiliate links may be used in this post. I may receive a small commission at no extra cost to you if you use my affiliate link. Full disclosure policy here.

New Mediavine Requirements
Are you looking for information about the new Mediavine requirements?
If you've been blogging for a while, you've probably heard about Mediavine.
Mediavine is a popular way for bloggers to monetize their content. If you've been considering displaying ads on your blog, you have probably come across Mediavine in your research and want to know more about it.
Are you wondering about the Mediavine requirements for bloggers? Here's everything you need to know about how to apply to Mediavine.
I'll also share Mediavine alternatives if you cannot get into Mediavine, and tips for increasing your traffic so you can qualify for Mediavine.
What is Mediavine?
Mediavine is a full-service advertising network for bloggers.
When you join Mediavine, they handle everything for you when it comes to displaying ads on your blog. They will put the image and video ads that you are probably used to seeing on other websites on your blog, and you'll earn money based on how many people see those ads.
This is known as RPM (revenue per one thousand impressions.) Mediavine is known for doing everything they can to help you get the best RPM possible.
If your blog gets 100,000 pageviews per month, and your RPM is $25, that means you can earn $2,500 a month passively just from ads!
I have had two blogs with Mediavine, one a travel blog and one a college lifestyle blog. I highly recommend them as the best ad network for bloggers!
However, before you can join Mediavine, you must meet their requirements (which recently changed.) Here's what to know about the Mediavine requirements, the recent changes, and what to do to get your blog to qualify!
Mediavine Requirements
The official Mediavine requirements, taken from their website, are:
At least 50,000 sessions to your blog in the last 30 days (you must be using Google Analytics to track traffic and must verify this with a screenshot)
Good standing with Google AdSense
Your website must have original content in ANY niche as a lifestyle publisher (includes pretty much any topic like travel, food, parenting, finance, etc.)
You must publish long-form, engaging content
To break this down a little more: your blog must have gotten at least 50,000 sessions in the last 30 days to apply. Sessions are slightly different than pageviews, which is what most ad networks use, so be sure you are looking at the correct metric. (Overall sessions are usually slightly lower than pageviews.)
You must also be in good standing with Google AdSense. This just means that you have never been banned from using Google AdSense before.
And finally, while your blog content can be in almost any niche, it DOES have to be very high-quality. No spam, short "fluff" articles, thin content, etc.
One requirement that is NOT mentioned directly on their website is is that you should have traffic that comes primarily from English-speaking countries such as the United States, United Kingdom, Canada, and Australia. You should aim to have at least 50% of your traffic coming from these countries, if not more.
Additionally, the majority of your traffic should be spread around evenly to several blog posts or more, instead of concentrated on just one blog post which might have experienced a seasonal or viral spike in traffic.
Changes to Mediavine Requirements
In the past, the requirement was 25,000 sessions in the last 30 days. However, this was changed to 50,000 sessions in June 2020.
Mediavine also used to allow bloggers who already had one site with Mediavine to add additional sites once they reached 10,000 sessions.
However, this unofficial policy has ended and existing publishers must also meet the 50,000 sessions criteria to add a second site to Mediavine. (Some bloggers have reported still being able to apply with a second blog that does not meet the 50,000 sessions a month requirement, but your mileage may vary with this.)
Additionally, if the ownership of a Mediavine website changes, the new owner must reapply to Mediavine. (The existing account cannot be transferred.)
How to Apply to Mediavine
Applying to Mediavine is a straightforward process.
Simply go to the Mediavine website and click "Apply" in the top right corner. This will take you to an application form where you must answer some questions about your blog. Filling out the application should take under 10 minutes. Then you will hear back within 2-4 weeks about your approval.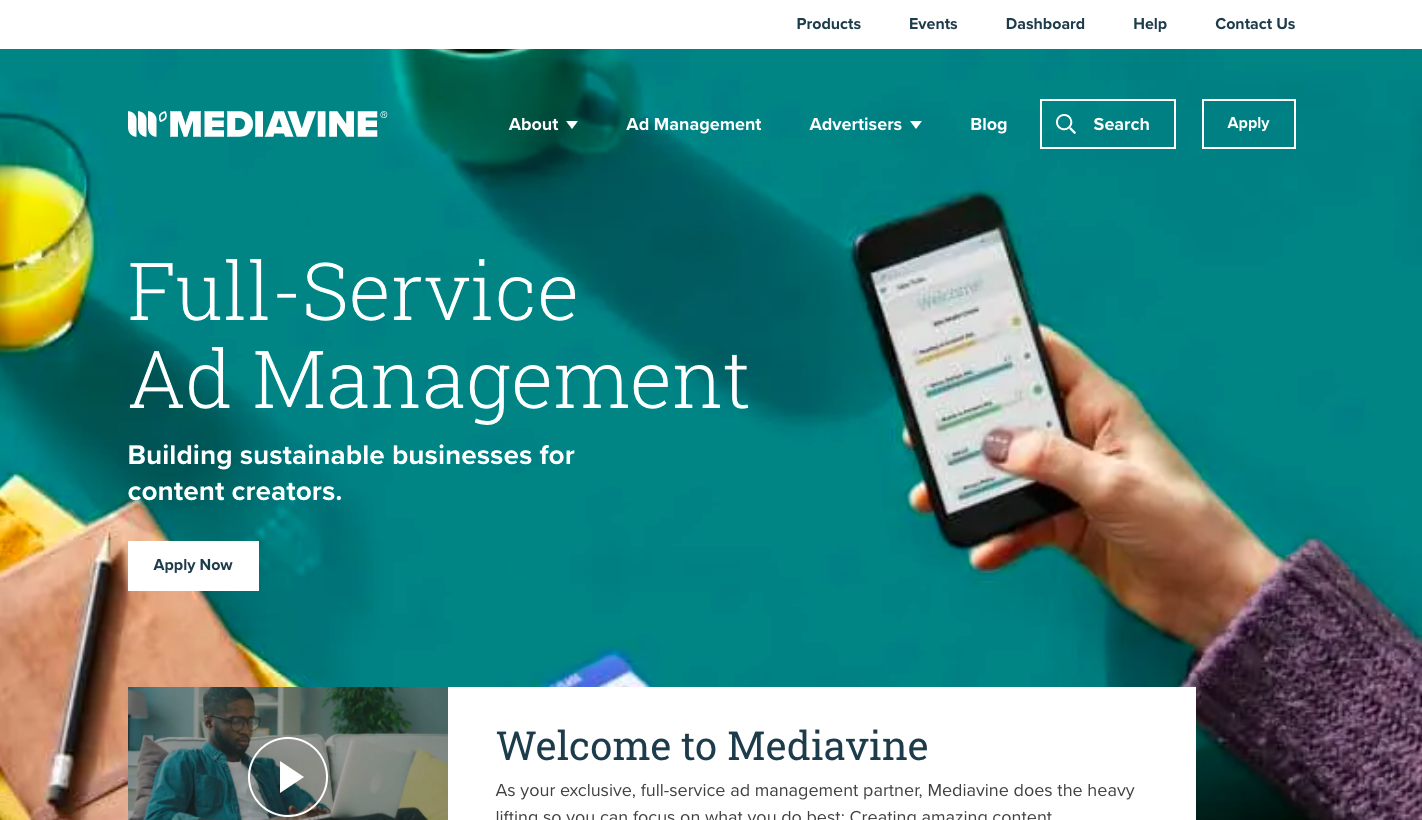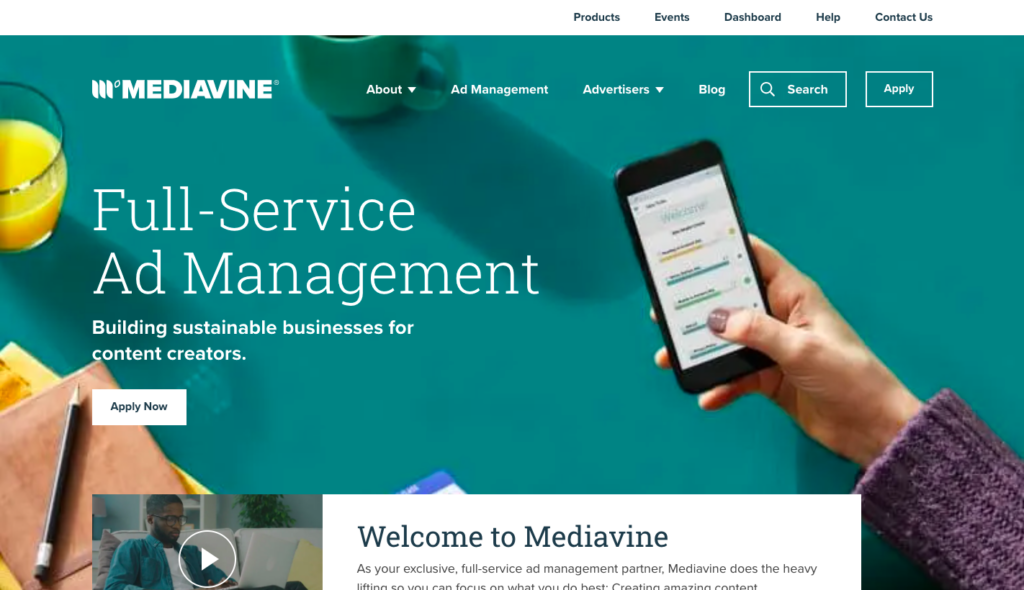 Once you are approved, it can take another couple weeks for ads to go live on your blog. For me, the whole process from applying to being approved to ads going live took less than a month on both of my blogs.
Mediavine is great with guiding new publishers through the application process and launch process. (Much better than my experience with other ad networks!)
Reasons You May Not Be Approved
Did you apply to Mediavine, but not get approved?
It can be discouraging, but don't give up! Aside from the most obvious reason that your blog did not meet the main requirements, there are other reasons your blog might not have been accepted into Mediavine.
One potential reason for being rejected from Mediavine is that your traffic is not consistent or diversified enough. Even if you meet the 50,000 sessions requirement, this can unfortunately be an issue that hinders your acceptance.
If all your traffic comes from only one source (for example, Pinterest) and none comes from organic search, that can be an issue. It can also be a problem if the majority of your traffic is due to the spike of a single viral post, instead of being spread more evenly throughout your content.
Another reason some bloggers get rejected is because of the location of their traffic. Mediavine only accepts blogs with traffic from mainly English-speaking countries (such as the United States, United Kingdom, Canada, and Australia.)
If the majority of your traffic comes from non-English-speaking countries, this can be the cause of your rejection from Mediavine.
The good news is that Mediavine allows you to reapply. If you get rejected once, don't be discouraged! I know several bloggers who were rejected from Mediavine at first, but after reapplying at a later date, they were accepted.
Mediavine Alternatives
If your Mediavine application got rejected, or you do not meet the criteria to apply, there are luckily some good Mediavine alternatives out there.
Here are the top ad networks for bloggers aside from Mediavine:
AdThrive (requires 100,000 monthly pageviews)
Monumetric (requires 10,000 monthly pageviews)
Ezoic (no traffic requirements)
Google AdSense (no traffic requirements)
You can read more in-depth about each of these Mediavine alternatives in my blog post about the best ad networks for bloggers.
How to Increase Your Traffic
If you want to apply for Mediavine, but your traffic is currently not high enough, don't despair! There are many things you can do to increase traffic to your blog so that you will be able to qualify for Mediavine in no time at all.
Here are some of the exact things I did that helped me increase my traffic enough to apply for Mediavine on two blogs.
Focus on SEO. If you haven't been focusing on SEO (search engine optimization) for your blog, now is a great time to start. You can update and improve old blog posts for SEO, and do keyword research to come up with ideas for new blog posts that will rank in the search engine results and bring you traffic.
Grow your Pinterest traffic. My blogs mainly got traffic from Pinterest (and organic search traffic to a lesser extent.) I follow the tips in Pinteresting Strategies for all my blogs and this has been the key to massively growing my Pinterest traffic, which helped me get into Mediavine!
Publish seasonal content. One thing that really helped me increase my traffic on both my Mediavine blogs was publishing high-quality seasonal content. What helped me get into Mediavine on my travel blog was some Christmas blog posts going viral in December, while on my college blog is was blog posts about graduation going viral in May. This is a great way to boost your traffic.
Write more blog posts. While the focus should always be on quality over quantity, more blog posts can equal more traffic. If you don't already have 50+ (and ideally 100+) solid blog posts published, that should be your priority.
Final Thoughts
Mediavine can be a great way for bloggers to make money.
Hopefully this guide to the new Mediavine requirements helps you understand exactly what it takes to get your application to Mediavine accepted.
And if you don't qualify, you can focus on increasing your traffic or check out some of the other ad networks for bloggers out there.
You may also enjoy…