Note: Affiliate links may be used in this post. I may receive a small commission at no extra cost to you if you use my affiliate link. Full disclosure policy here.

Is Affiliate Marketing a Pyramid Scheme?
Is affiliate marketing a pyramid scheme? If you're new to the world of affiliate marketing, this is a (very reasonable) question you might have.
You might also be wondering: Is there really any money in affiliate marketing? Is affiliate marketing a legit side hustle? Is affiliate marketing just MLM?
I'm here to answer all your questions, and also warn you about some common affiliate marketing scams that many beginners fall victim to.
The short answer is no, affiliate marketing is not a pyramid scheme.
But let's go more in-depth about what affiliate marketing actually is.
What Is Affiliate Marketing?
Affiliate marketing is an arrangement where an affiliate (that's you!) promotes a product and earns a commission on each product that they sell.
Affiliates receive a unique affiliate link for the product they are promoting.
When someone clicks on your affiliate link, it stores a cookie in their web browser, which is how the sale is attributed to you so you can earn a commission.
Thousands of companies offer affiliate programs.
One of the most well-known is Amazon's affiliate program.
As an Amazon affiliate, you can earn between 1% and 10% commission (depending on the category of product) on everything someone orders.
Some affiliate programs offer a flat-rate commission instead of a percentage-based commission. For example, in my guide on how to start a blog, I recommend that new bloggers use Bluehost for web hosting.
Bluehost pays me a flat-rate commission of $85 for every new customer who signs up for a web hosting plan through my affiliate link.
Affiliate marketing is a win-win situation because you can earn money promoting products you already use and love, and customers can get a trustworthy recommendation on a product to buy. And when someone makes a purchase through your affiliate link, it's at no extra cost to them.
Companies also win, because they are getting free advertising from affiliates, and in exchange, that's why they offer commission on sales.
You can share affiliate links in many different ways: on your blog, on Instagram, on YouTube, on Pinterest, on TikTok, in an email newsletter, and so on.
Read More: The Ultimate Guide to Making Money with Affiliate Marketing
Is Affiliate Marketing a Pyramid Scheme?
Now that we've clarified what affiliate marketing actually is, let's talk about what it's not. By definition, affiliate marketing is NOT a pyramid scheme.
A pyramid scheme is an illegal form of investing in which participants pay into a fund with a promise of big returns. The problem is, it's all funded by contributions from participants recruited by other members of the pyramid scheme, meaning only those at the top make any money. Everyone else loses.
And eventually, a pyramid scheme will collapse.
With affiliate marketing, you don't have to pay any money to get started if you don't want to, and you don't have to recruit anyone else.
You are simply promoting real products (not fraudulent investment schemes) and earning a commission on sales generated through your affiliate links.
Is Affiliate Marketing Just MLM?
Affiliate marketing is also not MLM (multi-level marketing.)
MLMs are companies that are often compared to pyramid schemes because they involve recruiting members to your "downline" to make money.
Much like a pyramid scheme, members at the top of MLMs can make money, but 99% of participants lose money, according to the FTC.
Some of the most common MLMs you've probably heard of before are Amway, Avon, Herbalife, Mary Kay, Young Living, Rodan + Fields, Monat, and Scentsy.
While it's true that some of these companies actually sell real products (like health supplements and makeup), the real way members make money is by recruiting others. You have to pay to join an MLM and may also have to pay recurring fees to maintain an inventory or for "training" within your MLM.
Unlike an MLM, there is no initial investment you have to make to begin affiliate marketing, nor are there any types of recurring fees.
Can You Lose Money in Affiliate Marketing?
If you're interested in affiliate marketing, you may want to understand the risks involved first. Such as, can you lose money in affiliate marketing?
If you don't spend anything to start with affiliate marketing (which is 100% possible to do) then it's really impossible to lose money.
However, if you make some related investments to affiliate marketing, you could theoretically lose some money. Let me explain what I mean.
While it's possible to make money from affiliate marketing on social media, the best way to make money from affiliate marketing is through blogging. Blog posts have a longer lifespan than social media posts, and you can earn passive income from affiliate links in one single blog post for years to come.
You could start your blog on a free platform like Blogger or Wix, but it's almost impossible to make money from these platforms because you're limited in how you can customize your blog and you don't fully own your content.
That's why I recommend starting a self-hosted blog.
This costs about $35 if you use Bluehost to start your blog, and that includes a .com domain name for your blog and one year of web hosting.
There are other ways you could spend money when starting a blog too, such as purchasing a premium WordPress theme for your blog.
Read More: How Much Does It Cost to Start a Blog?
Then there are affiliate marketing trainings and courses. While there's tons of great free information online about affiliate marketing (my own blog being one such source), sometimes it helps to pay for an online course to learn from an expert and get a streamlined path toward success.
I recommend Making Sense of Affiliate Marketing, an online course from Michelle Schroeder-Gardner, a blogger who makes $50,000 a month from affiliate marketing. This course is $197 but well worth it.
So let's say you decide to start a blog and invest in an online course.
It's still possible that you could spend a few months blogging and not end up making money from affiliate marketing (although if you follow a proven plan, this isn't a likely scenario.) In this case, you could lose however much money you spent, plus all the time that you invested in getting started.
Nothing in life or business is 100% risk-free. But affiliate marketing has one of the lowest start-up costs and highest potentials for profit out there.
Is Affiliate Marketing a Legit Side Hustle?
Hopefully I've shown you by now that affiliate marketing is legit.
Unlike a pyramid scheme or an MLM, it's very hard to lose money from affiliate marketing unless you invest a ton of money upfront.
(And see below to avoid costly affiliate marketing scams.)
Affiliate marketing is one of my favorite side hustles, and one that I earn $5,000 a month from. I now have several blogs, all of which are monetized with affiliate links. The great thing about affiliate marketing is that it's so broad, and there are products you can promote in virtually any niche.
For example, Blogging Her Way is all about teaching others how to start a blog and make money, so the affiliate products I promote are blogging-related.
But on my travel blog, I earn money recommending hotels and tours to my readers, as well as travel-related products from Amazon.
So affiliate marketing is definitely a great way to make money online, and something I've been doing successfully for over six years now.
Read More: Is Affiliate Marketing Legit?
Affiliate Marketing Scams to Avoid
Unfortunately, there are a number of affiliate marketing scams out there.
These types of scams give affiliate marketing as a whole a bad reputation and make people wary. Keep an eye out for these scams and avoid them!
Luckily, affiliate marketing scams are not too hard to spot.
Here are some of the most common scams to look out for:
1. Get Rich Quick Schemes
Get rich quick schemes are unfortunately common in the world of affiliate marketing. But luckily, they are also very easy to avoid.
While it is possible to be successful and earn money from affiliate marketing, it takes time and effort. There are no shortcuts to start making money.
So beware extreme claims of shady products that promise things like a "guaranteed, 100% effective system" to start earning from affiliate marketing. Especially if it promises success without doing any work, usually in a very short timeframe. These are always completely bogus claims, and a total scam.
They're also very easy to identify, and often look like this: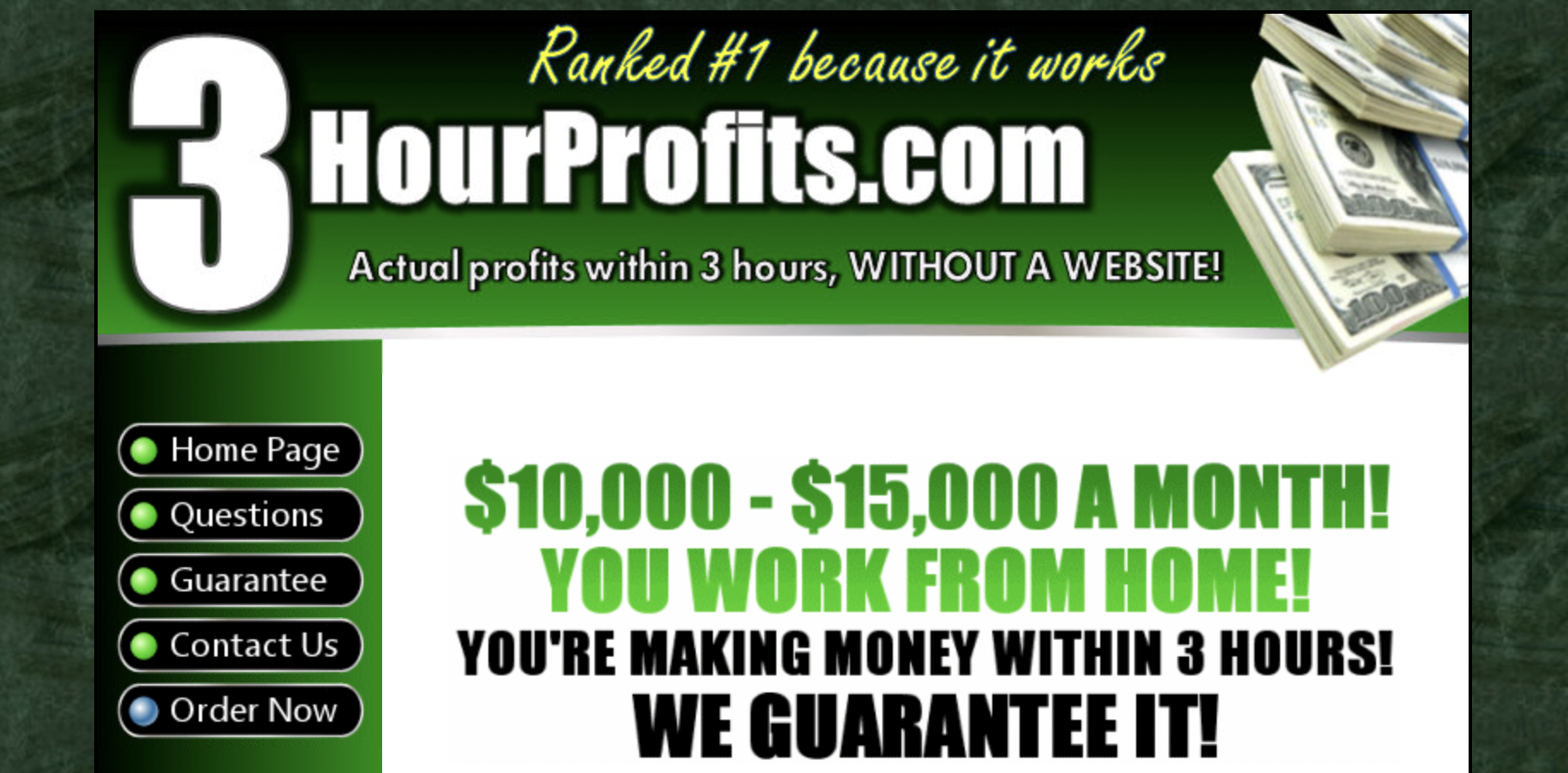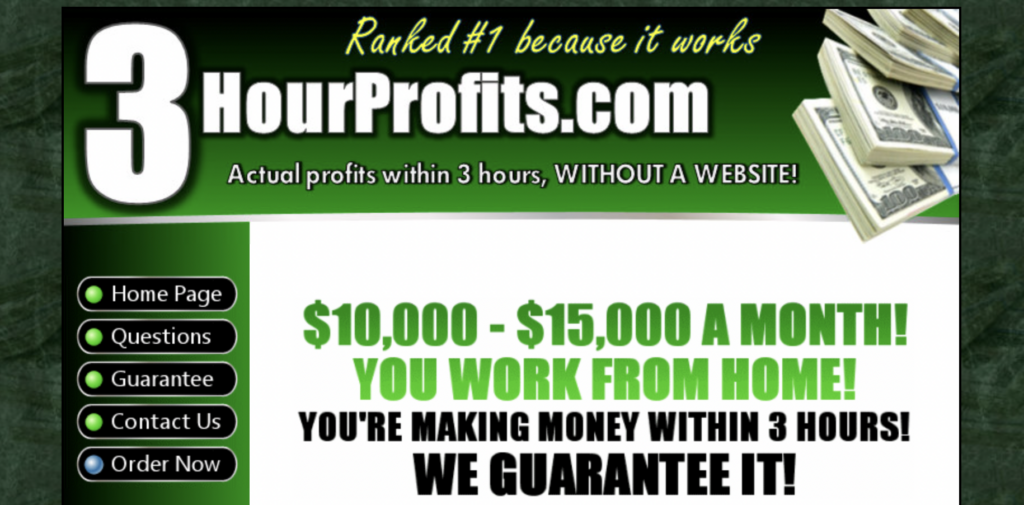 If you see anything like this, turn away immediately!
As much as scam artists like to claim you can, there's no way to make tens of thousands of dollars from affiliate marketing in just a few hours.
There's no "automatic" way you can start making money from affiliate marketing, or else everyone would be doing it. If it sounds too good to be true, then it is.
2. Pay to Join Affiliate Programs
Having to pay to join an affiliate program is a huge red flag.
Almost all affiliate programs are totally free to join. It doesn't make sense to charge potential affiliates, because most companies WANT to recruit new affiliates to advertise for them – so why make them pay?
The only exception to this is that some legit affiliate programs may ask for a nominal deposit to weed out any scammy applicants.
For example, the affiliate network Awin charges a $5 fee to join, which gets refunded with your first affiliate payment. (However, I recommend the affiliate network Skimlinks instead because it's free to join.)
However, if another affiliate program is asking you to PAY to join for the opportunity to make money, chances are it's a scam and a waste of money.
3. Low Quality or Fake Products
Another thing to watch out for is affiliate programs for low quality or fake products. This can be a common scam in the world of affiliate marketing.
As a general rule, you should only promote products that you actually use and love, or that you can at least vouch for the quality of. It's really transparent when someone is trying to promote something just to make a quick buck from an affiliate sale, and not because they actually recommend it.
So if you are getting started with affiliate marketing, watch out for affiliate programs that pay huge commissions, but might not be for a good quality product. (Or worse, a product that doesn't even really exist.)
You see this a lot in the diet and weight loss niche or the financial niche. Be wary of affiliate programs for things like weight loss supplements or cryptocurrency products. That's not to say all these affiliate programs are bad, but it's a good idea to stick with products you personally know and trust.
4. Expensive Affiliate Trainings
Finally, one big scam to watch out for is super expensive affiliate marketing trainings that don't actually provide much value to you.
If you want to get started with affiliate marketing, there is a TON of good information online for free. (In fact I have a lot on my blog!) You don't need to invest thousands of dollars into an online course or a monthly membership that promises to teach you how to make money from affiliate marketing.
I don't have a problem with paying for online courses. I think they can be a great investment, and in fact there's quite a few I have taken and recommend to others all the time. BUT the difference is I would never recommend something that costs thousands of dollars. That's just too much for an online course!
The worst part is these trainings often don't deliver the value they promise, and won't bring you any closer to making money from affiliate marketing.
How to Get Started with Affiliate Marketing
Okay, so now we've covered the affiliate marketing scams to avoid.
But how can you actually get started with affiliate marketing?
First up, I recommend reading my ultimate guide to affiliate marketing.
Then it's time to start applying to affiliate programs. You'll want to read my top tips for getting approved for affiliate programs before you start.
If you need help finding affiliate programs to join, I created a free list of more than 250 affiliate programs for bloggers, broken down my niche.
Sign up below to get the free list delivered to your email inbox!
Finally, if you're looking for a proven online course to help you supercharge your affiliate marketing success, I highly recommend Making Sense of Affiliate Marketing. I took this course when I first started blogging and it was incredibly valuable in helping me make money from affiliate marketing.
If the course is out of your budget, Michelle also created a free affiliate marketing ebook, which you can download by clicking here.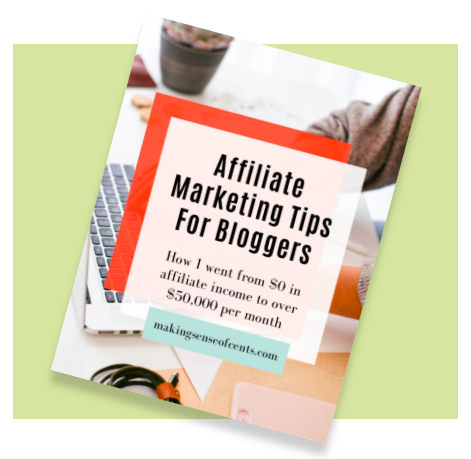 This ebook covers the basics of affiliate marketing, and also contains tips from other successful bloggers about how to make money from it.
More Affiliate Marketing Tips
Looking for more tips about affiliate marketing?
Check out the following blog posts to get started: