Note: Affiliate links may be used in this post. I may receive a small commission at no extra cost to you if you use my affiliate link. Full disclosure policy here.

Best Blogs About Blogging
These are the best blogs about blogging to start reading.
"Blogging about blogging" can be a somewhat controversial topic. And I understand why. One of my pet peeves is bloggers who ONLY make money by teaching others how to blog, but have never actually run a successful blog themselves. It begins to feel like a pyramid scheme.
Personally, I blog about blogging, BUT I have also started and sold multiple successful blogs in various niches. I've made money blogging on topics like travel, lifestyle, and college. Not just "blogging about blogging."
So when I want to get blogging tips from other bloggers, I like to make sure that they are coming from a good, quality source first.
This includes bloggers who have been in the game for a long time and know what they're talking about. They've had successful blogs that aren't just… blogging about blogging. And they provide real, valuable advice.
These are my favorite blogs about blogging (aside from my own…) I recommend.
Most of these bloggers publish regularly on their blogs, but I also recommend signing up for their newsletters so you can get access to even more advice!
Suzi's blog has great advice for all bloggers (not just moms!)
She is a former engineer turned blogger, and she has an excellent online course called Blog by Number which is perfect for new bloggers. She brings an engineer's mind to blogging, and is great at explaining things in an easy-to-understand way, even if you aren't tech-savvy in the least.
Chelsea is a champion at blogging and selling blogs! In fact, I have worked with her through her website brokerage Blogs for Sale to sell four of my blogs.
If you want to learn about blog flipping then she is number one. Chelsea has started and sold many websites herself, along with brokering hundreds of sales.
Elna is another mom blogger who has a ton of great advice for all bloggers.
Not only is she great at blogging, she's knowledgeable about all things marketing, SEO, and content writing. In addition to running multiple blogs, she also has a successful freelance writing business.
For practical blogging advice, I also like reading Ana's blog. With a background in marketing, she has a lot of great tips for new and established bloggers.
She also shares income reports on her blog which are extremely detailed.
Lauren and Alex started a highly successful health and fitness blog before they started teaching others how to blog, which I appreciate. They have a lot of good advice on their blog, as well as a helpful podcast for new bloggers.
Another blogger who started out in a totally different niche before she began blogging about blogging is Tracie. She had an extremely successful frugal living blog which she sold for multiple six figures after running it for many years.
Her blog offers great advice for new and established bloggers.
While Michelle's blog is not strictly about blogging (it's a personal finance blog) she does have a large volume of blogging-related content.
Not to mention she is well-known for sharing her blog income reports for many years of how she earns $100,000 from blogging.
How to Start a Blog for Beginners
Do you want to get started with blogging right now?
It's something you can do in less than fifteen minutes actually!
I wrote a complete step-by-step guide on how to start a blog for beginners that goes into all the details of getting your blog up and running.
I also created Blogging Bootcamp, a free email course, that will show you how to start a blog and make money blogging in just five days. You can sign up here:
And here's a quick overview to starting a blog for beginners:
1. Click here and then click the "Get Started" button:
2. Select your hosting plan
Which plan should I choose? I recommend the Basic plan for new bloggers.
I'm personally on the Plus plan, but that's only because I run multiple blogs. Otherwise I would probably choose the Basic plan!
3. Put in your domain name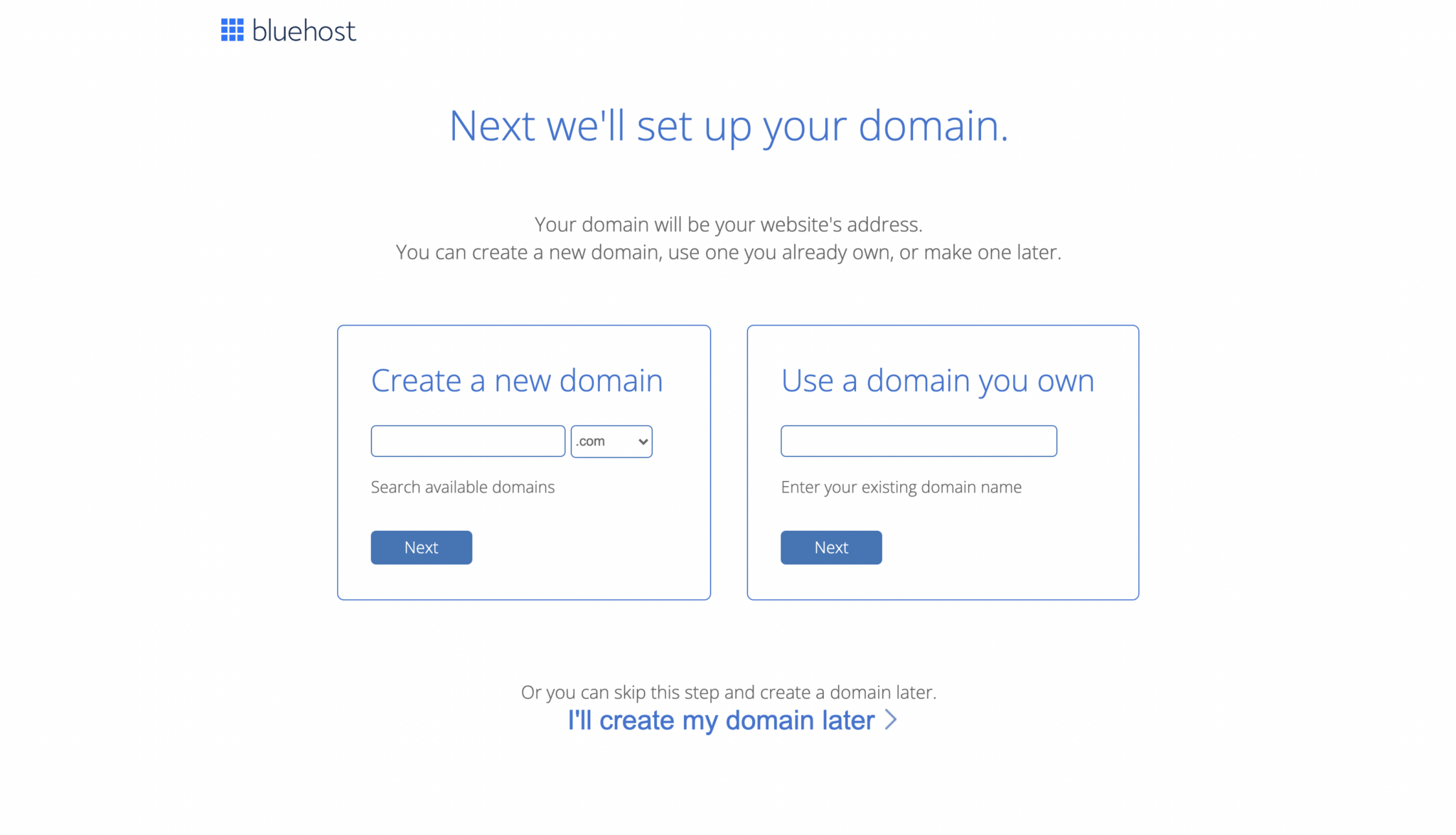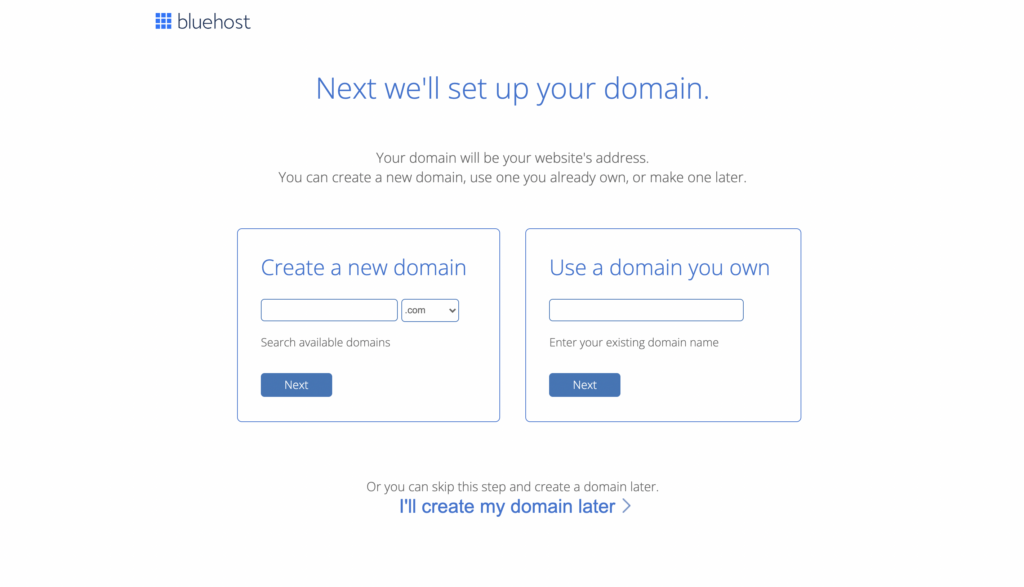 This is where you'll put in the domain name that you want to use for your blog.
Related: How to Choose a Blog Name & Blog Name Ideas
What if I haven't decided on a name yet? If you haven't decided on a domain name for your blog yet, click "I'll create my domain later." Or you can wait a couple seconds and this offer will pop up on the screen: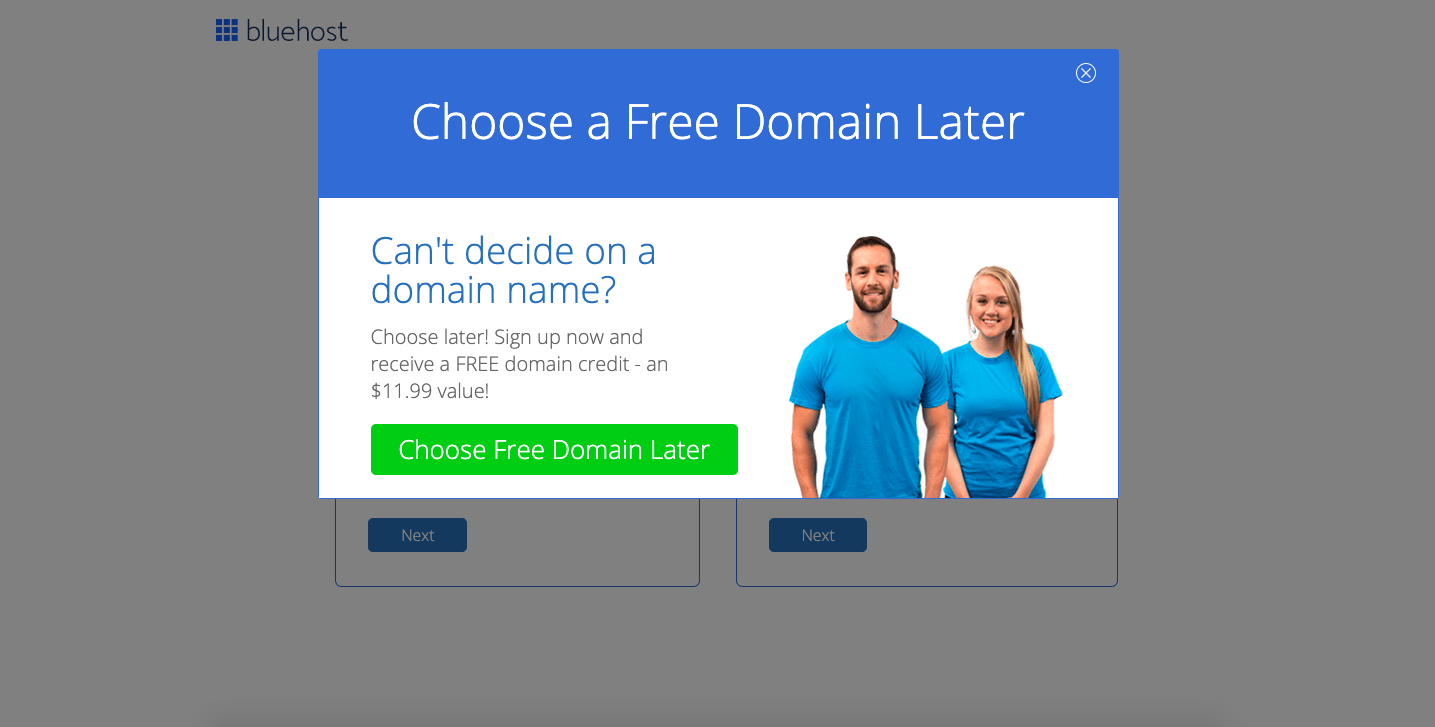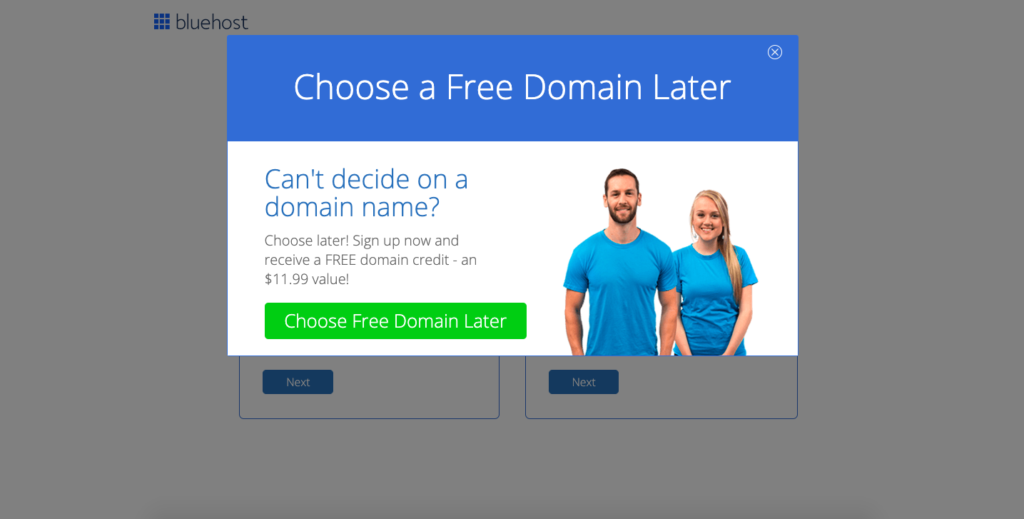 Select this option and you can go ahead and set up your blog now, then use the free credit to buy your domain name later.
4. Create your hosting account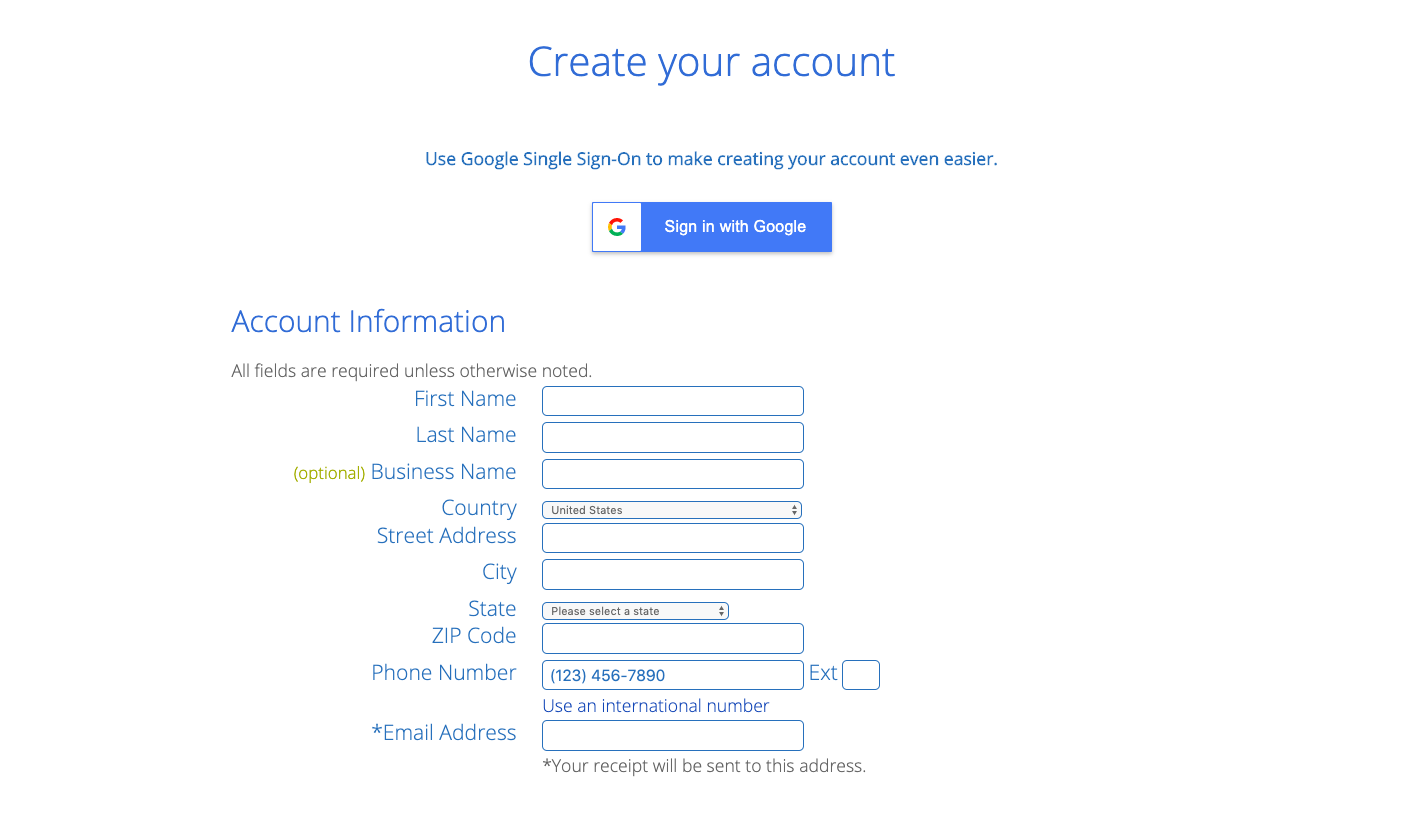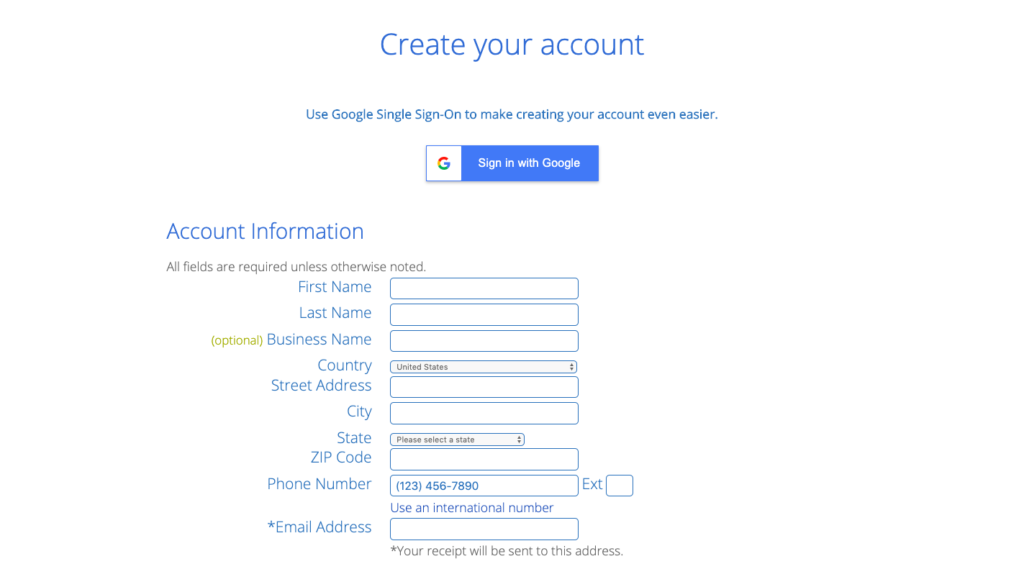 5. Choose your package and pay
This is where you'll select your hosting plan.
I recommend the 12-month plan for $2.95 a month, for a total cost of $35.40 for the year. But you can also choose a 24-month or 36-month plan.
What about package extras? You have the options to add on extra paid services like site backups, SEO tools, or site security.
I personally don't recommend any of these paid extras, because there are free WordPress plugins you can install that do the same things.
6. Congrats, you're done!
Now you're all set! Bluehost will automatically install WordPress for you.
What exactly is WordPress? WordPress is the content management platform that your blog will run on. Your WordPress dashboard is where you will go to edit the look of your blog, write blog posts, upload images, etc.
It's extremely easy to use, even if you're a total beginner.
More Blogging Resources