Note: Affiliate links may be used in this post. I may receive a small commission at no extra cost to you if you use my affiliate link. Full disclosure policy here.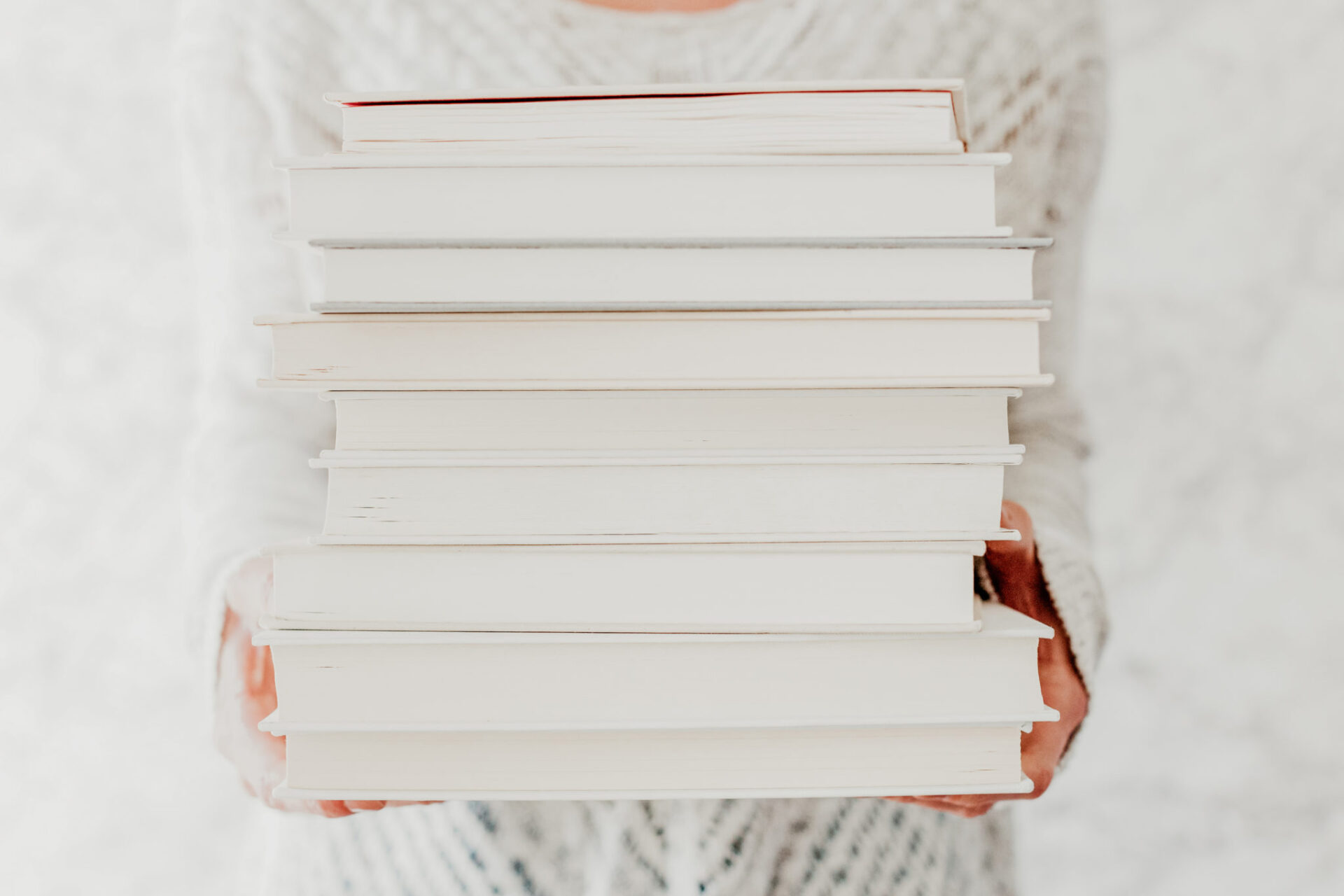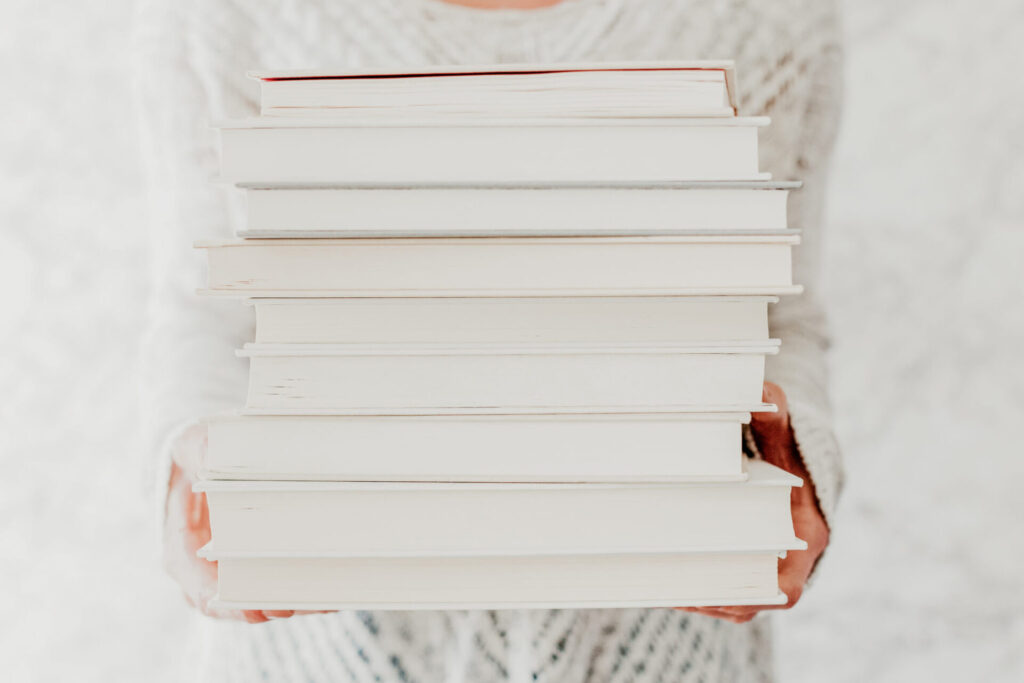 How to Start a Book Blog
This guide will teach you exactly how to start a book blog in five easy steps!
Do you love reading? Do you want a way to connect with other bookworms and share your reading recommendations with the world?
If so, starting a book blog is perfect for you!
Starting a book blog is a great way to share your love of reading, have a creative outlet, and yes, even make some money from your blog!
Blogging has a very low investment  (it costs just $2.95 a month for a domain name and hosting with Bluehost) but a high potential for profit.
So are you ready to learn how to start a book blog and make money blogging?
Here's everything you need to know!
Step 1: Define Your Niche
The first step to starting a book blog is choosing your niche. Your niche is simply the topic or topics that you write about on your blog.
Honestly, "book blog" is already a pretty narrow niche.
Unlike a lifestyle blog which is more general and where you might want to pick three or four topics to focus on, a book blog is already very niche.
You can still go more niche if you want to, though.
For example, maybe your book blog will focus on one specific genre such as romance or fantasy, or maybe you'll have a section for literary-inspired travel. It's up to you and you can get really creative with choosing sub-topics for your book blog to set it apart from the crowd of other book blogs out there.
Related: What to Blog About: 150+ Profitable Blog Niche Ideas
Step 2: Choose a Domain Name
Once you've decided on your niche, it's time to come up with a domain name.
Your domain name is simply your blog's address on the Internet. It's the first thing people will remember about your blog, so it's important to choose a good one.
Related: Book Blog Names: Ideas and Examples
Here are some tips for choosing a domain name:
Make your name easy to spell and say. 

Don't use misspelled words, numbers, or hyphens in your domain name. All of these things will make your name a lot more confusing and harder for people to remember.

Make sure that the .com of your chosen name is available.Try to avoid alternative domain name endings like .net or .co because they are less common, harder to remember, and less trustworthy.
Make your name related to your niche. This way people will instantly know what your blog is about. For a book blog, you can use words related to books, reading, literature, etc. Some great book blog name examples are Perpetual Page-Turner, Never Enough Novels, and The Uncorked Librarian.
Use your own name. If you can't think of a catchy name for your blog, using your own name as your domain name is always a safe bet.
Don't overthink it. Try not to spend too much time on this step or worry about picking the "perfect" domain name. Chances are, whatever name you pick will grow on you and start to feel like a great fit.
Related: How to Choose a Blog Name
If you can't decide on a name yet, that's okay! You can come back and choose one later after you sign up for web hosting with Bluehost.
Step 3: Get Web Hosting
​If you want to make money as a blogger, you will need to have a self-hosted blog. This means that you own all of your content and your blog is totally yours, as opposed to using a hosted platform such as Blogger, Wix, WordPress.com, etc.
Even if you are not a very technical person, setting up web hosting is extremely simple and only takes a few minutes.
First, you will need to choose a web host.
The web hosting company I use and recommend is Bluehost.
Here are a few reasons why I like Bluehost:
They have some of the most affordable web hosting plans out there.

You can get your domain name for free with them (as opposed to paying $15 to $20 with an outside company.)

Their service is reliable and robust, so you will never have to worry about your website going down or loading slowly.

Many of the most successful bloggers I know use Bluehost.

They have great customer support and I have always had my questions answered quickly whenever I needed help.
Bluehost has very generously offered hosting packages starting at just $2.95 a month for readers of Blogging Her Way, along with a FREE domain name.
To get this special pricing, just be sure to use any Bluehost link in this article!
Here's how to set up web hosting with Bluehost:
1. Click here and then click the "Get Started" button:
2. Select your hosting plan
Which plan should I choose? I recommend the Basic plan for new bloggers.
I'm personally on the Plus plan, but that's only because I run multiple blogs. Otherwise I would probably choose the Basic plan!
3. Put in your domain name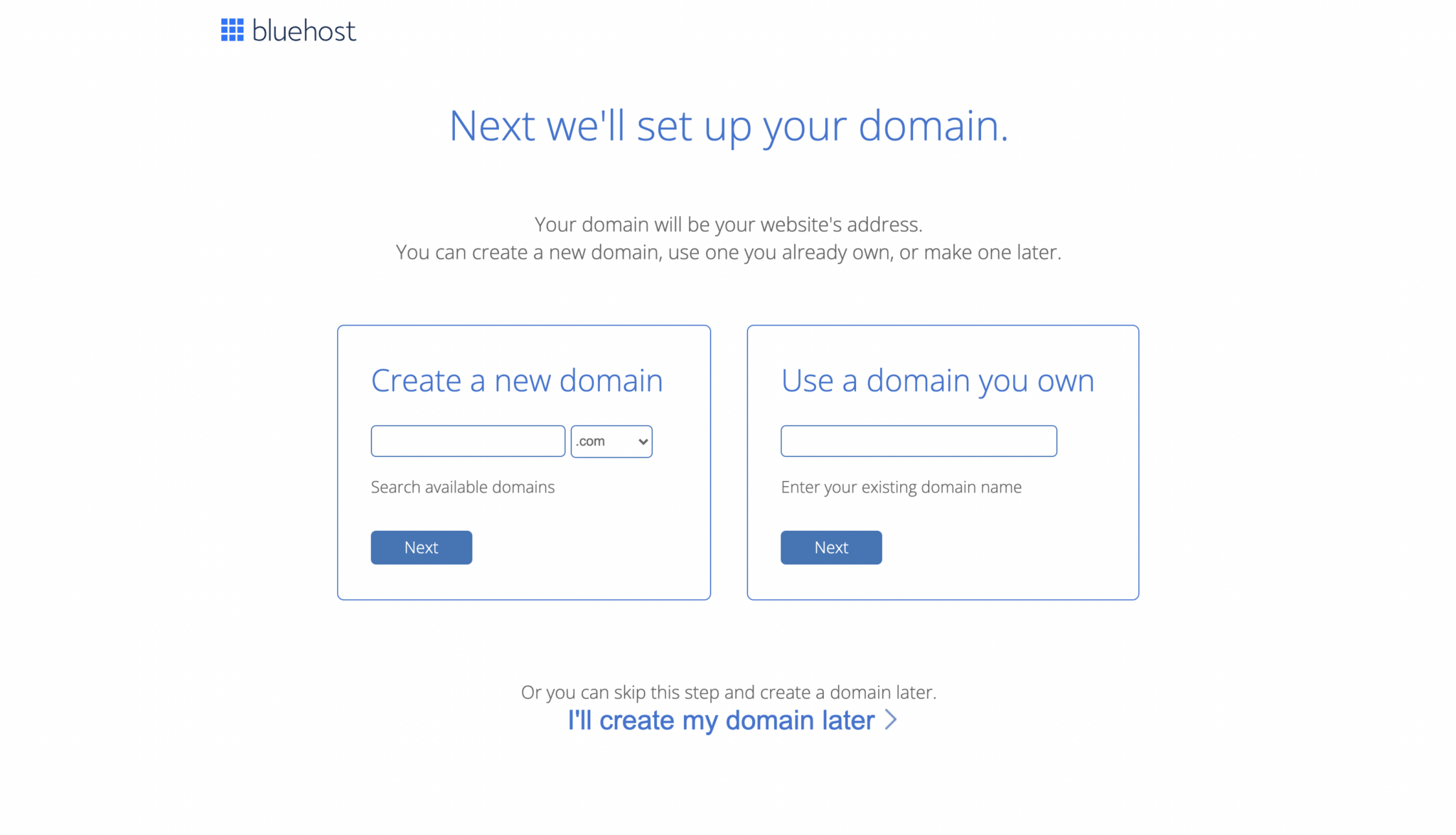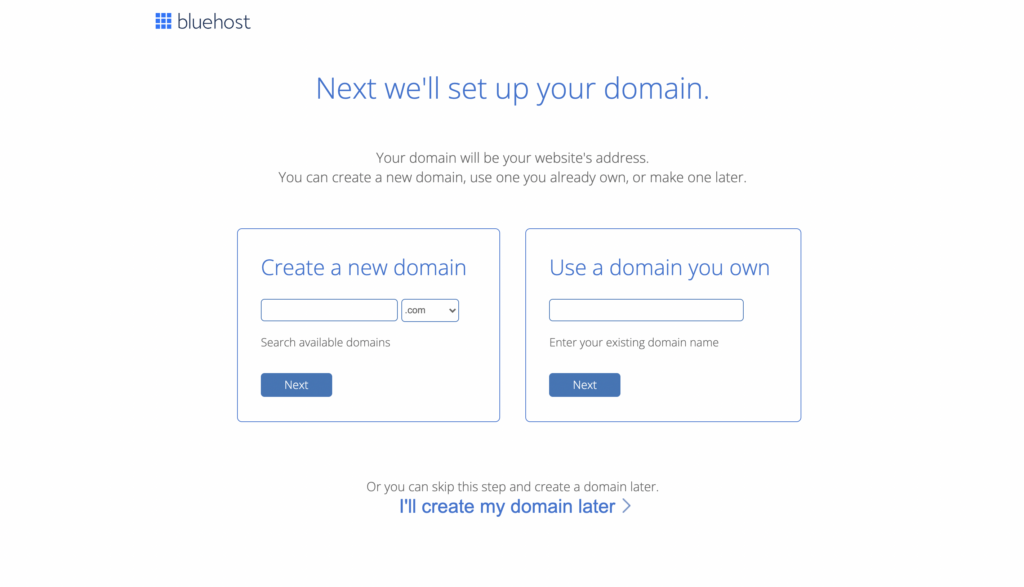 This is where you'll put in the domain name that you decided on earlier.
What if I haven't decided on a name yet? If you haven't decided on a domain name for your blog yet, click "I'll create my domain later." Or you can wait a couple seconds and this offer will pop up on the screen: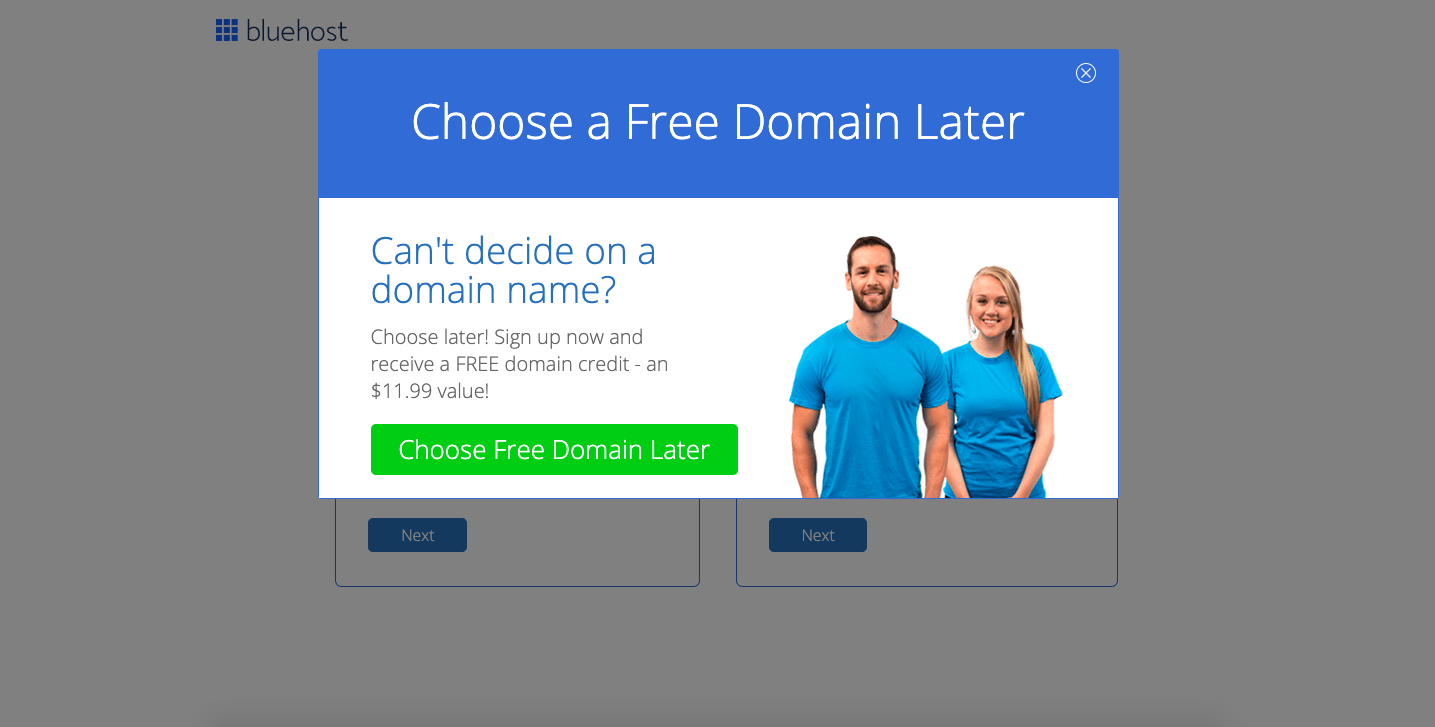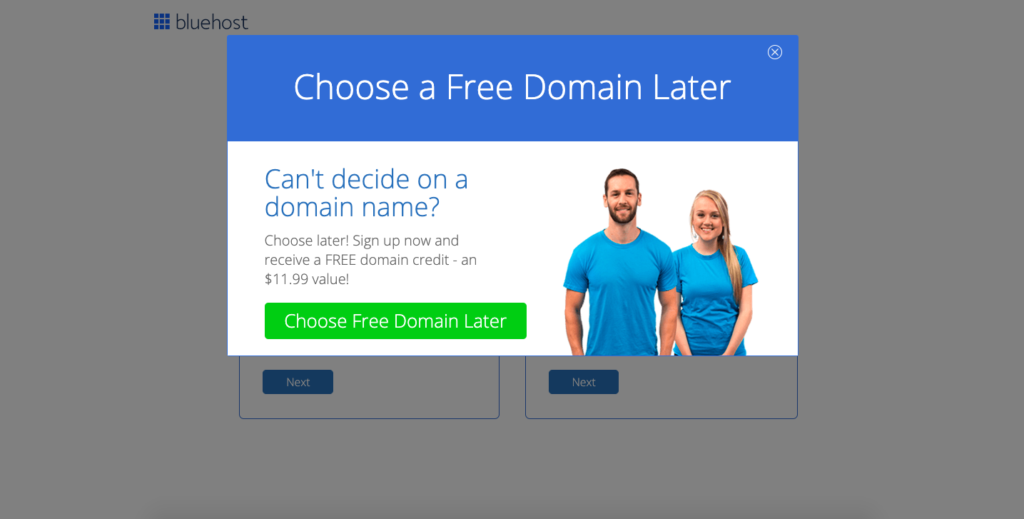 Select this option and you can go ahead and set up your blog now, then use the free credit to buy your domain name later.
4. Create your hosting account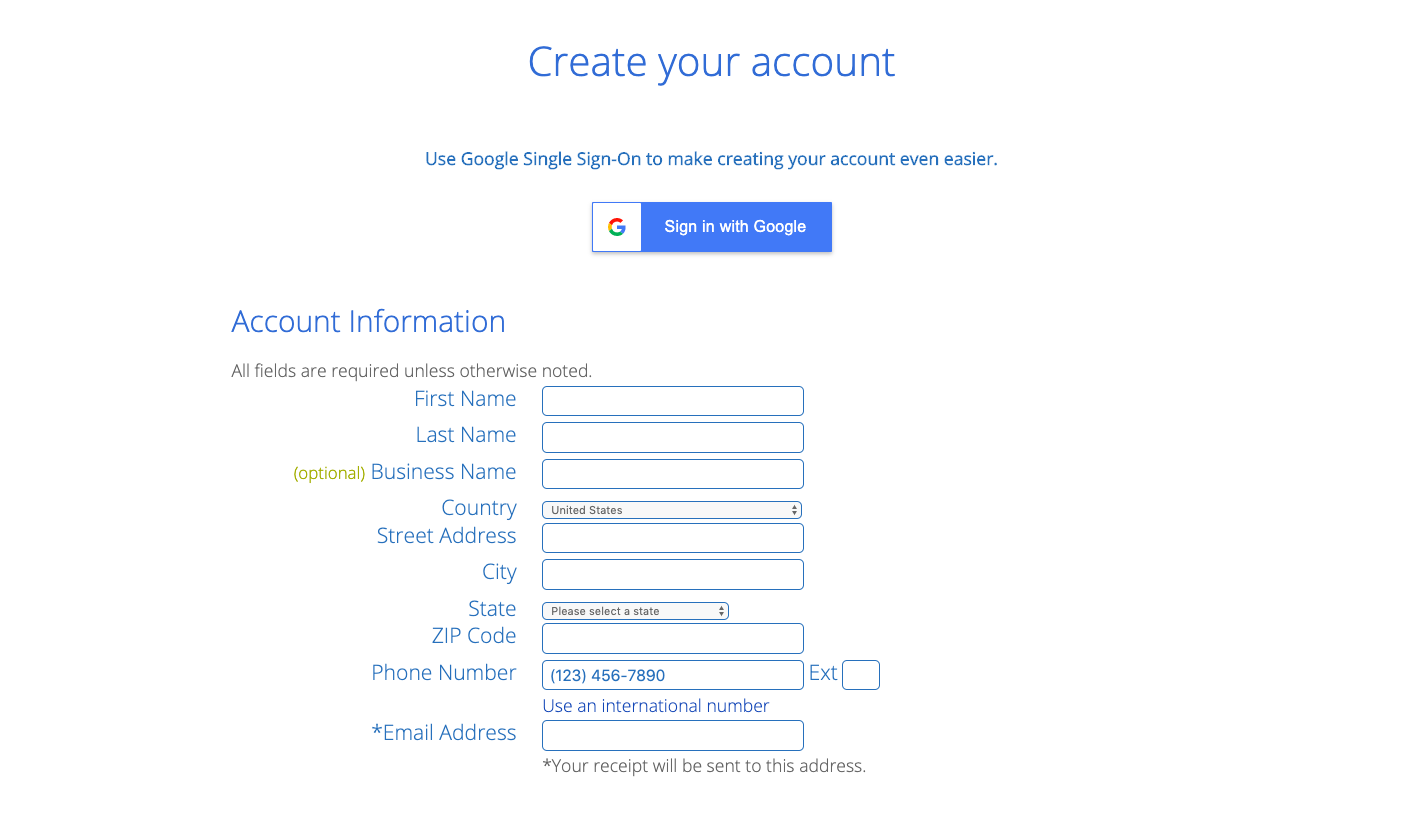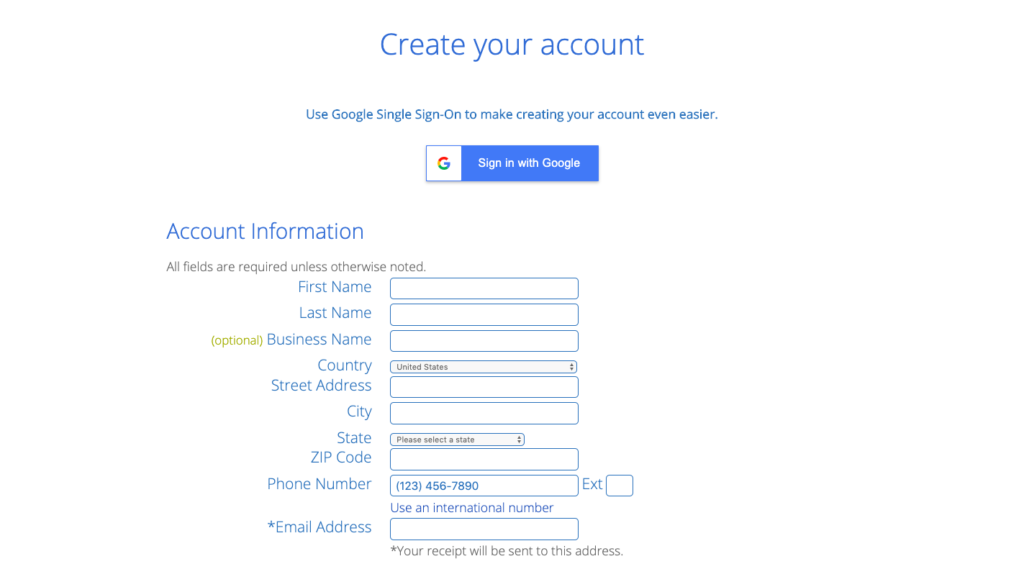 5. Choose your package and pay
This is where you'll select your hosting plan.
I recommend the 12-month plan for $2.95 a month, for a total cost of $35.40 for the year. But you can also choose a 24-month or 36-month plan.
What about package extras? You have the options to add on extra paid services like site backups, SEO tools, or site security.
I personally don't recommend any of these paid extras, because there are free WordPress plugins you can install that do the same things.
6. Congrats, you're done!
Now you're all set! Bluehost will automatically install WordPress for you.
What exactly is WordPress? WordPress is the content management platform that your blog will run on. Your WordPress dashboard is where you will go to edit the look of your blog, write blog posts, upload images, etc.
It's extremely easy to use, even if you're a total beginner.
Step 4: Design Your Blog
Now it's time for the fun part – designing your blog!
When you log in to your WordPress dashboard for the first time, you will be prompted to go ahead and choose a theme for your blog: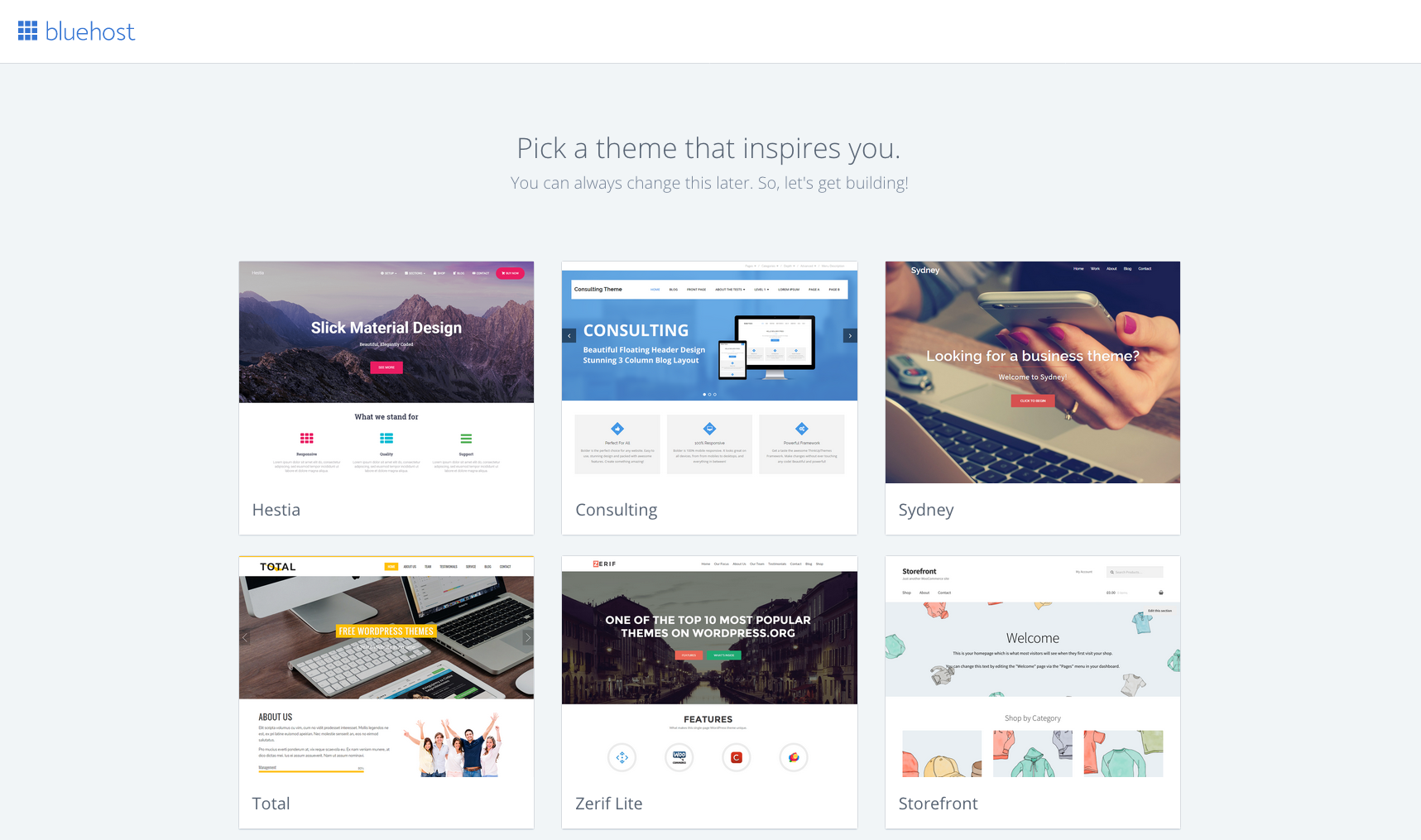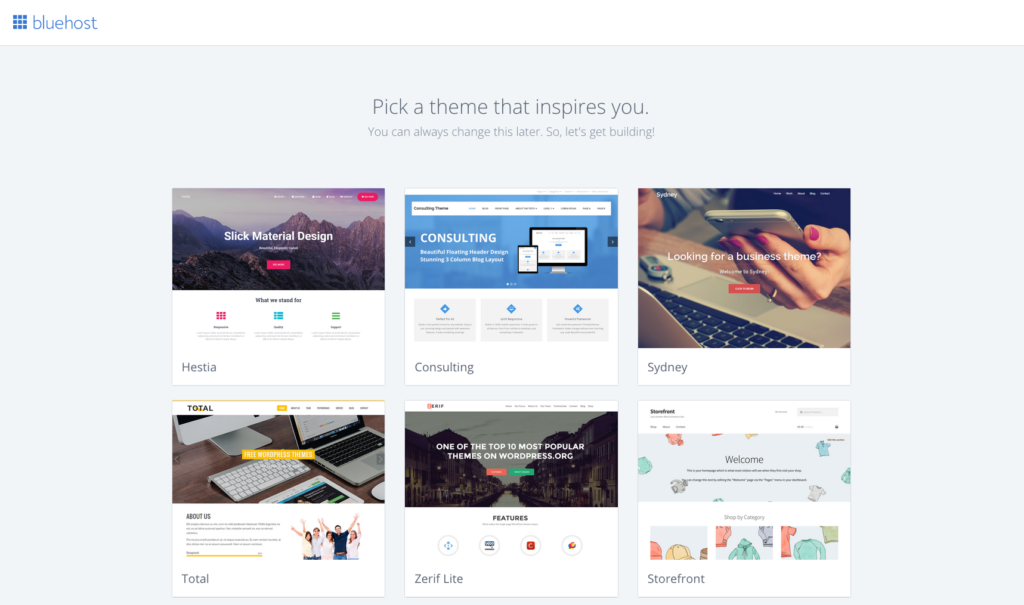 You can pick one of these default themes if you want, but I don't recommend it.
For one, the majority of these free default themes are not designed with bloggers in mind. Most are designed for business websites.
Additionally, choosing a premium theme over a default theme will make your blog look more professional right from the start.
Here are the benefits to choosing a paid theme for your blog:
They come with step-by-step set-up instructions

You will have access to customer support from the theme creator.

Paid themes come with crucial features like a mobile responsive design and customization options.

Your blog will look prettier and more professional.
Here are some themes I absolutely LOVE that are perfect for book bloggers:
Installing your WordPress theme
To install your theme, go to Appearance > Themes in the lefthand menu of the WordPress dashboard, which looks like this: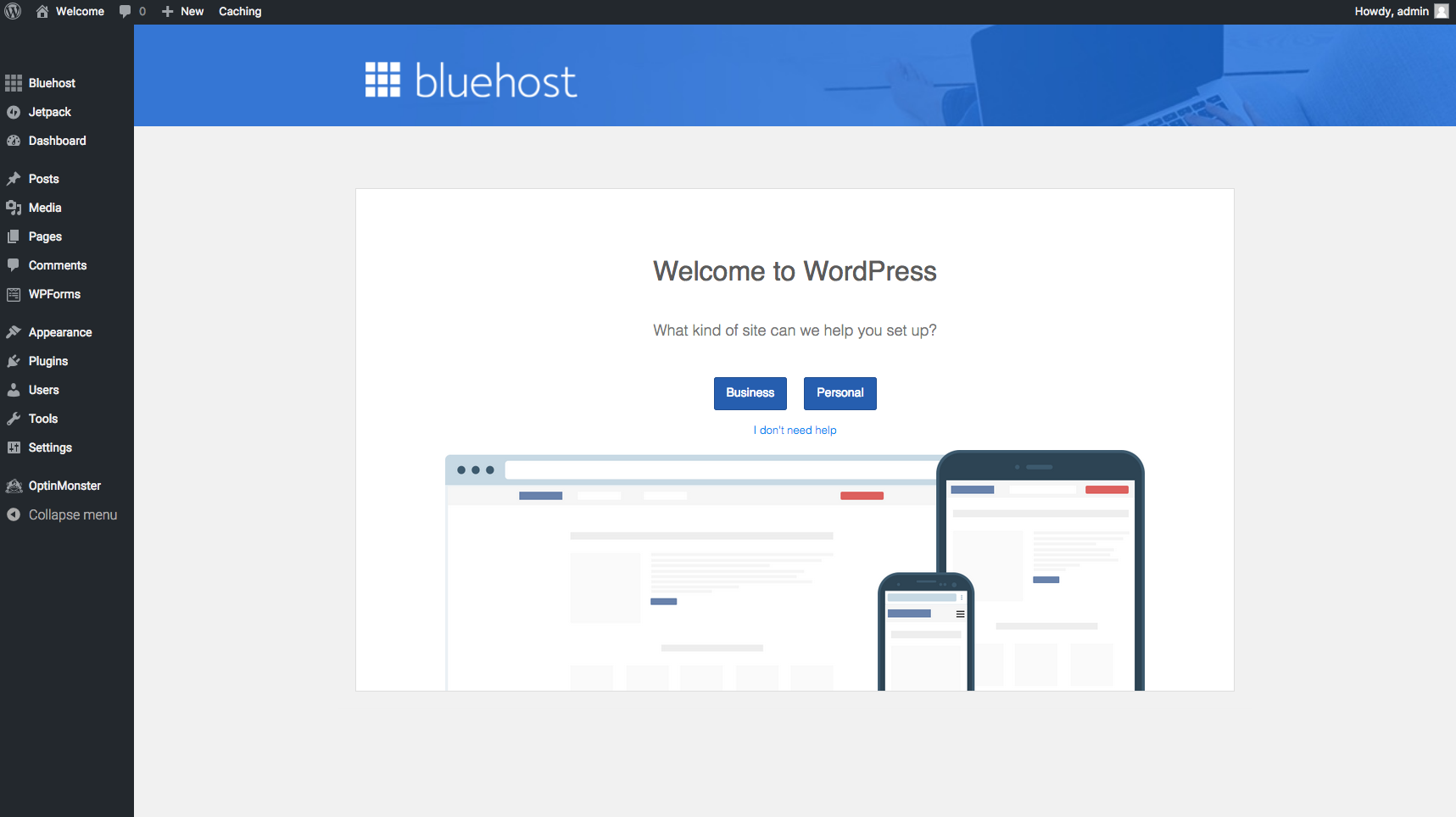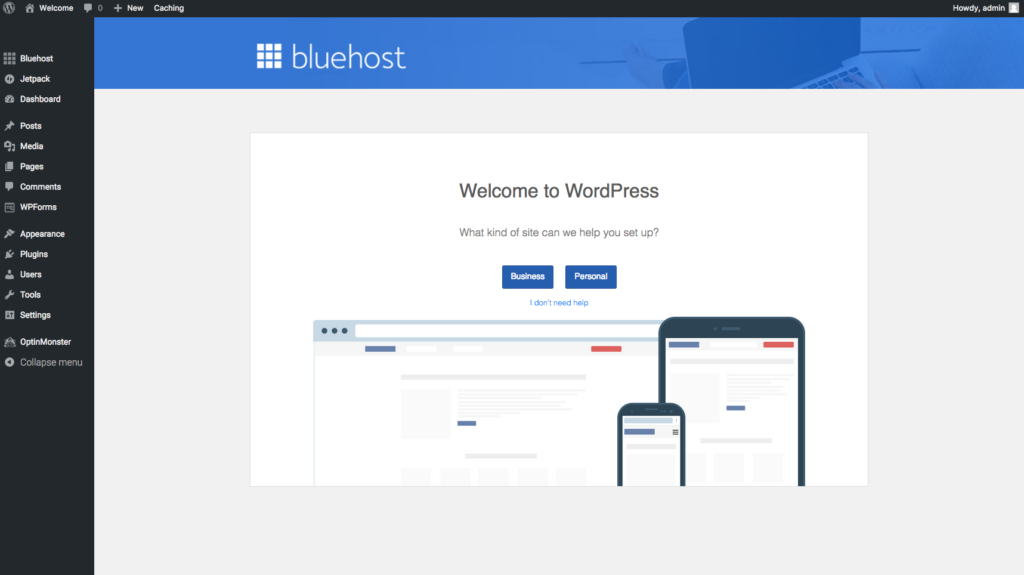 Then simply upload your theme file and install it.
Once you have installed your theme and are happy with the way everything looks, you can go ahead and launch your blog! Until you follow this step, your blog will just display a "Coming Soon" landing page.
To launch, go to the Bluehost menu on the top left of your WordPress dashboard: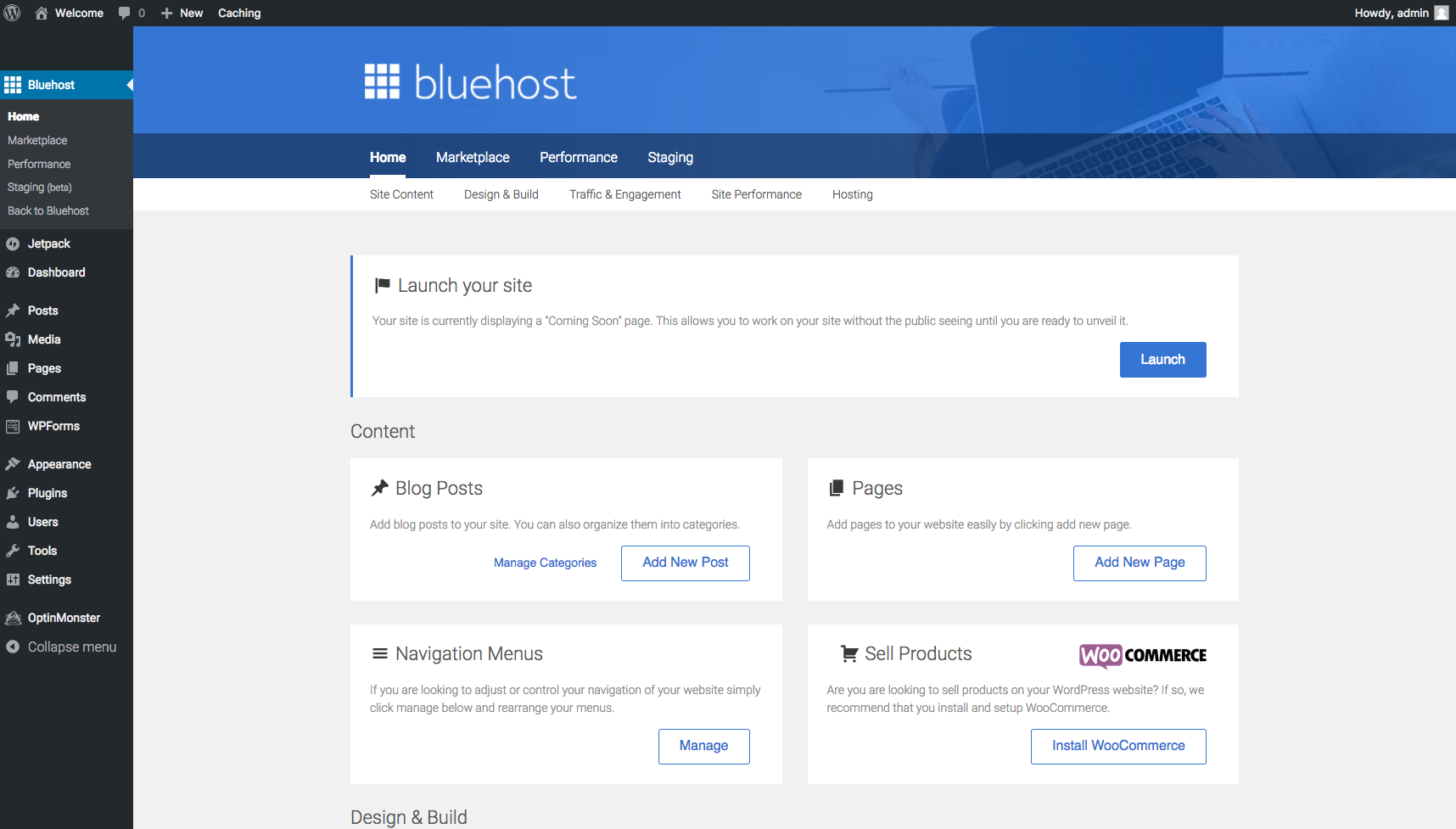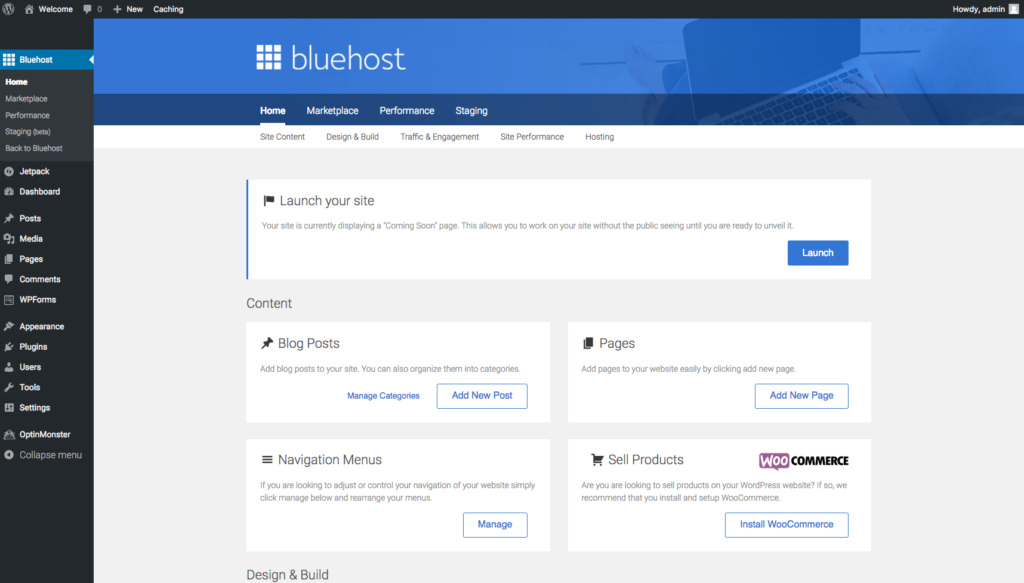 All you have to do is fill in this info and you're good to go: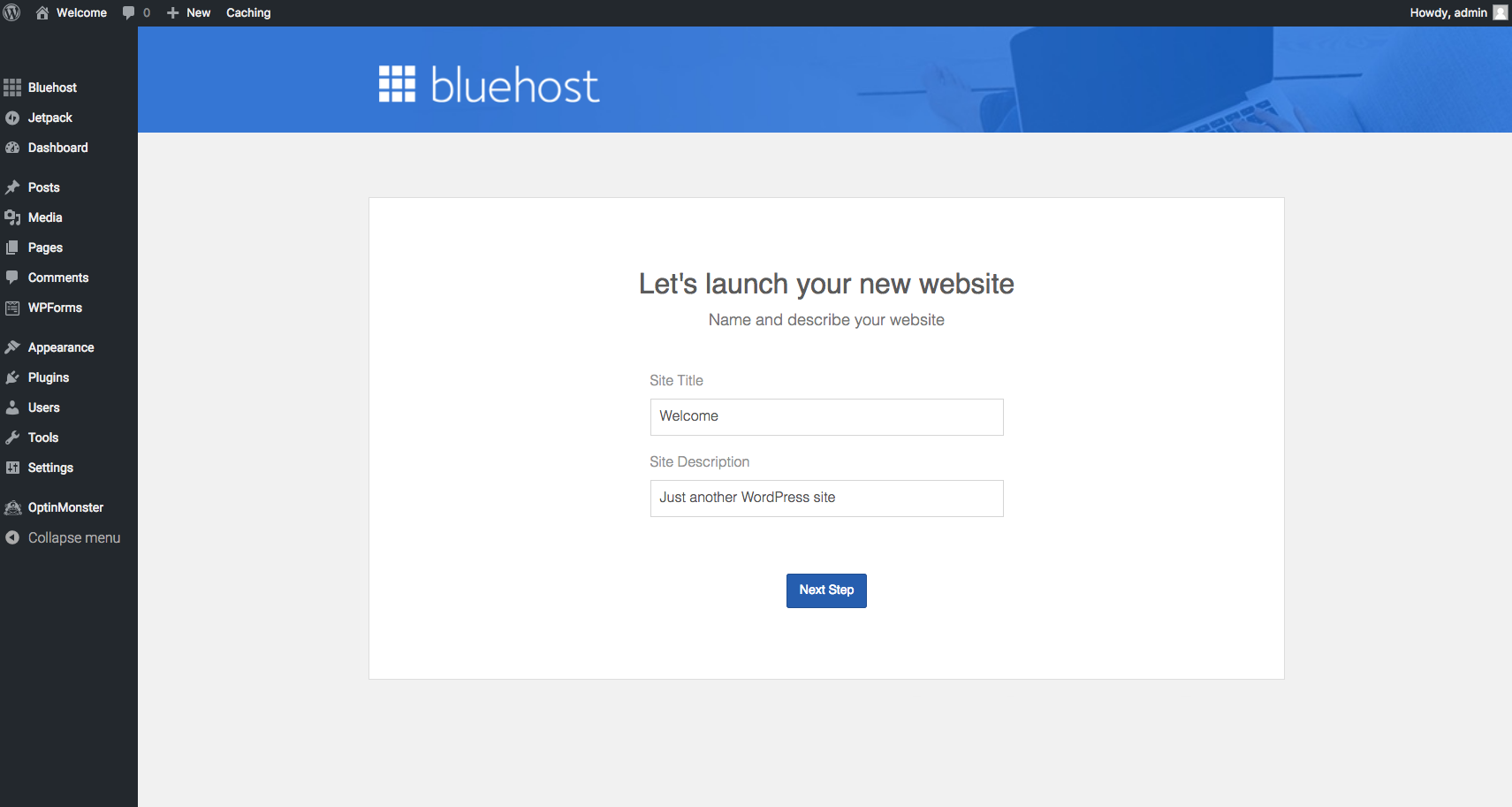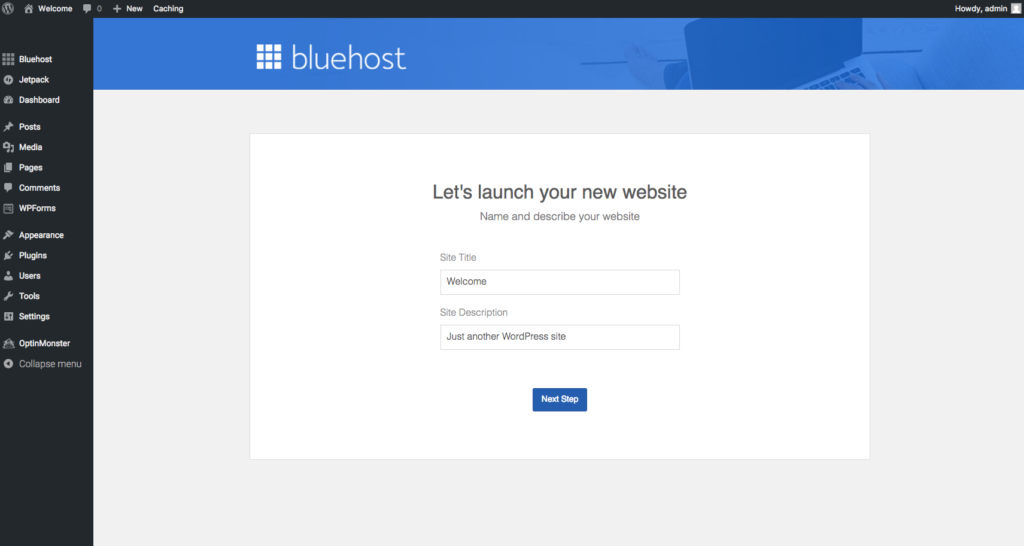 Congrats! Your book blog is now live.
Step 5: Start Blogging!
So you've started your blog – now what should you blog about?
I recommend getting at least 5 to 10 high-quality blog posts published right away. That way new visitors will have something to read on your blog!
Some popular book blog post ideas include:
Book reviews
Books to read after you finish X
Gift ideas for readers
Books about a certain topic
Best books in X genre
Tips for reading more
I also put together a big list of blog post ideas for book bloggers to help you out with more content ideas for your new book blog.
How Book Blogs Make Money
You might be wondering how book bloggers actually make money.
There are so many ways you can make money as a blogger, but here are a few of the most popular ways to monetize your book blog.
Related: How Do Bloggers Make Money? Top 5 Ways Explained
Another perk of book blogging (that doesn't count as true income) is free books!
Publishers and PR companies will often send book bloggers free copies of upcoming releases, known as ARCs (advanced reader copies.)
If you spend a lot of money on books, this can be a great way to save while getting to read new titles from your favorite authors early!
Affiliate Marketing
Affiliate marketing is an arrangement where brands pay affiliates commission on all sales that an affiliate generates through a unique affiliate link.
For book bloggers, one of the easiest ways to monetize with affiliate links is through the Amazon affiliate program. Every time you link to a book, you can use an affiliate link and earn a commission any time someone makes a purchase after clicking your link. And the great thing about it is you earn a commission on EVERYTHING they end up buying, not just the one thing they clicked.
This is one of the best ways to make money as a book blogger because you can get paid by simply recommending your favorite books.
For more tips on affiliate marketing, read my guide to making money with affiliate marketing or sign up for my free list of affiliate programs for bloggers.
Display Ads
Display advertising is an amazing way to make money as a blogger because it is totally passive income once you're getting traffic.
Once your blog is receiving a consistent amount of traffic each month, you can apply to ad networks who will place display ads on your blog. Payment is determined by RPM (revenue per one thousand impressions.)
With enough traffic, you can easily earn anywhere from a few hundred to thousands of dollars each month just from ads.
Two of the best ad networks for bloggers are Monumetric and Mediavine. Monumetric requires 10,000 monthly page views to apply, while Mediavine requires 50,000 monthly sessions to apply.
Sponsored Posts
Sponsored posts are where brands pay bloggers to share sponsored content on their blog or social media channels in exchange for payment.
Payment for sponsored posts can be anywhere from a few hundred dollars to thousands of dollars depending on the campaign and the size of your audience.
In order to find sponsored posts, you can either pitch brands directly or apply for opportunities through sponsored post networks. Networks are an easy option because they connect brands directly to bloggers for campaigns.
Admittedly, there are fewer sponsored post opportunities available for book bloggers compared to other blog niches, but they can be found!
Some popular sponsored post networks you can join are Linqia, Izea, Real Clever, Aspire IQ, Cooperatize, and Blog Meets Brand.
Book Blog Examples
Need some more inspiration for starting a book blog? Here are examples of successful book bloggers who are making money with their blogs!
Normally, I would find some bloggers who share blog income reports but this is not a very common practice in the book blogging world. (Compared to in other niches such as personal finance, where it makes a lot more sense to share.)
However, all of the following book blogs have Mediavine ads on their websites, which is a good sign someone is making significant money from blogging (since you need a minimum of 50,000 monthly sessions to apply.)
Additionally, these blogs all use affiliate links so between their high levels of traffic and multiple monetization methods, it's safe to say they earn quite a bit.
These are all examples of successful book bloggers. Some take a specific angle (such as reading romance books) while others are more general.
How to Start a Book Blog Recap
This guide taught you how to start a book blog and make money blogging.
As a recap, here are the steps you need to take to start your own book blog:
Decide on your niche.
Choose a domain name.
Register for web hosting from Bluehost.
Write 5 to 10 blog posts.
Once you have established your blog and started to build an audience, you can monetize your blog through affiliate marketing, sponsored posts, and ads.
There are quite a few book bloggers out there who are doing this as their career, and you can be one of them too if you follow these steps, commit to blogging, and give it your best! Good luck and happy blogging!