Note: Affiliate links may be used in this post. I may receive a small commission at no extra cost to you if you use my affiliate link. Full disclosure policy here.

What Is Blogtober?
Are you wondering what exactly Blogtober is and how you can participate?
Blogtober is a blogging challenge and event that has been around for years.
It originated in popularity with lifestyle bloggers, who committed to publishing new blog posts every day during the month of October.
Obviously, writing 31 blog posts in a month is a lot of work!
If you want to participate in Blogtober, you don't have to commit to publishing a new blog post every day. You can set a goal for yourself, like three blog posts a week, or 20 blog posts throughout the month, to stick to instead.
The point of Blogtober is to publish more frequently on your blog.
If you've struggled with consistency in blogging before, this month can be a great challenge to push yourself out of your comfort zone to write more.
Here's everything you need to know about Blogtober!
Who Should Do Blogtober?
Blogtober is a fun event for any blogger to participate in!
If you just blog as a hobby, then Blogtober can be a great way to tap into your creativity and challenge yourself to write every day for a month.
If you want to make money blogging and turn your blog into a business, Blogtober can also be a good way to push yourself to publish more content, which can lead to more traffic and income for you.
Bloggers in any niche can participate in this event. You can just participate as a personal challenge, or you can get involved in the community aspect.
You'll find Facebook groups and Twitter threads during Blogtober where you can receive motivation and support from other participating bloggers.
Getting involved in the community aspect of Blogtober can be a great way to keep yourself accountable and commit to completing the challenge.
What Are the Rules of Blogtober?
There are no specific rules to Blogtober. It's whatever you make it!
As I mentioned, the original concept of the event was to publish 31 blog posts throughout the month of October, one new blog post for each day.
However, you don't HAVE to commit to that publishing schedule.
You can set your own goal for the month when it comes to how many blog posts you want to publish. You could also commit to updating 31 old blog posts for better SEO or to add affiliate links to make money blogging.
It's totally up to you, and that's what makes Blogtober fun!
You also don't have to announce anywhere that you're participating in Blogtober, although some bloggers like to join a community on social media.
Blogtober Dos & Don'ts
Although there are no hard and fast rules to Blogtober, there are certain things you can do (and things you SHOULDN'T do) to get the most out of it.
One thing to do is to plan your content in advance.
It's a smart idea to take some time in September to plan the content you want to publish in October, especially if you want to write a lot of new blog posts.
Coming up with a list of topics and maybe even brief outlines for blog posts you want to write in advance will save you time and stress during October.
One thing you don't want to do is write blog posts just for the sake of reaching a certain number or get too stressed about meeting your goal.
This is especially important if you are blogging as a business.
If you want to take your blog seriously and earn money from it, then quality over quantity is definitely more important. You'd be better off publishing just four solid, highly detailed, well-optimized blog posts during the month than churning out 31 short and pointless blog posts just for the sake of hitting that number.
Even if you're just blogging as a hobby, the same wisdom applies.
Blogtober Blog Post Ideas
Do you need help coming up with Blogtober blog post ideas?
I've got you covered! Luckily for you, I have an entire series on my blog featuring tons of FREE blog post ideas for bloggers in every niche.
Click here to see all my blog post ideas.
I also have a list of 365 blog post ideas for every day of the year, as well as a massive list of 1,000 blog post ideas for different niches.
For more inspiration, check out my guide on how to find blog post ideas.
And don't miss my list of 100+ attention-grabbing blog post title ideas.
30 Days to Blogging Success
If you're brand-new to blogging, I highly recommend checking out my online course 30 Days to Blogging Success before doing Blogtober.
This online course contains step-by-step lessons showing you everything you need to know to create a profitable blog.
You can follow each daily lesson over the course of 30 days, or go at your own pace, because you get lifetime access to the material.
Here's what you will learn…
How to choose a profitable niche for your blog
How to set up your blog (no technical experience required!)
Designing your blog and making it look professional
How to write blog posts that people will actually want to read
The best ways to promote your blog and get traffic
The basics of Pinterest and SEO for bloggers
All the strategies I use to make money blogging
How to start an email list and create an opt-in
How to network with other bloggers to grow your blog
And so much more!
Of course, you'll get access to some exclusive bonuses too:
THE BONUSES:
150+ Profitable Blog Niche Ideas ($17 value)
Canva Pinterest Templates ($27 value)
250+ Profitable Affiliate Programs for Bloggers ($17 value)
Email Sales Template ($27 value)
100+ Catchy Blog Post Title Templates ($7 value)
Click here to enroll in 30 Days to Blogging Success!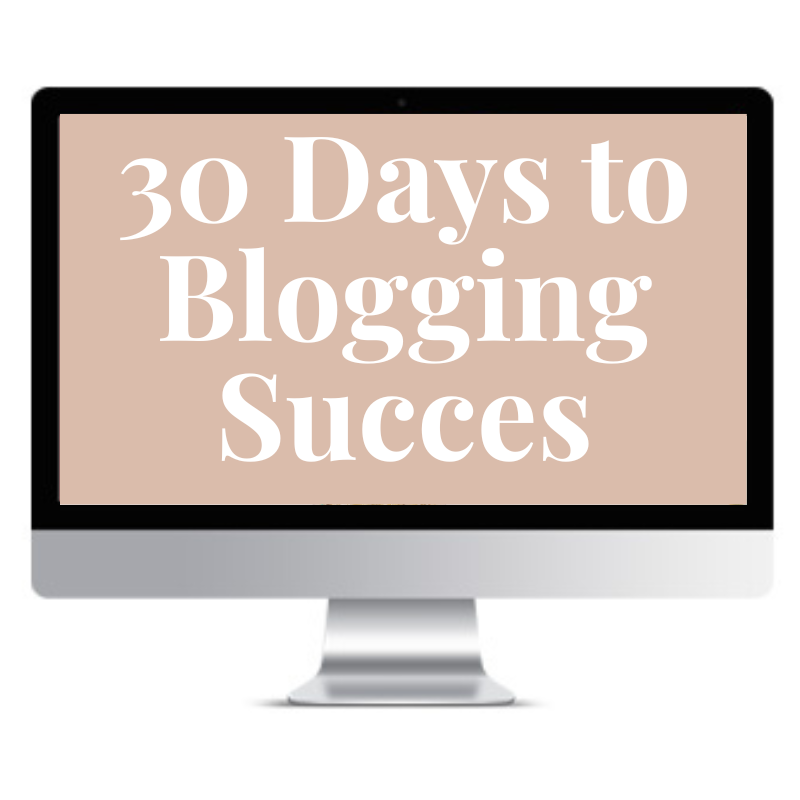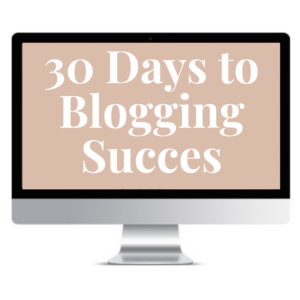 How to Start a Blog for Beginners
Have you not started a blog yet? Here's how you can quickly and easily start your own blog today, in time to participate in Blogtober.
It's something you can do in less than fifteen minutes actually!
I wrote a complete step-by-step guide on how to start a blog for beginners that goes into all the details of getting your blog up and running.
I also created Blogging Bootcamp, a free email course, that will show you how to start a blog and make money blogging in just five days. You can sign up here:
And here's a quick overview to starting a blog for beginners:
1. Click here and then click the "Get Started" button:
2. Select your hosting plan
Which plan should I choose? I recommend the Basic plan for new bloggers.
I'm personally on the Plus plan, but that's only because I run multiple blogs. Otherwise I would probably choose the Basic plan!
3. Put in your domain name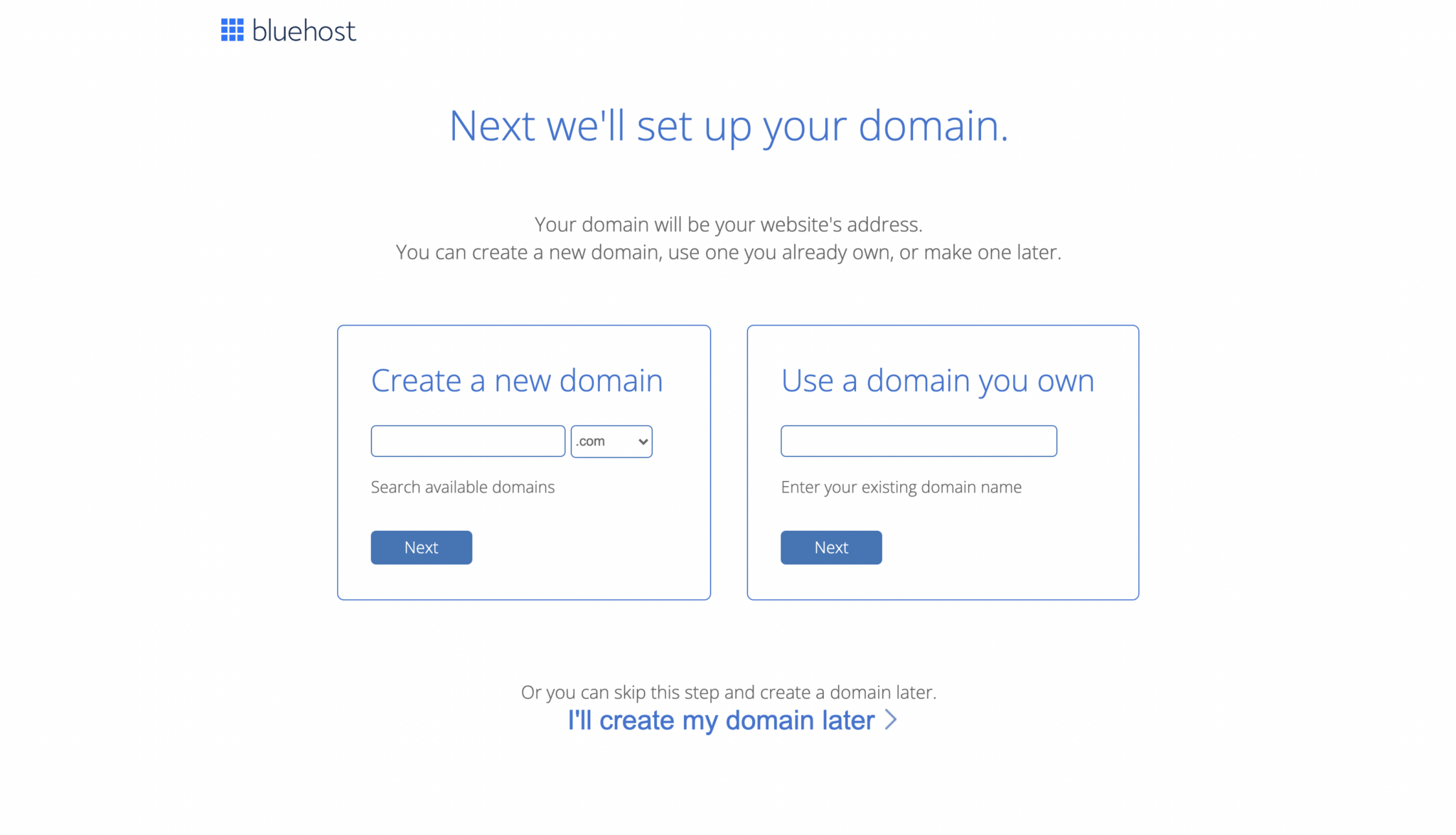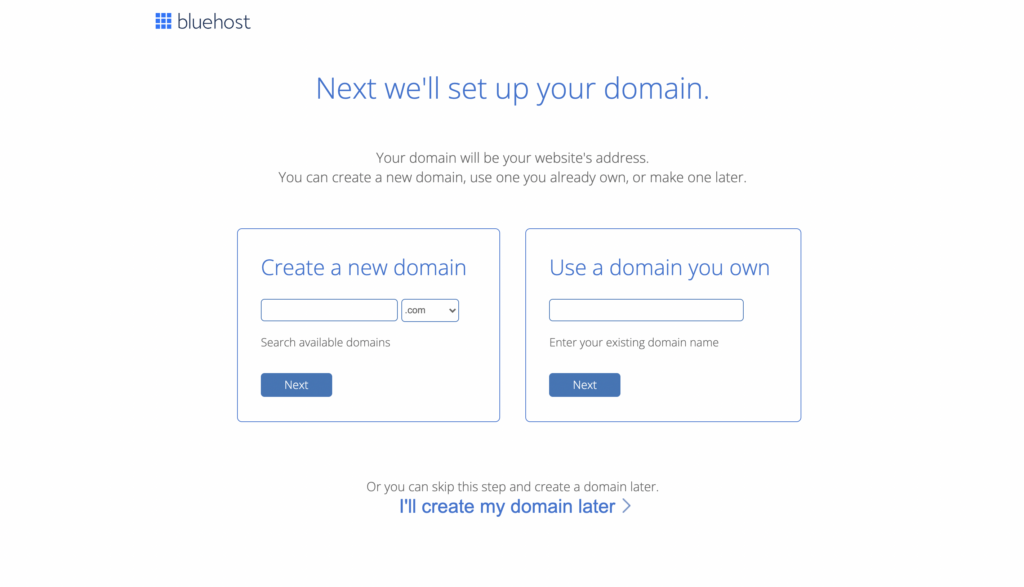 This is where you'll put in the domain name that you want to use for your blog.
Related: How to Choose a Blog Name & Blog Name Ideas
What if I haven't decided on a name yet? If you haven't decided on a domain name for your blog yet, click "I'll create my domain later." Or you can wait a couple seconds and this offer will pop up on the screen: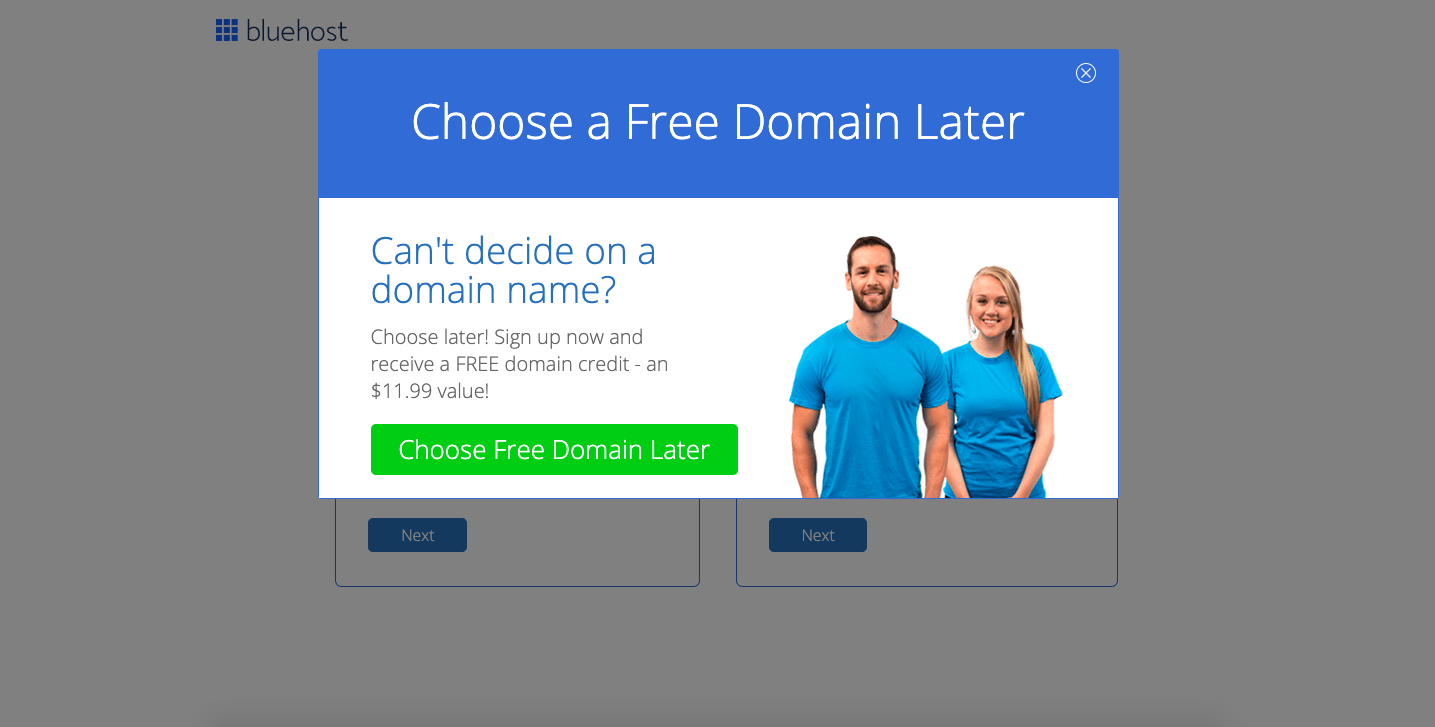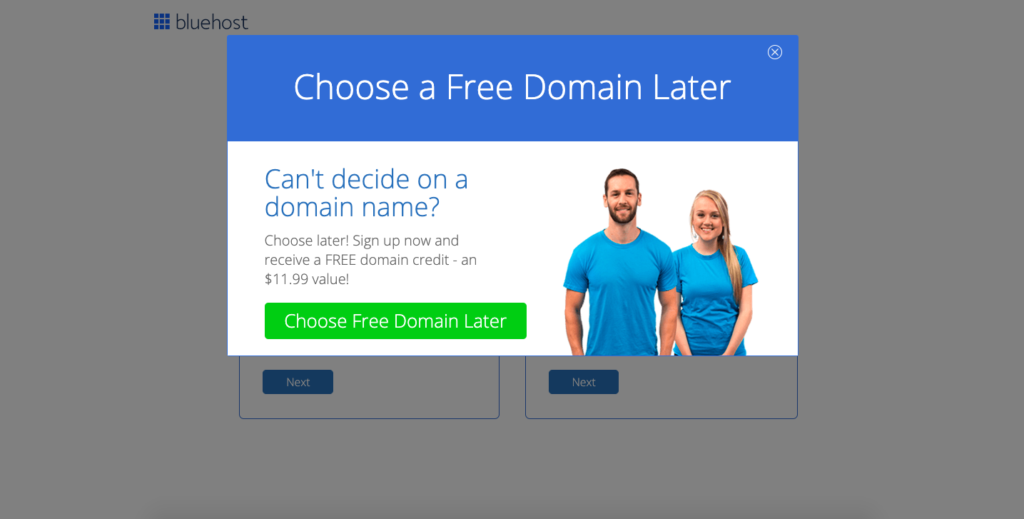 Select this option and you can go ahead and set up your blog now, then use the free credit to buy your domain name later.
4. Create your hosting account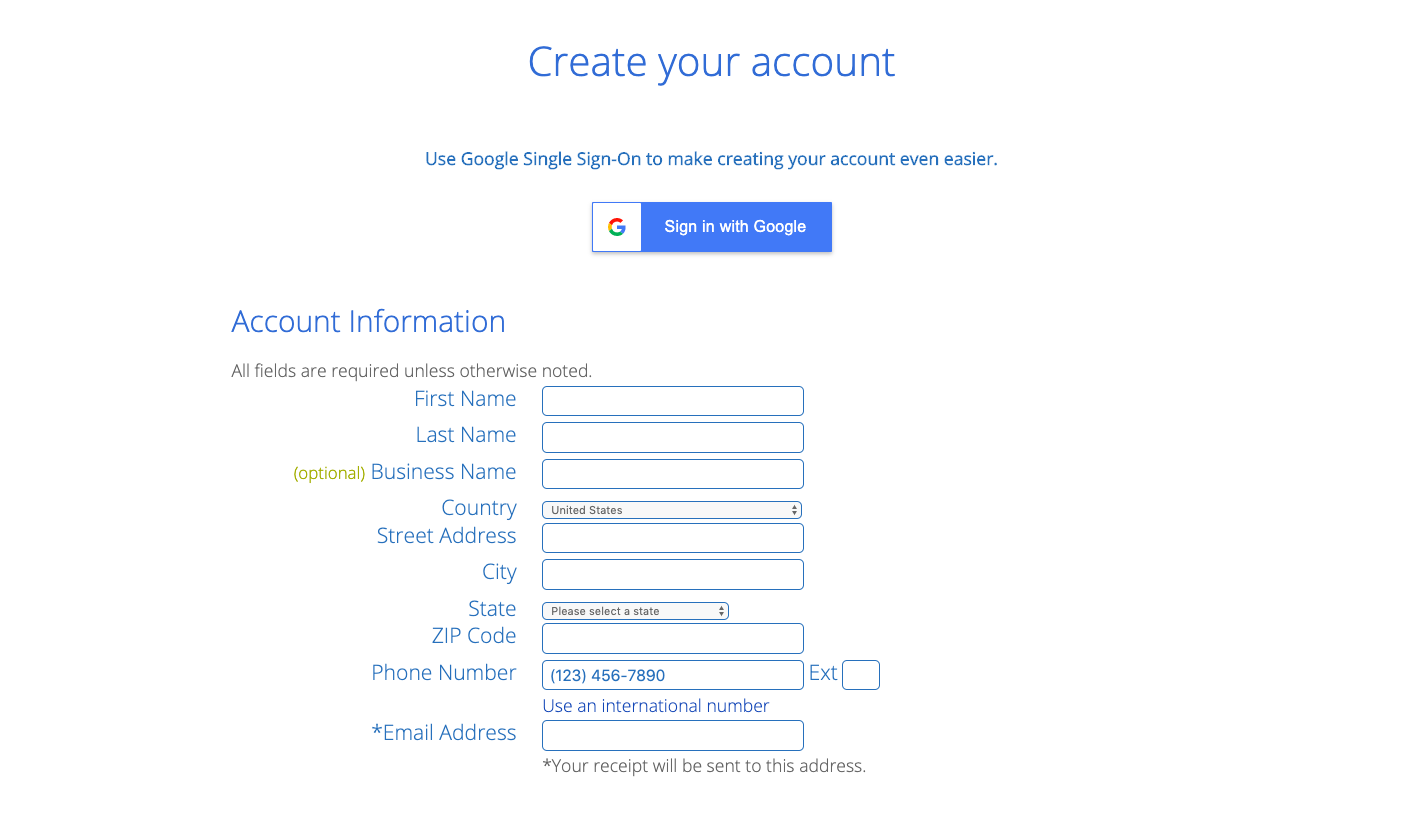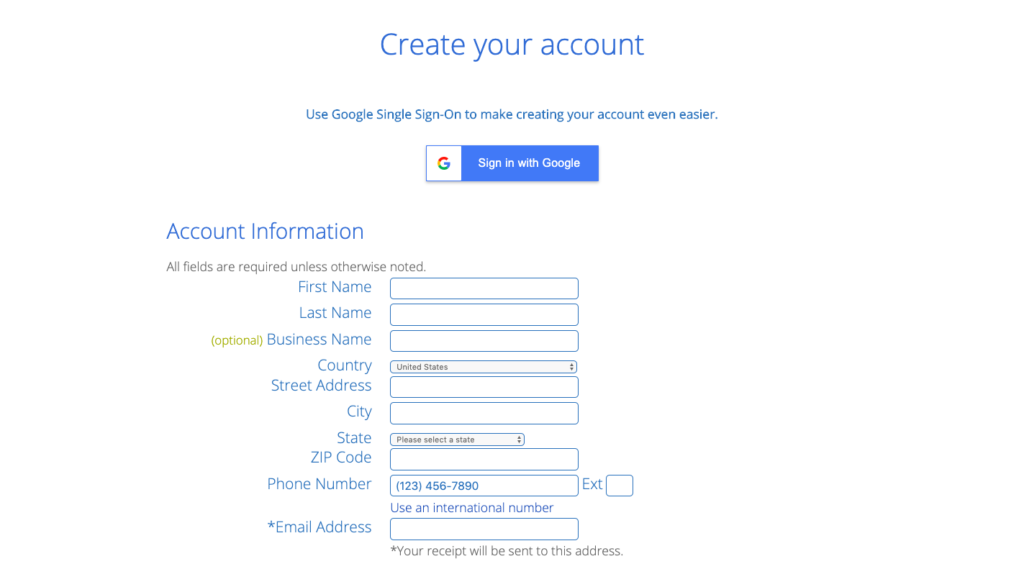 5. Choose your package and pay
This is where you'll select your hosting plan.
I recommend the 12-month plan for $2.95 a month, for a total cost of $35.40 for the year. But you can also choose a 24-month or 36-month plan.
What about package extras? You have the options to add on extra paid services like site backups, SEO tools, or site security.
I personally don't recommend any of these paid extras, because there are free WordPress plugins you can install that do the same things.
6. Congrats, you're done!
Now you're all set! Bluehost will automatically install WordPress for you.
What exactly is WordPress? WordPress is the content management platform that your blog will run on. Your WordPress dashboard is where you will go to edit the look of your blog, write blog posts, upload images, etc.
It's extremely easy to use, even if you're a total beginner.
More Blogging Resources