Note: Affiliate links may be used in this post. I may receive a small commission at no extra cost to you if you use my affiliate link. Full disclosure policy here.

Is Blogging Dead? Here's Your Answer
Is blogging dead? Is blogging still relevant? And is blogging on the decline?
These are the questions I've heard dozens of times over the years.
People always wonder is it too late to start blogging?
When I started blogging in 2017, naysayers were already claiming that blogging was dead, that it was too late to start, that you couldn't make money blogging anymore. But guess what? It wasn't true.
I started making money after just one month of blogging.
Yet I kept hearing over and over that blogging was dead.
But in the meantime, I started five successful blogs, four of which I later sold for a profit. I earned hundreds of thousands of dollars from blogging. And I taught countless others how to do the same thing! I've received dozens of emails over the years from readers who were able to start their own money-making blogs.
So no, blogging is not dead.
And it's not going anywhere anytime soon either.
Understanding What Blogging Really Is
I think a fundamental issue with people asking "Is blogging dead?" is a misunderstanding of what blogging actually is. Or at least, what blogging is (the way I see it) in order to actually make money and have a profitable business.
Blogs of 10 years ago look a lot different than blogs of today. Sure, maybe it's extremely difficult to make money blogging now if you start a personal blog where you just write about your life and any topic that pops into your head. Yes, this may have been what everyone was doing a decade ago.
But that's not how I view successful blogs today.
Blogging today is really just content marketing.
And content marketing is not going away anytime soon.
People are ALWAYS going to be searching the Internet for ideas, for answers to their questions, for recommendations, and for reviews.
As a blogger, it's your job to create content that helps your audience and provides them with valuable information, while earning you money.
And that money can be earned in a variety of ways such as:
The more people you get your content in front of, the more money you can make.
When you think of blogging this way, it becomes really simple.
Your job as a blogger is simply to create content that people are searching for, get it in front of them, and monetize it with one or all of the above methods.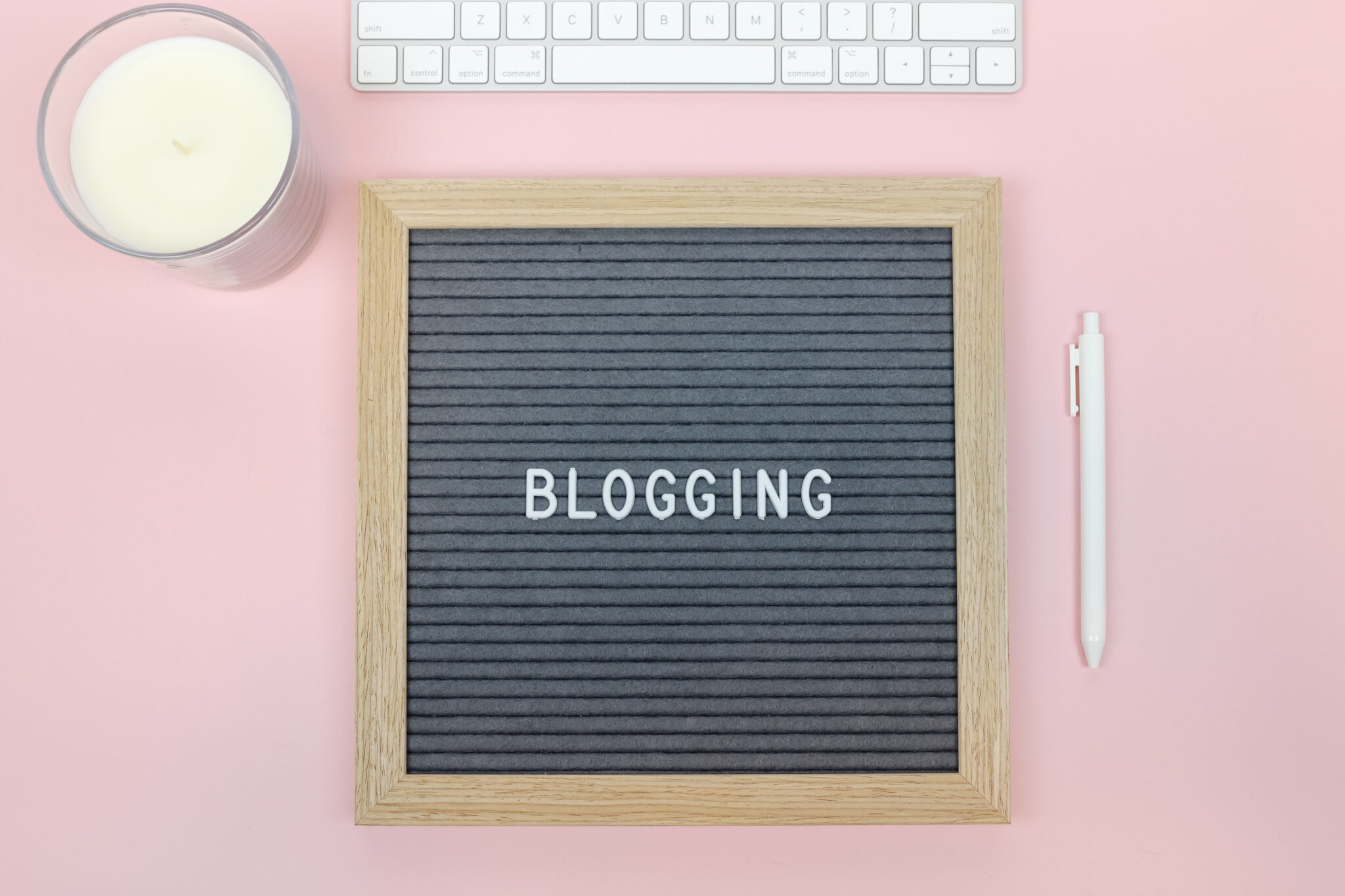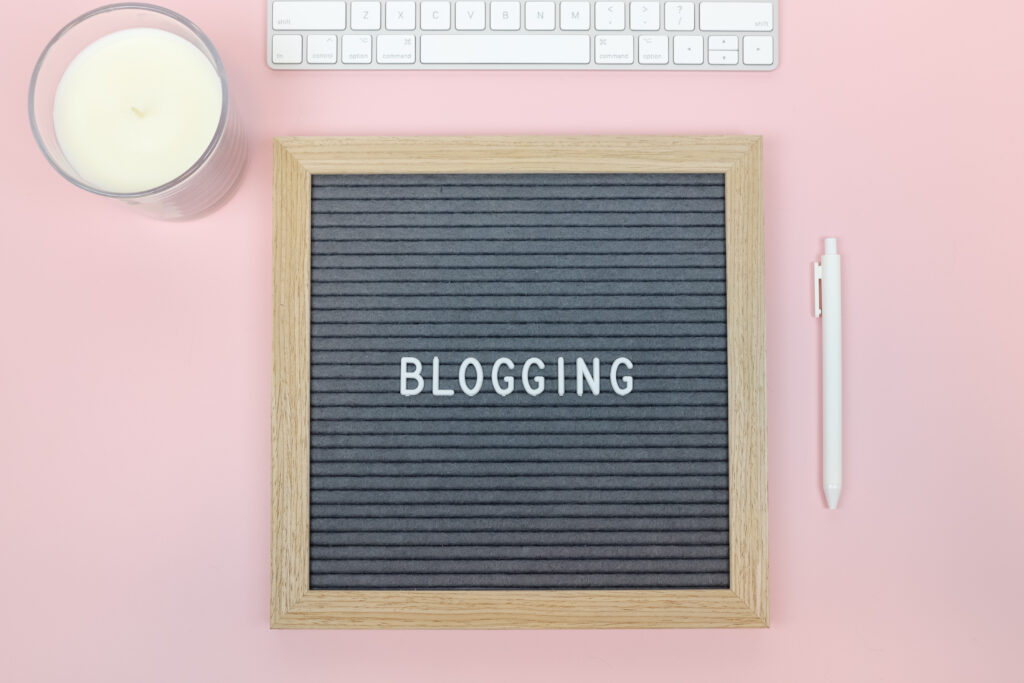 What Do I Mean by This?
Let me give an example of what I'm talking about there.
I used to run a successful travel blog for three years before selling it. I didn't just write personal stories about my travels. Instead, I mainly wrote content that I knew people were searching for AND that I monetized. One of my most popular blog posts of all time was a list of things to pack for a trip to Disney World.
For every item on the list, I linked to Amazon using my Amazon affiliate link. So I earned a commission every time someone clicked and make a purchase.
Plus, I had ads on my travel blog through Mediavine, so I earned additional money just based on the amount of pageviews that blog post got each day.
This is what I mean when I say blogging is content marketing!
Do People Still Read Blogs?
In case I haven't convinced you that blogging is not dead, let me share some statistics that prove that blogging is still very much alive and well.
77% of Internet users engage with blogs
39% of Internet users read blogs more than three times a week!
Blogs are rated the 5th most trustworthy source of information online (WAY ahead and social media platforms)
61% of consumers have purchased something after reading about it on a blog
The number of blogs online increased by 10 million from 2014 to 2020
So blogging isn't going anywhere anytime soon.
In fact, the number of blogs online is still growing steadily! And people are still reading blogs, especially to find the answers to their questions, learn how to do something new, and seek product recommendations.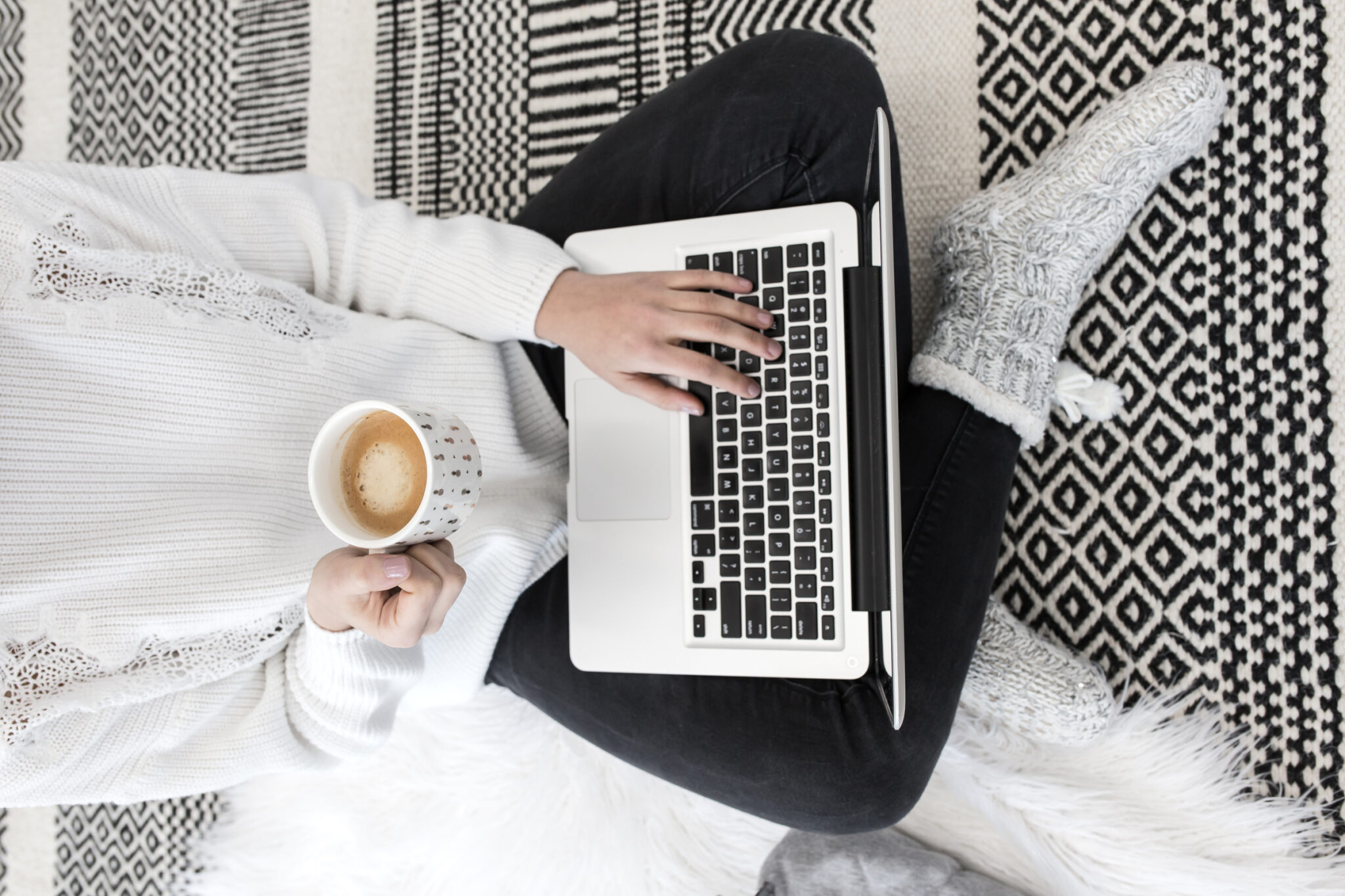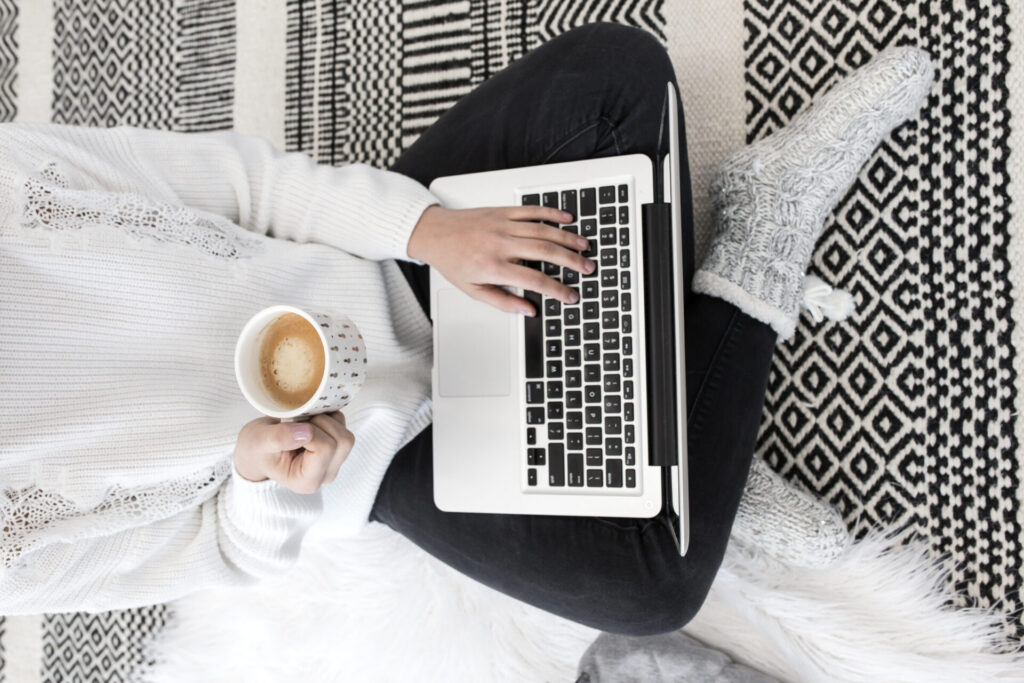 How Much Do Bloggers Make?
You might be wondering how much you can actually make as a blogger.
Income reports are popular among bloggers, but the truth is only a small fraction of full-time bloggers actually publicly share what they earn.
There are thousands more bloggers who are earning six and seven figures a year from their blogs, but they are just not making that information publicly available online. Since blogging is not like a regular salaried job, it can be hard to understand what the average annual income is for a blogger.
You have bloggers making anywhere from $1,000 to $100,000 a month.
Here are a few examples from successful bloggers earning six and seven figures that shared their blog income from just one month:
And while there are plenty of bloggers at this level, many more are earning a good full-time income of between $5,000 and $15,000 a month:
So yes, it is definitely still possible to earn money blogging!
Blogging is a full-time job for many people (including myself!) and it's a career path that is not going away any time in the near future.
Outdated Blogging Tactics
While blogging is certainly not dead and not going anywhere soon, it's true that blogging has changed a lot over the years.
It's still profitable, but you have to be willing to learn and adapt.
Some blogging tactics that might have worked three or five or ten years ago just aren't going to work today. If you want to be successful at blogging, you have to stay up to date on the latest blogging best practices.
Some outdated blogging tactics include:
Publishing as often as possible: Publishing more is NOT necessarily better. It's better to write just a few in-depth, high-quality blog posts per month than to churn out short, pointless blog posts every day.
Not promoting your content: It's no longer enough just to publish your blog posts and then hope people read them. You need to do the work to get your content in front of people, whether that is through using SEO (search engine optimization), Pinterest, or social media to promote your blog.
Not having a niche: Writing a super general blog with a million different topics or a personal blog is not the way to go. Having a niche for your blog helps you establish yourself as an authority figure, get more traffic, and make money.
Only monetizing with ads: Display ads are a good way to make passive income from blogging, but you shouldn't rely on them only. It's important to diversify your earnings, such as through affiliate marketing and selling your own digital products, in order to grow and stabilize your blog income.
Keeping up with blogging best practices and adapting your own blog and strategy is key to being a successful blogger in today's world.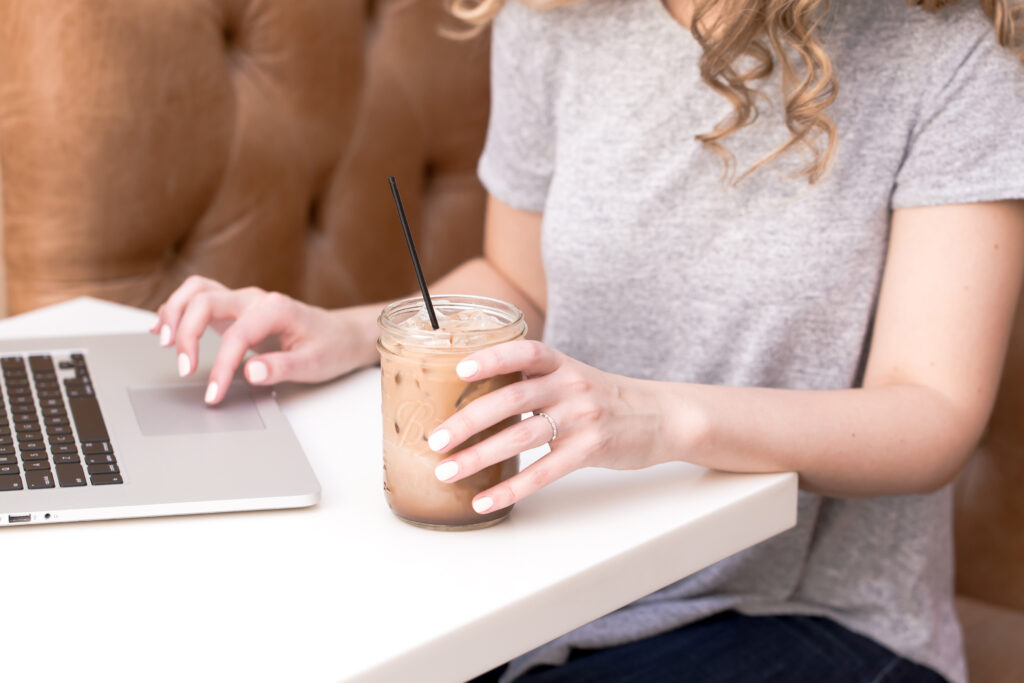 But What About Social Media?
One thing a lot of people us as "blogging doomsday" evidence is the increasing popularity of social media: Instagram, TikTok, and Facebook, especially.
While it's true that social media usage has exploded in popularity and it's possible to make good money on social media alone, that's a completely different audience and business model than blogging.
Being a social media influencer and a blogger are two VERY different jobs.
I have started and grown five successful blogs without ANY social media (aside from Pinterest, which I don't count as a social media platform because it's really more of a visual search engine and used in a completely different way.)
You CAN use social media as a blogger to drive traffic to your website (or branch out into "influencer" territory by working with brands on sponsored posts, using affiliate marketing on social media, etc.) but it's not necessary.
It's completely possible to grow your blog without social media by solely focusing on SEO (search engine optimization to get your blog content ranking in Google), Pinterest (visual search engine), and other non-social media tactics.
I've done it, and countless other bloggers have done it too!
Remember, your main goal as a blogger is to provide useful and informative content to your audience. While social media CAN be a tool to drive traffic or connect with your readers, it's not necessary in achieving your primary goal.
Is Blogging Still Relevant?
Yes, blogging is still relevant.
Blogging hasn't died at all; it's just changed and evolved over the years.
And if you want to be successful blogging, you need to be willing to keep up with the changes, learn new things, and adapt your strategies.
If you've read all this and you're interested in starting your own blog, I have a FREE email course called Blogging Bootcamp that you can join:
Or you can read on for a step-by-step guide on how to start your blog for just $2.95 a month in less than an hour with no technical experience!
How to Start a Blog
The first thing you will need to when starting a blog is decide on your niche. Your niche is simply the topic (or topics) that you write about.
More tips on this: What to Blog About: 150+ Profitable Blog Niche Ideas
Next, you'll need a name for your blog.
More tips on this: How to Choose a Blog Name
Finally, you will need to get web hosting and a domain name.
The company I use and recommend for web hosting is Bluehost.
Their plans are only $2.95 a month and you get a FREE domain name.
Once you sign up, they handle everything when it comes to setting up your blog for you. Here's how to start your blog with Bluehost in just a few minutes:
1. Click here and then click the "Get Started" button:
2. Select your hosting plan
Which plan should I choose? I recommend the Basic plan for new bloggers.
I'm personally on the Plus plan, but that's only because I run multiple blogs. Otherwise I would probably choose the Basic plan!
3. Put in your domain name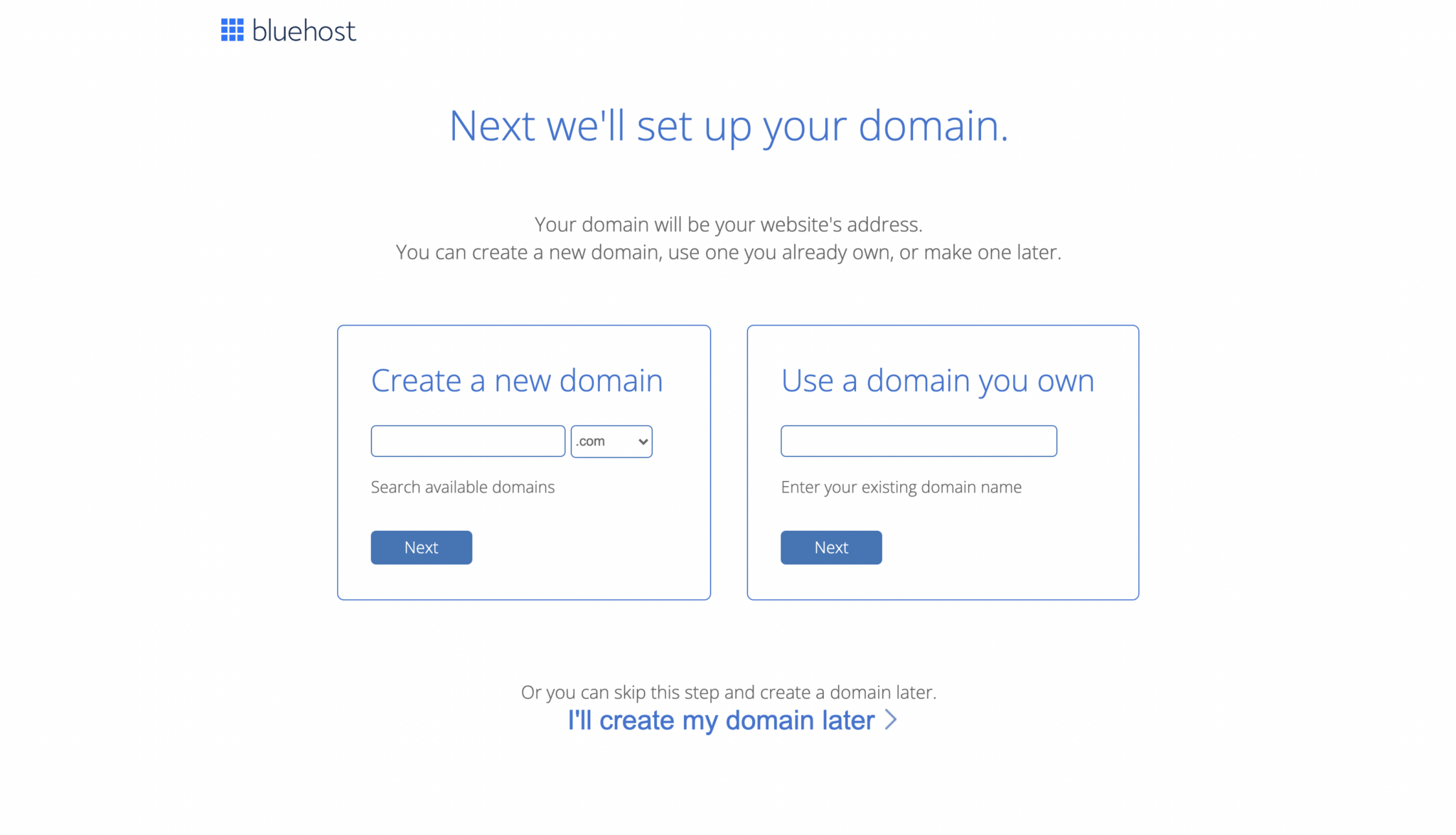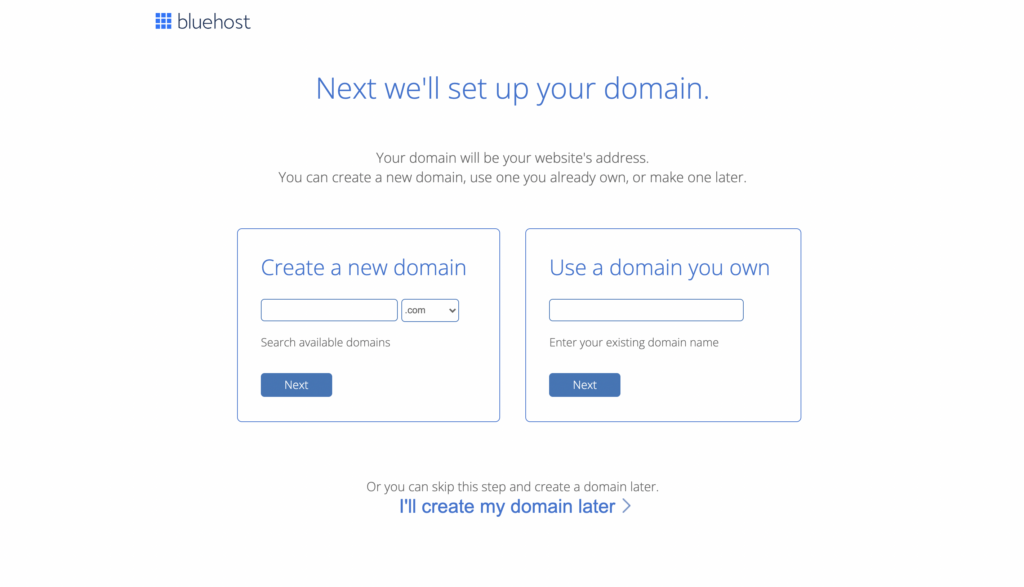 This is where you'll put in the domain name that you want to use for your blog.
Related: How to Choose a Blog Name & Blog Name Ideas
What if I haven't decided on a name yet? If you haven't decided on a domain name for your blog yet, click "I'll create my domain later." Or you can wait a couple seconds and this offer will pop up on the screen: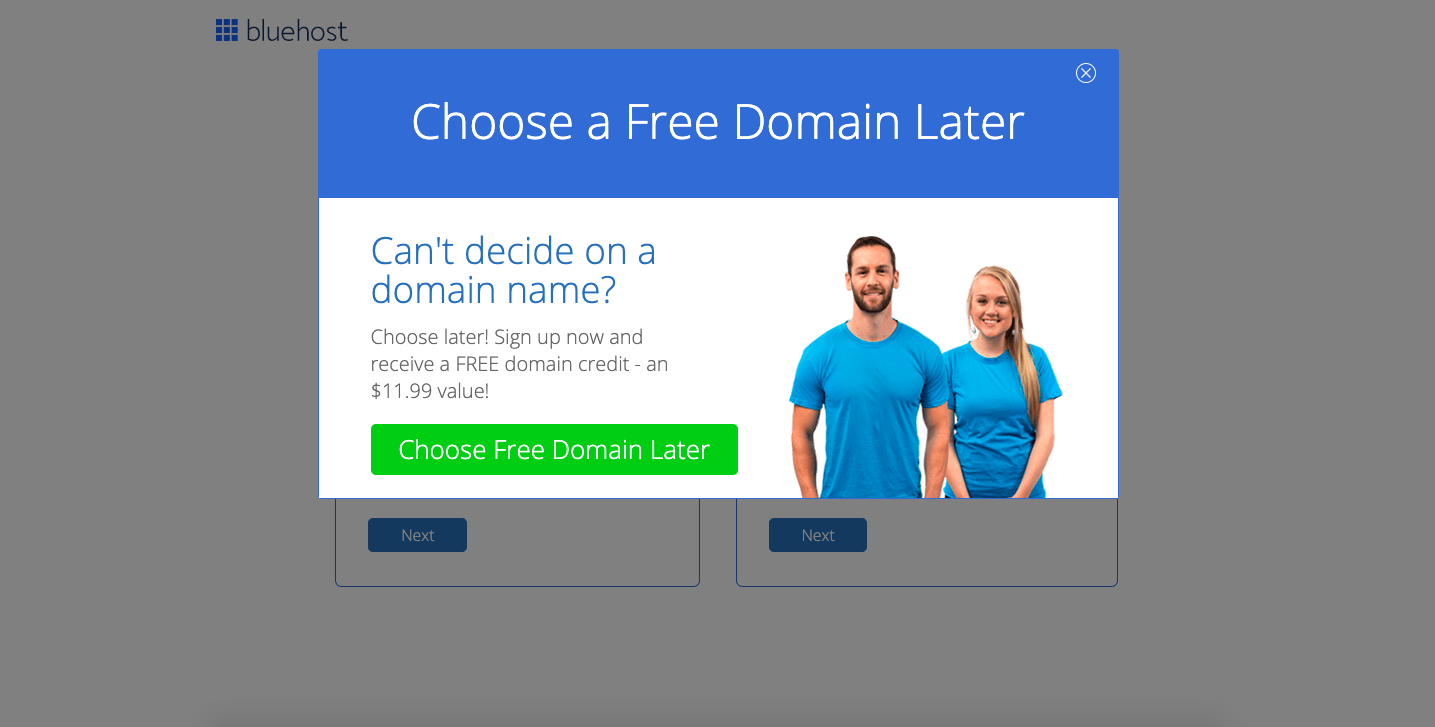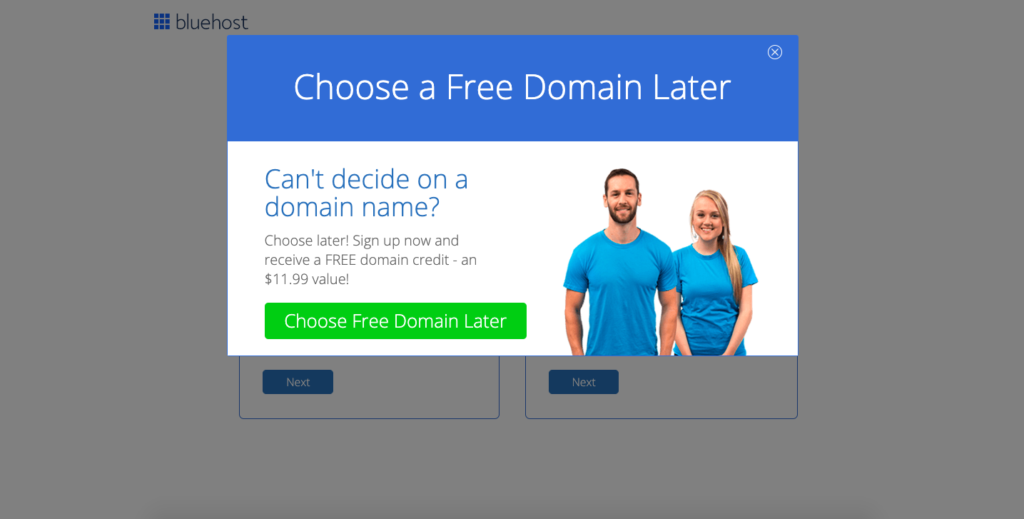 Select this option and you can go ahead and set up your blog now, then use the free credit to buy your domain name later.
4. Create your hosting account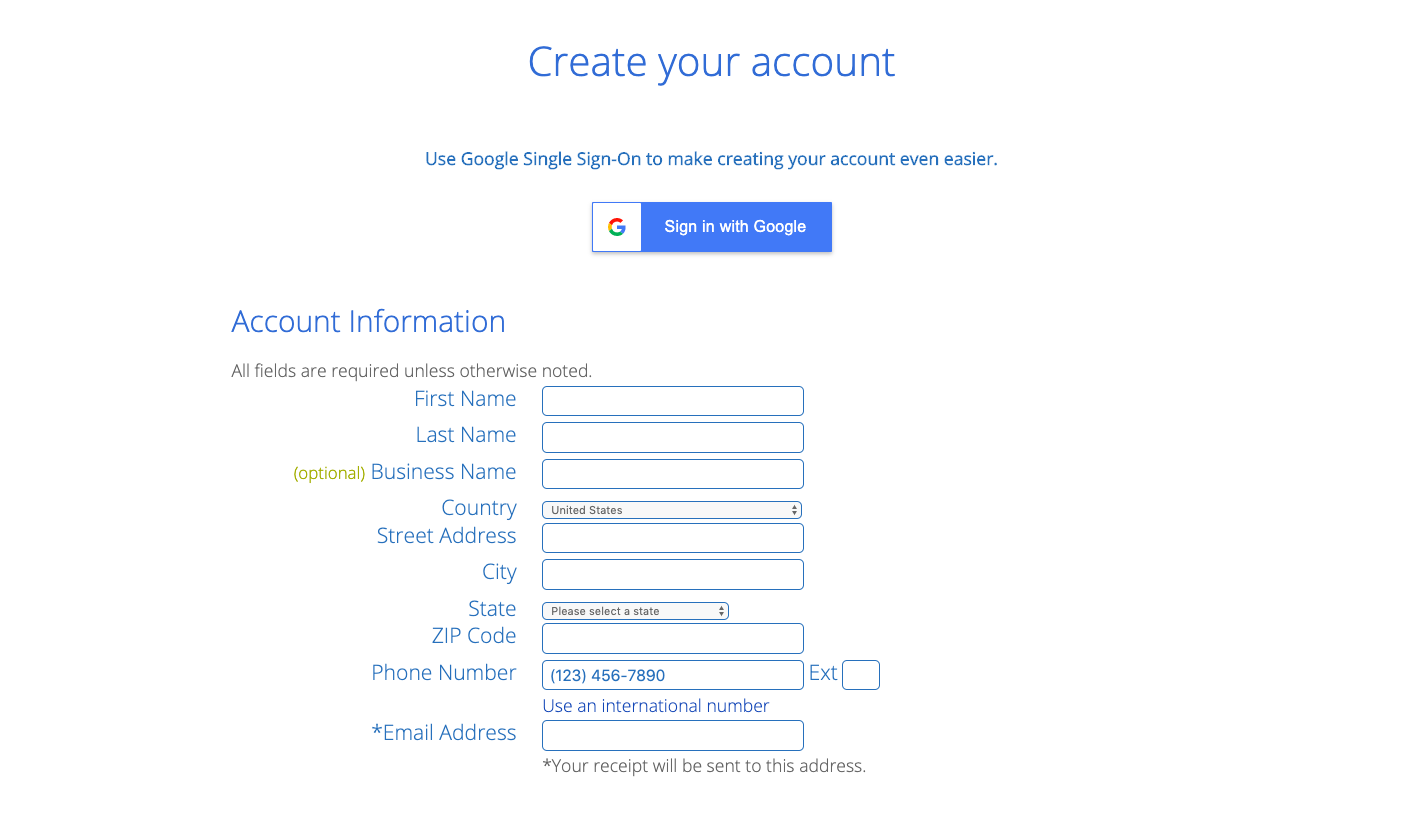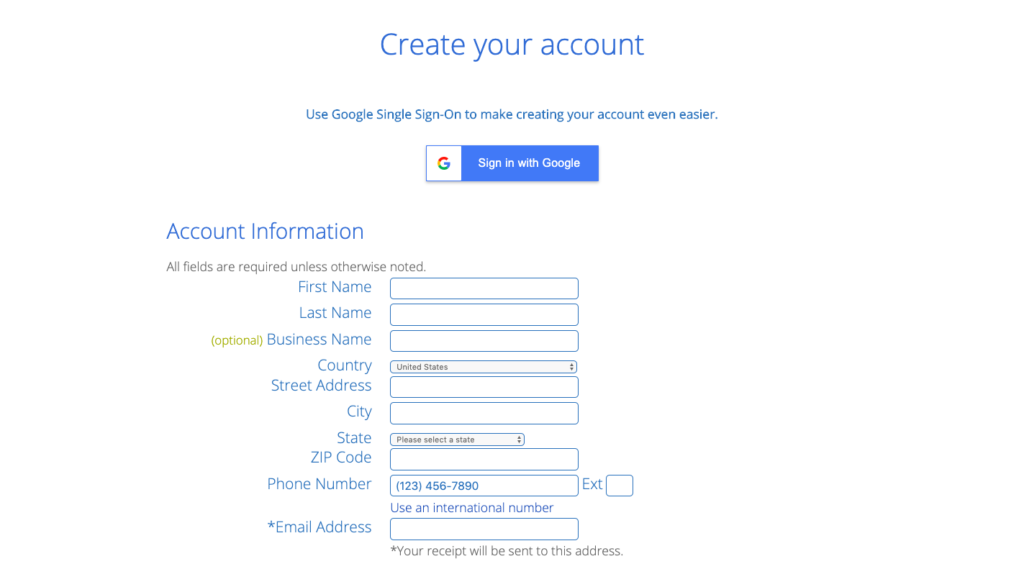 5. Choose your package and pay
This is where you'll select your hosting plan.
I recommend the 12-month plan for $2.95 a month, for a total cost of $35.40 for the year. But you can also choose a 24-month or 36-month plan.
What about package extras? You have the options to add on extra paid services like site backups, SEO tools, or site security.
I personally don't recommend any of these paid extras, because there are free WordPress plugins you can install that do the same things.
6. Congrats, you're done!
Now you're all set! Bluehost will automatically install WordPress for you.
What exactly is WordPress? WordPress is the content management platform that your blog will run on. Your WordPress dashboard is where you will go to edit the look of your blog, write blog posts, upload images, etc.
It's extremely easy to use, even if you're a total beginner.
How to Make Money Blogging
I've talked about this briefly, but you might be wondering how exactly bloggers make money, and what are the best ways to do it today.
Here are some of the best tactics for bloggers to make money:
You can read more here: How Do Bloggers Make Money? Top 5 Ways Explained
One thing I recommend is diversifying your blog with multiple income streams. You shouldn't rely on just one thing to make money blogging.
In fact, I have used all five of the methods above to make money blogging on my five blogs. It's a smart ideas to pick at least two to focus on.
Is Blogging Dead?
In conclusion: no, blogging is not dead.
Blogging is still growing steadily and there is plenty of opportunity to start a blog and be successful. It's not too late to start blogging.
If you're looking for more blogging tips, here are some of my favorites: