Note: Affiliate links may be used in this post. I may receive a small commission at no extra cost to you if you use my affiliate link. Full disclosure policy here.
Get My Newest Course for Free: Here's How
Recently I launched 30 Days to Blogging Success, an online course that's a step-by-step roadmap to starting and growing a profitable blog.
Although the course is normally priced at $97, I have decided to give it away for free to my readers who take the following steps to start their blog.
Why am I doing this? My goal is to help as many people possible start and grow successful blogs. If you've been on the fence about starting a blog, hopefully this offer will help you make the decision to finally get started!
Read on for the details of how to get 30 Days to Blogging Success for free…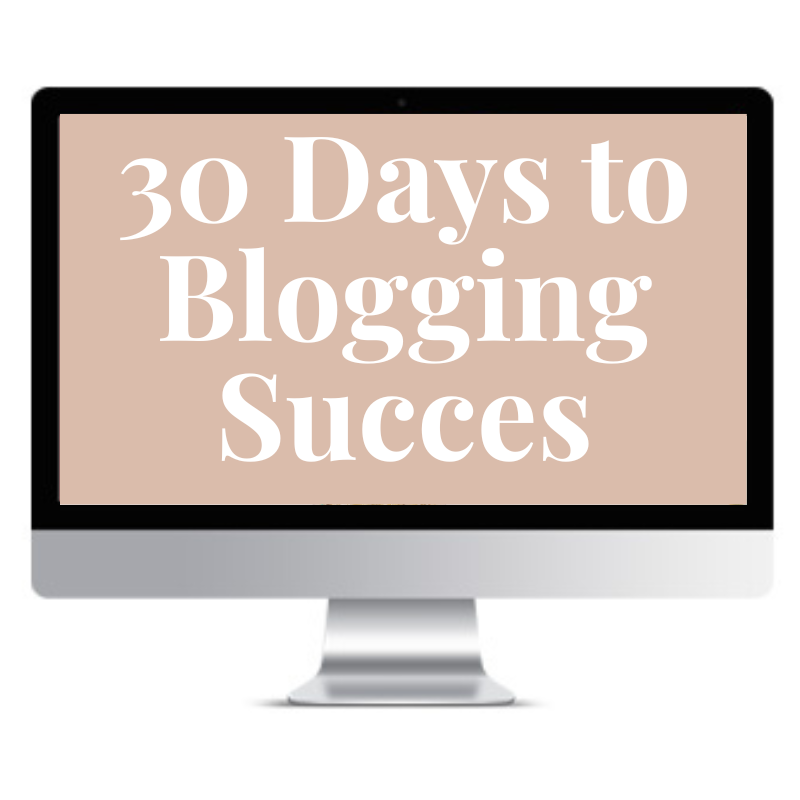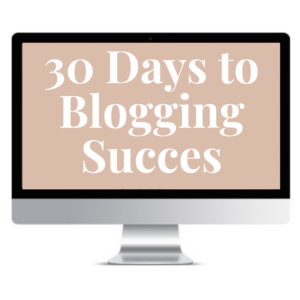 First things first, let's talk about the course. If you haven't started a blog yet and honestly have no idea where to start, 30 Days to Blogging Success is for you.
In 30 Days to Blogging Success, you will learn…
How to choose a profitable niche for your blog
How to set up your blog (no technical experience required!)
Designing your blog and making it look professional
How to write blog posts that people will actually want to read
The best ways to promote your blog and get traffic
The basics of Pinterest and SEO for bloggers
All the strategies I use to make money blogging
How to start an email list and create an opt in incentive
How to network with other bloggers to grow your blog
And so much more!
Of course, you'll also get access to some exclusive bonuses worth over $95 when you enroll in 30 Days to Blogging Success:
150+ Profitable Blog Niche Ideas
Canva Pinterest Templates
250+ Profitable Affiliate Programs for Bloggers
Email Sales Template
100+ Catchy Blog Post Title Templates
The bonuses are worth the price of the course alone, but you will get EVERYTHING (course plus bonuses) for free when you follow the steps below.
Once you're enrolled in 30 Days to Blogging Success, you'll also have lifetime access to all future updates. (Since the blogging world is constantly changing, I update the course at least annually to keep things relevant and up to date!)
How to Get 30 Days to Blogging Success for Free
So if you've read this far and you're excited about starting your blog, you might be wondering exactly how can you get access to the course for free.
Just follow these two simple steps:
Step 1: Sign Up for Bluehost
Sign up for a domain name and web hosting through Bluehost using this link. (This is my affiliate link and I receive a commission at no extra cost to you!)
A domain name and web hosting are the two first things you NEED before starting a blog. Your domain name is your blog's .com address on the Internet, and web hosting is like the home where your blog actually "lives" online.
These two things are essential if you want to start a blog.
I personally use and recommend Bluehost for all new bloggers – they have great customer service and the most affordable web hosting out there at just $2.95 a month (plus you get your domain name for free with them!)
Don't worry if you haven't decided on a name for your blog yet – with Bluehost, you can actually go ahead and start setting up your blog, then choose your domain name later. They will give you a credit you can come back and use within 30 days once you've decided on a name for your blog.
For more details about signing up for Bluehost, read this step-by-step guide.
Web hosting is the only cost associated with starting a blog, unless you want to pay for extra things, such as a premium WordPress theme. But this is ALL you need to get started, and Bluehost has the cheapest plans for new bloggers.
Step 2: Forward Your Receipt
Once you've signed up for web hosting for your blog, you're almost done!
Next, just forward a copy of your Bluehost receipt to me at [email protected].
In the email, let me know that you signed up for web hosting using my affiliate link, and would like to enroll in 30 Days to Blogging Success for free.
Once I've confirmed that you signed up for Bluehost using my affiliate link, I will grant you access to 30 Days to Blogging Success.
That's all there is to it!
The course will give you all the next steps you need to get your blog up and running and start building a successful blog.
I have turned blogging into a full-time business and if I can do it, then so can you! Seriously, anyone can do this. I'm excited to show you everything you need to know to start and grow your own profitable blog. 🙂
Terms and Conditions
You must sign up for a domain name and web hosting through Bluehost using one of the links on this page. If I am unable to confirm that you signed up using my link, I will not be able to offer you free access to the course.
This is only applicable to new Bluehost customers who sign up using my affiliate link. It is not valid for existing Bluehost customers.
I also reserve the right to revoke your access to the course if you sign up for Bluehost but cancel your plan within the first 30 days.
More Tips for Beginner Bloggers
Looking for more tips to help you get your blog started?
My goal on Blogging Her Way is to offer you the best blogging guides and resources to help you start and grow a successful blogging business!
One of my most popular resources is my FREE Blogging Bootcamp email course.
Sign up below to join 5,000+ other students and learn how to start a blog in just five days, with daily lessons delivered directly to your inbox.

Looking for even more blogging tips?
You may also be interested in the following posts…